Review: Little Donna's is Well On its Way in Upper Fells Point
Chef-owner Robbie Tutlewski's menu is deeply idiosyncratic—built from his grandmother's recipe box, years spent shadowing James Beard Award-winner Chris Bianco in Arizona, and his childhood in the Midwest.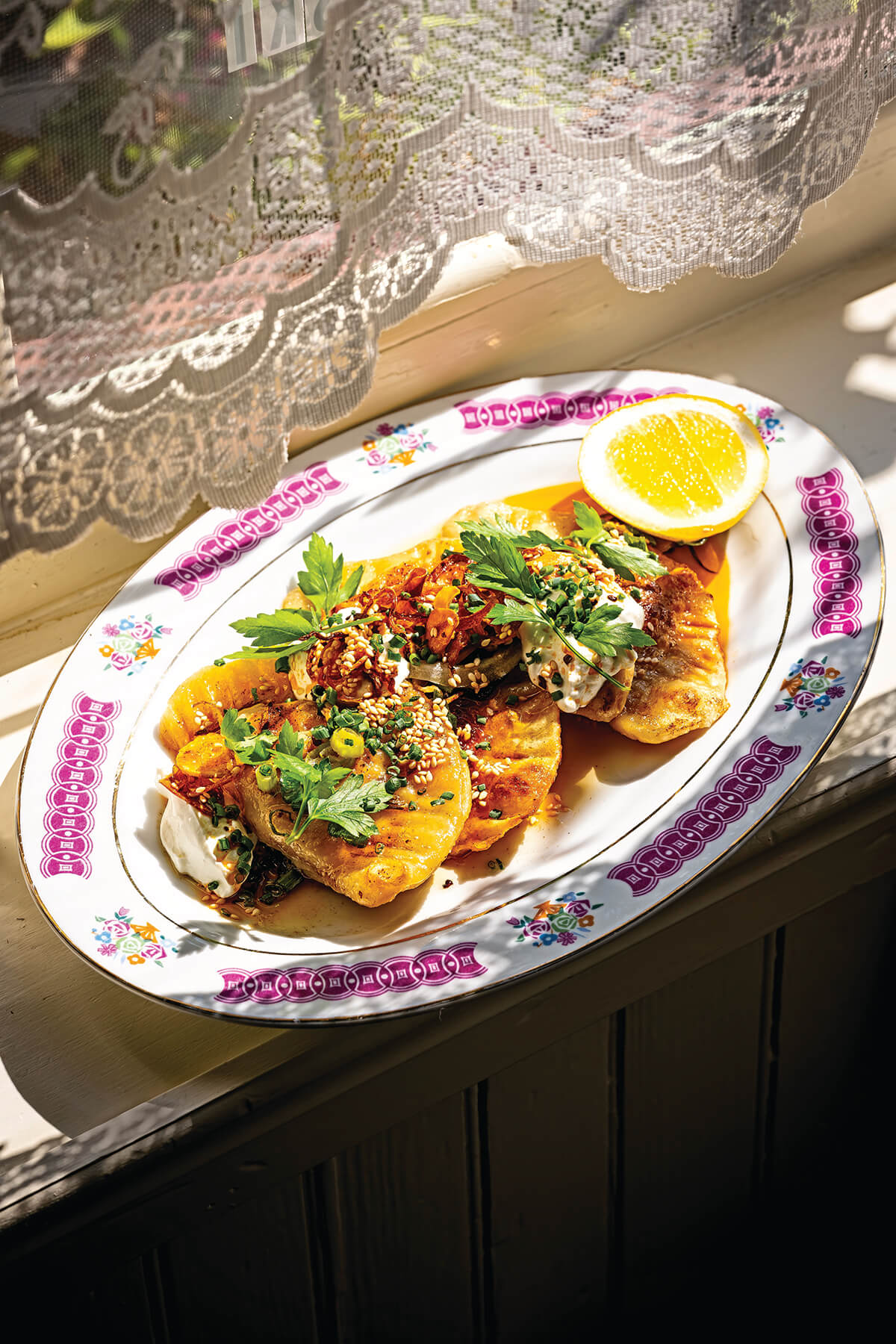 Walk by Little Donna's, the pizzeria that opened the first week of June on Bank Street in Upper Fells, and you'd be forgiven if you kept walking.
It doesn't look like a new restaurant, much less one of the best restaurants to open in the area lately. It's a 120-year-old rowhouse with the kind of bistro-y décor—a painted menu between lace-curtained windows, a few cafe tables and chairs fighting for sidewalk space with pots of greenery—that looks like it's been there for years.
In some respect, Little Donna's has been there for years. When chef-owner Robbie Tutlewski and his wife Kaleigh Schwalbe bought the building in 2021, it had been Henninger's Tavern for more than three decades. And rather than gutting the place, the couple decided to capitalize on that history, keeping most of the nostalgia-driven stuff on the walls—and many of the tavern's regulars along with it.
Tutlewski isn't a newcomer either. He spent the last five years working in D.C. restaurants, including the Michelin-starred Tail Up Goat, and before that a decade in Arizona cooking with Chris Bianco, one of the most respected pizzaiolos in the country (and this year's James Beard Award-winner for Best Restaurateur). Walk into Little Donna's and you wouldn't know any of this. Tutlewski might swing by to ask how your pierogies are, before heading back into his tiny kitchen, but that's about it.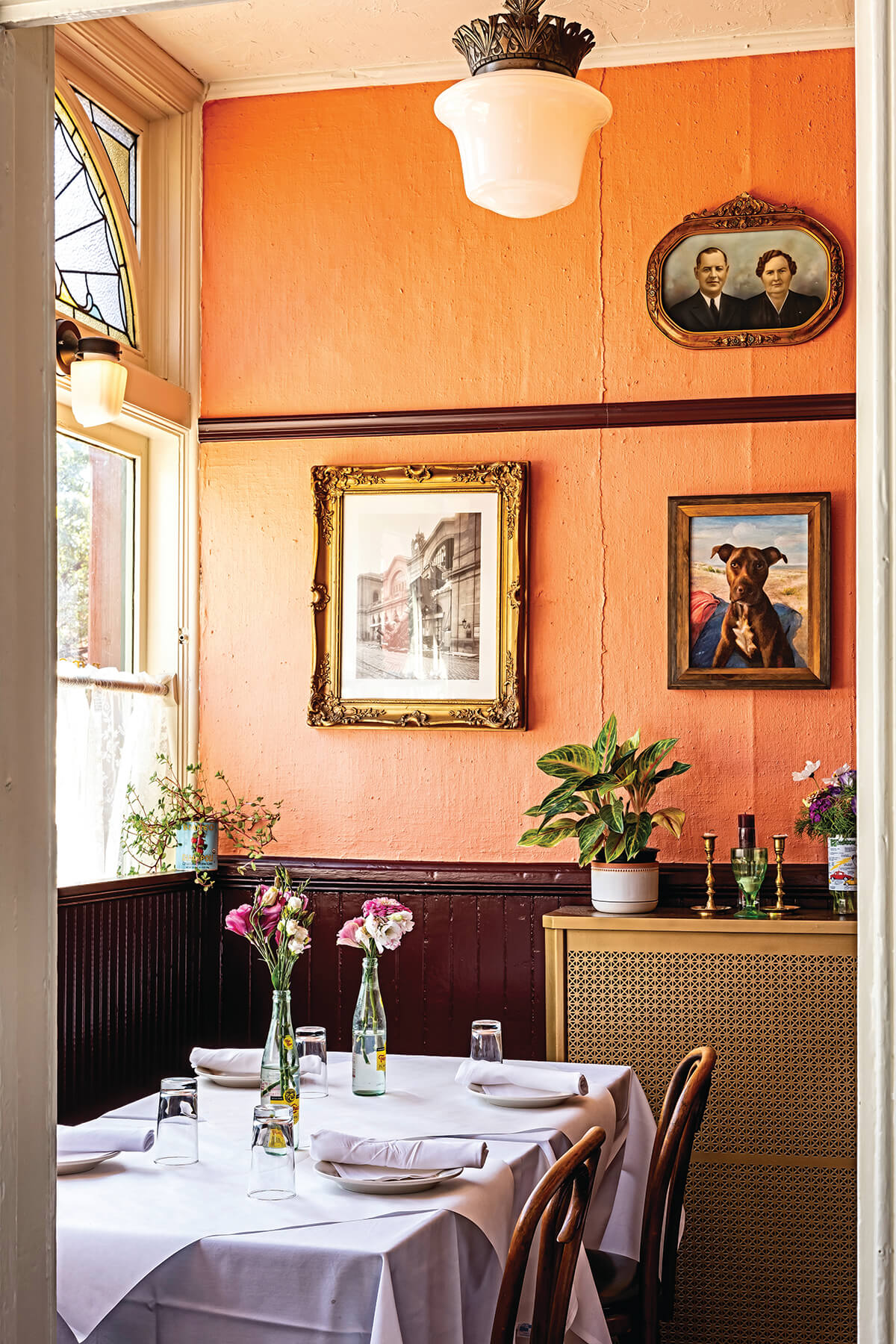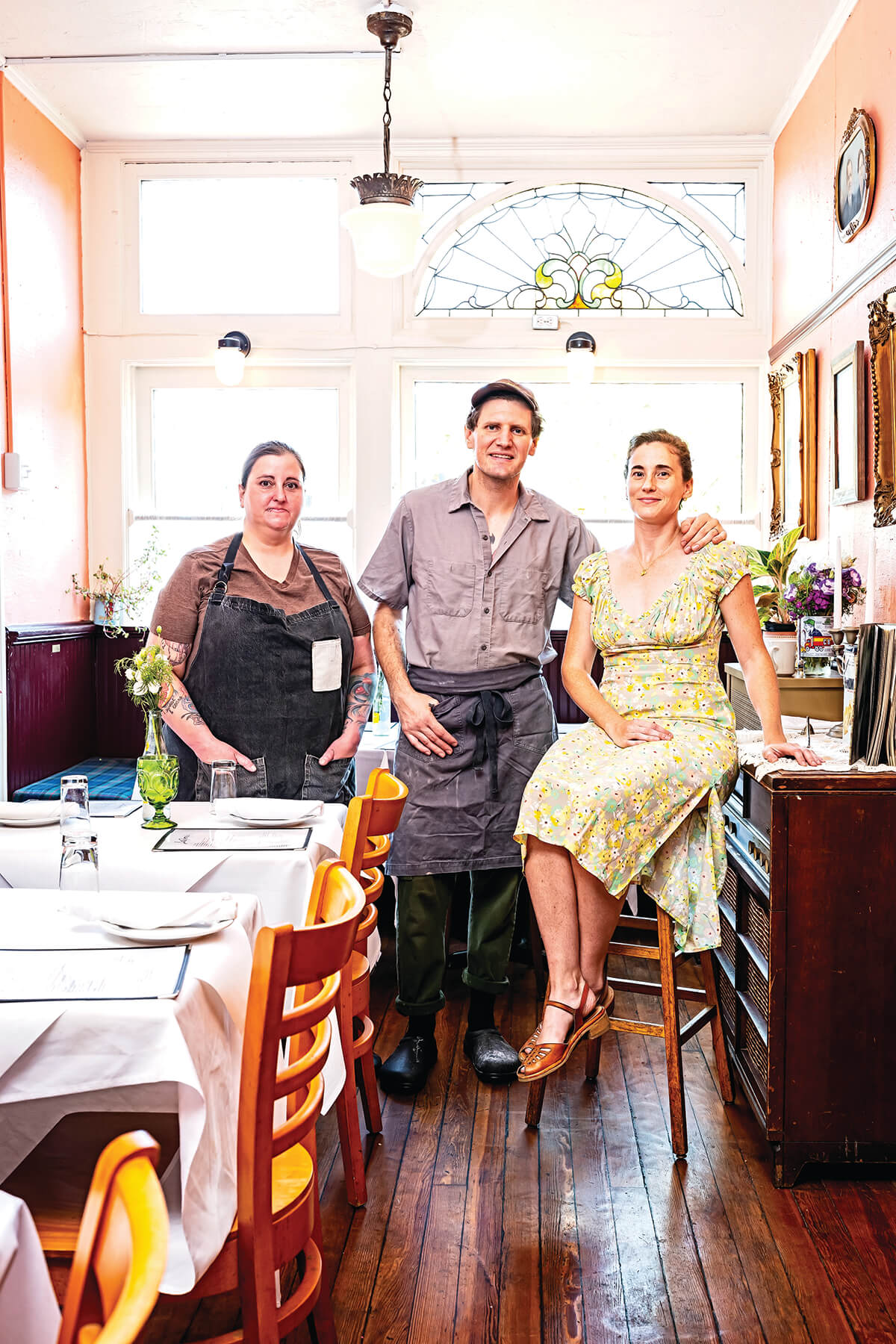 Little Donna's is named for the chef's late grandmother, a small woman (hence the nickname) originally from Belgrade.
"We didn't even know her age. She was taught to cook by a Polish family," says Tutlewski, which explains the pierogies—deft potato dumplings topped with dollops of sour cream, some parsley, and a surprising and utterly addictive dose of chile crisp. It also explains a few other dishes: palacinka, tender pancakes rolled up with farmer's cheese and served with flavor bombs of hot honey chicken and pepper relish; and pork schnitzel, a crisp masterwork stuffed with kielbasa sourced from Ostrowski's, a nearly 50-year-old sausage shop conveniently located across the street. Paired with aioli and pickled celery, the schnitzel has been on the menu since the restaurant opened, and Little Donna's grandson has pledged, thankfully, that both it and those pierogies will remain there.
TUTLEWSKI'S

MENU IS DEEPLY IDIOSYNCRATIC, BUILT FROM HIS GRANDMOTHER'S ACTUAL RECIPE BOX.
Tutlewski's menu is deeply idiosyncratic, built from his grandmother's actual recipe box—which he's installed on a high wall shelf amidst the Henninger's gear, not far below the old tin ceilings—plus those years with Bianco in Arizona, and a childhood spent in the Midwest. The chef grew up in Gary, Indiana, and logged considerable time in Michigan, where his uncle ran a bar. That bar served taco pizza, which is now one of the four or five pizzas Tutlewski puts on the menu. "That pizza is what I grew up with. This is a Midwestern, thin-crust, tavern pie," he says.
Little Donna's doesn't have a pizza oven, at least not yet, so the thin-crust pies, assembled with flour sourced from Lancaster, PA, and California, and just yeast, water, and salt, are made on a deck oven. Crepe-thin, with pockets of char around the edges, they're substantial enough to hold the sausage and banana peppers of the Tavern Pie, the ricotta and lemon-marinated kale of the wonderful Bianca Pie, even the small mountain of chorizo, green-chile crema, cheese, salsa, lettuce, and crushed chips of that Taco Pizza. And be sure to leave back some of the excellent crust for the dips (tomato hot honey, icebox ranch) that Tutlewski offers to dunk them in. (If you forgot you were in a tavern, this should remind you.)
The inventive cocktail list includes strawberry-rhubarb crush; a drink called Taco Tuesday, with mezcal and charred pineapple juice; and one called Granny's Meds, with gin, local honey, Lillet Blanc, and yuzu.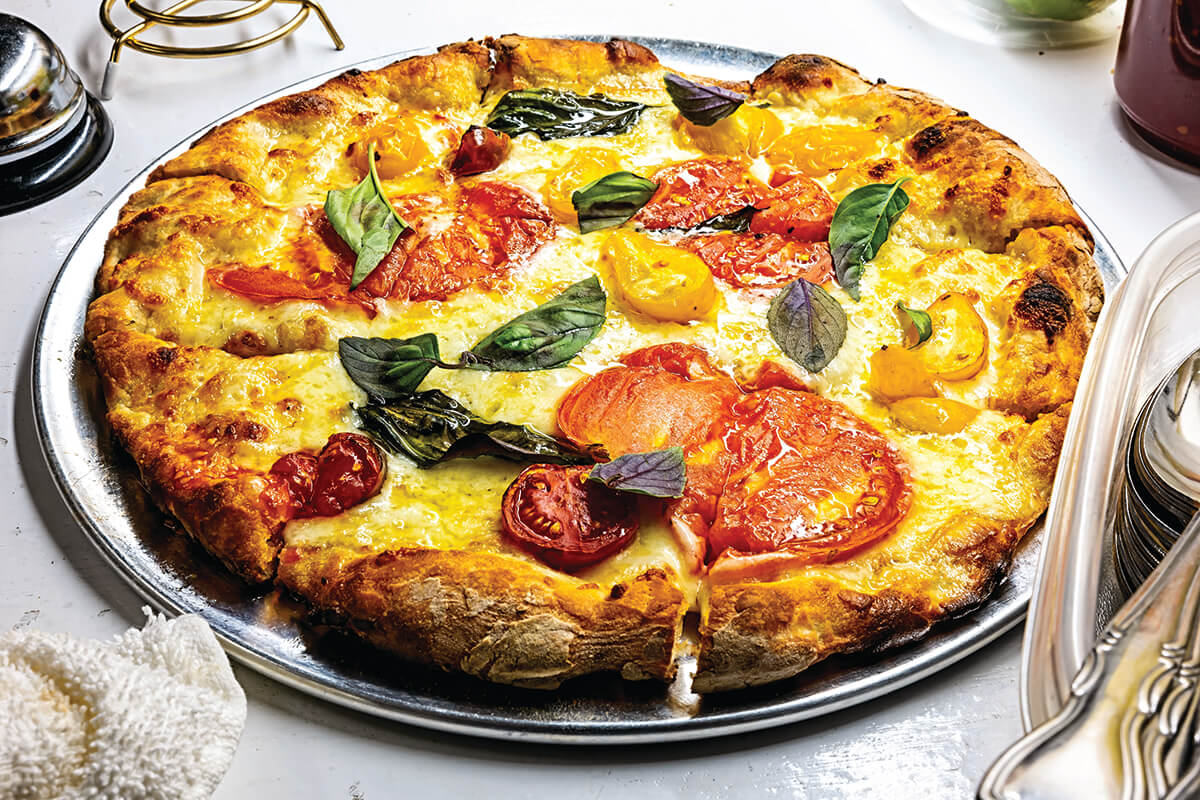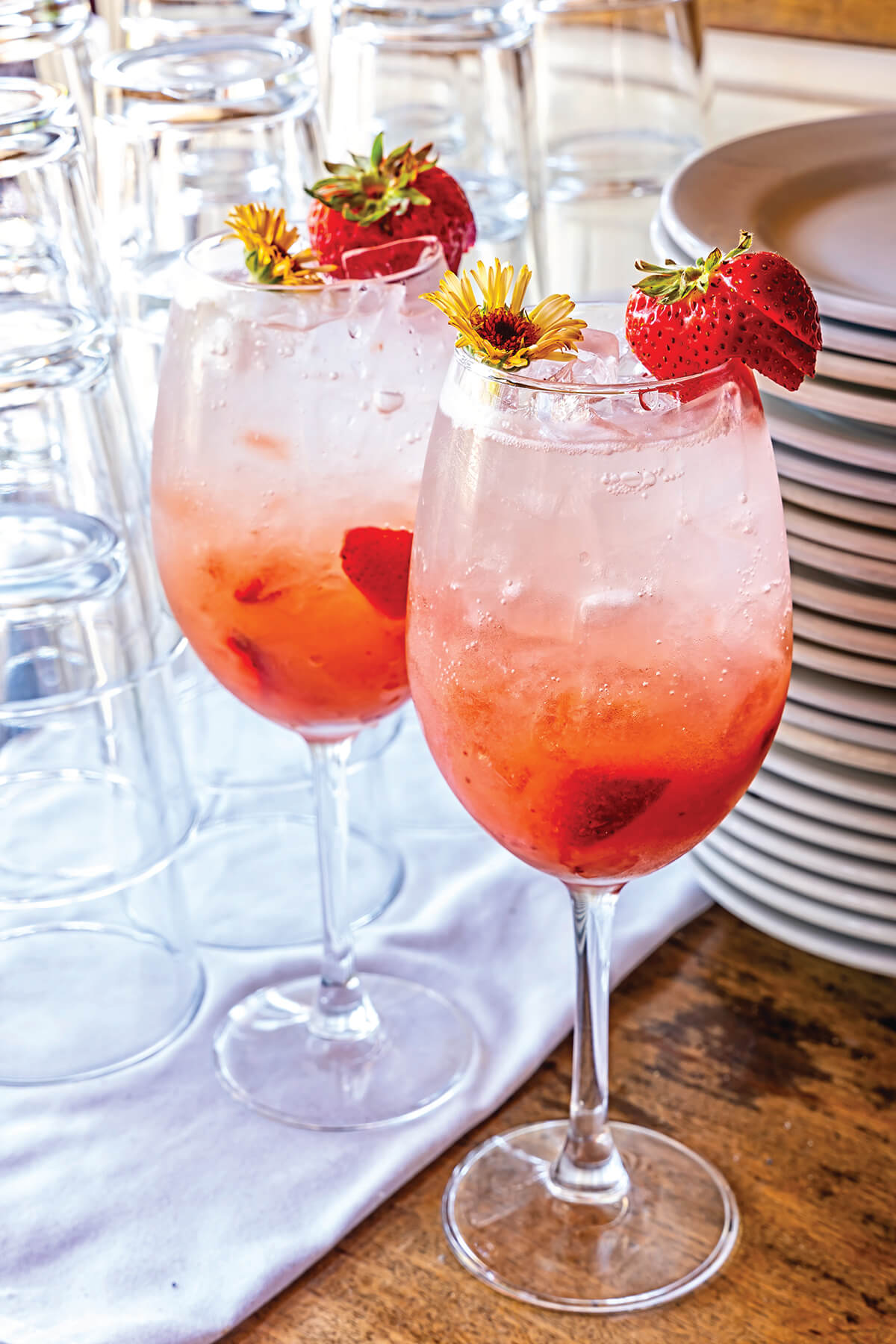 Other than the ghost of Little Donna, Tutlewski's guiding force in the kitchen is Sacha Levine, a veteran chef and longtime friend who moved out from Arizona to help open the restaurant. Levine's love of fresh produce and pickled things runs throughout the menu, a terrific counterpoint to the heavy bar food and hefty dishes from Eastern Europe and the Upper Midwest. It's Levine who engineers the chopped salad, the farmers' market-y sides to the mains, and the remarkable pickle plate, a haul of perfectly brined beets, baby carrots, watermelon rinds, jammy eggs, and whatever else Levine feels like pickling. It's a gorgeous still life, and a perfect foil to all that pie.
Little Donna's is still evolving: The crab dip is more like a chowder than the thick, oozy dip that Marylanders expect, the coddies need reworking, and the desserts—over-zealous, unwieldy brownie sundaes and polenta cakes—don't match the execution of the rest of the menu.
But if you're actually still hungry at the end of your meal, forget the desserts and order another crush and a Tomato Pie, which is maybe the best thing at the restaurant. A deceptively ordinary entry amid the more ornate pies, it's built of just tomato sauce, garlic, oregano and olive oil, and it is stunningly, breathtakingly good.

LITTLE DONNA'S: 1812 Bank St., 443-438-3956. HOURS: Wed.-Sat., 5-10 p.m. PRICES: Appetizers: $7-15; entrees: $14-26; desserts: $9. AMBIANCE: Retro cool meets Baltimore rowhouse.