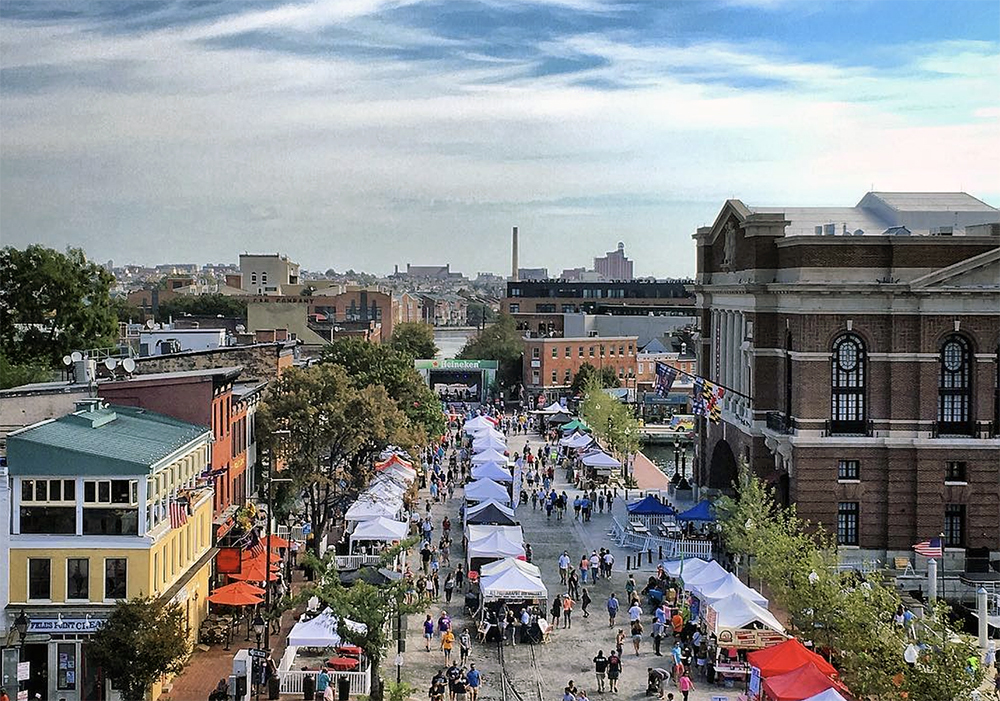 @fellspointfest via Instagram
Much like the Fells Point neighborhood itself, the annual Fells Point Fun Fest has evolved significantly throughout the years. But despite all of the changes—including downsizing the footprint to work around the construction near Broadway Square last fall—celebrating the closeness of the residents and merchants has always been a top priority for organizers.
In an effort to strengthen that hyper-local approach, this year, Fells Point Main Street (FPMS) officials have decided to pack the historically two-day event into one day on Saturday, October 13, with a rain date scheduled for Sunday, October 14.
Misty Keens, executive director of FPMS, says that because of the influx of city events that locals have to choose from, attendance has steadily dropped on the second day of the festival in recent years.
"With the attendance being low on Sunday, a lot of the vendors try to pack up early and it doesn't have that same feel of this cool, fun, city festival," Keens says. "On Saturday, people are packing the streets, seeing the vibrancy of the neighborhood, and making plans to come back. And then Sunday might be an afterthought to some people."
Keens says that Sunday attendance sunk considerably last year, explaining that costs double for overnight security, delivery, and pickup services on the second day. Additionally, vendors see a decrease in revenue on Sunday due to the lack of foot traffic.
The format change comes at a transformative time for FPMS, which has welcomed new members and ramped up its community outreach events in the past year since Keens was brought on board as executive director.
"One of the great things about this board in its current configuration is that we look at things through a different filter," says FPMS organization committee chair Chris Seiler. "Last year was awesome, and this is just a part of the ongoing tweaks to make the festival more viable and successful. The quality is a big deal for us. If you show up on Saturday, this thing should absolutely blow away any expectations that you have for it."
Though the duration of the gathering will be shorter, organizers are looking forward to making the one-day soiree one of the best yet. The festival's footprint will be similar to last year's, extending from Caroline to Ann streets with vendors set up along Thames Street and the newly beautified Broadway Square—which will also house the main stage.
"The square is going to be the heartbeat," Keens says, mentioning that a second stage will be added closer to the kid's zone near Brown's Wharf. "There's going to be a lot of high energy in that area and then some spots that are slightly more mellow. We're hoping to attract a lot of diverse crowds."
While specifics regarding the live music lineup, craft vendors, and food and drink options are still being finalized, Keens says that the Fells Point businesses will play a huge role in the festivities. As in previous years, merchants will offer sidewalk sales and restaurants will feature grab-and-go type eats that visitors can snack on while perusing handmade wares from the likes of Art by Barton, Tin Lizzy Mobile Boutique, and Beltway Merch.
In a time where Fells Point is experiencing rapid growth (including the introduction of the Sagamore Pendry hotel and upgrades coming to Broadway Market), organizers are eager to get back to the roots of the event—which began as a way for residents to band together to save their waterfront locale from demolition during the proposed federal highway expansion of 1966.
"The festival really allows the businesses and residents to showcase the pride they have for their neighborhood," Keens says. "They are bonded and strong. And they are very happy to have these folks lining the streets to come celebrate their home with them."