Meet the Brother and Sister Act Behind Hersh's in Riverside
Josh and Stephanie Hershkovitz are more than siblings—they're best friends, too.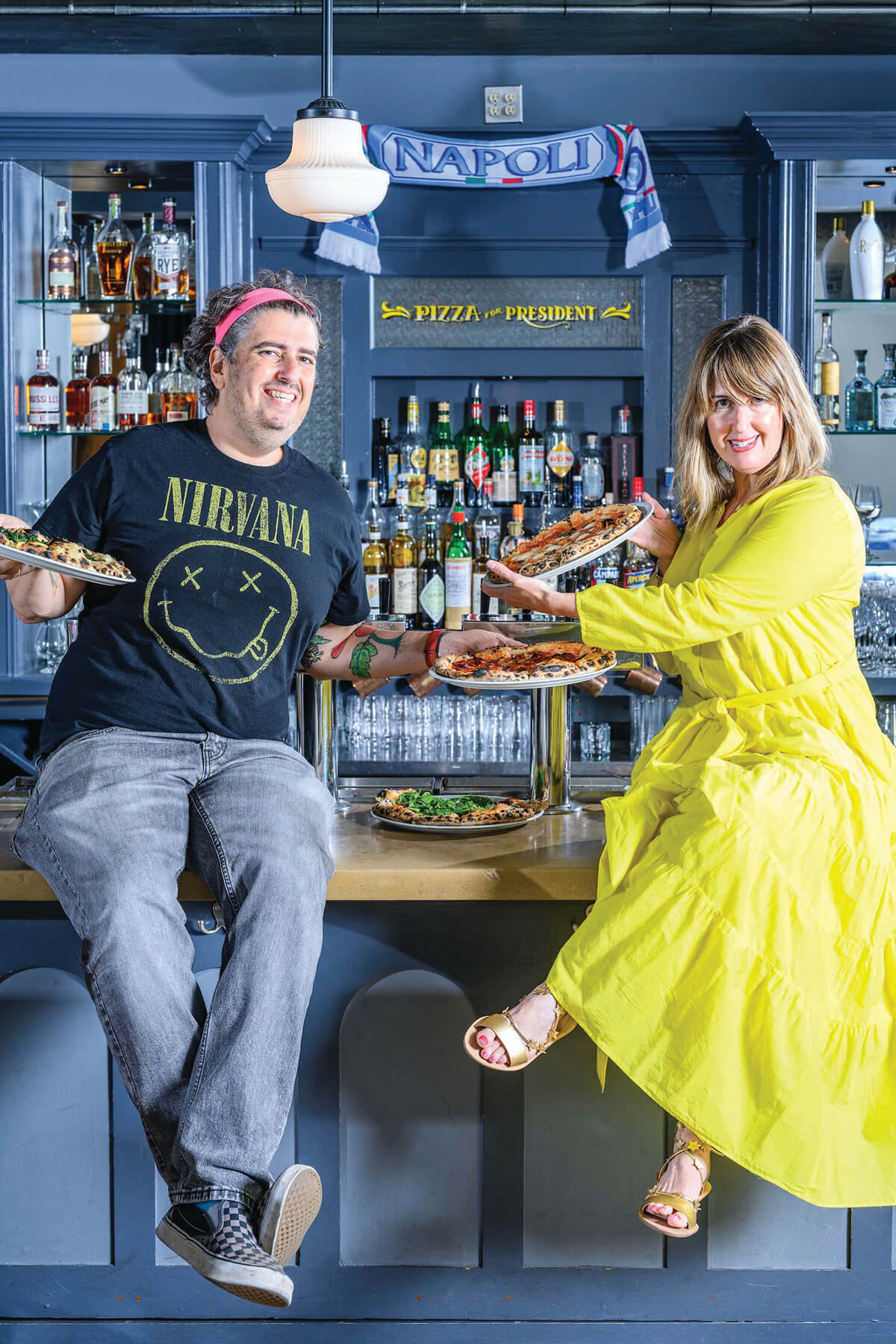 Sitting at a four-top in the second-floor dining room of their popular Italian restaurant, Josh and Stephanie Hershkovitz occasionally finish each other's sentences, like an old married couple.
They're definitely not that.
As they recount the many successes and rare stumbles they've experienced in the decade-plus since they slid that first margherita pizza into their wood-fired oven, they sound like seasoned business partners telling war stories long after the battle for Neapolitan supremacy has been won.
But they're far more than that.
"He came out of the womb as big as I was at that time," Stephanie says of her younger brother.
"I was a big bully to her," he admits.
Each lets out a belly laugh (a frequent sound when they are together), and a key ingredient in what makes their Riverside restaurant such a gem becomes clear.
They're more than siblings—they're best friends, too.
Beloved restaurants often elicit familial feelings, both in the front of the house and in the back. Chefs spend more time with their prep cooks than with their own spouses. Hosts interact with servers more than they do with their own kids. Regulars perch themselves on bar stools and discuss the mundane (and sometimes intimate) details of their lives with bartenders who, like Mom or Dad, are usually happy to offer a sympathetic ear.
In that sense, Hersh's—not just for the brother and sister who own and run it, but for the staff and customers who treasure it—is very much a family affair.
"I don't think I appreciated how much we meant to a lot of people," Josh says. "The number of people who have gone on first dates here and then had their rehearsal dinner here…"
"And then come back with their babies," Stephanie chimes in. "That is so touching to me. We take this seriously, but it's like, 'Oh, we're important to these people as well.'"
Stephanie, 47, is three years Josh's senior. "We don't have any other siblings," he says. "As far as we know," she adds wryly.
As young children, they had starkly different personalities.
"I always said that if I would sit Stephie down in the corner with some toys and books and come back two hours later, she would be reading," their mother, Berly, says. "If I put Josh there, when I came back that corner of the house would have been gone."
The boy who would grow up to become one of Baltimore's most talented chefs did not have a very wide palate. His sister jokes that all he liked to eat was veal Parmesan, French fries, and Big Macs. Stephanie wasn't much more of an adventurous eater herself.
"Trying to get them to eat vegetables was a nightmare," Berly says. "It got to the point where I went to the doctor's and said, 'I can't get them to eat vegetables.' He said, 'As long as they're eating protein, I don't really care.'"
Growing up in Owings Mills, food was always a focus in the Hershkovitz household. Although the kids loved Berly's chicken soup (a staple among many Jewish mothers), she admits she wasn't the best cook. That honor went to her mother, Deborah, who prepared made-from-scratch Shabbat dinners for the extended family every Friday night at her home in Pikesville.
Their father, Avi, didn't deal with pots and pans, but he loved to eat. Family trips to Israel seemed to be organized around stops at his favorite falafel shops. When the kids were older, he took them to renowned restaurants like Georges Perrier's late Le Bec-Fin in Philadelphia.
Josh didn't begin to immerse himself in the culinary world until he was in college at the University of Chicago. By then he and Stephanie had grown close, and she had graduated from University of Pennsylvania and moved to New York City. She eventually went to law school and practiced in commercial litigation and products liability defense.
Meanwhile, Josh, who earned degrees in sculpture and philosophy, started a furniture-making business. He loved the artistry of it and would bring Stephanie pieces in exchange for dinners at primo restaurants in New York. At that point, his tastebuds had evolved well beyond McDonald's.
"Once Josh made me this desk and I took him to Babbo when Babbo was a thing," Stephanie says of Mario Batali's former flagship restaurant. "I finally got a reservation for like five o'clock in the afternoon. We went and had this four-hour meal. The funny part is, we went back a few years later and had essentially the same meal and it was fairly differently executed but still amazing. That was very influential for both of us."
The restaurant's simplicity in its preparation of dishes using basic but quality ingredients spoke to them. By this time Josh had become enamored with the world of food, and when he was 24, on a whim he walked into Cindy Wolf's Charleston in Harbor East and applied for a job. He had no restaurant experience whatsoever, so he wrote an essay on the back of the application detailing why he wanted the gig.
"I liked what I was doing, but my eyes had been opened to cooking," he says. "It was new and exciting in so many ways to me. And [it] still involved working with my hands."
He was hired and began working as a chef garde manger, making and plating cold salads, pâtés, and desserts. Soon he moved to Wolf's Petit Louis Bistro in Roland Park, where he played several roles in the kitchen and developed a passion for the business. On subsequent visits to see Stephanie in New York, they would host dinner parties for their friends.
JOSH AND STEPHANIE ARE MORE THAN SIBLINGS, THEY'RE BEST FRIENDS, TOO.
"The food was not always great; we were experimenting a lot at the time," Stephanie says. "But it was when we got into the idea of hospitality. One of the first times we made pasta I had the brilliant idea that we should put it between wet paper towels to keep it moist, which is the last thing you should ever do."
It was from these dinners that the idea to open a restaurant was hatched. They settled on Italian because of the cuisine's approachability and its association with family gatherings. Next came the research.
"When we were deciding on different components of the pizza we went back to New York and we ate at something like eight pizza restaurants in one day," Stephanie says. "It was the only time I've ever had heartburn."
By 2010, Stephanie had moved back to Baltimore, Josh had married his wife, Lena, and the siblings were actively looking for locations. (Stephanie got married on New Year's Eve 2015.) They checked out a few in Hampden before touring the building at the end of Light Street that once housed the barbecue joint Rub. They liked the vibe and the fact that it had previously been a restaurant, so they didn't need to completely retrofit it. One more thing sealed the deal. They had settled on the name Hersh's—short for Hershkovitz, of course—before discovering that several iterations prior to Rub, the building had housed a business named Hirsch's. The name is painted on the brick wall on the side of the building that faces Light Street, and the siblings considered that bashert—the Yiddish word for destiny.
The first order of business was de-Texifying the space. They removed the corrugated metal from the walls and hired artist Kerry Cesen to paint large murals. Stephanie put in the Edison bulbs that were popular in Brooklyn at the time. Josh built the cabinetry behind the bar.
Next was the matter of installing the 5,000-pound, Italian-made, wood-burning pizza oven they bought from an importer in San Francisco. They rented a forklift and somehow managed to finagle it into the spot where Rub's smoker once sat.
On Veterans Day 2011—11/11/11—Hersh's opened for business. The menu was small as compared to today, but three pizzas from then remain: the margherita; Pepe's Clam Pie, an ode to the famous shellfish-topped white pizza from Frank Pepe Pizzeria Napoletana in New Haven, Connecticut; and the unique kale and pistachio. "That was a random pie I made at home one night," Josh says. "My wife would request it every time we made pizza at home. It's one of the things that if we took it off the menu, we would lose like half our customers."
The place was a hit from the start. Diners loved Josh's homemade, lightly sauced, heavily accented pastas (he oversees executive chef Matt Milani in the kitchen) and Stephanie's craft cocktails (she runs the beverage program).
But most of all, people loved the pizzas. Hersh's makes the dough fresh using Double Zero flour from Italy, which is much finer than all-purpose flour, plus fresh yeast, water, and salt. It ferments in the walk-in refrigerator for three days before being used. When it's showtime, it's hand-stretched, sauced, and topped before going into the 800-degree oven for just 90 seconds.
"The hallmarks of the Neapolitan pizza are the dough is very simple and it's sparsely topped," Josh says. "Just like the pasta is about the pasta, this is about the dough. You see some plates come back with just the crust left, and it kills me. This is where the work is!"
The menu has evolved to include antipasti like wood-fired octopus; burrata; and pork, brisket, and prosciutto meat- balls served with whipped ricotta in a prosciutto broth. Entrees include sophisticated dishes like artichoke salmon and rockfish puttanesca.
"Steph and I both have a philosophy that one fewer ingredient is preferable to one too many," Josh says. "We always have a crostini on the menu. My favorite dish of the year is the heirloom tomato crostini. This is nothing more than our focaccia, our black pepper aioli, a big slab of tomatoes, olive oil, and salt. It's a glorified mayonnaise and tomato sandwich. It speaks to what we do here. It's a very simple dish. People ask for it all year and I have to say, 'Sorry, it's July through October, that's it.'"
Business improved steadily each year until 2018, when it really took off. Hersh's found its way onto a list of OpenTable's 100 top restaurants in America, and people came from all over to try a slice of the pie. It hosted comedian John Oliver, and local celebrities like David Simon, Laura Lippman, and Justin Tucker have stopped in.
Then, the pandemic hit.
The Hershkovitzes were among the first to close their business, doing so before Governor Hogan's official decree. They briefly pivoted to serving takeout pizzas and subs, but their skeleton staff couldn't meet the intense demand. They closed until May 2021, when they re-opened with a covered outdoor patio.
Like everyone, they were fundamentally changed by the pandemic. Stephanie began spending most of her time helping their father run the family's Highlandtown grocery store, a role she continues today, in addition to her work at the restaurant. Josh became a vegan.
Wait—what? The man who created a pizza called The Salami Maker's Girlfriend, topped with pepperoni, and soppressata, giving up meat for good?
"I feel like everyone dealt with COVID in their own way," he says. "I was reading about what a great way being vegan is to eat. That started to speak to me. I made a good decision for myself and trying to get my kids to eat more vegetables, but I don't need to stand here and tell you what you need to do. There's the joke, 'A vegan walked into a bar. How do you know? Because he wouldn't stop telling everyone about it.' I try not to be that proselytizing vegan."
IN 2018, HERSH'S WAS ON A LIST OF OPENTABLE'S 100 TOP RESTAURANTS IN AMERICA.
His transformation is subtly acknowledged at the bottom of the menu, where he's listed as pizza-maker and Stephanie as pizza-eater. (There is a vegan pie on the menu, and vegan mozzarella can be substituted for cheese on request.) It's an example of the whimsy that permeates the place. "Pizza for President" reads a sign above the bar. In what looks like a TV case, a painted wooden sign reads "please stand by." (There are no TVs at Hersh's.) "Will Ferrell, if you come into our humble establishment, your meal's on us," reads a line in the About section of the restaurant's website. The siblings are big Anchorman fans.
Ferrell's Ron Burgundy hasn't taken them up on that offer yet, but on a relaxing Thursday night in June, two families with small kids and an elderly man and woman dined outside, while couples sat at the bar. Cotten and Claire Seiler, celebrating their ninth wedding anniversary, were among them.
"I have come here after a run in my workout clothes, and I have come here in a formal dress," Claire says. "On any given night you see all kinds of people. We've had lots of celebrations here, so it's become special to us over time. Our rehearsal dinner, my 40th birthday, our dear friend's 50th.
"Everything happens at Hersh's."