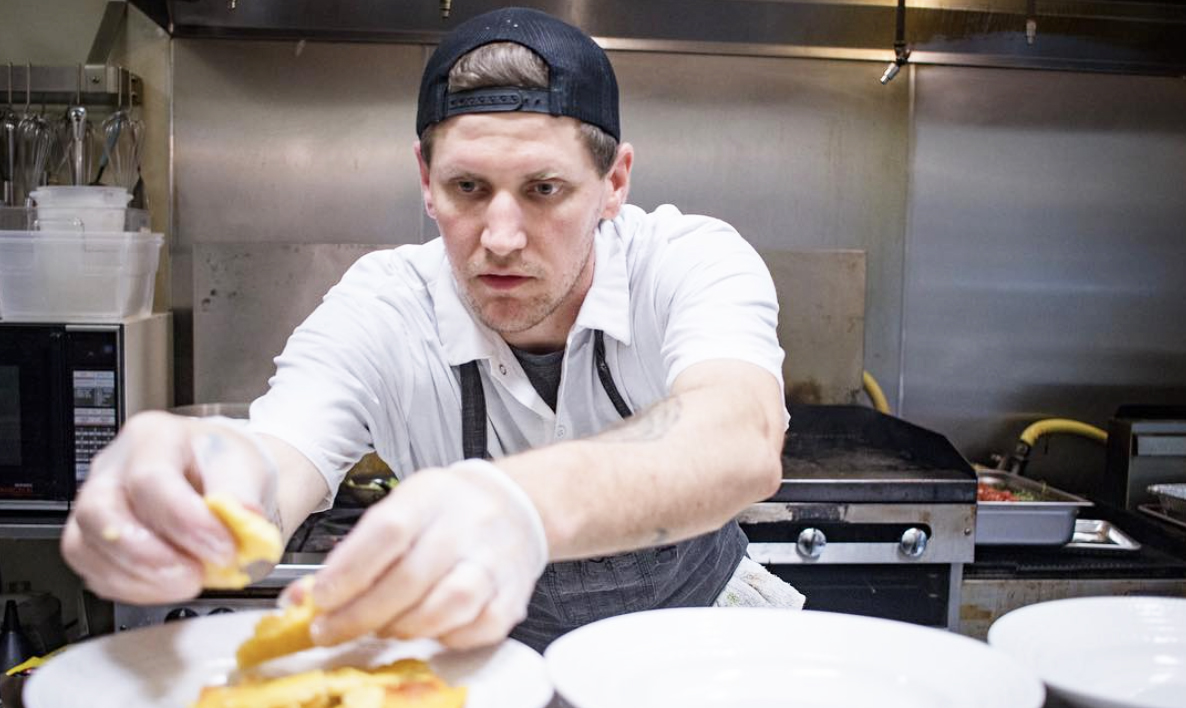 Chef Robbie Tutlewski of Little Donna's. —@littledonnas via Instagram
COMING SOON
Little Donna's: It's been almost one year since regulars enjoyed a final round at the homey Henninger's Tavern on Bank Street in Fells Point. After longtime owners Kenny and Jayne Vieth made the decision to retire last July, they handed the keys over to chef Robbie Tutlewski—an Indiana native and Le Cordon Bleu grad who has spent the past few years introducing D.C. diners to his Southwest dishes inspired by a decade working in Phoenix, Arizona. (His aptly named "Desert to District" pop-ups featured everything from meatballs with sweet corn grits to beef ragu with dandelion salsa verde.) Now, the chef—also an alum of Pizzeria Bianco in Phoenix and D.C.'s lauded Tail Up Goat—is bringing that flair, along with his Midwestern roots, to Charm City, with an opening expected any day now. 
Breathing new life into the former Henninger's space, Little Donna's (named after Tutlewski's four-and-a-half foot tall grandmother from Yugoslavia) will highlight ultra-thin Midwestern tavern pies, classic pierogies, and schnitzel as staples. There will also be pastas, roasted meats, and rotating specials (think: a burger topped with spaetzle, ramp pesto, and lemony-herb salad) based on what's in season. Tutlewski and his wife, Kaleigh, have spent months renovating the space with new furniture and a fresh look (RIP to the red walls lined with framed photos and retro memorabilia), but their goal is to preserve the Henninger's charm. "The place will look different, but I promise we've been working really hard to create a space that's special, inviting and welcome," Tutlewski wrote on Instagram. Be sure to give Little Donna's a follow for updates on opening day. 
Let's Brunch Cafe: Speaking of new life, Remington residents might have noticed a "coming soon" sign for this all-day brunch concept hung outside the former home of The Dizz. After plans fell through for a proposed concept called Lily's from former Orto owner Elan Kotz, former mayoral candidate and restaurant franchise owner Rikki Vaughn stepped in to take over the space. Slated to debut in June, the cafe—which also operates a location in Caroline County and one in South Carolina—offers a pages-long menu with omelets, breakfast sandwiches, burgers, pancakes, and more. 
OPEN
Game On Bar + Arcade: Longtime Federal Hill barflies likely remember heading to Boiler Room on East Cross Street for a shot-and-a-beer combo and a round of pinball back in the day. Since then, Ropewalk upgraded with arcade games and duckpin lanes on its second floor. And now, there's another "barcade" style concept in the neighborhood. Head to the new South Charles Street spot (set in the former home of Metropolitan and short-lived Hard Water Bar & Grill) to take in the '90s vibe with games like Big Bertha, Skeeball, and pinball. In keeping with the theme, the food and drink menu offers unique takes on childhood faves including boozy Capri Sun pouches, Jello shots, gourmet Pop Tarts, and Frito pies. 
My Desserts Diva: Owned by sweet-tooth specialist Lynette Jefferies, this Southern-inspired bakery recently found a new home at The Village of Cross Keys. Now open Wednesday through Friday from 11 a.m. to 4 p.m. and weekends from 10 a.m. to 2 p.m, the bakery offers Jefferies' decadent treats such as carrot cake cupcakes, lemon pound cake, three-layered strawberry shortcake, and classic chocolate-chip cookies. 
EPICUREAN EVENTS
6/11: Educate, Liberate, Celebrate: A Juneteenth Dining Experience
With H3irloom Food Group chefs David and Tonya Thomas—as well as guest chef and culinary historian Michael W. Twitty—at the helm, this educational feast is going to be nothing short of transformative. The open-air dinner at The Sinclair, H3irloom's private event space in East Baltimore, will celebrate Juneteenth with seven thoughtful courses that "honor the ancestry of Black food traditions and forgotten foodways." Each one has its own theme (think: legislation, proclamation, emancipation) that will be explained by the chefs throughout the meal. As is customary, the color red—"the embodiment of spiritual power and transformation," according to Twitty—will be incorporated with ingredients such as hot pickled strawberries, smoked watermelon, and housemade "red-red sauce." Dishes to look forward to include lamb tartare with fish pepper oil, beef hot links with stewed black-eyed peas and chow chow, and grass-fed filet with bone marrow and sweet potato. The full menu, with wine pairings, can be viewed here. 
SHUT
Between 2 Buns: In a recent Facebook post, chef/owner Andrew Cole announced that his burger stall inside Mount Vernon Marketplace is coming up on the end of its lease this month. The last day of service for Between 2 Buns will be Sunday, May 29. Be sure to swing by this weekend to chow down on its globally inspired poutines, fries with a flight of dipping sauces, and stacked burgers like the bacon mayo-topped Pork Belly B—made famous on Netflix's Fresh, Fried, and Crispy. There's no word yet on what will replace the stall. 
Bottoms Up Bagels: This Sunday, May 29, Michelle Bond and Joan Kanner will serve the final batches of hand-rolled bagels and house-cured lox at their brick-and-mortar "BUB Hub" on Greenmount Avenue in Harwood. After operating as a pop-up for five years, the owners opened the cafe in June 2020 with the hope of evoking the real-deal, "steam-on-the-windows" type of spots from their native New Jersey. They succeeded, offering an inviting home for brekkie lovers in North Baltimore and beyond for the past two years. But now, their lease is up, and it's time to embark on a new chapter. "In truth, we simply cannot make this business the thing it needs to be and be stuck behind the mixer, the flattop, the mop sink, etc," Bond and Kanner wrote in an email announcing the closure. "And, it takes this dedication to bring you our offerings, even in our current operating model."
The email goes on to thank locals for their support. "You, our dear customers, collaborators and community-members, make this the most difficult decision to make," it reads. "Whether you've patiently waited for your Loxed Up at a farmer's market in sideways wind on far too many occasions, or are just discovering us, you're the reason we've gotten up in the darkest nights and the only reason we've felt like it was worth it at the end of the day."
The good news is this won't be the last we see of Bottoms Up. The owners plan to take some time to regroup before announcing what's next for the business. "A bigger, better BUB is our next step, but it will take attention and skills that we have not been able to tap for far too long…Over the next few months, we'll share how things are evolving. Please continue to follow along and engage with us. The birth of BUB in Baltimore is your story too."