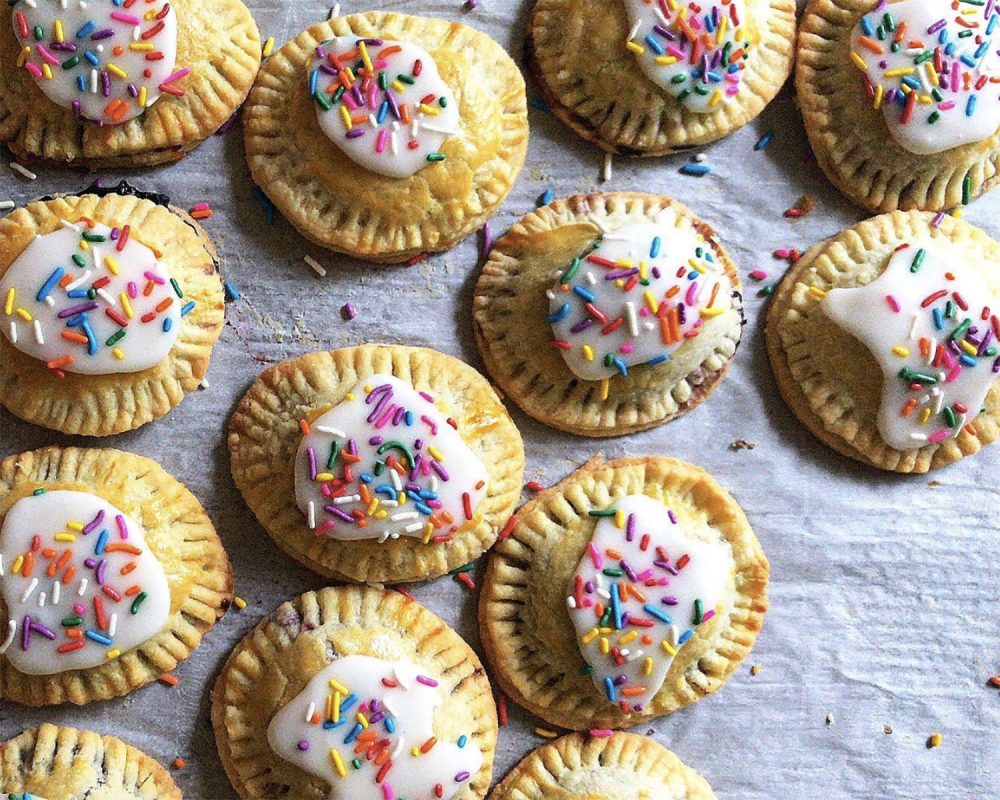 Crust by Mack
COMING SOON
Crust by Mack: Chef Amanda Mack's beloved baked goods have been added to the lineup of local eats that will be offered inside Hampden's Whitehall Food Market when it opens later this year. After nearly two years of focusing solely on pop-ups and deliveries, Mack will set up shop inside the communal space to serve her sweet-and-savory hand pies (think everything from cherry almond to the "Bmore Crust" filled with jumbo lump crab meat), as well as cinnamon rolls and a Baltimore-inspired chocolate chip cookie made with brown butter and Old Bay. "It's so Baltimore, but then it's also that classic chocolate chip cookie that everybody dreams of," she says, also mentioning brunch pastries that will be paired with Champagne and bellinis. In keeping with Mack's social justice philosophy, she is looking forward to hosting community gatherings and speaker series in the market's designated events space. "It's the perfect location," she says. "I'm excited to be around other like-minded people and collaborate with some of my favorite brands."
THB Neighborhood Bagelry + Deli: Since opening its flagship in Towson 20 years ago, THB has expanded into three other neighborhoods and served more than 52 million bagels to the Baltimore community at large. To celebrate its big birthday, the deli is widening its footprint yet again—this time to Howard County. A fifth shop at Columbia Crossing is slated to open this winter, highlighting THB's signature breakfast sandwiches, wraps, salads, and paninis.
OPEN
Pizza di Joey: The footlong "monster" slices from this roving pizza truck have finally found a permanent home inside Cross Street Market. Owner Joey Vanoni debuted a brick-and-mortar stall inside the renovated market last weekend, just in time for the Ravens home opener. Stop by the stall—or the attached take-out window that is open until 12 a.m. on Saturdays for revelers in Federal Hill—for wood-fired slices topped with everything from pepperoni and mozzarella to barbecue chicken and lump crab. Pizza di Joey joins newly opened spots Rice Crook, Annoula's Kitchen, and Gangster Vegan in the revitalized property, which is expected to be fully leased by spring 2020.
NEWS
Le Comptoir du Vin Ranked Best in the Country by Bon Appetit: The fastidious food editors at Bon Appetit magazine narrowed their list of the 50 Best New Restaurants in the country down to 10 this week, and local diners were ecstatic to see that beloved French bistro Le Comptoir du Vin made the cut. Coming in at No. 8 on the list of the top newcomers in America, the Station North spot was praised for its chicken liver pâté, hand-cut steak tartare, and fresh-baked breads.
"The food is not even really what Le Comptoir is about," writes editor Julia Kramer. "It's about having a place where you feel immediately welcomed…a place where you just wanna hang out, as golden hour fades, hoping the night never ends." We couldn't agree more. In response to the award, co-owners Will Mester and Rosemary Liss took to Instagram to thank their team, Bon Appetit, and the city as a whole: "We love this city and are so proud to be here," reads the post. "Thank you Baltimore for your love and support."
EPICUREAN EVENTS
9/20-22: Mount Vernon Marketplace Turns 4
In the four years since Mount Vernon Marketplace debuted on Park Avenue, we've seen OG vendors like The Local Oyster, Cultured, Pinch Dumplings, and Taps Filling Station cement their place in the local dining landscape. And, along the way, the market has welcomed exciting new concepts like Indibowl, Mr. Souvlaki, and Fishnet. In celebration of the food hall's four-year anniversary this weekend, all of the stalls will be running individual specials. Be on the lookout for $5 milkshakes and orders of fries at Between 2 Buns, $5 rice bowls and $10 soju bottles at Brown Rice, and a "Five Buck Birthday Cup"—which tops a sweet cream base with Oreos and birthday sprinkles—at Roll Bmore.
9/23: Farm to Chef Maryland
In honor of its 10th anniversary, this culinary competition benefitting local nonprofit TasteWise Kids is back and bigger than ever. Nearly 30 chefs—including Stefano Porcile of Orto, Jesse Sandlin of The Outpost American Tavern, Mark Levy of Magdalena, Doug Wetzel of Gertrude's, and David Thomas of Ida B's Table—will be paired with a local farm and tasked with creating a dish that showcases Baltimore's bounty of homegrown produce. Plus, cocktail connoisseurs from the Baltimore Bartenders' Guild will also use herbs and other ingredients from the featured farms to mix up signature beverages. Attendees will vote for their favorite eats and drinks of the night, and a portion of all proceeds will support the nonprofit's efforts to educate kids about the origins of their food.
SHUT
The Haute Dog Carte: The Mt. Washington scene lost this old standby earlier this month. Chef Daniel Raffel took to Facebook to announce that he would be shutting down his hot dog cart—stationed in a converted garage next to Bonjour Bakery on Falls Road—indefinitely. "I am humbled by the kindness, support and love from all who joined me on this fun adventure," he wrote. "I will sign off until there is something to report." Some of the offerings that became favorites among lunchtime regulars included the spicy Italian dog topped with onion jam and the smoked country sausage with whole grain mustard. Here's hoping the fabulous franks stuffed inside flaky baguettes will make a comeback sometime soon.