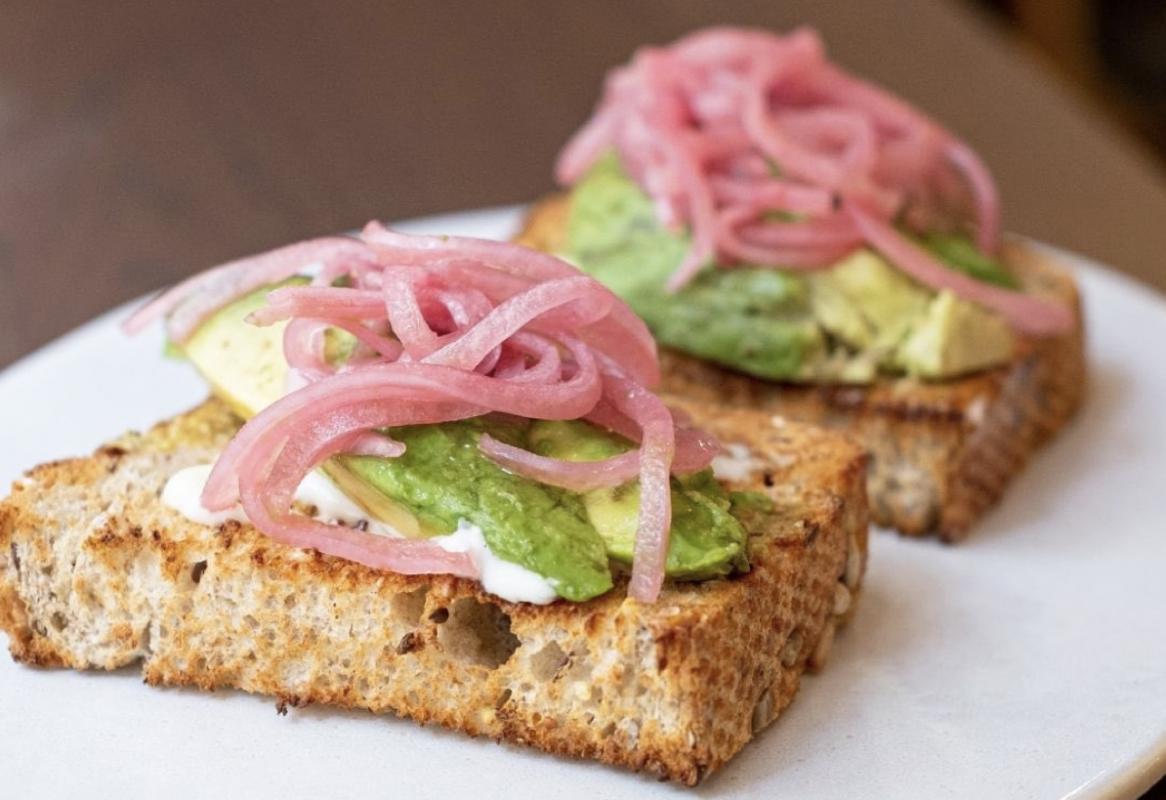 The avocado toast at 'Dashery at Hotel Revival. —'Dashery via Instagram
NEWS
Dining Restrictions Lifted: Next week—for the first time in more than a year—local bars and restaurants will be able to resume full operations. Mayor Brandon Scott and City Health Commissioner Dr. Letitia Dzirasa have eased COVID-19 restrictions in Baltimore City to align with the state's current executive order—which lifts all capacity limitations on indoor and outdoor entertainment, art, sports, and dining venues. (Masks will still be required indoors until 70 percent of Maryland adults are vaccinated.) The modifications will take effect in Baltimore City on Monday, May 17. "I commend everyone for doing their part to get us closer to the other side of this pandemic," Scott said in a statement. "With restrictions eased and summer approaching, we must continue to take COVID-19 seriously. Wear your masks when indoors, avoid large gatherings and contact with unvaccinated persons, and get vaccinated. Let's do all we can to continue to move forward and keep our loved ones and neighbors safe and healthy."
OPEN 
BLK Swan: Boasting black decor, chic candelabra chandeliers, and Instagram backdrops around every corner, this sleek social spot is bringing some new energy to Harbor East. Set to make its official debut in the former Cava Mezze space on Friday, May 14, the restaurant—which will feature live music spun by DJs Soulstar, Impulse, No ID, and Neil Paul throughout opening weekend—is now accepting reservations for dinner and weekend brunch. Helmed by chef Saon Brice, the menu offers New American dishes (think pork belly burger sliders, an array of pizzas, cheesesteak spring rolls, and bone-in ribeye with truffle pomme puree), as well as takes on local favorites like crab cakes with Eastern Shore corn pudding and a spin on the classic Baltimore chicken box. 
'Dashery: The first-floor kitchen and dining space at Hotel Revival in Mt. Vernon—which most recently operated as a rotating pop-up for local chefs to use in the wake of the pandemic—has been revamped into this new cafe. Short for "haberdashery," (a shop that sells materials for sewing), the spot lives up to its name with cross-stitch furnishings and a menu ideal for those looking to "dash" in to grab sustenance on the go. Locally inspired items include baked goods from Crust by Mack, teas and lemonade from Wight Tea Company, and a coffee program emphasizing blends by Black Acres Roastery. Guests can also look forward to breakfast all day and made-to-order sandwiches like the Baltimore-style crab salad or avocado toast with garlic aioli and pickled onions. 
Hard Water Bar & Grill: The South Charles Street space that has sat vacant since Metropolitan closed its doors in 2018 is now home to this new neighborhood spot. After months of remodeling, Hard Water Bar & Grill launches today with lunch and dinner service, as well weekday happy hour and weekend brunch. Swing by to sample seafood plates like a crab pretzel, seafood cobb salad, clam and bacon flatbread, and shrimp salad sandwich with lettuce and tomato. The menu also lists an array of sandwiches and classic pub snacks. 
EPICUREAN EVENTS
5/16: A Benefit for House of Ruth
In the wake of allegations of sexual misconduct within the local restaurant scene—which recently surfaced on social media—many in the hospitality community are facilitating conversations and sharing resources to work to ensure safer spaces for industry professionals. Building on that effort, Clavel is hosting a collaboration dinner at Fadensonnen this Sunday and donating 100 percent of proceeds to the Baltimore chapter of House of Ruth. Though tickets for the dinner—which will feature dishes from Alma Cocina Latina, Asanka, Our Time Kitchen, NiHao Baltimore, The Charmery, Ekiben, and Clavel—have sold out, Fadensonnen will open its doors at 9:30 p.m. for anyone who wants to gather for drinks and conversation to stand in solidarity with victims of abuse. The educational director from House of Ruth will also be on site to offer additional resources in support of the cause. 
5/21: Boss Steaks
Meat eaters, be forewarned: scrolling through this new pop-up's Instagram feed will undoubtedly make your mouth water. Faulcon Food Services—the team behind Home Maid in Federal Hill and Cloudy Donut Co. in Lauraville—has recently launched this sister brand highlighting gourmet truffle cheesesteaks. Popping up at Home Maid from 5-8 p.m. every other Friday (mark your calendars for the return on May 21), Boss Steaks piles prime cuts of meat on garlic butter buns with truffle cheese fondue and the requisite fried peppers and onions. Pre-order by phone to get your hands on the "Capo" with shaved ribeye, the "John Gotti" with filet mignon, or the "Big Meech," which combines the two. 
5/22: Feast of Flowers at The Sinclair
Throughout the past year, chefs David and Tonya Thomas have been hard at work curating carryout meal packages and building their new home at The Sinclair event venue in Northeast Baltimore. And now, they are preparing to host their first public dinner in the new space. Famed jazz pianist Lafayette Gilchrist will perform live at the seven-course, spring-inspired feast with wine pairings—which will feature dishes such as squash blossoms with duck fat mole and fried collards, smoked jerk prawns with plantain mousse, Maryland crab porridge with cornbread biscotti, and roasted strawberry and rhubarb sorbet. Reservations can be made, here.