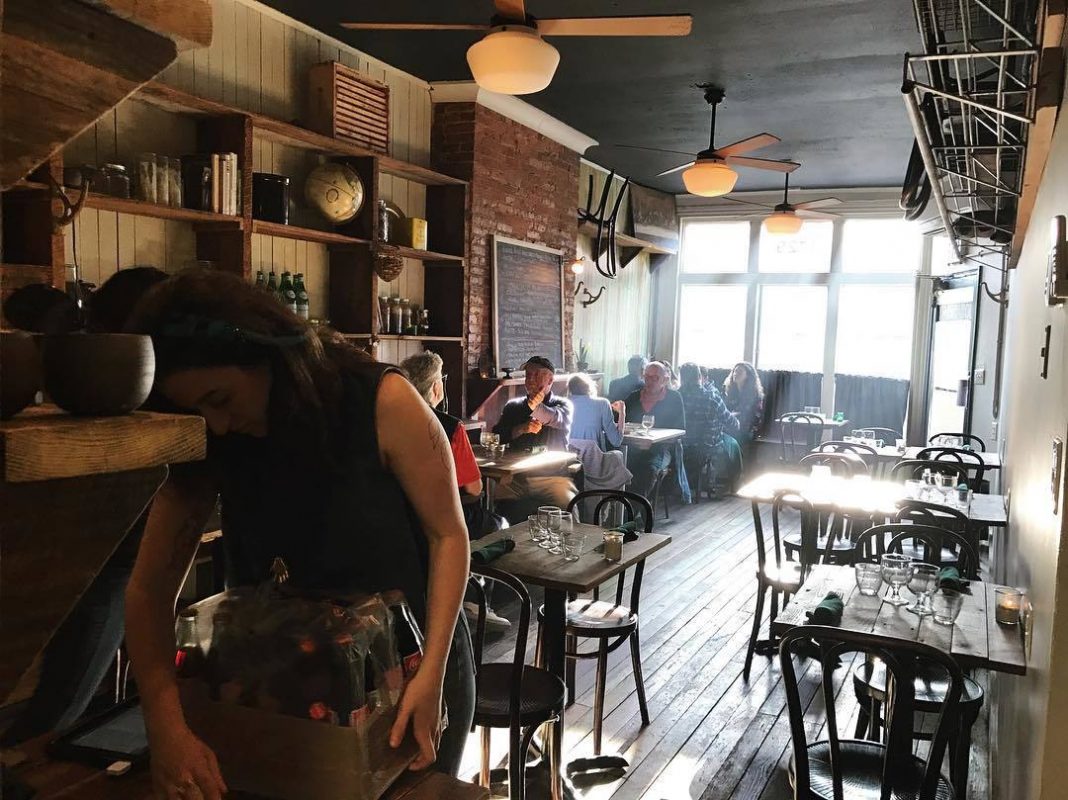 Photography by Noah Scialom
OPEN
Le Comptoir du Vin: For years, local diners knew the cozy space at 1729 Maryland Avenue as the home of Bottega—the celebrated BYOB from local restaurateur Adrien Aeschliman. The Tuscan spot later migrated to larger digs down the street, but the building still remains in the Bottega family. Former employees Will Mester and Rosemary Liss recently transformed the Station North space into a European bistro called Le Comptoir du Vin, French for "the wine counter." At the new restaurant, Mester, formerly of Woodberry Kitchen and Parts & Labor, pairs a selection of French regional wines with dishes such as house sourdough with butter and grated daikon, steak tartare with country potatoes, gnocchi with duck ragout, and a signature yuzu cheesecake. The 35-seat spot is now open Tuesday-Saturday for dinner service. 1729 Maryland Ave.
COMING SOON
Pure Raw Juice: This fuel-up fixture has been providing colorful smoothies, pressed juices, and acai bowls to locals since its Federal Hill flagship debuted in 2015. Pure Raw expanded with a new shop in Towson soon after, and now, the juice bar is widening its footprint yet again with a third location in Hampden. Equipped with large windows and a mezzanine level, the new spot is expected to debut at The Rotunda shopping center in the spring of 2019. Pure Raw president Richard Manson says he's looking forward to joining neighbors like MOM's Organic Market and Brick Bodies in the mixed-used development. "We're really excited to join the Hampden community," he says. "It's a community that really understands and respects what we do." Hampden dwellers will easily be able to stick to their New Year's resolutions with the shop's signature juice blends including the "True Blood" (pineapple, beet, carrot, and orange) and Lemon Ginger-Aid, which fuses ginger root, lemon, and filtered water. 711 W. 40th St.
NEWS
Chef Ashish Alfred Heads to the Beard House: The chef/owner of French brasserie Duck Duck Goose in Fells Point recently received the ultimate culinary honor when he was invited to cook at the James Beard House in New York City next month. Alfred, who was classically trained at the French Culinary Institute of Manhattan, plans to showcase his passion for French technique with a five-course meal that incorporates some his favorite dishes at Duck Duck Goose. "Cooking at the Beard House is really a dream come true for me," Alfred said in a statement. "It's an amazing honor to be invited to such a center of culinary achievement and share my best work with an intimate group of discerning guests—even more so because we'll be together in the heart of the holiday season." Tickets for the dinner on December 20 at 7 p.m. start at $140.
David Thomas Wins Chopped: Regulars gathered at Ida B's Table last night to watch executive chef David Thomas cook for judges Martha Stewart, Amanda Freitag, and Marc Murphy on a special Thanksgiving episode of Food Network's Chopped. Thomas made Baltimore proud, and ultimately won over the judges in every round of the tournament-style competition. His Southern soul food-inspired dishes included a mac and cheese made with Stewart's butternut squash soup, deep-fried turkey breast with cracklings and gravy, and a spoonbread hand pie with cranberry and port whipped cream. "For me to be standing here in this moment is a powerful thing," Thomas said on the show, after he was crowned the Chopped champion and winner of a $10,000 grand prize. "It lets me know that I'm on the right path. I feel like the ancestors are smiling."
Nick's Inner Harbor Seafood Closing at Cross Street Market: There are many diverse stalls that will be operating in the newly renovated Cross Street Market by the time construction wraps up next year, but, sadly, longtime vendor Nick's Inner Harbor Seafood won't be one of them. After a drawn-out lease dispute with developer Caves Valley Partners, Nick's will be closing its doors for good on January 7. According to the Baltimore Business Journal, the announcement of the closure comes after a settlement was reached between Caves Valley and Nick's owner Kwang Lee last week. Next month, be sure to pull up a wooden barstool and celebrate Nick's 46 year-run with one last round of oysters and massive 32-oz. beers. 1065 S. Charles St. 410-685-2020
SHUT (FOR NOW)
BonChon Canton: For the time being, Canton diners will have to look elsewhere when cravings for Korean fried chicken strike. A sign posted to the front door of Bonchon off of Boston Street indicates that the Asian-fusion eatery will be temporarily closed until further notice. It goes on to thank guests for their patience and understanding. There's no word yet on the reasons for the closure, or on when the spot plans to reopen. We're not sure how long devoted regulars can last without the twice-fried chicken wings, pork buns, and bibimbap bowls, so here's hoping for a swift turnaround. 3500 Boston St.