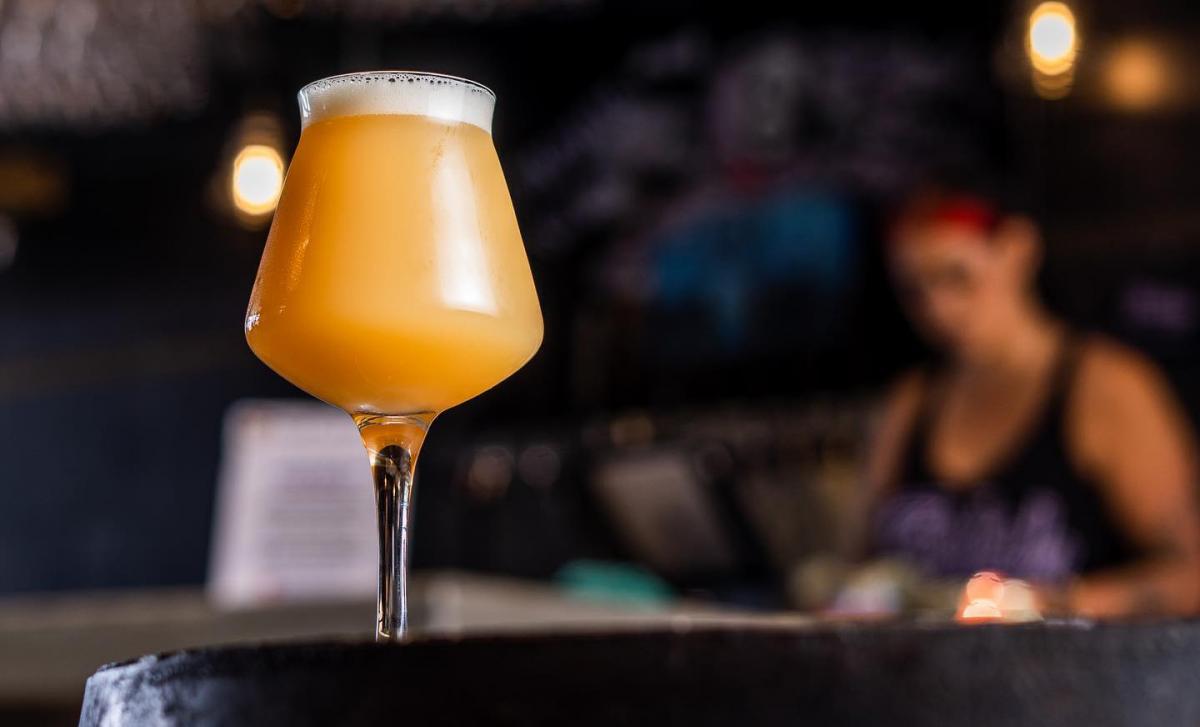 —Courtesy of Pariah Brewing Co. via Facebook
OPEN
Pariah Brewing Co.: The wait is (just about) over! California's Pariah Brewing Co. will soft open its Baltimore digs this Friday, Jan. 21, in the former home of Union Craft Brewing on Union Avenue in Hampden. Last summer, Pariah's chief operations officer Christa Mitchell told us that the San Diego-born brewery was looking to strengthen its bi-coastal operations—as it already distributes in Maryland and Delaware, in addition to California and Arizona. Prince George's County is also the hometown of Christa's husband, Pariah founder, co-owner, and brewmaster Brian Mitchell. A fall/late 2021 opening was originally planned, but snafus included "COVID and supply chain-related logistical delays, as well as permitting and licensing delays," Mitchell says.
But the time is finally here. So what can Baltimoreans expect from the soft opening weekend? Pariah's namesake beers will be on tap, including Passion of the Kiwi Sessional Sour, My Cat From Helles Lager, and Dank Drank IPA. Mitchell says a more official grand opening, to align with Pariah's fifth anniversary, will take place the weekend of February 11-13. But for those too curious to wait, know that doors will be open this weekend. (Friday at 4 p.m. and Saturday and Sunday at noon.)
Black Acres Roastery: Since the closing of Ground & Griddled inside R. House at the end of 2021, regulars at the Remington food hall have been missing fresh coffee and breakfast fare. Now temporarily filling that void—for a six-week run—is Black Acres Roastery, which is serving up breakfast sandwiches, assorted pastries, and ethically sourced coffee in R. House's revolving pop-up stall. The food menu includes the "Druid Hill," (two slices of bacon with scrambled eggs, havarti, and arugula on a lightly toasted challah bun) and the "Patterson Park," which layers sautéed kale and mushrooms with scrambled eggs and pepper jack cheese on a challah bun. The pop-up is open daily from 8 a.m. to 3 p.m. Baltimore coffee fiends can also find Black Acres Roastery in the lobby of Open Works, a nonprofit makerspace in Station North.
EPICUREAN EVENTS
1/23: NiHao Takes Over Baltimore Spirit Co.'s Cocktail Gallery for Lunar New Year
Another takeover is afoot at Baltimore Spirit Co.'s Cocktail Gallery. Following one from gin bar Dutch Courage back in November, Canton's contemporary Chinese restaurant NiHao will take over the gallery this Sunday in celebration of the Lunar New Year. NiHao bar manager Ashley Mac will be creating "amazing Lunar New Year-inspired libations starring BSC spirits and beautiful Chinese ingredients," according to the event description. Chef Antoni Szachowicz will be serving up NiHao menu items, including a dessert and at least one vegan option. To continue the celebration, when you close your bar tab, each check will come with a red envelope with special items inside (a Chinese New Year tradition)—from a fortune for the new year to prizes like gift cards. The event runs Sunday from 3 to 8 p.m.
1/28-2/6: Baltimore Restaurant Week
It's that time of year again. Baltimore Restaurant Week returns, starting January 28, as the city's annual dining-out event (and arguably the most anticipated epicurean event of the year.) Throughout the 10-day promotion, participating spots will offer prix-fixe menus at $25, $35, and $45. Many restaurants have already started to take reservations. See which eateries are participating and browse menus, here.
COMING SOON
Kneads Bakeshop: H&S Bakery's new retail bakeshop and café, Kneads, is slated to open this summer at 506 S. Central Avenue in Harbor East. The Baltimore bakery—which did some heroic work on I-95 during the city's first snow a few weeks ago—recently revealed more design details and announced an exclusive coffee partnership with its former Harbor East neighbor, Aveley Farms Coffee.
The 17,000-square-foot space will offer more than 150 seats with a mezzanine, patio, market area, outside pickup window, and a "flex space" for onsite programming and private events. Expect a layout, from CI Design, that pays homage to H&S Bakery's storied history, as well as to "a new era of artisanal baking and food service," according to a press release. Fun details will include a decorative rolling pin installation and custom lights resembling baking whisks. A vintage H&S Bakery truck will also be recreated to serve as the to-go window in the marketplace section. The commercial-sized "Bakeshop" will be enclosed by glass walls to encourage patrons to observe the process firsthand, while the "Bakelab" will offer functional space for private events, meetings, baking lessons, and other community activations.
"Kneads is a true labor of love," said H&S Bakery communications liaison Kira Paterakis Nissley, in a press release. "We are so excited to take our generations-long passion for the baking business and translate it into an experiential concept."
Raising Cane's: A fast-growing chicken tender chain will join Towson Row—a $350 million mixed-use development in downtown Towson—this spring. This will be Raising Cane's first location in the Baltimore region, according to a press release from Towson Row developer Greenberg Gibbons. The fast-casual eatery, known best for its chicken tender meals and special sauces, will be located on the corner of York Road beneath The York apartments, adjacent to the new Whole Foods, which opened last week. Stay tuned for an official opening date.