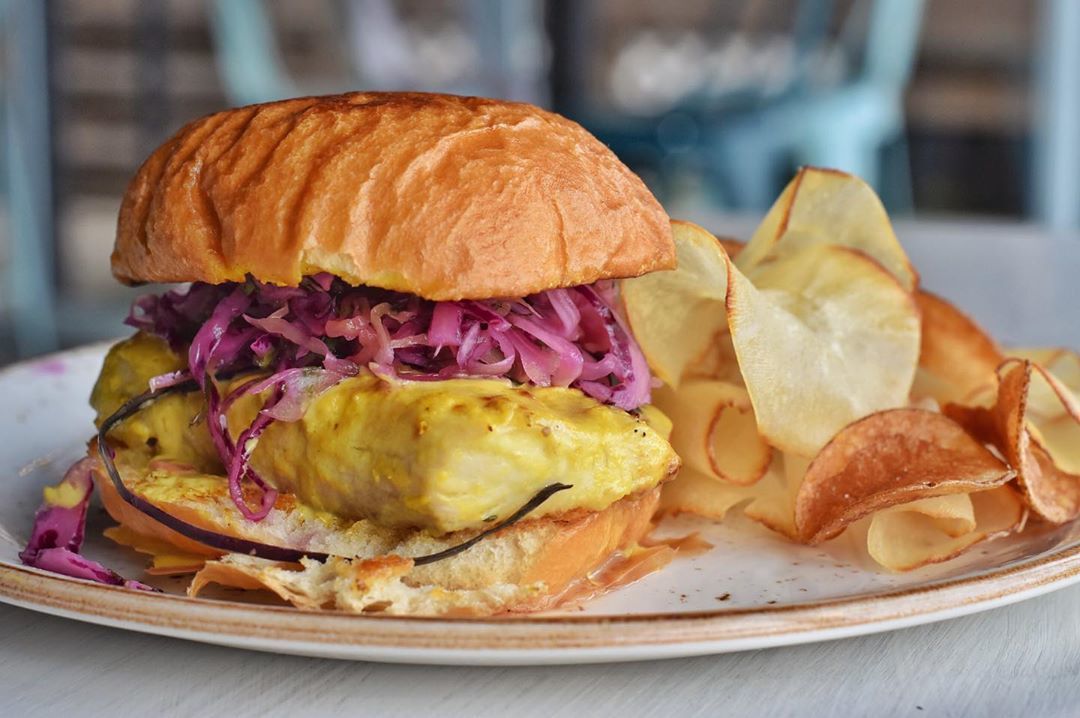 Raw and Refined
OPEN
Raw & Refined: It's going to be a great summer for dockside dining in Canton. On the heels of the news that the team behind Barcocina and Bond Street Social have taken over the Boathouse Canton, there's also been a revival in the former home of Button adjacent to Swim Club. Officially opening this weekend, the nautical-themed seafood spot highlights a gallery of local artwork and floor-to-ceiling windows that look out onto the waterfront patio. The worldly menu was inspired by Chef Patrick Morrow and owner Dominic Lascola, who wanted the food to have Latin American and Caribbean influences.
"Everyone labels Baltimore as a seafood town, but everything is overtly crab-centric," Lascola said in a statement. "We saw this as an opportunity to elevate what Baltimore is known for but feature new and creative flavors within the genre." Dishes will include wood-fired mahi mahi, tuna tartare cannoli with ancho chili sauce, an open-faced Cubano, elote-inspired grilled oysters infused with chili lime butter and cotija, and a play on a Uruguayan chivito sandwich with steak, ham, egg, and olives. Of course, the spot will also be a go-to for summer sips like fruity Crushes and rum Old Fashioneds. 2723 Lighthouse Point.
Taco Bravo: We've seen a number of Tex-Mex spots sprout up in Baltimore County throughout the past few months, but the latest taqueria in the Padonia Village Shopping Center has a more authentic slant. The new Timonium hangout from the owners of Taco Daddy Cantina in Frederick and Gaithersburg opened earlier this week, highlighting white fish ceviche, corn tortillas filled with carnitas and lamb barbacoa, Estrella Jalisco Mexican beer, and smoky mezcal margaritas. Interior touches like hung greenery and bull-riding decor cement the theme. 31 E. Padonia Rd. Ste E. 443-689-7979
NEWS
Ekiben Vending at Smorgasburg in Washington, D.C.: Fells Point's own steamed bun superheroes are spreading the love to the District this summer. Ekiben is one of 30 food vendors that will set up shop at the recurring Smorgasburg market at the Tingey Plaza in Navy Yard. The outdoor food extravaganza has gained tons of traction since it launched in New York and Los Angeles, and it's starting its first season in D.C. off right with regional purveyors peddling everything from bao buns and boba to skewers and spiral-cut hot dogs. The market kicks off on June 15 and will continue every Saturday until October.
First Two Stalls Open at Cross Street Market: The day that South Baltimore locals have been waiting months for is finally here. Veteran vendors Fenwick's Choice Meats and Steve's Lunch have both officially reopened inside the renovated Cross Street Market. Twenty additional concepts—including a newly announced Royal Farms fried chicken stall—are expected to roll out through the summer. For now, diners can stroll through the revitalized space to check out the upgrades while grabbing some classic diner fare at Steve's Lunch, or picking up specialty cuts from Fenwick's. 1065 S. Charles St.
Chef Carlos Raba Featured in Men's Journal: Don't be surprised to see a familiar face while flipping through the June issue of this national lifestyle publication. Chef Carlos Raba of Clavel was featured in a piece that discusses some of his favorite things, which include hibiscus flowers, Frosted Flakes, and—unsurprisingly—ceviche and mezcal. "Grateful for my culture and to be able to represent my family, my interests, and my life with everyone," the Sinaloan-born chef wrote on Instagram. Cheers to Raba on the grrrreat recognition.
EPICUREAN EVENTS
5/30: Evening of Traditional Beverages
Homewood Museum's annual event delving into the history of local spirits is back for its 23rd year—this time with a focus on Maryland rum. Gather inside Mudd Hall's atrium on the Johns Hopkins University campus to sample rums from distilleries including Blackwater, Lost Ark, Lyon, Old Line, and Tobacco Barn in Southern Maryland—which ages its barrels on the hull of the U.S.S. Constellation. Plus, there will be light bites from Woodberry Kitchen, live calypso music, and a talk about the trajectory and impact of Maryland rum by historian Kyle Dalton. 3400 N. Charles St. 6-8 p.m. $40-50. 410-516-5589
SHUT
Tiki Barge: Memorial Day Weekend marks the official return of many harborside bars around town, but this outdoor drinking destination won't be one of them. Owner Dan Naor recently confirmed to The Sun that the Inner Harbor barge, which includes its own bar and swimming pool, is not reopening this summer. Since its debut in 2010, the floating marina bar became known as an oasis to sip tiki drinks while taking in panoramic views of the city. However, soon after opening, it was met with complaints from HarborView residents about noise, illegal parking, and other disruptive behavior. There's no word yet on whether Tiki Barge will make a comeback in the future, but the property is listed for sale at a price of $1 million and we've heard rumors of a possible local buyer. 500 Harborview Drive