Review: No Way Rosé Flowers in Federal Hill
Newly reimagined for a younger audience, chef Ashish Alfred's restaurant, bar, and lounge is a French cafe unlike any other in the city.
On the back walls on the first floor of No Way Rosé, past the Instagram-worthy neon sign, beyond the wall of faux flowers and bistro-style tables, are oversized images of two titans of gastronomy. In one, Anthony Bourdain, bags under his eyes, is extending his right middle finger directly toward, well, everyone in the place. In the other, famed Michelin-starred French chef Paul Bocuse, his toque reaching the ceiling, points to a tattoo of a rooster on his right arm.
Message received. Ashish Alfred's restaurant, bar, and lounge in Federal Hill is a French cafe unlike any other in the city.
"It speaks a lot to me as a cook," Alfred says. "Although my background is rooted in very traditional French cooking, I don't like to take it too seriously. There's the grandfather of French cooking, Paul Bocuse, on the wall, and he's being kind of playful. Just next to him is Tony Bourdain, who laughed in the face of all of that for a long time."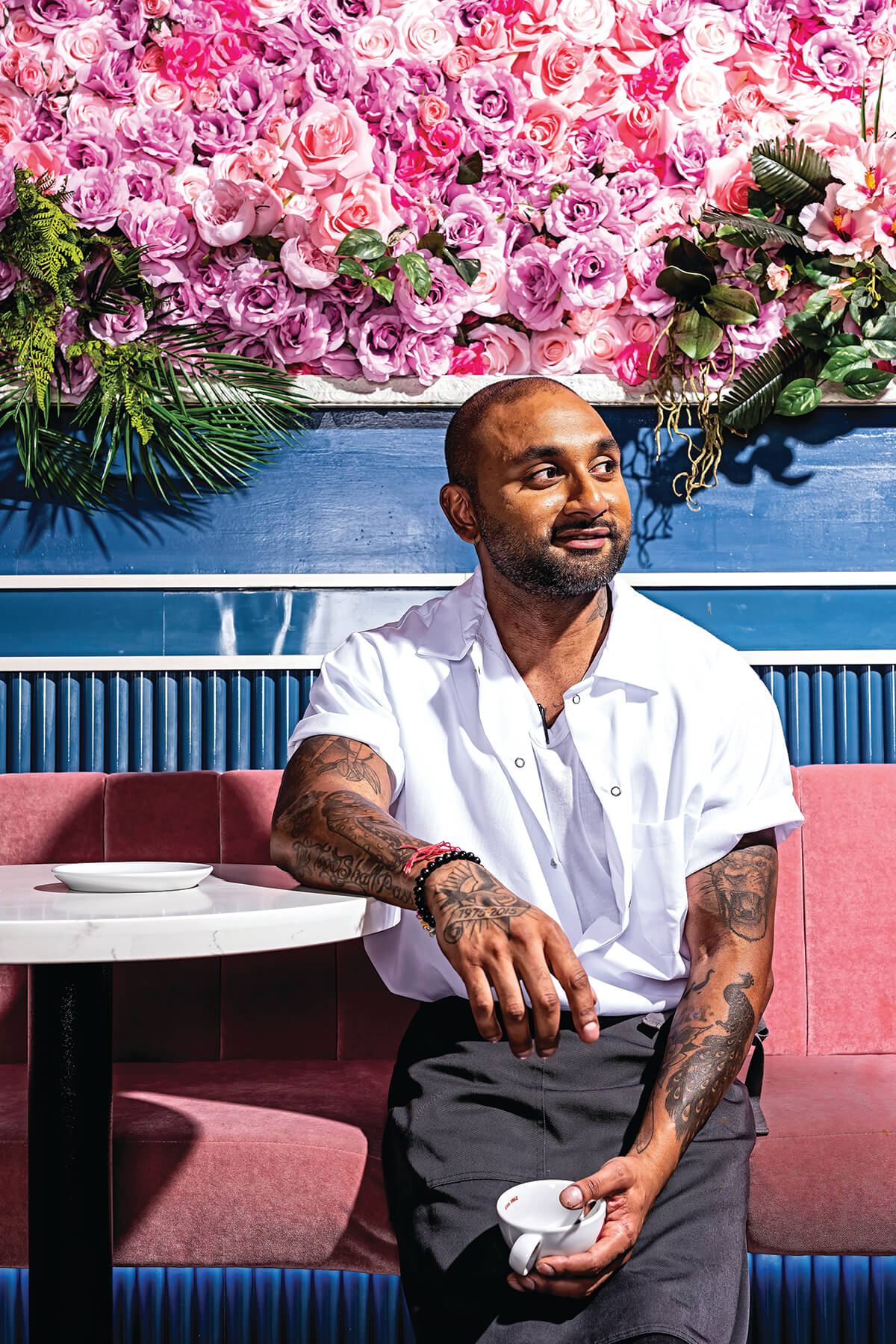 Alfred, purveyor of the more decorous Duck Duck Goose in Fells Point, wanted his latest venture to have a bit of whimsy. The name itself is a clever nod to the restaurant's location in the neighborhood, near the late great dive, No Way Jose. It opened last March, with a menu that included upscale offerings like beef tartare, bucatini, and burrata. But, as spring rolled into summer, Alfred noticed that it was drawing a younger crowd than at his other restaurants, and those patrons were as interested in the scene as they were in the food.
"It was a good gut check for me as a chef," Alfred says. "You can make the best escargot, you can make the best duck confit, foie gras, but if there's no market for it, it doesn't matter. As a chef you can get caught up in your own juju. I just assumed that great classic French food would work here. It didn't."
So Alfred shuttered the restaurant in September and set out to reimagine the space for a younger audience. And it reopened in November with an entirely new feel.
While Bourdain, Bocuse, and those pretty pink flowers remain, Alfred debuted a new, more approachable menu. Entrees are still available in the dining room upstairs, but the downstairs space has been transformed into a bar and lounge exclusively. Live music and/or DJs are featured Thursdays through Sundays, and when they're not there, upbeat music pumps through the speakers.
True to the restaurant's name, rosé, which is clearly having a moment, is featured in some cocktails. The Menage a Framboise, a frozen combination of rosé, vodka, raspberries, honey, coriander, and cherry liquor, reminded us of an adult slushy. More standard albeit fancifully named drinks are available as well, like the Paris Loves My Oui Oui—mezcal with grappa, passion fruit, nutmeg, agave, and cherry bitters. If you want to be noticed, order the Serendipité, a bourbon-based libation that is finished using a torch lighter to smoke its contents.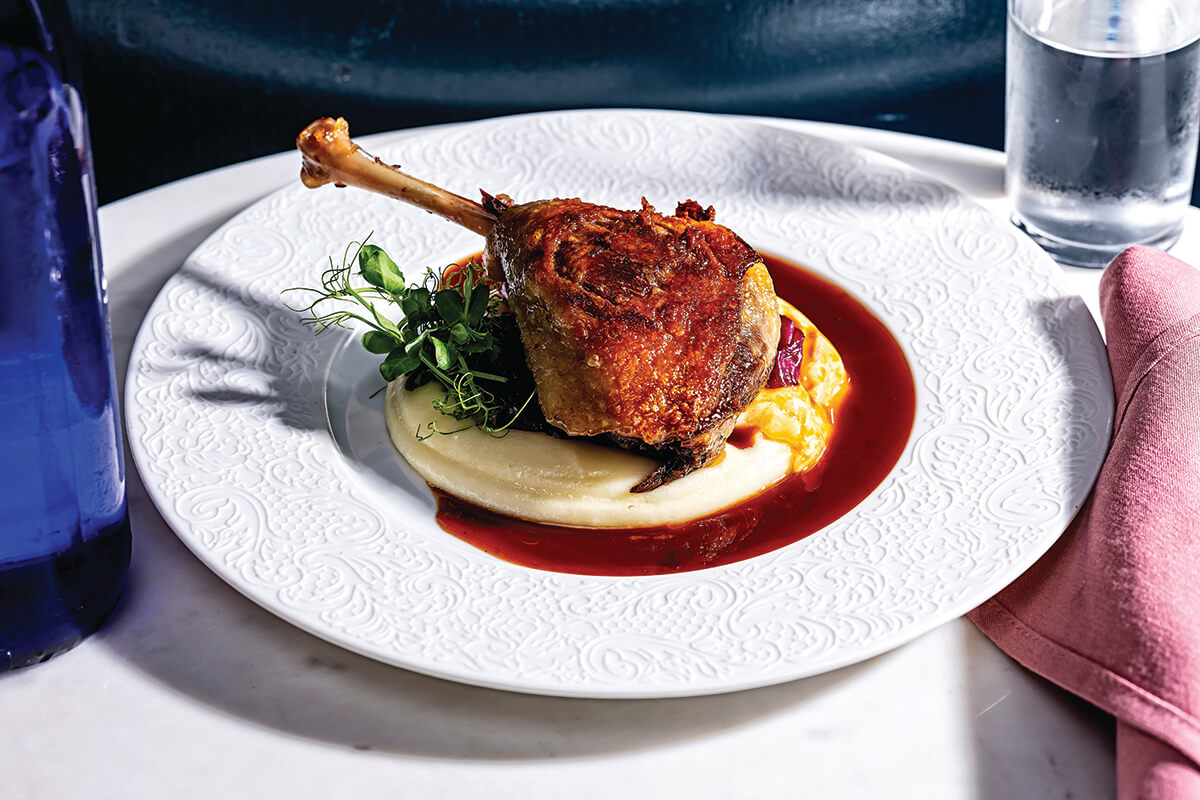 Downstairs, smaller shared plates are available. Most of the ones we tried in November were quite good. Chicken-fried lamp chops are pounded flat in the kitchen, fried, and served with a tangy whipped feta and dill sauce. It's among the most inventive takes on lamb we've encountered.
Another winner was the tuna tartare. Fresh pieces of fish doused in sesame oil, a bit of hoisin, and some lime juice pop when eaten on crunchy fried wonton shells. Poutine—fried in duck fat and smothered in gravy and cheese curds—is the perfect dish for the downstairs' new party vibe. It's a great accompaniment to a first drink, or a gateway to several more.
The mozzarella stick—quite likely the fattest one you'll ever see—is hand-breaded and served with a pleasingly sweet tomato sauce and roasted garlic. Again, it's a clever take on a bar food staple.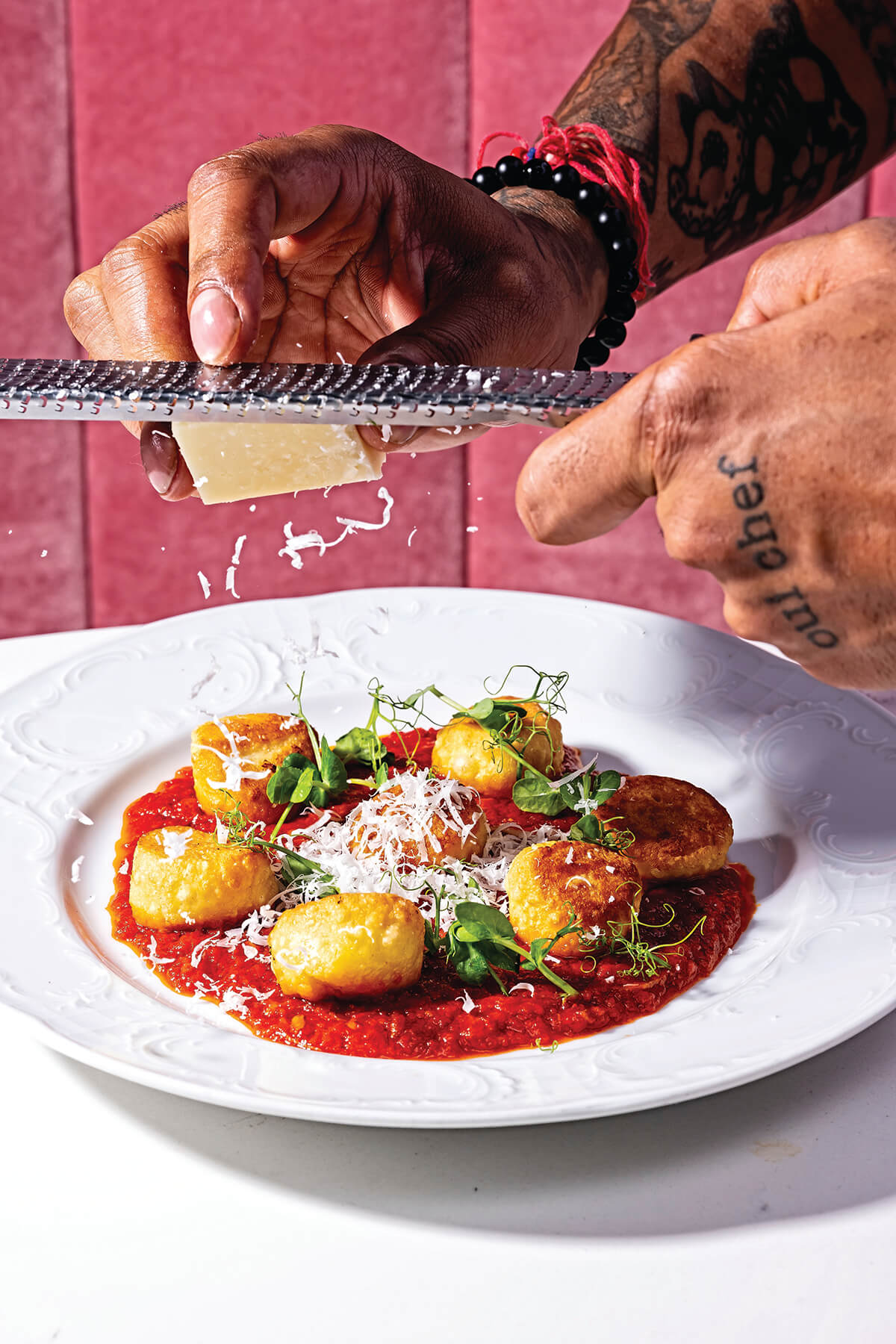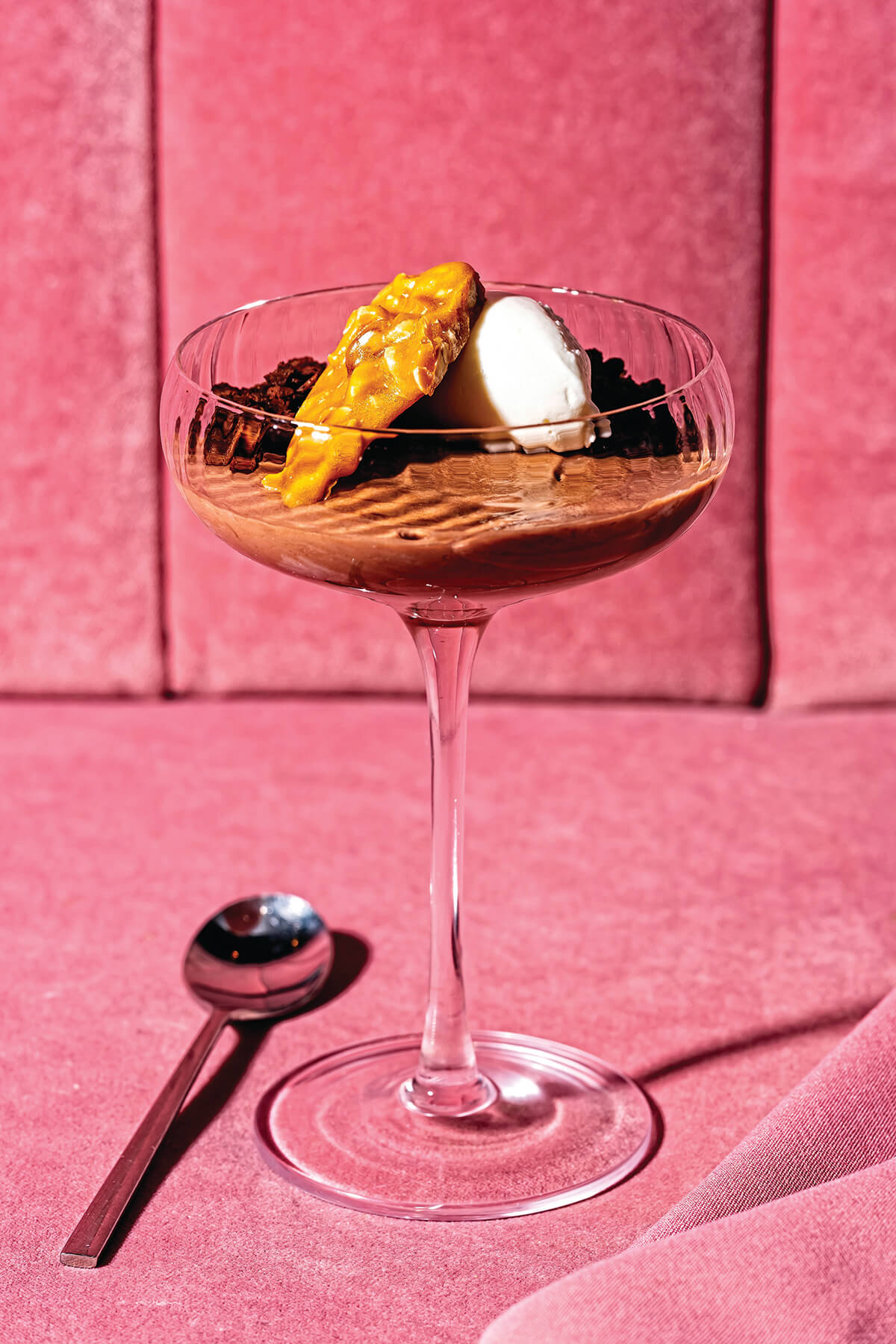 Although the entree selection is limited, the ones we ate on an earlier visit were excellent. As at his other restaurants, Alfred's signature duck confit shines. Nearly identical to the version served at Duck Duck Goose, it was an impressively juicy piece of bone-in meat covered with crispy skin. It shows the simple yet sophisticated inclination that's made Alfred a rising star in the culinary world, and it's not to be missed. A bowl of mussels was also quite good, and the French fries that accompanied them were crunchy and tasty.
After dinner we were stuffed, but we forged ahead and ordered dessert. Pastry chef Ana Pino's chocolate-hazelnut mousse was sweet but not overbearingly rich. We somehow managed to finish it all, and we'd like to think that Bourdain and Bocuse would have approved of our empty plates.

NO WAY ROSÉ: 31 E. Cross St., 443-438-6780. HOURS: Wed.-Sun., 4 p.m.-1 a.m. PRICES: Shares: $9-21; mains: $20-25; desserts: $14. AMBIANCE: A European party.