Review: Duck Duck Goose
Duck Duck Goose offers a sophisticated take on European cuisine without the pretense.
Whether it's paintings, fashion, gilded palaces, leggy women, or chiseled men, the French harbor an unapologetic appreciation for physical beauty. This is also the case when it comes to their food. Stylish plating is an art in and of itself in the world of French cuisine, an aesthetic Ashish Alfred has embraced at his fabulous new Fells Point brasserie, Duck Duck Goose.
Crab imperial with dark paddlefish caviar is served in a crab-shaped dish on black rocks in a white bowl. Plump scallops glisten atop a bright green mélange of Israeli couscous, parsnip purée, and apples. A streak of beet purée provides a striking stripe on a plate of roasted duck. Each dish is bursting with color, and most taste as good as they look.
The South Broadway restaurant is the second outpost of a concept that's actually more broadly continental than strictly French. The first opened in Bethesda in 2016, and after a quick glance at the menu, we worried that it might not translate from the posh Montgomery County suburb to a neighborhood whose culinary sensibilities are a bit more casual. But those fears were eased the moment we walked in.
Housed in the former home of the late meatball eatery 8 Ball, Duck Duck Goose offers a sophisticated take on European cuisine without the accompanying pretense. While the layout is relatively unchanged—there's an L-shaped bar, large common counter and lounge area in the main room, and a smattering of tables in the adjacent dining room—the décor is decidedly more fowl. Murals of geese dot the walls, and wooden ducks sit docilely behind the bar. Although he's classically trained, having studied at the International Culinary Center in Manhattan, Alfred (who prefers to be called "Al") doesn't want the atmosphere to be stuffy. Hence, the eclectic selection of rather loud music, ranging from jazz to pop to club, playing on the nights we visited.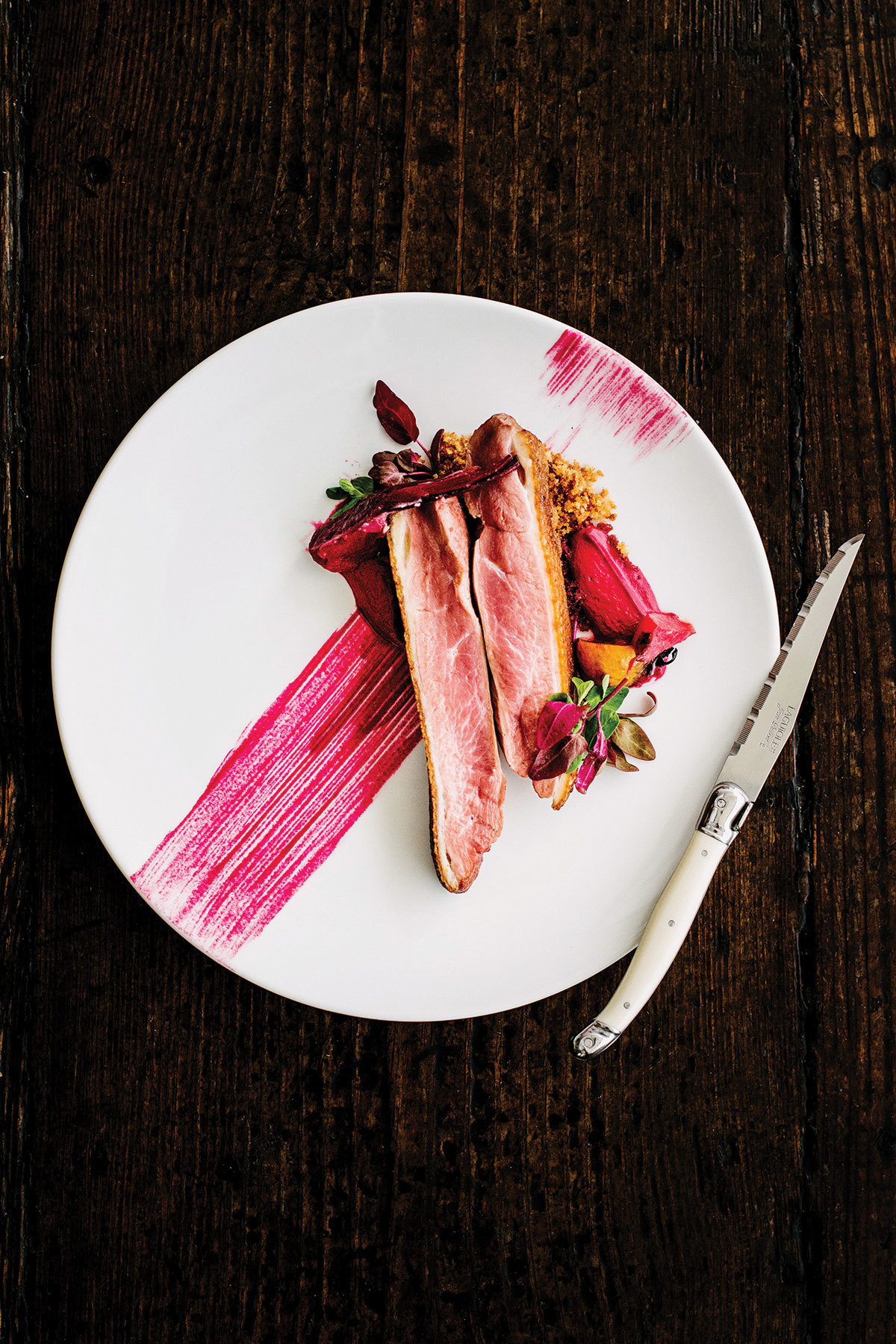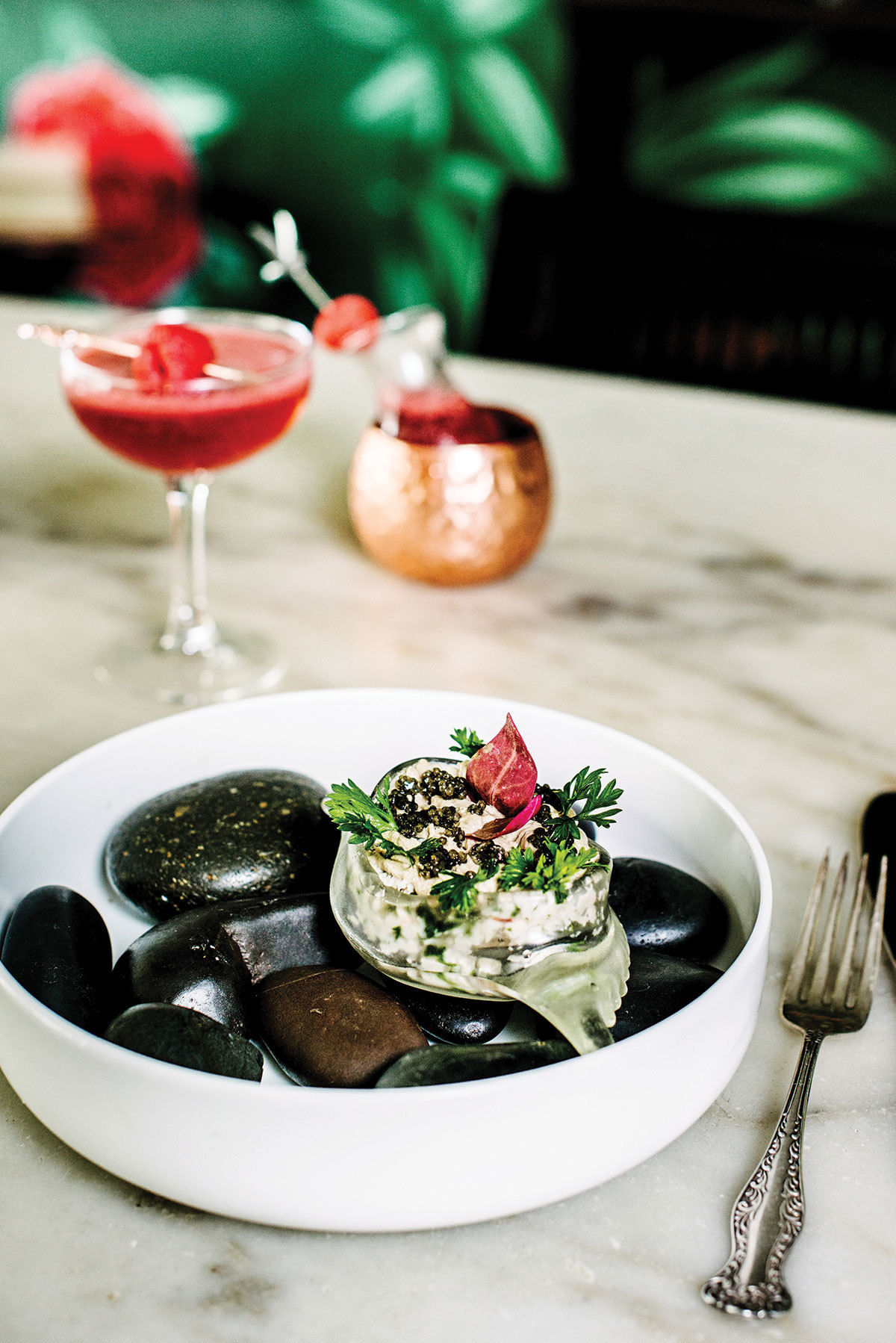 Honey-roasted duck and crab imperial with paddlefish caviar. —Kate Grewal
Wearing a backward baseball hat, and with an easygoing manner, our bartender, Tim, added to the casual vibe. On both our visits, he took great time and care preparing our cocktails, all of which are cleverly conceived—and named. The Duck L'Orange, made with bourbon, Grand Marnier, and maple simple syrup, packs a punch, yet goes down smooth. Le Vie en Rose ("life through rose-colored glasses") combines vodka, raspberry liquor, lemon, and champagne for a not-too-sweet thirst-quenching treat. While we waited for our food, Tim gave us a sample of the restaurant's house-infused banana Jameson, served on the rocks. It's surprisingly bite-free and would make for a good before- or after-dinner drink.
The menu, divided into six smalls, four shares, and seven mains, can be intimidating to those unfamiliar with French fare, yet Alfred's preparation makes the food we tried extremely accessible. We started with the roasted Japanese eggplant, a long strip of the vegetable topped with lemon yogurt, pistachios, and peppers that add a spicy kick. No disrespect to what followed, but it might have been the tastiest dish of the night. The cauliflower steak, a mixture of charred, puréed, and pickled forms of the veggie, offered a panoply of colors and flavors.
Surpassing our sky-high expectations, the honey-roasted duck was among the best we've ever had. A tender breast, cut into two tender strips and cooked medium-rare, was rich and only enhanced by the cherry reduction and glazed beets. Tournedos, a center-cut filet topped with foie gras in a red wine jus, was prepared medium-rare at our server's suggestion. It emerged from the kitchen more rare than medium, the perfect preparation for such a high-quality piece of meat. Halibut, four pieces each wrapped in puff pastry, was perhaps the most inventive dish we tried, and while it was certainly good, the fish was a bit overpowered by the breading.
The best entrée we ate—shockingly—was one we rarely order at restaurants: the roasted chicken. But Alfred's version, inspired by and named for Marc Forgione of Iron Chef, is impossibly juicy. Served with spicy broccolini, confit potatoes, and charred lemon, it's worth every cent of its $24 cost.
There will be some who are scared off by Duck Duck Goose's seemingly exotic menu or high pricing structure. To unadventurous eaters, we say there's no need to order bone marrow or the Cote de Boeuf—a $95, 36-ounce bone-in ribeye for two. Simple dishes such as risotto, filet, and, of course, chicken are as pleasing to the palate as they are to the eye. At Duck Duck Goose, that's saying a lot.
---

DUCK DUCK GOOSE 814 S. Broadway, Fells Point, 443-869-2129. HOURS Brunch: Sat.-Sun. 11 a.m.-3 p.m.; dinner: Tues.-Sun. 5-10 p.m.; bar: Tues.-Sun. 4 p.m.-1 a.m. PRICES Appetizers: $6-21; small plates: $13-16; entrees: $18-95. AMBIANCE Hunt country chic.