Down in the Valley
A Baltimore County landmark is reinvigorated under new ownership.
Look closely at the crowd at The Valley Inn, and you'll see there's been a subtle shift. Yes, you're still likely to see preppy moms, nattily dressed businessmen, and genteel ladies of a certain age. But there's something else: a new generation of young adults in the bar and dining room, curious about this venerable old Baltimore County restaurant. Though we'd been once or twice in the past decade, we, too, wondered if its new owner, Ted Bauer—who also owns The Oregon Grille—would retain a semblance of the historic building's storied past (dog races, swing bands, wicked mint juleps) or strive for something completely different.
It took almost three years to find out. The last owners of the one-time 1800s roadhouse were two generations of the Hatfield family, who operated the place from the 1920s, with the eccentric Bud Hatfield presiding over the place until Bauer took possession of the aging restaurant in 2011.
Then, last December, the renovated restaurant—officially in Lutherville but often cited as being in Brooklandville—re-opened in a carefully orchestrated evolution. First, drinks and a limited menu were served in the bar on weekends only; then, they were offered on a daily basis; and now, they're also available in a handsome dining room with the list of appetizers, sandwiches, and entrees continuing to expand.
The décor reflects the restaurant's previous reputation as a gathering place for Greenspring Valley's horse folk. The subdued dining room has a thoroughbred-racing motif with artwork, jockey lamps, and accoutrements dispersed throughout a space that has two working gas fireplaces. The lively bar captures sporting interests, from golfing and fishing to horses and dogs. They are manly rooms in luxe woods that remind us of a hunt club.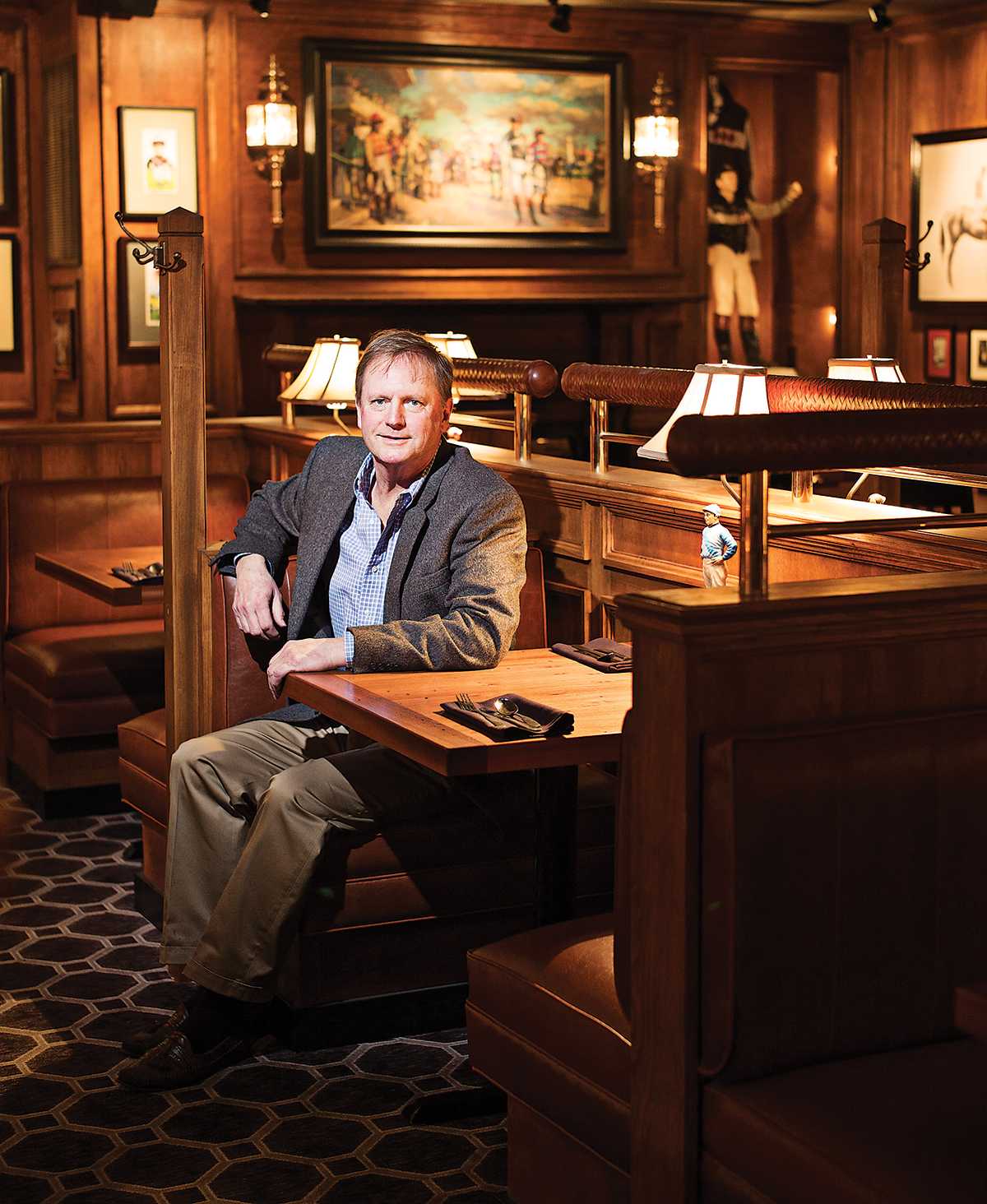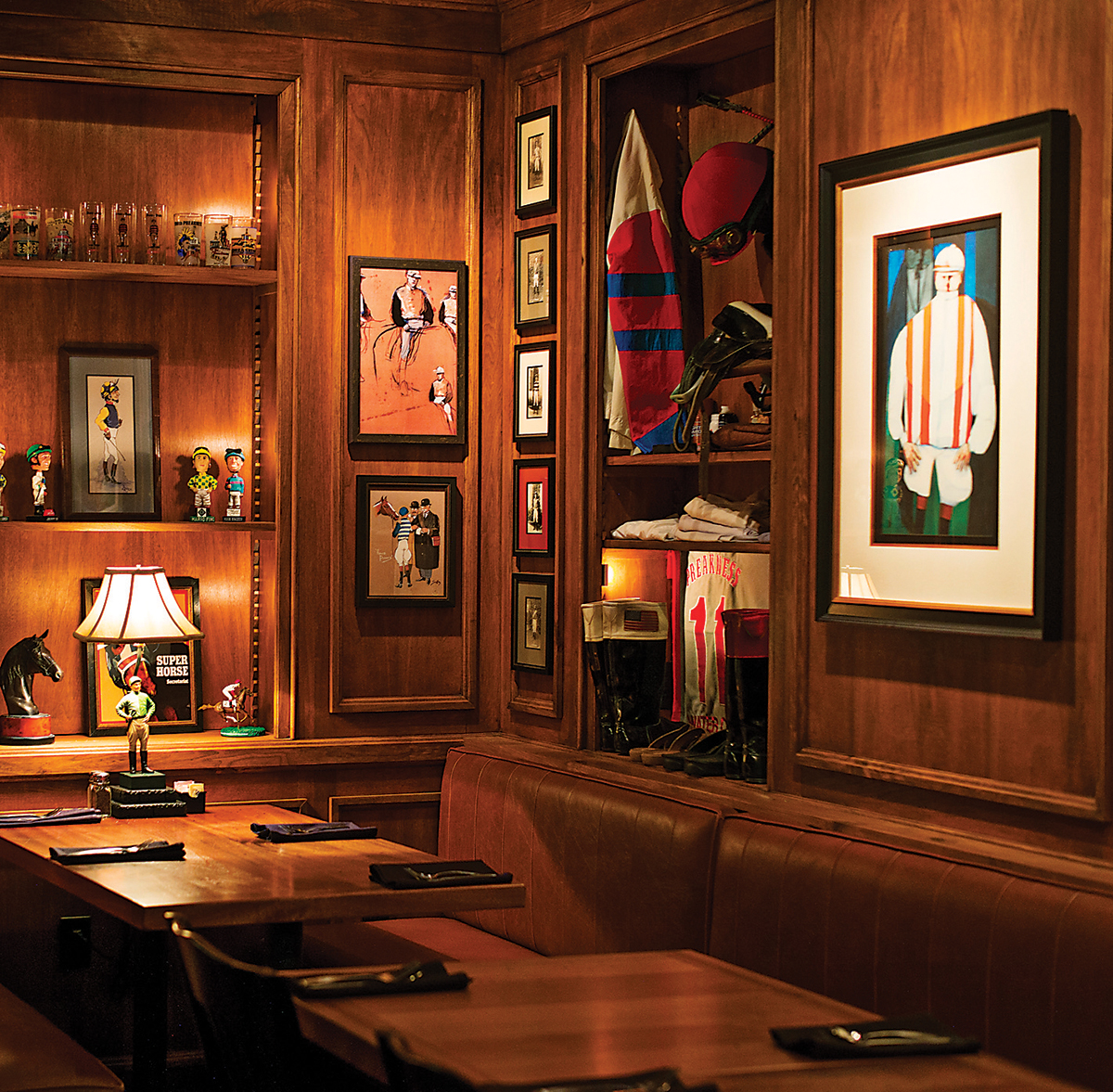 Under the helm of chef Roger Shugars, the restaurant's fare is much more adventurous than its ambiance, though there is a nod to the cuisine of a bygone era with a wonderful crab imperial—a Maryland specialty featuring a lush mound of jumbo lump bathed in a rich white sauce and served in a scallop dish.
The chef has devised a New American menu to suit a variety of palates and portion demands: There are "plates" for heartier appetites like a crab-cake platter, an 18-ounce grilled T-bone steak, and ragù Bolognese, as well as light-fare offerings that include a 10-ounce Valley burger, cheese-steak sliders, and house-made shrimp salad—a popular dish at The Oregon Grille.
In fact, there are several crossover offerings, though in slightly different preparations, between the two restaurants, including a French dip, grilled oysters, and the chopped seafood Cobb salad—a gorgeous mound of chilled romaine with jumbo shrimp, lump crab, avocado, bacon, tomato, egg, and Gorgonzola. We dare you to try and finish it.
A variety of chilled oysters on the half shell are also available including Blue Point, Misty Point, and Hog Island on one evening. But one of our favorite appetizers was the braised Asiago meatballs in a Cabernet sauce. Our Italian dining companion was quite impressed—as were we. We also really liked Hawk's crab soup, named after the person who created this veggie-laden version.
The poached lobster is another decadent (and delicious) presentation—a round of creamy saffron risotto is cloaked in wilted spinach and then crowned with two succulent lobster tails intertwined like ballet dancers in a pas de deux.
Another night, we had a roasted free-range chicken, moist and tender, with buttermilk mashed potatoes and sautéed mushrooms. It's been a long time since we've seen an orchid dolling up a plate. But the old-fashioned, exotic garnish appealed to our nostalgia.
Desserts are homey and clever. The waffle ice-cream sandwich with a hint of almond flavor embraces Graeter's chocolate-chip ice cream. Baltimoreans may not have heard of this brand, but it's a big seller in the Midwest with its vibrant, creamy texture. It's also available by itself or in a hot-fudge sundae at the restaurant.
The chocolate-dipped strawberries and pretzel sticks are also a fun, satisfying finish, as is the house-made bread pudding with whiskey sauce.
The food is worth a visit. But kudos to Bauer for saving an important landmark and taking pains to stay true to The Valley Inn's ethos.
Under his care, the updated restaurant along leafy Falls Road is ready to create its own memories for the next century of diners.