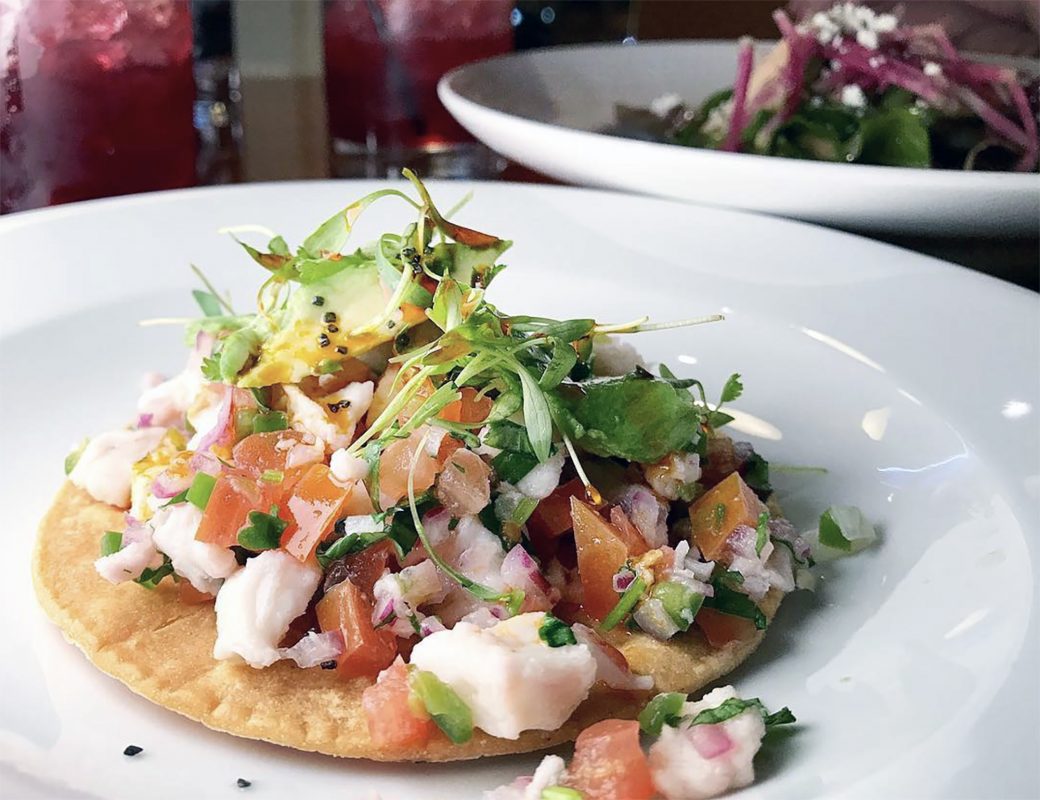 La Calle
Showcasing everything from French and Italian eats to Afghani and Senagalese fare, Baltimore is a hub for authentic foreign cuisines. This year's Summer Restaurant Week gives you the chance to try something new for a bargain, in your own backyard.
The around-the-world theme has invaded the food and drink scene (even inspiring local bar crawls with drinks inspired by different countries), and now, you can feel well-traveled even if you've never left Maryland.
"Restaurant Week gives ethnic restaurants an avenue to show the cuisine of the motherland in front of an audience that may be reluctant to try something unfamiliar," says Miguel Angel Sanz, co-owner of longtime Spanish fixture Tio Pepe's. "They may find out that what they thought was strange is not particularly so, and that such a restaurant may be perfectly appropriate for a birthday or an anniversary."
For this summer's annual dining-out promotion—returning August 2-11—diners are invited to enjoy two-course brunch and lunch menus ranging from $12-20, and three-course dinner menus ranging from $20-$35. If you're hoping to get a taste of international cuisine while saving money on plane tickets, here are a few highlights worth exploring.
Italian: Sotto Sopra Restaurant
This Mt. Vernon mainstay is an ideal place to experience Italian cuisine like you are in the heart of Rome. Housed in a 19th-century building on North Charles Street since 1996, the spot will offer a two-course lunch for $15 or a three-course dinner for $35 with valet parking available for an additional $10. Your choices seem almost limitless, with snail ragout, pappardelle with smoked mozzarella, a watermelon caprese salad, and frutti di mare headlining the menu. Top your dinner off with one of six dessert options to complete your journey to Italy. $15-35
American: The Alexander Brown Restaurant
Pursuing the American dream, Alexander Brown emigrated from Ireland to Baltimore in the late 1700s. His family established themselves in the city and even funded the Baltimore-Ohio Railroad, as well as Baltimore's first public water system. Become a part of their legacy by indulging in a fine dining experience, within a breathtaking Baltimore landmark. For Restaurant Week, it offers a two-course lunch featuring crab beignets and fried chicken sandwich. $20
French: Chez Hugo Bistro
This addition to the restaurant scene has held a special place in our hearts since opening around Valentine's Day in 2018. Guests can expect a casual French bistro atmosphere, perfect for enjoying a pleasant meal with great company. For Restaurant Week, you'll find an authentic, three-course French dinner with options such as niçoise salade, grilled monkfish, and banane et chocolat. $35
Japanese: Matsuri Japanese Restaurant
Get a taste of Japan with Matsuri's three-course lunch or dinner. Open in Federal Hill since 1996, the restaurant is owner Bill Tien's homage to Japanese cuisine in Baltimore. The award-winning spot will serve traditional dishes like miso soup, spicy tuna rolls, and Japanese mochi ice cream. $15-30
Afgani: The Helmand
The Helmand has not only helped introduce Afghani cuisine to Baltimore, but also nationwide. The restaurant was named after the owner's first born son, as well as the famed Helmand River that runs through the predominantly dry country of Afghanistan. First established in 1989, it is celebrating 20 years by featuring Restaurant Week dishes such as kabobs, simmered lamb, and naan. $35
Greek: The Black Olive
The fine-dining fish tavern in Fells Point transports you to Northern Greece. Make no mistake, the prices are low, but the atmosphere is elevated. Take part in a fancy date and enjoy either a three-course lunch or dinner for $20-35. The menu offers a variety of Greek classics such as Mediterranean sea bass, heirloom tomato salad, and grilled sardines in grape leaves. $20-35
Spanish: Tio Pepe's
With a complete menu of fine Spanish cuisine and an extensive wine list, Tio Pepe's is a great option for date night or family celebrations. If you've never had Spanish or Mediterranean food, you're in for a treat with a two-course lunch or three-course dinner. Try traditional dishes such as paella a la valenciana, gazpacho a la andaluza, and flan al caramelo. $15-35
Mexican: La Calle
La Calle, which translates to "the street" in Spanish, mixes deep-rooted Mexican traditions with modern culinary fundamentals. The masa, as well as the sauces that use local Maryland and indigenous Mexican ingredients, are all made in an open-style Baltimore kitchen. Choose between a $15 three-course lunch or a $35 three-course dinner that comes with a complimentary margarita. Some of the options featured include tacos, torta de pollo, and a Pipian Verde dish of pork loin and rice. $15-35