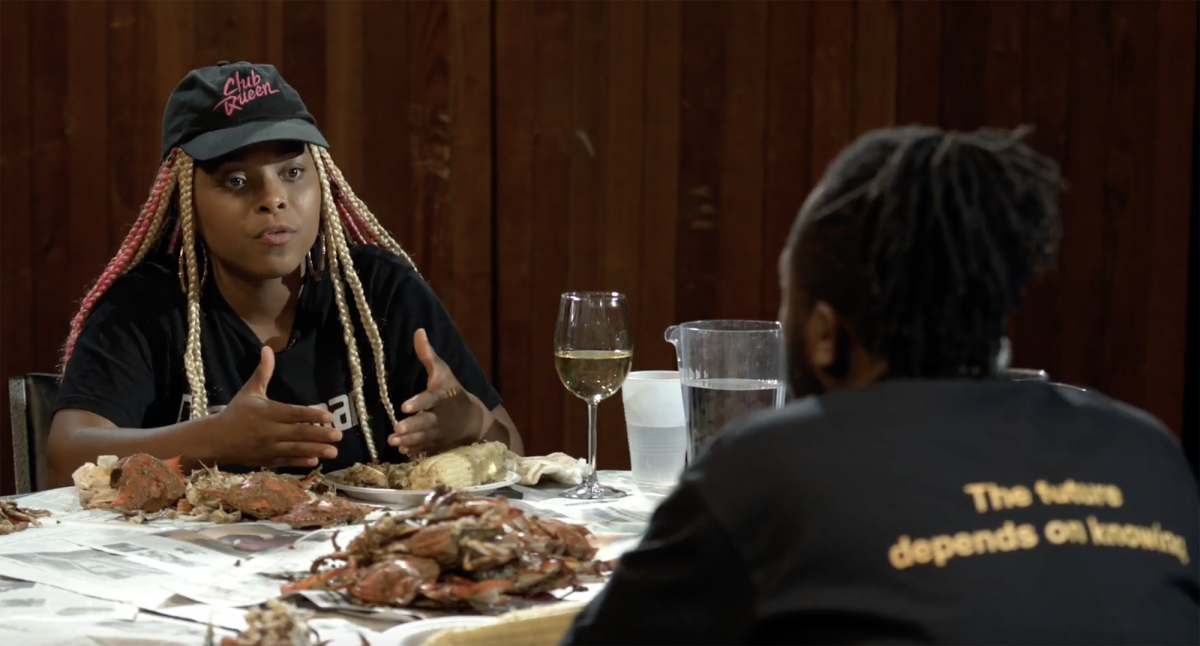 The Real News Network
When veteran rapper Eze Jackson was brought on as a producer for The Real News Network in August 2016, he pitched the idea to host an interview series that brought local performers together to address social and political issues. The twist? In true Charm City fashion, he wanted the conversations to happen around a newspaper-covered table with a pile of steamed crabs in the center.
"One of my favorite things to do as a Baltimore boy is eat crabs," says Jackson, also the frontman of experimental hip-hop group Soul Cannon. "For me growing up, those were some of the best bonding times. I've seen family beefs squashed because people sat down at the table together to eat crabs. You start talking, and if somebody doesn't quite know the right way to do it, you show them. It's just such a great Maryland pastime."
The quasi-talk show and crab feast taped its first episode two years ago and has since featured a handful of Baltimore greats (think TT the Artist, J Pope, Micah E. Wood, Shodekeh, Mike Evenn, and JPEGMAFIA), who perform in-studio and discuss everything from feminism in the arts to the perception of violence in hip-hop culture.
This summer, The Whole Bushel transformed into a live recording event held at Ida B's Table—which is under written, in part, by The Real News Network. The first live show occurred in June with vocalists Bobbi Rush and Brooks Long, and the second in August featured soul performers Jonathan Gilmore and Ama Chandra. Guests were invited to hear the conversation and performances first-hand while cracking crabs alongside the artists at the restaurant.
"One of the things I kept hearing from people was, 'When can I come eat crabs with y'all?'" Jackson says. "So I was like, 'Let's make it a live event.' At the last one Jonathan Gilmore got everybody up dancing and they called me up there to freestyle a couple times. It was a lot of fun."
The live iteration will continue at Ida B's Table on Wednesday, October 24 from 7-10 p.m., when Jackson will be joined by brass legend Rufus Roundtree and QuiQui Martin—Jackson's former Baltimore School for the Arts classmate who went on to become the lead singer of R&B girl group Isyss.
Jackson says that the talks have become a great platform for artists to address the issues that often inspire their work.
"You go on the road and everybody asks you the same interview questions," he says. "'How do you describe your sound?' 'Who are some of your influences?' But for this show, I don't give a shit about any of that. There are so many artists in the city that do community work outside of their music."
For example, Jackson cites J Pope advocating for HIV awareness, local emcee Greenspan leading the fight against city food deserts, and Jonathan Gilmore's work as a special education teacher in addition to his musical career.
Looking back at the show's nearly two-year run, Jackson says one of the most poignant episodes was the first that aired, which featured Chandra alongside rapper Ashley Sierra and spoken word artist Neptune the Poet.
During the talk, Chandra shared her experience of surviving an assault in her home after the Baltimore Uprising, Neptune the Poet spoke candidly about two of her uncles who she lost to gun violence, and Sierra addressed corruption in the Baltimore City Police Department, saying: "It's not just a few spoiled apples. What you have going on is a messed-up barrel. You need to restructure what you're putting the apples in."
"That episode gave me the most chills when we were done," Jackson adds. "We covered so many heavy topics, so I knew I wanted to put that one up first. I also thought it was really important to start the show off hearing black women's voices."
On a personal note, Jackson says that he has enjoyed how the show has strengthened his relationships with other local performers. Especially with the upcoming live tapings—which will take a hiatus during the winter season and pick back up in the spring—he says he is looking forward to bringing more voices to the table.
"I love the culture of bringing people together around food," he says. "Especially when it's with artists who I didn't know before. It's been a great bonding experience. That's the joy I get from it."