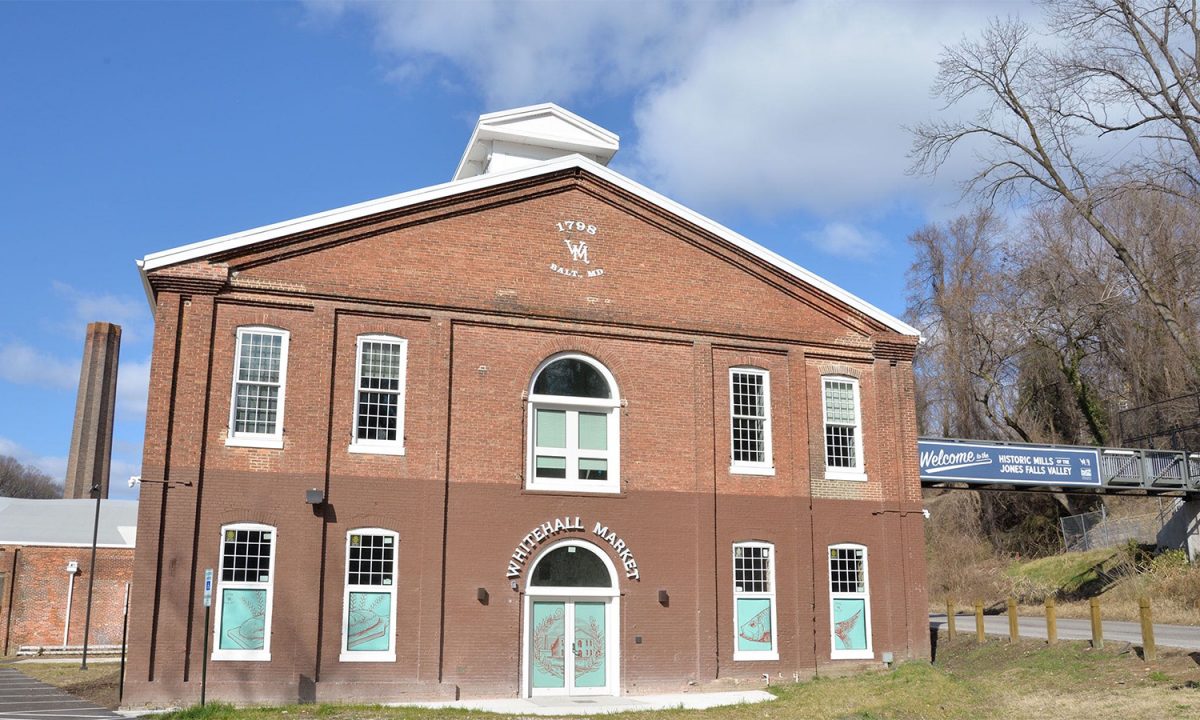 Whitehall Mill
Dana Sicko is no stranger to the concept of a communal market. As the CEO of Gundalow Juice, she sold her black-labeled bottles at local events and farmers' markets for nearly five years. But after deciding to stop production to focus on her catering service, Gundalow Gourmet, last year, she says she's missed the feeling of being surrounded by other small businesses.
"I love to be a part of a team," she says. "I always prefer to be around people who I can learn from and bounce ideas off of."
Naturally, Sicko jumped at the chance to set up shop alongside seven other local vendors at Whitehall Food Market in Hampden. Though the communal spot on the Jones Falls—part of the mixed-use redevelopment of the historic mill that also houses True Chesapeake Oyster Co.—isn't slated to officially debut until after the New Year, its vendors are coming together to host four consecutive weekend pop-ups, where visitors can shop for food and gifts throughout the holidays.
Beginning Saturday, November 30 and continuing weekends until Sunday, December 22, the event, dubbed "Holiday by the Falls," will take over the former Charm Kitty Cafe space in the green building adjacent to the actual market. Organizers are working with local designer Nicole Figliola to transform the space into a full-blown winter wonderland decorated with festive greenery, bows, and paper Christmas trees.
"The holidays are often so crazy and get so far from what they should be," Sicko says. "Our whole mission is about simplifying life in a delicious way. So we're really excited to be able to say, 'You don't have to worry about making your dip, because we have it all ready for you.' We just want to give people that time back to do whatever they want with their holidays."
Aside from Gundalow's famous bourbon caramelized onion dip and Croque Monsieur breakfast casserole, the one-stop shop will feature artisanal cheeses, raw honeys, and domestic cured meats from Firefly Farms; hand pies, Old Bay chocolate chip cookies, and other sweet treats from Crust by Mack; and an array of teas from Wight Tea Co. On select weekends, there will also be Filipino fare from chef Rey Eugenio of Heritage and winter warmers from Ceremony Coffee.
All of the holiday items are meant to serve as a sneak peek of what the vendors will offer once they begin selling at Whitehall full time.
"Every single thing we will be selling at the holiday market is something that we are passionate about," says Jesse Galdston, general manager and director of retail operations for Firefly Farms, which is based in Garrett County. "And there is an energy and excitement that you get when you see other people who are just as passionate about food as you are."
While the food-focused spots will be offering standout dishes to bring to a potluck or highlight on a holiday table, ceramicist Annie Parker will feature a selection of local gifts at her stall, Homebody General Store. Alongside some of her own pieces, Parker will sell graphic tees, throw blankets, skincare products, jewelry, smaller stocking stuffers such as playing cards and face masks, and vases by local artist Tim McFadden of McFadden Art Glass on Eastern Avenue.
"Shopping small, especially for gift items around the holidays, is always more special," Parker says. "Just the fact that someone was at this cool little shop that they found themselves and saw this item and thought of you. It's just more special than going to a mall and getting a gift card or something like that."
A lineup of activities planned throughout the pop-up includes a citrus-garland making class with Parker and Figliola—who both hail from Anthropologie—on November 30, a coffee tasting with Ceremony on December 7, and a cheese tutorial with the team from Firefly on December 14.
Collectively, the vendors are looking forward to introducing themselves to visitors, who they hope to see at the market on a regular basis once it opens. They're also excited to work alongside one another for the first time and have the opportunity to refer shoppers to each other's businesses.
After all, it's certainly no coincidence that the inaugural Holiday by the Falls pop-up is scheduled for Small Business Saturday.
"We might not be the cheapest, but you're getting our passion," Sicko says of Baltimore's small-business community. "You are getting the hardest working hours of our life, because this is what we've decided to pursue. We're always stronger together."