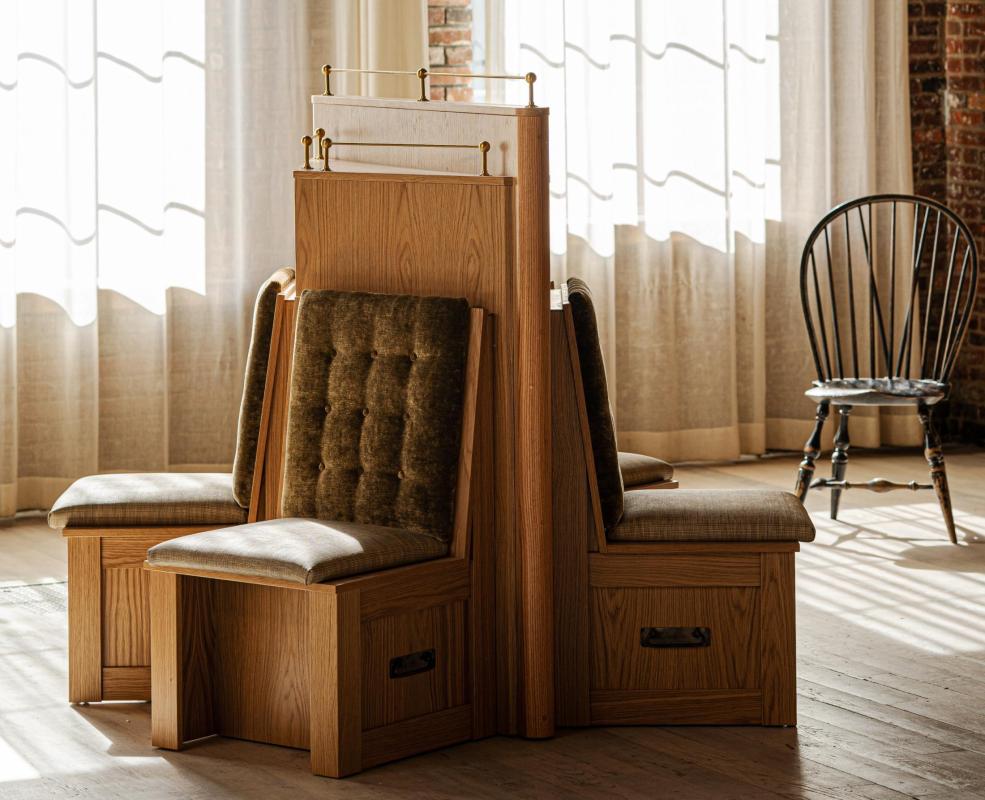 The interior renovation in progress at Woodberry Tavern, which will be set in the building's side room. —Photography by Colin Marshall
It's been a long, strange year on the Baltimore food scene without the farm-to-table fare of Woodberry Kitchen. The renowned restaurant helped put Mid-Atlantic cuisine on the national map when it opened in 2007 with a singularly steadfast commitment to sourcing every ingredient from within the Chesapeake Bay watershed, garnering the city its first James Beard Award and drawing visitors from near and far for its hyper-locavore experience.
But since last November, following a year and a half of coronavirus pandemic-related pivots—from a market-style pantry to outdoor patio seating—the dining destination has remained closed to the public, leaving many locals uncertain about whether Woodberry would ever return to Clipper Mill.
All of that will change next month when chef-owner Spike Gjerde reopens his iconic restaurant as the brand-new Woodberry Tavern.
Renamed, reimagined, and relocated into the building's intimate Woodberry Hall—a side room formerly reserved for weddings and events—the restaurant is slated to open the week after Thanksgiving, with a tentative start date of December 1. The tavern will offer a refreshed approach, but maintain Gjerde's paramount focus on supporting regional farmers and food producers.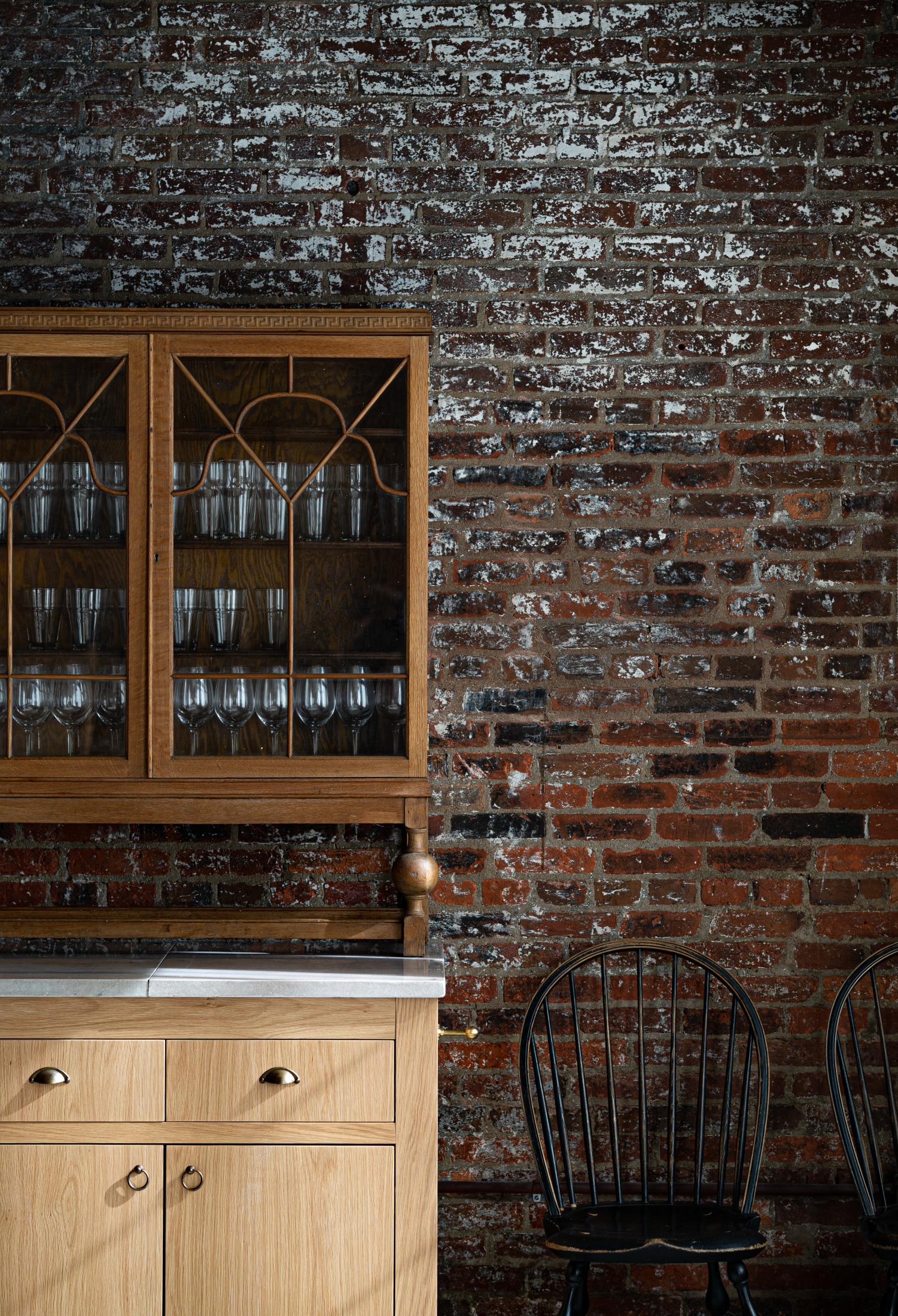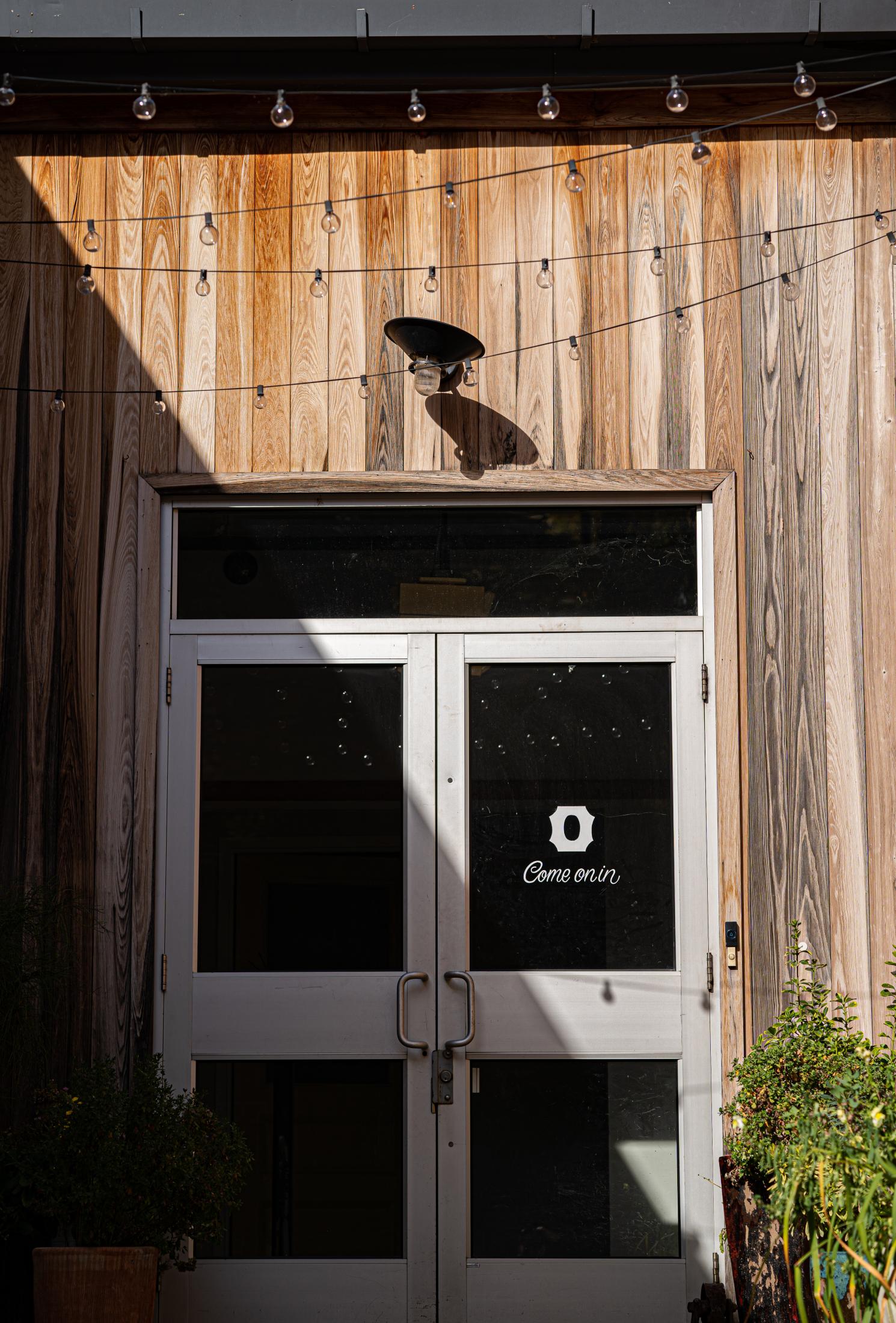 Open Wednesday to Sunday from 6 to 10 p.m., Woodberry Tavern will feature 30 seats including a five-person bar, compared to a former capacity of 120, with a curated menu of snacks, entrees, shareable side dishes, and desserts. Down the line, a late-night "tavern" menu is also expected to be added with limited food items such as a locally sourced burger, likely to be served until 11:30 p.m.
In addition to the building's cathedral ceiling, exposed brick, and natural lighting, sleek wooden design details have been added to the tavern space with the help of Studios on Sisson, a local woodworking shop that fabricates furniture and decor using locally reclaimed lumber. Other elements are holdovers from other lifetimes, like the marble bar top, which hails from the church that housed Gjerde's former A Rake's Progress in Washington, D.C. The former Woodberry Kitchen dining room will now be reserved for Woodberry Gatherings, the restaurant's hospitality arm for weddings and events.
In the weeks before opening, we sat down with Gjerde to talk about this new chapter, and look back on 15 years of championing a local food system.
How did you come to this decision to revamp Woodberry Kitchen into Woodberry Tavern?
For me, COVID hit us just like it hit everybody. We weren't ready for it, in a lot of ways. On March 15, 2020, we were closed, and as it settled in, I came to a pretty quick realization that Woodberry couldn't come back the way that it was.
In what way?
To me, Woodberry was this beautiful, controlled chaos. When it came to local food, there was no challenge that we wouldn't take on. Whole animal butchery. Baking with locally grown and milled grains. All kinds of canning and preserving. And our kitchen, the open kitchen that our guests could see, reflected that, as well. It took nine chefs and cooks to operate. We had a wood-fired oven that essentially took three people to run. It was spectacular. And I just realized that kitchen, with that team, and the cost associated with running a restaurant like that, of that size, just wasn't achievable. Those were the darkest times for me. I just knew it wasn't coming back as it had been, but at the time, I also didn't know what it could be.
You made a number of pivots during the pandemic. Most recently, you started to shift toward more events, which you will continue to do with this new model. But ultimately, your landlord insisted there still be a restaurant here. Do you think that was a blessing in disguise?
It was. At the end of the day, I'm a restaurant person. So we thought about it and decided to [swap the spaces]. Our former events space, Woodberry Hall—it somehow manages to be both grand and intimate. It's got this incredible volume, these amazing windows, this view onto the park, and the spectacular architecture of Clipper Mill, but it's a small room, at the end of the day. We're transforming it into this jewel box of a restaurant, with a beautiful, magical, little bar. I want it to feel timeless, like you're walking down an alley and you stumble upon this glow [through the reclaimed exterior window] and you hear all of the bottles and glassware clinking and it just draws you in.
"To me, Woodberry was this beautiful, controlled chaos. When it came to local food, there was no challenge that we wouldn't take on."

You're refining your staffing model as well, which includes a much smaller team—three-person kitchen, four-person staff—plus a new service charge and a more equitable pay model.
There is an intentional aspect that became central to this whole conception very early on, which was that we need to do better in hospitality with the way that we pay people. And we need to do better in two specific ways. One: we have to pay people more—a more-than living wage, not a subsistence wage. And two: parity in pay for people doing equal work. If you know restaurants, you know that a lot of times servers are way up here and, say, a line cook or a dishwasher is way down here. It's antiquated and frankly unfair.
When we opened in 2007, we opened with what I would describe as a conventional approach. My entire focus was about how we work with this local food system. I wasn't as mindful about our team as I should've been. Like a lot of restaurants, Woodberry ran on laser-thin margins. The way to affect that change was to substantially change the business. The pandemic was both the cause and also the opportunity for us to reset. And we're modeling the [new] business to reflect and achieve those goals.
Tell us about the new menu.
It will be a distillation of what we've done in the past. The oven's gone, so no more flatbreads. But all of our ingredients will still be sourced from within the Chesapeake Bay watershed. The menu is going to be a curated take on a tavern experience, starting with some lovely snacks—all of these little hyper-seasonal tastes—and then the experience will flow from there, with beautiful entrees, very much in the Woodberry tradition, but with shared seasonal sides for the table. We're starting recipe testing now and I'm going back to farmers and finally talking about getting set up again. It's incredibly satisfying. These are conversations I've really missed.
Supporting the local food system remains the central pillar of Woodberry. How did this approach first come into your consciousness as a chef?
It started with going to farmers markets in Baltimore for years—Waverly, the JFX. Once I moved back to the city and was cooking, I was living by myself and would still come home with two armfuls of food. The appeal was undeniable; here are farmers you can actually talk to.
And then I can almost pinpoint it—it was at [our restaurant] Joy America [in the American Visionary Art Museum in Federal Hill]. It's a bit cringe at this point, but we had this Pan Latin menu, food and flavors that I loved from traveling, but probably had no business cooking. But I clearly remember being in the walk-in there, looking at a case of mangoes, and trying to figure out where it was from. There was no sense of who grew it, under what conditions, even in what country. That's kind of when the lightbulb went off. Like, why am I buying these? The only thing I can really say is that they taste good, but I don't know anything else about them, or anything else about the consequences of how they're grown or transported.
At the same time, I'd started to become friends with people like Dave Reid [of Reid's Orchard in Gettysburg, Pennsylvania], and I thought, I know Dave, he's a great guy, and he grows this amazing fruit. I think that's the moment. That's the seed with which we planted Woodberry. Questions of how we source and feed ourselves and participate in the local food economy seemed to be a lot more interesting to me than concepts.
"I want it to feel timeless, like you're walking down an alley and you stumble upon this glow—and you hear all of the bottles and glassware clinking and it just draws you in."
How did that curiosity evolve?
Through conversations with growers, then my own research, I started to understand what was really positive and beneficial about working with small-scale local growers, and then also, the flip side about what large-scale conventional agriculture was doing to the Chesapeake Bay. It wasn't just, 'Oh, it's nice to use local ingredients.' There are real impacts on both sides of the equation.
You're referring to issues like the nutrient and sediment pollution of local waterways by large-scale farming operations, compared to the small-scale producers you work with, whose regenerative practices prioritize the environment over their output through the likes of no chemical use and minimal tillage.
For the past 15 years, you've worked to convince your customers of this importance, in terms of not only impacts on the land but the local economy, with the money they spend on dinner going directly back into the local community. What was it like seeing so many people suddenly realize this when COVID-19 disrupted grocery stores and global supply chains in 2020?
It was nice, for a minute. I thought this might be a moment where we can appreciate the advantages and resiliency of local food systems. I thought this would happen, but everyone was all about it, and then things went back to normal, in a disappointing way, once supermarkets and Tysons and Smithfields got their acts together.
Has that reignited your initial drive to champion this way of eating?
I've really got one speed—it never went away.