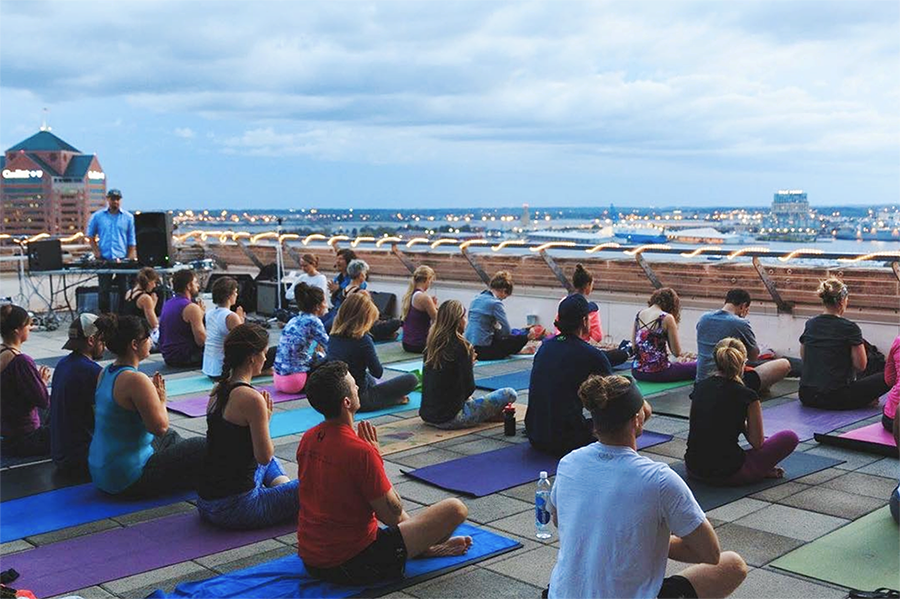 M. Power Yoga Studio
Although the last few weeks have doused Charm City with rain, we're headed into the last full month of summer. Despite the humid temperatures, August is the perfect time to experience our city through fitness. We rounded up some of our favorite ways to get out there to enjoy the sunshine while getting fit—check out our short list of fitness classes, al fresco events, and other outdoor opportunities below:
Studio Classes
Waterfront Wellness
Waterfront Partnership has teamed up with Medifast to offer complimentary waterfront workouts this summer and they are still happening every weekend this month. On Saturdays, stretch and sweat with yoga by Brick Bodies and boot camp by XPF and Dance2Fitness. On Sundays, join for vinyasa and/or family yoga with Yogaworks as well as a beginners run with Charm City Run.
BeachFit at Pendry Pool
Take your practice poolside with BeachFit's weekly yoga sessions at the Sagamore Pendry Baltimore pool. Right in the heart of Fells Point, the boutique hotel is the ideal spot to warrior on the water Wednesdays at 7 a.m. and Saturdays at 8 a.m.
M. Power on Natty Boh Rooftop
While the sun is shining and Mr. Boh is watching over you, join M. Power for their signature rooftop yoga flow. They are hosting a special sunset yoga flow with Mezcal (need we say more) on August 17 at 7 p.m.
FloYo at Four Seasons
Our Four Seasons Baltimore is bringing standup paddle-board yoga to the Hotel's outdoor infinity pool, with the city's Inner Harbor as its picturesque backdrop! Get on the SUP boards at the special pool-edition of FloYo on August 18.
Outside of the Box
Market Yoga with the Baltimore Museum of Industry
On August 18, stretch your muscles before shopping for your greens at the BMI's Farmers Market yoga class on their waterfront terrace.
Yoga in the Garden with The Preservation Society of Fell's Point
Start your Sunday off with local yoga instructor Emily Fleming for yoga in the garden at The Preservation Society of Fell's Point on August 19!
Race Pace at AVAM
Join Race Pace Bicycles for their annual Tours de Federal Hill bike ride. This free race starts on August 30 at 6:30 p.m. at Race Pace before AVAM's Flicks on the Hill event August 30.
Marissa Walsh Yoga at Tiki Barge
Join Marissa for her summertime practice under the shadow of the Domino Sugars sign on Tuesday, August 21. All levels of yoga are welcome as there will be many options and modifications.
Run Wild
Of course, summer is also the perfect time to take your runs, walks and bike rides outside! Check out our past roundup of favorite routes in and around Baltimore here.