The Me Guide 2015
Jump into the new year with confidence.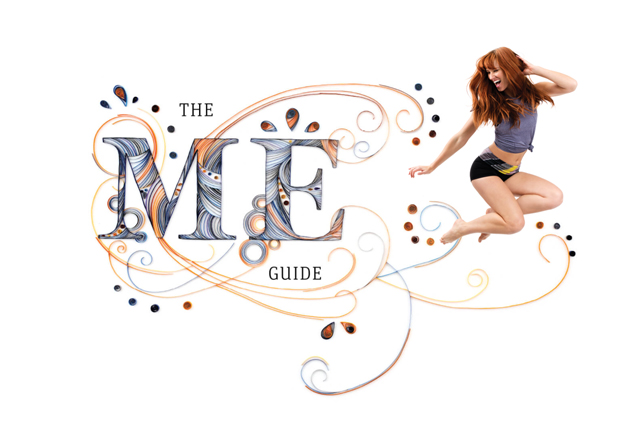 Jump into the new year with confidence.
By Hilary Geisbert with Shabdiece Esfahani and Rebecca Kirkman. Photography by Christopher Myers. Hair and makeup by Susan Heydt for Smashbox at Suze Makeup Studio. Quilled paper lettering by Veta Sherman.
---
Jump into the new year with confidence.
By Hilary Geisbert with Shabdiece Esfahani and Rebecca Kirkman. Photography by Christopher Myers. Hair and makeup by Susan Heydt for Smashbox at Suze Makeup Studio. Quilled paper lettering by Veta Sherman.
---
---
Sponsored by Lifebridge Health and Fitness

It's that time again—the beginning of a new year, which means the making of a new you. You're probably setting goals to become a better friend, parent, sibling, employee—and the list goes on. Before you prioritize that list, why not start with yourself? You can't fully help someone else if you're not the best version of you. So take that spin class that you've been dying to try. Book that full-body massage that will make you feel amazing. We promise, those around you will thank us later. The Me Guide is about that—putting yourself first—indulging in beauty, while getting back on a healthy track with food and fitness to become the happiest, healthiest you.
Beauty Road Map
Here are 10 steps to make you feel and look good from head to toe.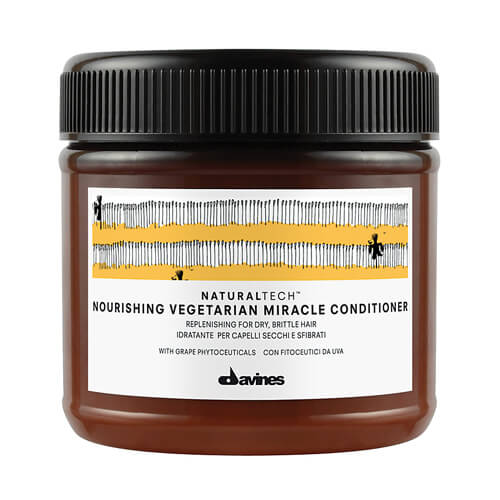 NO.1 squeaky clean
Davines takes pride in creating 100-percent clean-energy hair products. (Bonus: They also serve as great eye candy for the medicine cabinet.) Favorites include the deep conditioning Nourishing Vegetarian Miracle Conditioner, the Replumping Hair Filler Superactive for some extra va-va-voom, and its latest and greatest addition, the Texturizing Dust for maximum volume. Davines hair care line available at Bella of Canton, 2809 Boston St., 410-327-7872; Laboratorie, 735 Deepdene Rd., 410-435-0805; and The Parlour, 9515 Deereco Rd., Lutherville-Timonium, 410-853-7032.
---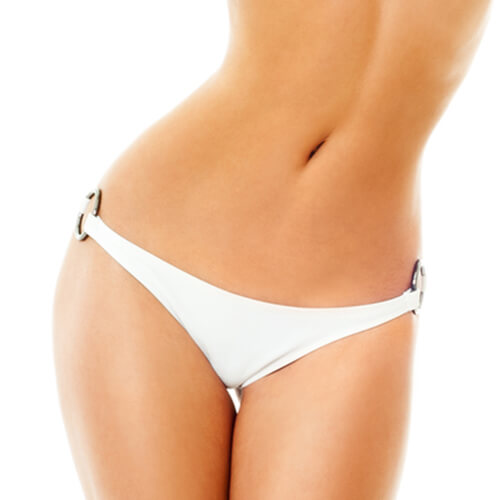 NO.2 hot wax
Bikini upkeep can be ouch-inducing to say the least–so don't take shortcuts. In 45 minutes, The Australian Vacial ($35 add on) at All About Me Salon and Dayspa will get you in tip-top shape with a cleanser to remove bacteria, followed by exfoliation to get rid of any pesky in-growns. The soy-based wax pampers sensitive skin, and is finished off with a soothing mask that zaps redness, plus a moisturizer, leaving you smooth and confident to take that sarong off on vacation. All About Me Salon and Dayspa, 212 Washington Ave., Towson, 410-828-8929.
---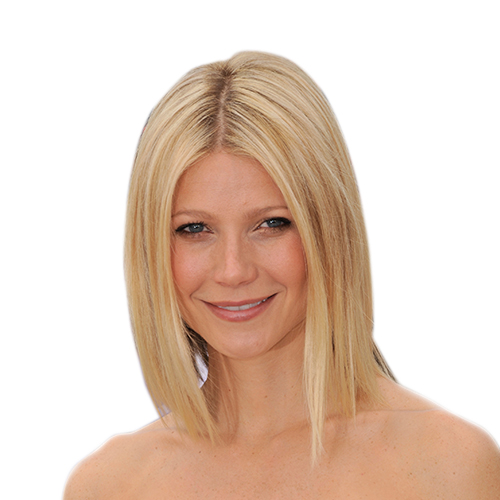 NO.3 timeless cut
The It Cut this season is the shoulder-length layered bob. But wait, wasn't that the It Cut last season? The bob never goes out of style," explains celebrity stylist Dean Krapf, of Lluminiare Salon, who has seen (and cut) it all (haircuts with Dean starting at $95). The key is to mix it up. "Right now, the freshest statements have been about texture and length." For a more traditional, yet modern, look, think shoulder-length sleek blow-out, while bohemian beach waves offer a fresh take on the classic cut. Lluminaire Salon, 15 W. Allegheny Ave., Towson, 410-583-1500.
---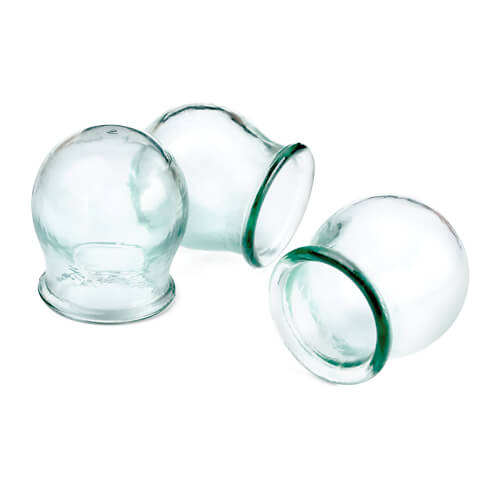 NO.4 cup crusaders
Since 2004, when Gwyneth Paltrow showed up at a film premiere with mysterious marks on her back, numerous Hollywood A-listers have joined the cupping movement. The cited benefits of cupping massage ($110-135 at Ojas Wellness Center) include toxin release, relieving back and neck pain, and even reducing cellulite. The downside? You might walk away with octopus-like marks varying in color, which fade in two to four days. Hey, if it's good enough for Gwyneth. . . . Ojas Wellness Center, several locations, including 1501 Sulgrave Ave., Ste. 103, 410-664-6527.
---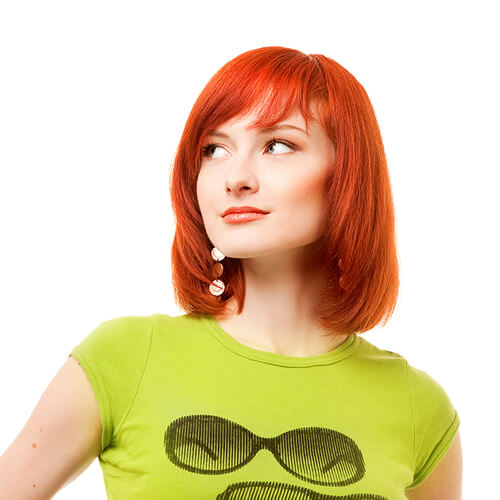 NO.5 new color
Nothing encourages a fresh start quite like new hair color. Even for virgin tresses, the trend of balayage (a form of hand painting in highlights and lowlights) leaves a natural effect, keeping color dimensional with a natural sun-kissed look. Whether you opt for highlights or all-over color (single process starting at $80, balayage starting at $90), pro-colorist Matt Hagan at Studio 921 treats coloring as a form of art. "Find your comfort zone and rebel," he advises. "Even just a little." Studio 921 Salon & DaySpa, 921 E. Fort Ave., Ste. 108, 410-783-7727.
---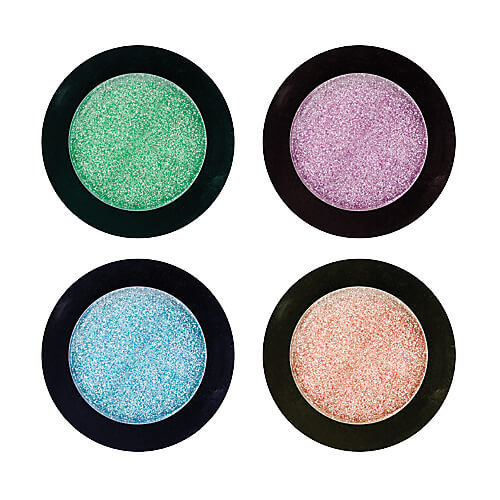 NO.6 kiss and makeup
About Faces' Owen O'Donnell, Smashbox retail specialist and ambassador and self-described contouring genie, is here to coach you through a customized, hour-long makeup session. After the personalized makeup lesson ($95), you'll leave the salon with step-by-step instructions that O'Donnell devotees keep tacked to their vanities. "Following the right steps, using primer, the right brush, and [doing things in] the right order is half the battle," says O'Donnell. "You don't necessarily need a lot of skill." About Faces Day Spa & Salon, several locations, including 1501 S. Clinton St., Ste. 300, 410-675-0099.
---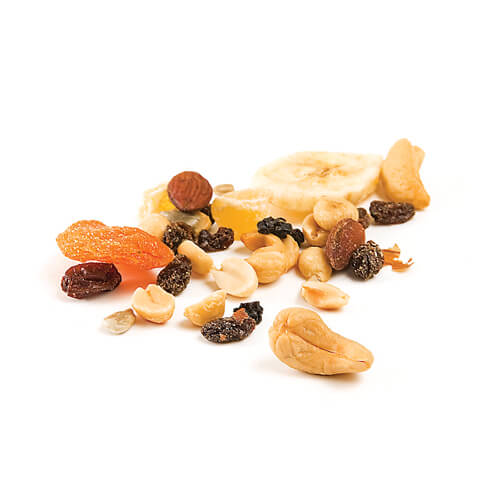 NO.7 summer glow
We've all been there–terrified (or victimized?) by a spray-tan disaster. Enter Scrub and Tan ($140) at the Baltimore Spa and Salon. It starts with 30 minutes of exfoliation (options include a heady mix of fruit and nut extracts or an invigorating arctic white-peat blend). After that, a flawless, J.Lo-esque spray tan is applied–sans the Oompa Loompa shame. Baltimore Spa and Salon: The Ritz-Carlton Residences, 801 Key Hwy., 410-625-2427.
---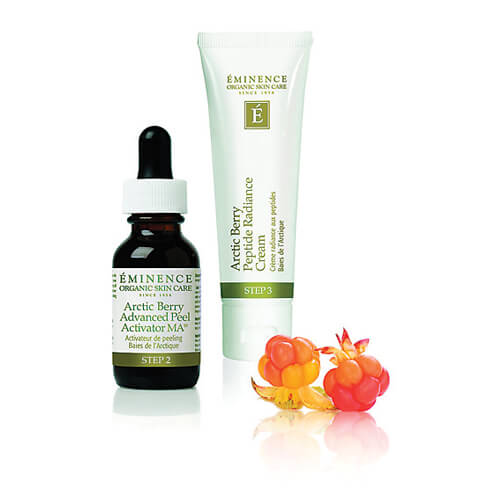 NO.8 fresh face
FX Studios' Organic Peel and Peptide Illuminating System by Éminence ($700/series of four) is an innovative three-step facial-and-peel combo done over a 12-week period that helps to prevent and reverse signs of aging. It's a unique combination of four in-spa facials and peels and a home-care kit using products that are organically derived, making it gentle on any type of skin. FX Studios Salon & Spa, 11270 Pepper Rd., Hunt Valley, 410-771-1500.
---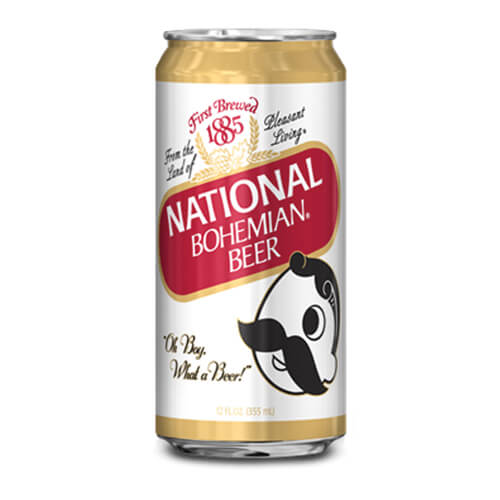 NO.9 Boh-dacious
Who knew that you could use Baltimore's iconic staples–Natty Boh and Domino Sugar–to help get glowing skin and hair? Turns out our favorite one-eyed pal can provide body and shine for hair and improve your complexion by killing off bacteria that trigger breakouts. The 50-Minute Baltimore Beer Treatment ($165, Four Seasons Spa) includes a full-body beer-and-sugar scrub, followed by a warm shower and full-body massage, all while sipping on a chilled Boh. Cheers! Four Seasons Spa, 200 International Dr., 410-576-5800.
---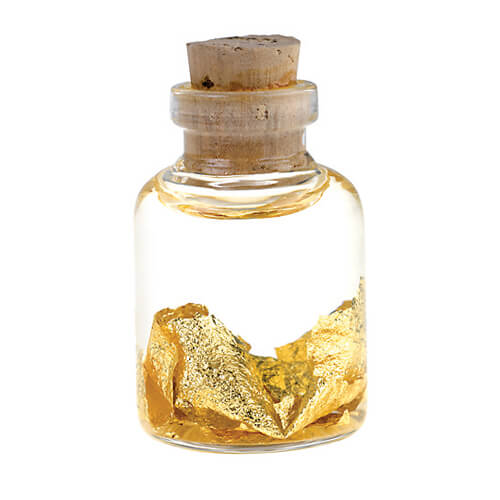 NO.10 ageless skin
Spa in the Valley's acupuncturist, Niloufar Gorman, is known for the success of her non-surgical facelifts that utilize a combination
of acupuncture and her own skin-care line, Biovisage. MVPs of the line include a 24-karat gold anti-aging serum ($125.50) and a
cellular vitamin-C serum that is said to reduce wrinkles by 40 percent ($88). Her work is the closest thing to magic outside of Photoshop. Spa in the Valley, A Salon by Debbie Spa, 118 Shawan Rd., Ste. P, Hunt Valley, 410-771-0200.
Home Sanctuary
Add these items to any room to create a Zen feeling









Smoothie King
Great tasting (and good-for-you) smoothies!

Hemp Berry High
Benefits
Great for digestion, high in protein and essential minerals and vitamins.
Ingredients
5 ounces orange juice
1 banana
1/2 cup blueberries
1/4 teaspoon vanilla
1 teaspoon chlorella powder
2 tablespoons hemp seeds
1 teaspoon maca powder
1 pinch Himalayan salt
3/4 cups ice
Fun Fact
Himalayan salt contains many trace elements and minerals for good health, prevents muscle cramps, regulates electrolyte balance of cells, and balances blood sugar and pH acid levels.
Available at Zia's Cafe, 13 Allegheny Ave., Towson, 410-296-0079 and Plant Bar, 529 E. Belvedere Ave.

Orange Aid
Benefits
Boosts immune system and promotes good eye health and healthy skin.
Ingredients
2 carrots
1 mango
2 tablespoons hemp seed
Mountain Valley spring water (to fill)
Fun Fact
Hemp seed is the ultimate plant-based protein, rich in vitamin E to aid digestion. It helps increase energy levels and metabolic rate. Carrots have high levels of vitamin A and anti-inflammatory benefits. Mountain Valley spring water is preferred because it is not packed in plastic.
Available at Agora Market at the Inn at the Black Olive, 803 S. Caroline St., 443-681-6319.

Blueberry Pie
Benefits
Low-fat, high in antioxidants (which help to boost your immune system and prevent infections), aids in reducing belly fat, loaded with vitamin C.
Ingredients
2 cups frozen or fresh blueberries
1 1/2 cups coconut milk
1/2 ripe banana
1/3 cup walnuts
1 teaspoon maple syrup
Fun Fact
Maple syrup contains essential nutrients like zinc and manganese, which can help strengthen your immune system. Be sure to look for a bottle that lists pure maple syrup as its only ingredient, not one made with processed sugar.
Available at Grind House Juice Bar, 2441 St. Paul St., 410-220-0166.

Jump Start
Benefits
Loaded with vitamins, minerals, and fiber. It helps restore tired muscles and rejuvenates the body, while boosting energy.
Ingredients
8 ounces organic apple juice
1 cup fresh spinach
1/2 banana
1/4 avocado
3-4 chunks fresh pineapple
2 scoops ice
Fun Fact
Fresh pineapple is the source of the enzyme bromelain, which is being studied to discover its effectiveness in alleviating arthritis, reducing inflammation, and treating burns.
Available at Corner Juice Bar & General Store, 2400 Fleet St., 410-844-1538.
Hot Workouts
10 new routines that will keep you motivated and moving.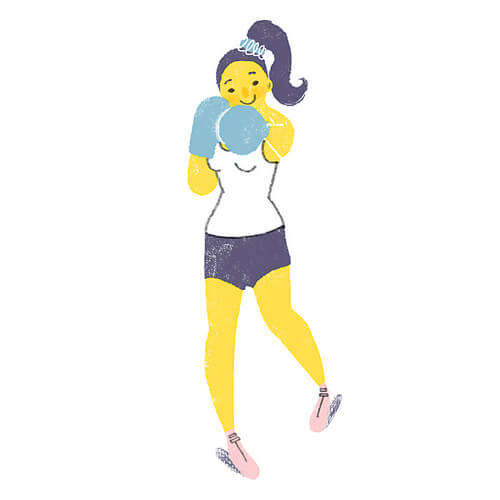 Punch it Out
Grab a pair of boxing gloves for MAC Attack, a high-intensity class at the Maryland Athletic Club in Harbor East. Trainer Wayne McFadden Jr. combines boxing, boot camp, and strength training to get students' heart rates up and cores engaged with activities such as punching bags and squat thrusts during this 60-minute power hour. Maryland Athletic Club, several locations, including 655 S. President St., Ste. 200, 410-625-5000.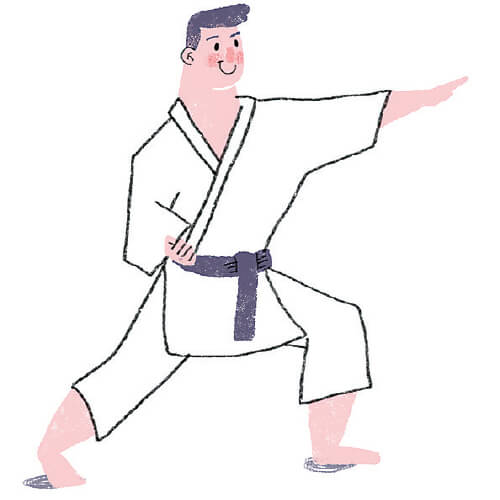 Combat Training
A new take on self-defense, BodyCombat is a martial-arts-inspired workout at Merritt Athletic Clubs. Kicks, chops, and strikes are choreographed to upbeat music in this class, which blends boxing, karate, and taekwondo. You won't earn a black belt, but you will burn an average of 730 calories during this 55-minute class. Merritt Athletic Clubs, several locations, including 210 E. Centre St., 410-332-0906.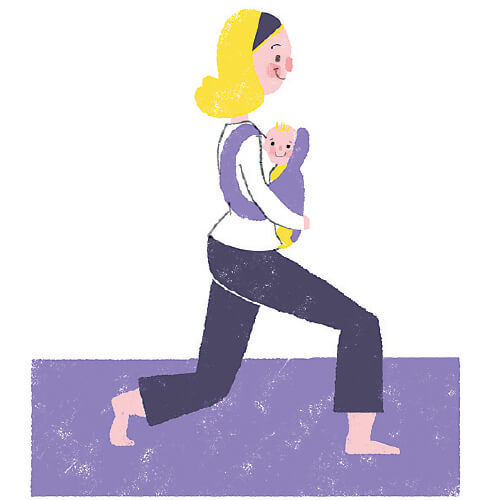 Play Date
For new moms, getting back into the workout routine can be challenging. That's why Inline Fitness' husband-and-wife owners Josh and Heather Kirk offer classes where kids can come along. Baby Bootcamp incorporates standing barre and Pilates moves—all with the wee one in a front carrier. And the Mommy & Me Pilates class targets new moms' trouble spots—abs, legs, back, and arms–while balancing baby (six weeks to crawling) on the belly. Inline Fitness, 720 S. Montford Ave., 410-940-9601.
Surf's Up
You can't catch any waves in Baltimore, but you can still get a long, lean, surfer body with SurfSet classes, which challenge your abs and stabilizer muscles while balancing on a surfboard that mimics the motion of being on the water. Founder Alison Schuch and instructors have designed one-of-a-kind classes that pair SurfSet with everything from yoga to cycling. Remember: summer bodies are made in winter. BeachFit, 1400 Aliceanna St., 410-753-4354.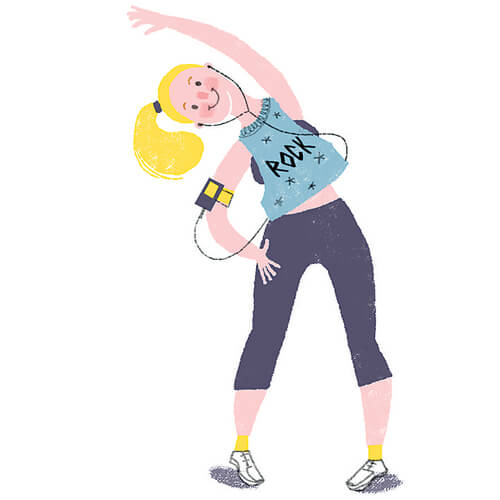 Music Men
It's music to our ears that students at M. Power Yoga do downward dog to live tunes during Music in Motion classes. And it makes perfect sense given that brothers and co-founders Jason and Joel Herd are musicians themselves. The candlelit sessions feature tunes—from singer-songwriters, to jazz, to post-rock—that help quiet the mind and soothe the body. Silence is so overrated. M. Power Yoga, 3600 O'Donnell St., Ste. 100, 410-534-9642.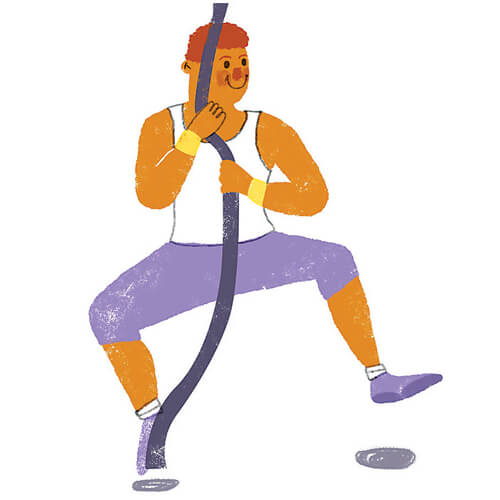 Hardcore Warriors
With its graffiti-covered walls and open warehouse floor plan, Urban Evolution's 15,000-square-foot Southeast Baltimore studio feels more like an urban skate park than your typical workout space. Starting with the Intro to Parkour class, students—ages 9 and up—learn to scale walls and execute maneuvers like box- vaulting and rail-balancing in an obstacle-course format. Once you've released your inner ninja warrior, join other parkour practitioners for an outdoor jam (applying skills in an informal setting) at locations around the city like Fort McHenry, Patterson Park, and the Inner Harbor. Urban Evolution, 6801 Eastern Ave., 855-646-5271.
Dancer's Body
Maybe you've tried barre—the strenuous workout combining ballet, yoga, and Pilates that is known to lead to long, lean muscles—but at Pikesville's Barre studio, founders Kara Bennett and Aimee Fulchino offer exciting new takes on this trendy routine. Their hardcore classes combine classic barre postures with yoga stances and fat-burning cardio exercises. A MegaFormer machine piles on an even greater challenge, as it adds resistance and leaves you as exhilarated as you are exhausted. Barre, 2586 Quarry Lake Dr., Pikesville, 410-486-8480.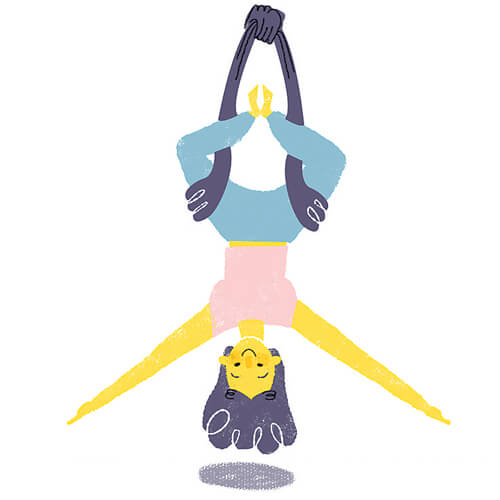 Air Time
Catch some air as you swing from a low-hanging, hammock-like silk scarf during an Air Yoga class at the Canton Club. This class, which helps strengthen your core and improves overall flexibility, offers much more than your typical mat session with its combination of traditional poses and upside-down asanas. (Your arms and abs will thank you later.) Relax into it—and enjoy the sweeping views of the harbor, too! Canton Club, 2780-D Lighthouse Point East, 410-276-5544.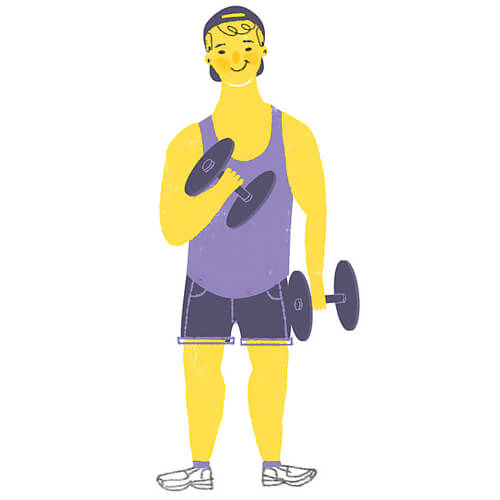 On the Road
The Road, a nine-week training program by Earth Treks Climbing Centers, will put you on the path to fitness in no time. This class, a full-body workout for all fitness levels, includes conventional and unconventional training methods with "Roadies"—who lift weights one minute and swing a sledgehammer or drag a 250-pound tire the next until they run out of gas. Earth Treks Climbing Centers, several locations, including 7125-C Columbia Gateway Dr., Columbia, 410-872-0060.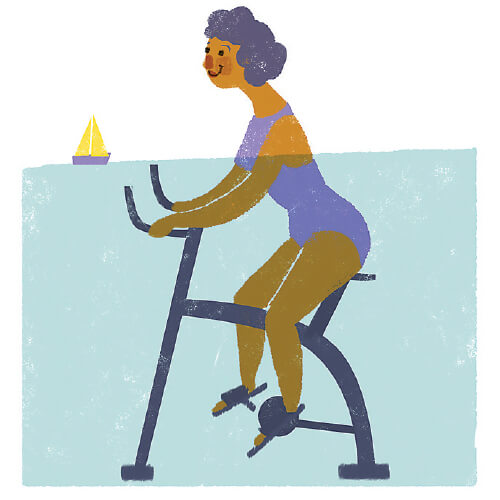 Pool Party
When you're tired of sweating it out at your traditional spin class, try the European workout craze that has made its way to Baltimore: aqua spinning. To tone abs, legs, and thighs, hop on one of the spinning bikes submerged in Brick Bodies' downtown lap pool to reduce spinning's stresses on joints while burning up to 800 calories. Brick Bodies, several locations, including 218 N. Charles St., 410-547-0053.
Perfect Fit
Looking good while working out.
Ever since strong has become the new skinny, women can't get enough of all things wicking—sweat wicking, that is. With that in mind, activewear brands have really upped their game—using new patterns, technologies, colors, and silhouettes to create pieces that can be worked into your everyday wardrobe, allow you to sweat it out at the gym, and are spot-on with the latest fashion trends. It sounds like a perfect blend of functionality and fashion, if you ask us.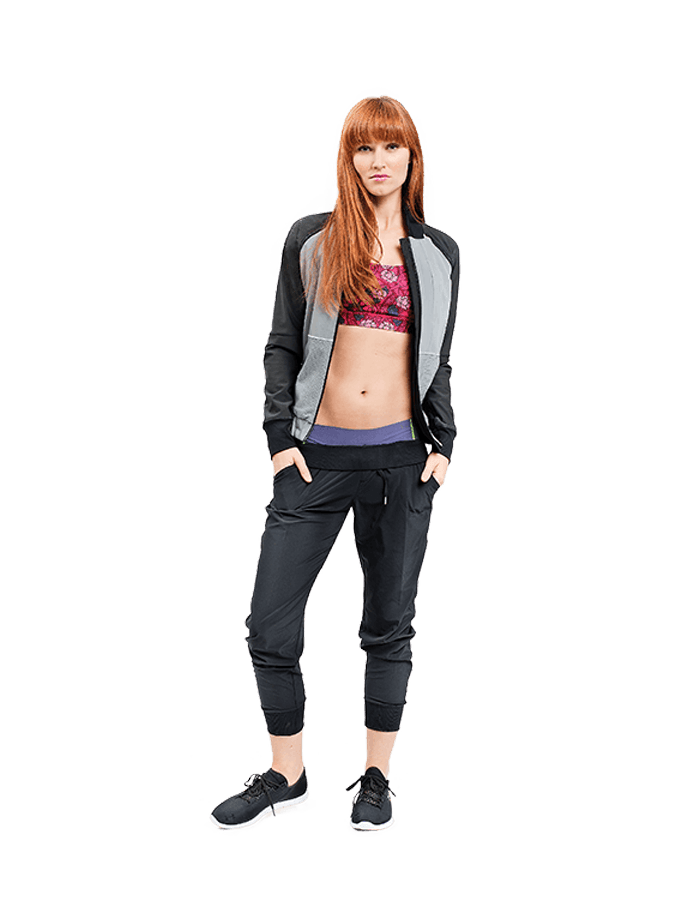 To and From
Bright bomber jacket ($228) at lululemon athletica. Energy bra ($48) at lululemon athletica. pure stretch cheeky underwear ($12) at under armour. speedform studiolux shoes ($79.99) At under armour. Lined city jogger pants ($98) at athleta.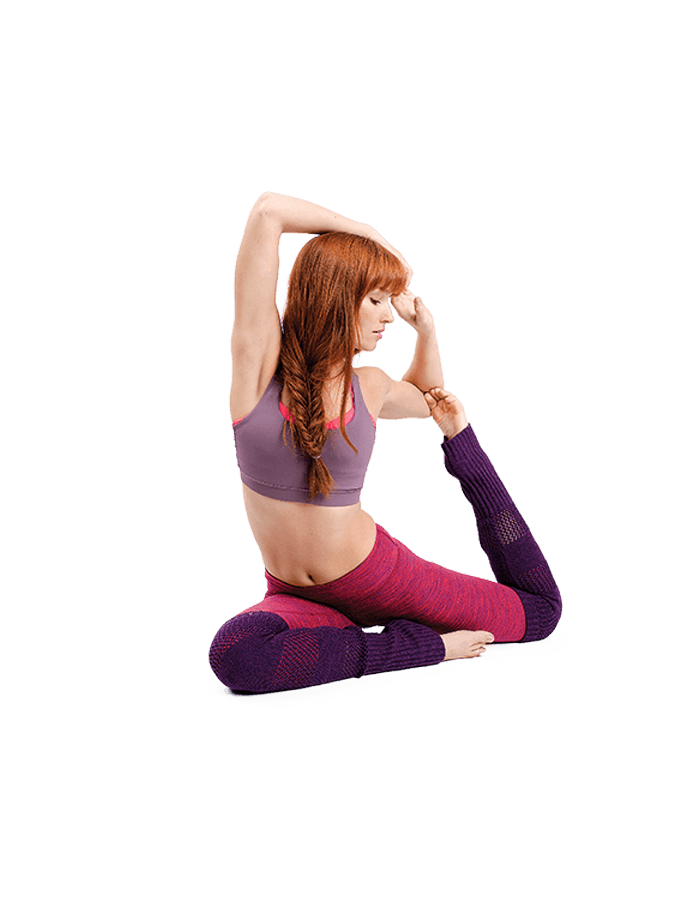 Studio Space
Sports bra ($39.99) at Under Armour. Energy bra ($48) at Lululemon Athletica. Wunder Under Crop II ($82) at Lululemon Athletica. Leg warmers ($58) at Lululemon Athletica.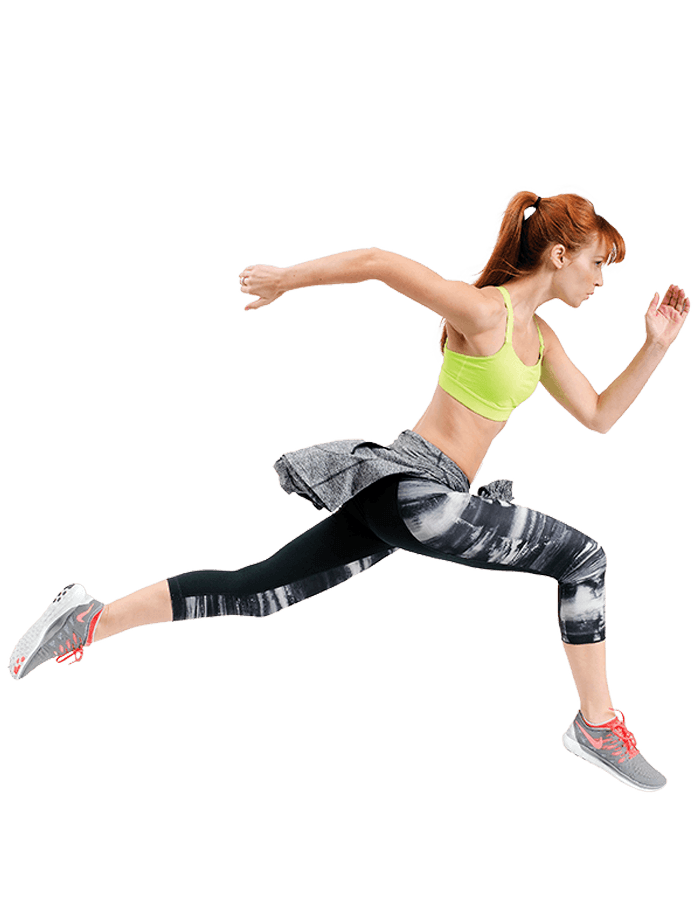 Track Meet
Perfect Tight printed capri ($59.99) at Under Armour. sports bra ($39.99) at Under Armour. Nike hooded sweatshirt ($80) at City Sports. Nike Free 5.0 shoes ($100) at City Sports.


Get the Gear










Related Content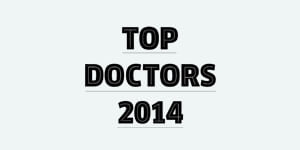 Top Doctors 2014
Challenging case files, our exclusive 2014 survey, getting sick in the age of social media, and how to annoy your doc.