Writing Wrongs: 'Afro-American' Sportswriter Sam Lacy is in the Baseball Hall of Fame
Lacy, who covered Jackie Robinson's rookie year with the Brooklyn Dodgers, would prove as resilient as No. 42 himself.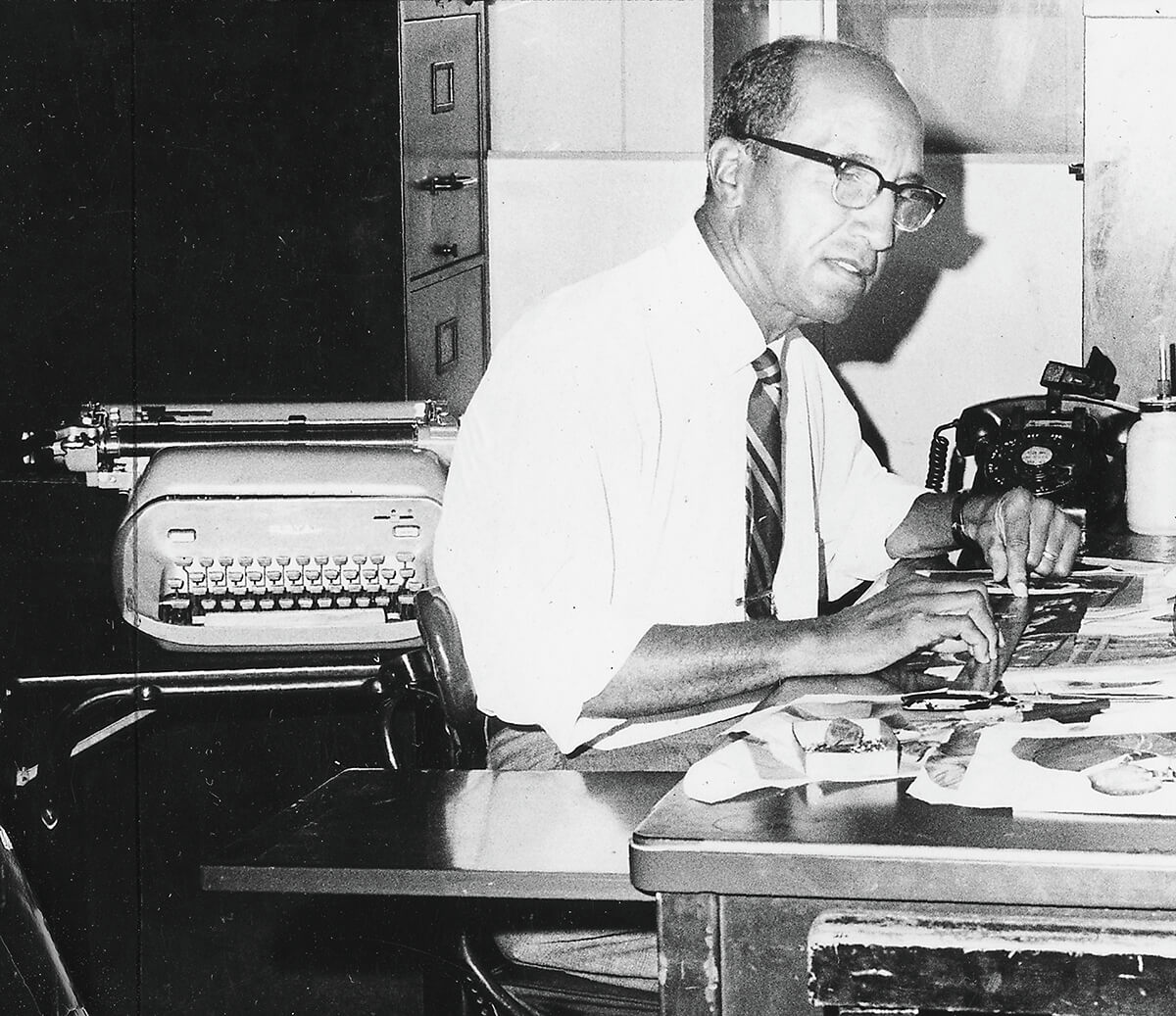 Seventy-five years ago this season, the Afro-American newspaper put sports editor Sam Lacy on a new beat: covering Jackie Robinson's rookie year with the Brooklyn Dodgers. There was no bigger sports assignment in 1947 and Lacy, who was breaking another color line as a baseball writer, faced his own challenges and racism.
Even as Robinson was taking the field, Lacy was often not allowed to sit alongside his white peers and forbidden from using "whites-only" restrooms at ballparks—once directed to a tree 35 yards past the right field foul pole. He was forced to cover one early game from the roof of the press box and others from the Dodgers dugout. One night, before an exhibition game in Macon, Georgia, a cross was burned on the lawn of the boarding house where he stayed with several Black writers and ballplayers.
Lacy had waged a decade-long campaign to integrate baseball as he chronicled the exploits of Negro League stars like Satchel Paige, Josh Gibson, Cool Papa Bell, and Robinson's future Hall of Famer teammate, Baltimore Elite Giants catcher Roy Campanella, but now finally watching Robinson play proved stressful, too.
"I felt a lump in my throat each time a ball was hit in his direction those first few days," Lacy recalled in the Afro. "I was constantly in fear of his muffing an easy roller under the stress of things. And I uttered a silent prayer of thanks as, with eyes closed, I heard the solid whack of Robinson's bat against the ball."
Lacy would prove as resilient as No. 42 and soon distinguish himself, as well. After the season, Robinson was named Rookie of the Year and Lacy became the first Black sportswriter to join the Baseball Writers' Association of America. A half-century later, he earned his way into the writers' wing of the Baseball Hall of Fame in Cooperstown.
Sam Lacy grew up in Washington, D.C., selling popcorn and peanuts in Griffith Stadium's segregated Jim Crow outfield section as a kid and later playing for several local semi-pro clubs, himself. In a journalism career spanning eight decades, he penned his last column from the hospital a few days before his death at age 99 in 2003. ("As I lay here in my hospital, I have had plenty of time to reflect on some of the turns of good fortune that have come my way.")
He also covered much more than baseball. He wrote about Jesse Owens' Olympic exploits, Joe Louis' victory over Germany's Max Schmeling on the precipice of World War II, and Althea Gibson's back-to-back Wimbledon and U.S. Open triumphs in 1957 and 1958. When the graceful Wilma Rudolph was turned away from an eatery in her Tennessee hometown after her three-gold-medals performance at the Rome Olympics, Lacy noted, "The key to the city" she'd been given "didn't fit any lock in town."
Closer to home, he was on hand to report from the first-ever interracial college football game in Maryland when the all-Black Maryland State College team faced an all-white Trenton Teachers College squad from New Jersey in 1949. "Down here on the Eastern Shore, where 32 lynchings have occurred since 1882, democracy lifted its face toward the sun on Saturday," Lacy wrote in his widely read "A to Z" column.
Years later, he called out the Baltimore Colts for their failure to sign Black players, and the entire National Football League for the lack of Black hires among its coaching and front office ranks. In 1956, after the Colts drafted Lenny Moore out of Penn State, he told the running back about what Robinson had experienced and what to expect. "Had it not been for this man, I would not be standing here today," Moore said at Lacy's funeral.
Polite and soft-spoken, but a tenacious truth-teller, he paved the way for an entire generation of Black sportswriters, including former New York Times journalist William Rhoden and The Washington Post's Michael Wilbon. His 1998 book, Fighting for Fairness, written with former Afro editor Moses Newson, should be considered a must-read for sports fans and historians.
But for as good a writer as he was and for as long as he wrote at Afro, not to mention early stops at The Washington Tribune and Chicago Defender, Lacy didn't necessarily enjoy sports writing. Not at least for its own sake. He saw it as his work and duty, his son, Tim Lacy, told The Shirley Povich Center for Sports Journalism several years ago.
"That was his job," said Tim Lacy, who also contributed to the Afro for years. "What he enjoyed least was the travel, being away from home, and stuff like that. What he did enjoy was his work coming to fruition. He enjoyed seeing barriers being broken down."