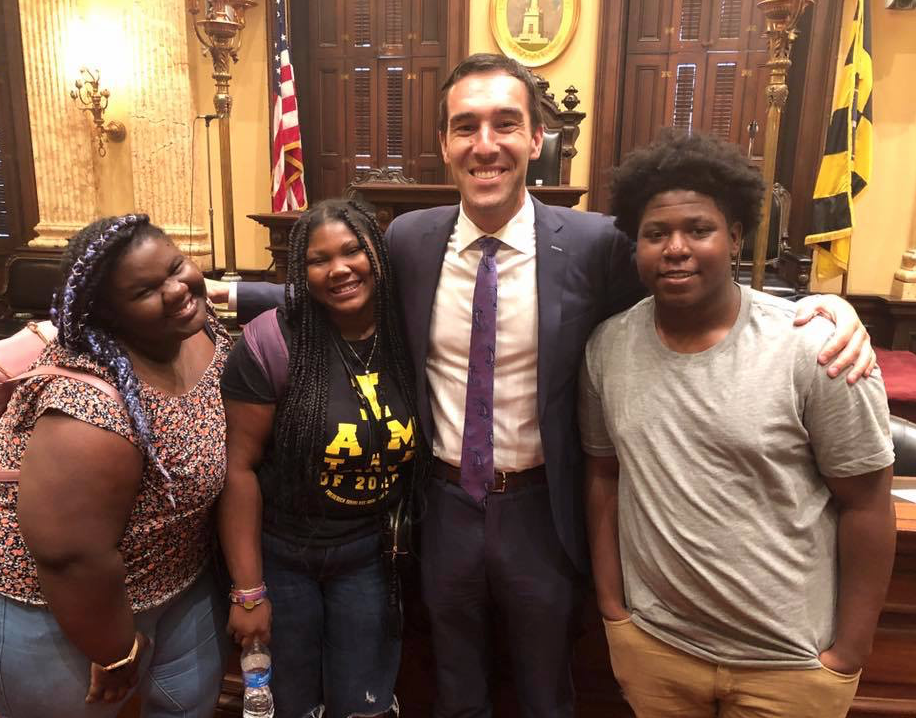 After a 25-year-old man entered their school and shot a special-education assistant last February, Frederick Douglass High School students Jiaonna Santos, Damani Thomas, and Bryonna Harris testified in front of the City Council to speak about the struggles and daily stress of living in fear. Rising seniors Santos, Thomas, and Harris all live in the challenging, disinvested communities surrounding the West Baltimore high school.
"If we can't be safe in this city, and we can't be safe while we're in school, where are we supposed to be safe?" Harris repeated in the City Hall office of Councilman Zeke Cohen earlier this week.
More than 56 percent of Baltimore's children have experienced one or more major traumatic life events, according to data from the Child and Adolescent Health Measurement Initiative. Traumatic events include, but are not limited to, economic hardship, witnessing or experiencing violence, having a parent incarcerated, the death of a parent, living with someone with alcoholism, addiction, or mental illness, and experiencing discrimination because of one's race or ethnicity.
Santos, Thomas, and Harris, who plan to attend college after graduation, said they and their classmates are all too familiar with all of the above: "This city needs to change," Harris said. "It's tiring to wake up every day and constantly have to struggle with the same ordeals when there is no hope. It's exhausting when there is no light at the end of tunnel. Last year was a long year. I lost my Dad."
Cohen introduced a bill Monday evening that would require city agencies and their frontline workers who interact with families and youth to deliver services in a manner consistent with trauma-informed best practices.
Specifically, if passed, the Baltimore City Trauma-Responsive Care Act would require citywide departments—including Recreation and Parks, Public Works, Transportation, the Fire Department, Enoch Pratt Free Library, Housing and Community Development, and the Mayor's offices on human services, criminal justice, homelessness—to designate certain staff to undergo formal training in trauma-informed care and ensure those practices are implemented.
City agencies would also be required to submit periodic progress reports to a trauma-informed task force—established by the legislation—which would include clinicians, council members, parents, and youth members.
That task force would submit annual reports to the Office of the Mayor and City Council. The proposed legislation would also reconstitute the current Office of Children, Youth, and Families, renaming it the Office of Children and Family Success. It's primary duty would be "to lead a citywide initiative to prioritize the trauma-responsive and trauma-informed delivery of services."
The legislation has since been assigned to the City Council's Health Committee, which is chaired by Councilman Kristerfer Burnett. Burnett has expressed support for the measure, along with the rest of the City Council, which has signed on as co-sponsors. He also said he's still waiting from to receive a fiscal assessment of the legislation, but expects the financial burden to be between $100,000-$200,000, largely for training costs.
Community leaders across the city, including East Baltimore pastor Donte' Hickman and local author and student advocate D. Watkins, regularly highlight how the trauma that so many youth face in the city goes unrecognized and untreated.
Stacey Jefferson, an associate director of policy and community engagement at Behavior Health System Baltimore, described city children as "facing a mental health crisis" in a recent Baltimore Sun op-ed—noting far too few have access to mental health care services.
A former Baltimore public school teacher and founder of a youth leadership development program, Cohen links the trauma experienced to the legacy of segregation and redlining, as well as drug war and mass incarceration policies that have taken their toll on so many city neighborhoods.
He added that the legislation was, in part, informed by his experience as an educator. His effort is modeled after similar initiatives in Philadelphia and Cleveland, whose trauma-informed program is centered on its city recreation centers.
"Getting kicked out of a rec center, for example, can be a source of re-traumatization [for kids]," Cohen said. "Unfortunately, a lot of our staff at our rec centers have experienced trauma as well, and they end up yelling at kids, which exacerbates everything for everyone."