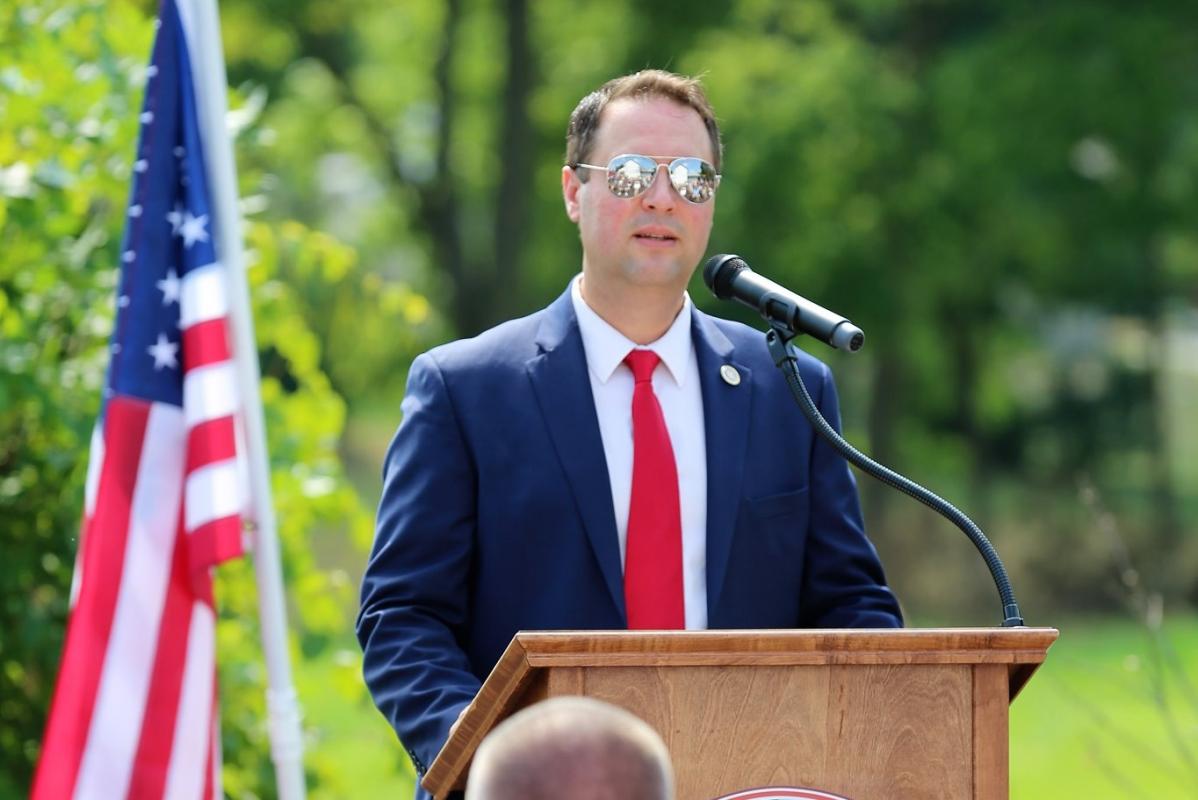 Far-right state delegate Dan Cox won the republican primary for Governor. —Courtesy of Dan Cox Campaign via Facebook
The final tallies of Tuesday's primary election won't be known for days, and possibly weeks, because of an unprecedented request for mail-in ballots—which will not begin to be counted until Thursday. That said, while many races remain in question after the polls closed last night, some key Maryland races have already been called.
Far-right state delegate Dan Cox—who tweeted "Pence is a traitor" during the January 6 insurrection and received twice-impeached former President Donald Trump's endorsement—handily won the Republican primary for governor. In the Democratic primary, the vote remains too close to call, but first-time candidate, nonprofit executive, and author Wes Moore currently leads Tom Perez, the former U.S. Secretary of Labor, 36.84 percent to 27.25 percent.
In the bid for the Democratic nomination for attorney general, Prince George's congressman Anthony Brown, who leads 60 to 40 percent, defeated former Baltimore judge Katie Curran O'Malley. Brown, as did Curran O'Malley, pledged to protect abortion rights in Maryland in the wake of the overturning of Roe v. Wade.
"I'm ecstatic," Brown told The Washington Post early Wednesday morning. "We were in it for the long haul. We knew it was a competitive race. I was confident we were going to be successful and quite frankly I'm pleasantly surprised that some of the outlets have called this so soon."
Michael Peroutka, a former Anne Arundel County Council member and an attorney, appears to have captured the GOP nomination.
In the race for Maryland comptroller, former Baltimore City state delegate Brooke Lierman was projected as the Democratic nominee with 63.9 percent of the vote. "I am looking forward to continuing to meet with Marylanders in every corner of the state," Lierman tweeted Tuesday night after the race had been called. "Together, we can reimagine what the Comptroller's office can do to support families, strengthen public schools, empower small businesses, and build a better Maryland for all."
On the Republican side, respected former Harford County Executive Barry Glassman ran unopposed.
In the controversial, heated, and most anticipated race in Baltimore City, defense attorney and former prosecutor Ivan Bates currently leads incumbent City State's Attorney Marilyn Mosby, 41 percent to 32.4 percent, a margin of roughly 4,100 votes. Thiru Vignarajah, who also ran against Mosby and Bates in 2018, sits third with 26.6 percent. Mosby faces a federal trial for perjury and mortgage fraud. Vignarajah has come under scrutiny after a number of former staffers accused him of abuse when he was at the Baltimore state's attorney's office.
In another closely watched citywide race for sheriff, challenger Sam Cogen leads 33-year incumbent John Anderson by less than 200 votes, 50.2 percent to 49.8 percent.
In other notable races: U.S. Senator Chris Van Hollen, who suffered a minor stroke in May, captured more than 77 percent of the Democratic primary vote. Perennial candidate Chris Chaffee currently leads the GOP field. In U.S. House primary races, Democratic incumbents Dutch Ruppersberger, John Sarbanes, Steny Hoyer, Kweise Mfume, David Trone, and Jaime Raskin all easily won. Republican U.S. Rep. Andy Harris ran unopposed in District 1, where he'll face Democratic challenger Heather Mizeur, in a compelling, sharply drawn match-up. In the District 4 Democratic primary, former Prince George's State's Attorney Glenn Ivey defeated former congresswoman Donna Edwards in a high-profile race to replace outgoing Anthony Brown.
In Baltimore County's race for top prosecutor, challenger Robbie Leonard holds a slight 50.9 percent to 49.1 percent lead over incumbent Scott Shellenberger, who seeks a fifth term. For Baltimore County Executive, incumbent John Olszewski Jr. cruised to an easy victory in his Democratic primary, while candidate Pat McDonough, a former state delegate charged this summer with stealing an opponent's campaign sign, won the GOP nomination.
Maryland is the only state that prohibits election officials from processing ballots before polls close—a pre-COVID restriction that snapped back in place after it was lifted for the 2020 election—which will cause the delay in the final tallies.
At least 20,000 mail-in ballots in the city had been returned as polls opened Tuesday morning, The Baltimore Sun reported. However, those ballots will not begin to be counted until Thursday. This past session, state legislators passed a bill to permit the counting of mail-in ballots ahead of primary day, but Gov. Larry Hogan vetoed the measure. As of Saturday, according to The Washington Post, more than 177,000 mail-in ballots had been returned statewide—with more than double that still out.
Stay tuned—how many ultimately were returned in time to be counted remains to be seen.