Everything Looks Like It Comes Easy to Adley Rutschman
A lot does, but looks can also be deceiving.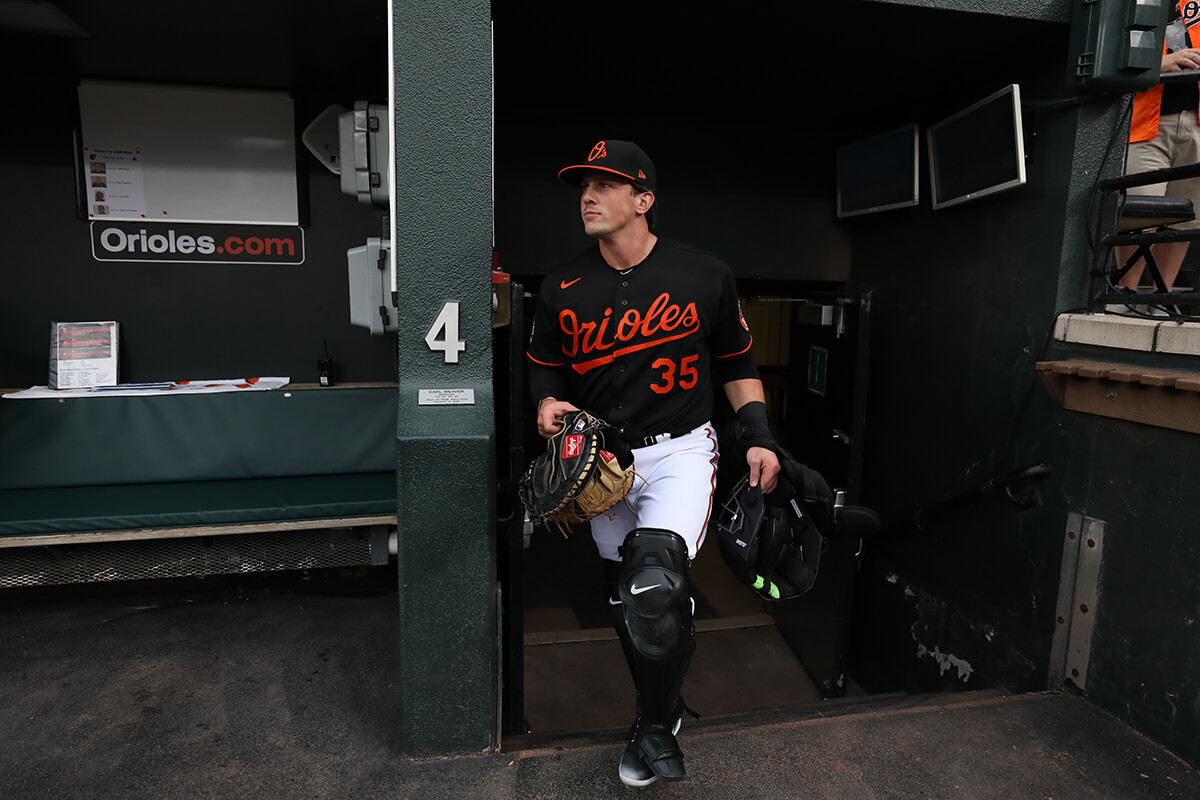 A week before Adley Rutschman sent a baseball flying into the right-field sky above Camden Yards at 111 miles per hour—his first home run to hit the concrete of Eutaw Street on a fly, 407 feet away—a neighbor of his parents in suburban Oregon returned another home run ball.  But this wasn't the standard, tiny white baseball you find in the major leagues or even Little League. Instead, it was a 12-inch circumference yellow Jugs ball, a larger, softer kind made for practice.
Years ago, Rutschman's dad, Randy, a former college catcher and longtime baseball coach, would pitch dozens of them, night after night, in the driveway to young Adley, who'd smack them with a bat into the cul-de-sac in front of their three-bedroom house. Like an archeological artifact, this returned ball had dirt caked on one half of it and the fade of a decade or so of sunlight on the other. It was unearthed in the digging of a landscape renovation project four houses away.
"I'm giggling," says Carol Rutschman, Adley's mom, a longtime high school math teacher. "Because everybody finds the balls in their yard. It's like a coveted thing—here's another one, you know?"
Adley sent those balls flying everywhere. Only once did the ever-joyful future slugger foul a ball off and break the front door window. Mom often begged him to come in for dinner.
"I think on Adley's tombstone, it's going to say, 'Just one more,'" his mom says. "That's what he would always say. He would just want to hit ball after ball after ball."
It's almost too perfect of a story, an image of stereotypical Americana. The cute kid (in a cul-de-sac, for crying out loud) dreams about playing professional baseball one day, takes batting practice in relative anonymity from an available father while mom prepares supper. You could make this stuff up, but with Adley Rutschman you don't have to. It's all true.
Nature met nurture. Coaching and playing sports is in the Rutschman family DNA. Adley's grandfather, Ad, still spry at age 91, is a legendary college football and baseball coach in Oregon—the only collegiate coach at any level to win national championships in baseball and football. Randy Rutschman was a college catcher and is a noted coach of the position in the Pacific Northwest. He deliberately did not force his son into baseball. It didn't work. Throughout his childhood, Rutschman and his younger sister, Josie, enjoyed family "vacations" on road trips around Oregon with the George Fox University and semi-pro teams that their dad coached.
"There was an association from a young age: baseball, vacation. Baseball, fun," Randy says. "Both kids."
When he was eight, the same age at which he famously won a regional Pitch, Hit & Run competition in Seattle, Rutschman shagged fly balls with the college guys. At every age, he constantly asked his dad to toss him pitches to hit. "Randy always said yes," Carol says.
By his early years at Sherwood High, Rutschman was throwing faster than 90 miles per hour off a mound. In fact, college coaches initially recruited the wunderkind as a pitcher. Only after Rutschman kept growing, to the 6-foot- 2, 220-pound specimen he is today, did he become a powerful, switch-hitting, and fundamentally-sound everyday-playing catcher. Pro scouts and agents came sniffing, along with college recruiters.
"You start to develop, figure out your body, your swing gets better," Rutschman says now, "and then they're like, 'Oh, this guy can hit a little bit, too.'"
In April, sitting in the Orioles' dugout a few hours before a game against the Boston Red Sox, Rutschman is about to hit again, in a real professional batting practice, the type kids watch from the bleachers. Given his background, some may argue his success to this point was preordained. But here's the thing. There are hundreds, even thousands, of would-be Adley Rutschmans out there. Kids who come from an athletic pedigree, who dream of going pro, and are hyped at a young age. But only a tiny percentage come close to attaining what Rutschman has already accomplished.
THERE ARE HUNDREDS, EVEN THOUSANDS, OF WOULD-BE ADLEY RUTSCHMANS OUT THERE…BUT ONLY A TINY PERCENTAGE COME CLOSE TO ATTAINING WHAT HE HAS ALREADY ACCOMPLISHED. 
When I ask him how he's dealt with the expectations, like being the top-ranked pro prospect for years, he explains: "It's a process. It's not natural. You have to work on it."
In 2018, his Oregon State Beavers won the College World Series and by then Rutschman, a sophomore, was so feared a hitter that in one of the games he was intentionally walked with the bases loaded. Two days after winning a national title, he answered a bunch of congratulatory text messages, then asked his dad to throw him batting practice, already looking ahead to the next thing. Then he became the top overall pick by the Orioles in the 2019 MLB Draft after being referred to by analysts as the "perfect prospect," given his skill behind the plate and leadership abilities.
Somehow, Rutschman has since met and exceeded every expectation others have had for him. So much so that his likeness—light brown hair and sharp blue eyes included—was recently made into thousands of Captain America-themed giveaway bobbleheads for fans at Camden Yards.
"He's for sure that guy," Rutschman's good friend and teammate Terrin Vavra says of the superhero rep. "He's in the trenches, he's battle-tested, and he's got a little bit of that look to him, too."
The American hero image tracks for many reasons, both superficial and meaningful. Rutschman is a single, fit, 25-year-old man who wears an (orange and black) uniform and plays with joy and effectiveness in the dirt of the great American pastime. He vanquishes enemies (with home runs and throwing runners out at second) and is "driven to be one of the best in the game," O's catching coach Tim Cossins says.
But Rutschman also has a boyish lightness about him that's infectious. He celebrates victory with his signature, genuine bear hug (often around gargantuan closer Félix Bautista), and he meets every pitcher on their way to the dugout after innings to offer encouragement.
"That's not traditionally a thing that follows the protocol of professional baseball, for whatever reason," Cossins says, "but it's part of his leadership skills, and part of who he is, and it's unbelievable."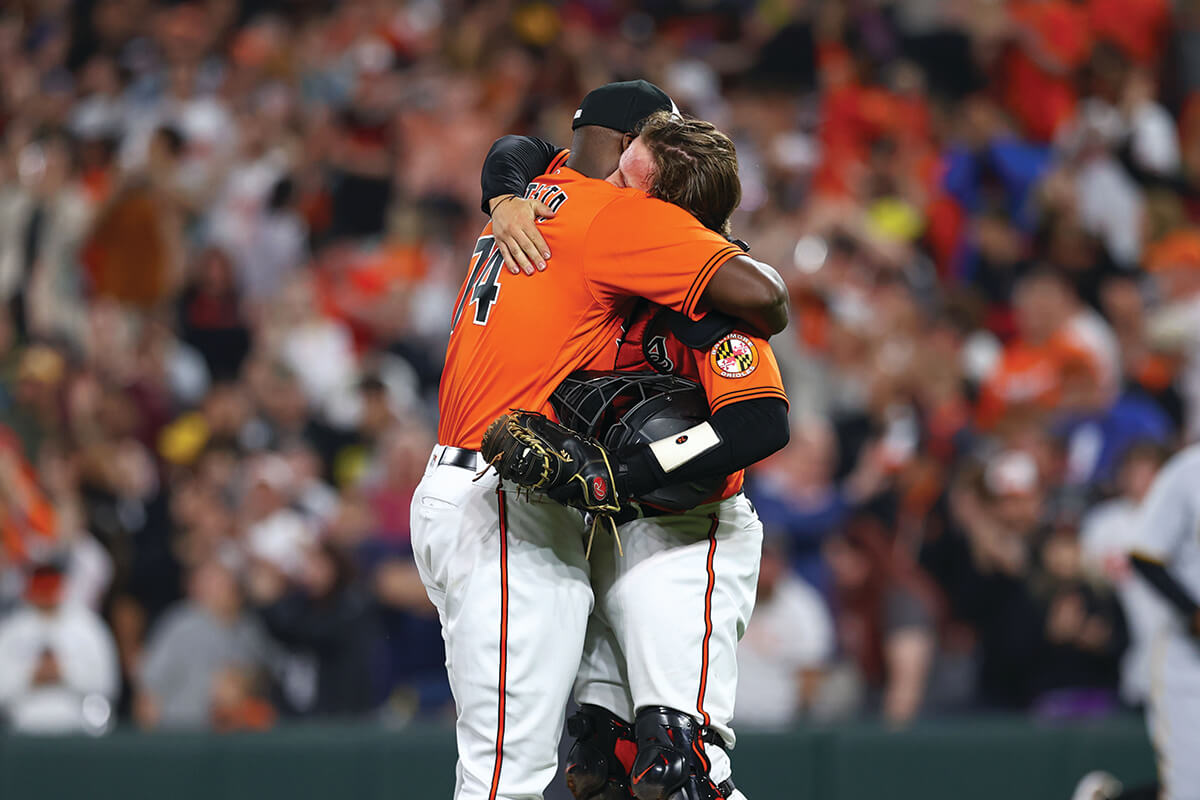 The catcher's mitt is Rutschman's shield, the bat his secret weapon, and seemingly everything he does is smooth—walking, talking, swinging, catching, throwing, even chugging. He did that last one, at a fan's urging, a few days before spring training, while behind the second-floor horseshoe bar at Checkerspot Brewing near Oriole Park. In a team-organized "Birdland Caravan" event designed to build interest for the season, fans screamed across the room: "We love you, Adley!" "MVP!" "Chug a beer!" It had been a long day of glad-handing. So he took one down, without spilling a drop on his orange jersey or the floor.
After being drafted, Rutschman moved as quickly as possible through the O's minor-league system. The pandemic is the only thing that managed to slow him. He finished second in A.L. Rookie of the Year voting in 2022 and hit .254 with 13 homers and 42 runs batted in.
Broadly speaking, Rutschman's early-season call-up to the majors was the undeniable catalyst for the Orioles' unexpected 10-game summer win streak that signaled the end of a moribund stretch of Baltimore baseball. It also marked an acceleration of the years-long organizational rebuild that officially began when the club drafted Rutschman four years ago. That plan, by the way, is in a new phase now, according to him.
"We're going," Rutschman says, meaning to better places, like, as of press time, the second-best record in all of baseball. "We're going right now."
Rutschman is soft-spoken and tends to lead by example, so when he speaks, you can't help but listen carefully. This year's Orioles roster, filled with twentysomethings and other top prospects like infielder Gunnar Henderson, is already getting used to winning in the majors and having Little League-like fun doing it. (See: the water-themed celebrations.) And there's more young talent coming, like 2022 No. 1 overall pick Jackson Holliday, who's already making waves in a minor league system that ranks among the best in the sport.
This is everything Rutschman—and Orioles fans—have wanted to see for years, and it's reminiscent of the magical, glory days of the franchise back in the 1960s, '70s, and early '80s when the minors were similarly stacked, Memorial Stadium rocked, and three World Series were won.
When Rutschman talks more about this, and his place in remaking a professional baseball team into a winner, he is profound and revealing.
"When it first started," he says, meaning the hype, "and you start to feel those expectations creep into your mind—maybe you get some anxiety—for me it was about identifying that those thoughts were there and trying to redirect them: 'What do I care about? What can I control? And what goals can I make for myself to maximize this day?'"
To Rutschman, that means intense practice and repetition—every day. "This is something I told myself—if I maximize today and I maximize the next day and the next day, regardless of the results, if I'm not the number-one overall pick, if I don't live up to other people's expectations, at least I have no regrets because I put in the work, and I can live with that."
"HE'S IN THE TRENCHES, HE'S BATTLE-TESTED, AND HE'S GOT A LITTLE BIT OF THAT LOOK TO HIM, TOO."
It's not just his work ethic that makes him feel old school. Rutschman is something of a throwback to the pre-digital days when nobody considered chronicling their every accomplishment in public. As all players do, he typically gets to Camden Yards about five and a half hours before first pitch. He'll have meetings with coaches to go through the scouting report, talk with the media, have soft toss in the outfield, and hit batting practice, which fans can see.
But perhaps the most important parts of his pregame routine are done in private. In the batting cages, whether beneath the seats at Camden Yards or on the road, Cossins and Rutschman practice various scenarios he could face in the game. Framing pitches. Blocking balls in the dirt. Gripping the ball in the glove in such a way as to maximize throwing accuracy against would-be base stealers. Players all practice to varying degrees, but Rutschman's focus is "impressive," Cossins says.
"He's grading his work, his routines, his performances in the games, and that's what makes him special. Once you get the gear on him and you get in the cage and you start sweating, that's when you really get a chance to know him."
The same goes away from the stadium, at the beach on the Oregon coast. Given the option to do anything during last year's All-Star break (the last such opportunity he might have for a while), Rutschman didn't choose to cut loose in a city with bustling nightlife. Instead, he asked a group of close friends from back home if they wanted to meet at his parents' modest beach home. He was content staring down a Pacific sunset, then building a campfire, a longtime favorite activity. You didn't see any of this on Instagram.
Rutschman's had a smartphone since middle school but is mindful of not getting absorbed by it, a common issue among his peers (and everyone).
"It's so easy to play the comparison game nowadays," he says. "It makes everything that much harder."
He's occasionally appeared in comical TikTok videos with his sister and seems most active around Christmas. But when he posts something on Instagram, it's usually a re-share from the Orioles' account showing a final winning score, or a Bible verse of the day. Because Rutschman is genuinely religious. His parents brought him to church as a kid, but he really got personally interested in spirituality at Oregon State, where he visited regularly with a pastor and attended Bible study with teammates. Until now, he's never talked about his faith in the media because he doesn't want to force his beliefs on anyone, but when asked, he said it's "probably the most important thing in my life." He reads Bible passages for 10 minutes in the locker room before every game and just finished the Book of Psalms, and was starting on Matthew.
"When it comes to things like dealing with expectations, a lot of it stems from my faith and the idea that my purpose is for something bigger than myself," he says. "Obviously, as humans, we're not made to be selfless—we're selfish individuals—but the more I can be focused on my teammates and others around me, that takes a little bit of the pressure off of myself…It's the backbone of everything, every decision I make."
On the field, Rutschman is already considered one of the best catchers in Major League Baseball, and he's not even done with his first full season.
"He makes it look really easy," says Orioles Manager Brandon Hyde, a former minor-league catcher himself. "There's not much I don't admire."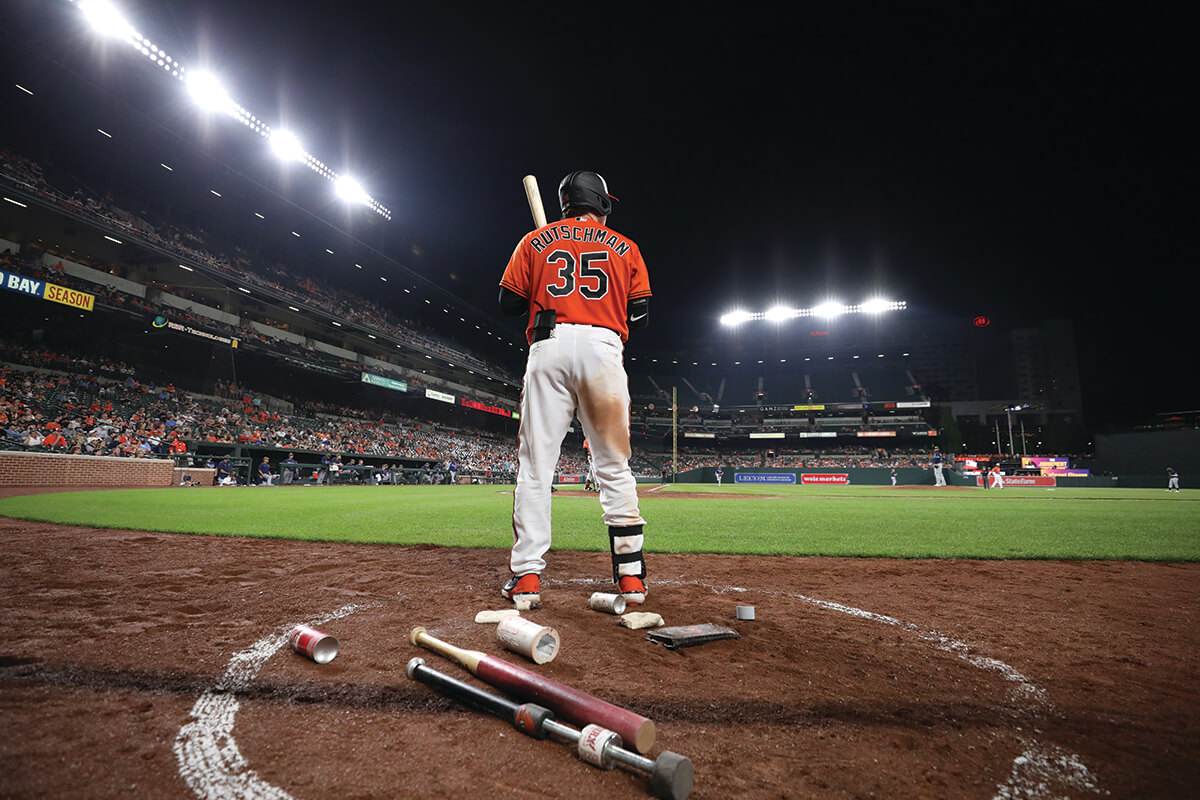 It's possible Rutschman ends up in the Hall of Fame with a bird on his hat one day or at least a slew of records, though there's no guarantee—of anything. Injuries can derail a career at any moment, and business decisions are a reality in pro sports. As of this writing, some fans are clamoring for O's management to sign Rutschman to a multi-year contract extension before he even thinks about free agency in 2029. To this point, O's General Manager Mike Elias declined get into specifics but said, "Anybody that sits here and watches Orioles games on a nightly basis can sense the impact he's having and the value that he's bringing. He's 25 and getting better still."
And Rutschman told us, "I really like Baltimore."
Yet confidence and good times can be fleeting. Rutschman's first Eutaw Street homer also busted a 0-for-19 hitting slump, serving as a reminder: While it may look like baseball—and life—comes easily to him, none of it actually is easy.
"Life has a way of creeping in and finding new ways to create a negative self-image, self-talk, self-thoughts," he says.
Sometimes, the cause of anxiety or stress is obvious. Other times, it's slippery. Rutschman had just such a moment of uncertainty last May during a road trip to Boston, eight days after he made his major league debut. Everything should have felt great. But something was gnawing at him. Maybe it was the slow start he was having at the plate, maybe it was the pressure.
After a Sunday afternoon game at Fenway Park with time to kill, he went to see a movie alone. (Top Gun: Maverick, if you're curious.) Afterward, on the 30-minute walk back to the team hotel, Rutschman's mind was racing. "Where was this overwhelming sense of fulfillment and happiness that I was seeking when I set this goal [of reaching the majors]?" he wondered. And then it occurred to him. He was seeking external answers to an internal problem. "It's classic, 'Oh, I thought if I had more recognition or a bigger house, whatever, that I'm going to somehow be happy,'" Rutschman says. "And then you find that does not equate to happiness."
Thoughts racing, he decided to call one of his best friends, former Oregon State teammate Zak Taylor, now a mental performance coach in Oregon who dealt with extreme anxiety when he played baseball. Rutschman told him everything he was feeling and later shared what he figured out on Taylor's podcast, "The Perspective Project."
"For me to get a sense of fulfillment, I need to feel like I'm making a difference in other people's lives," Rutschman concluded.
What he maybe didn't realize at that moment was that he already was, just by being who he is.
Opening day for the Orioles this year—Rutschman's first—was back in Boston, and he put together an epic, history-making performance in a 10-9 win that set the tone for the entire team and season. He homered (on his first swing) and went 5-for-5, the first major league player to do that since 1937. A week later, before the O's home opener against the Yankees, Rutschman slowed at the I-95 toll plaza on his drive to Camden Yards. In a car next to him was a group of four fans, including one wearing Rutschman's No. 35 jersey, who recognized him, waved enthusiastically, and smiled.
"It got me excited too," he said.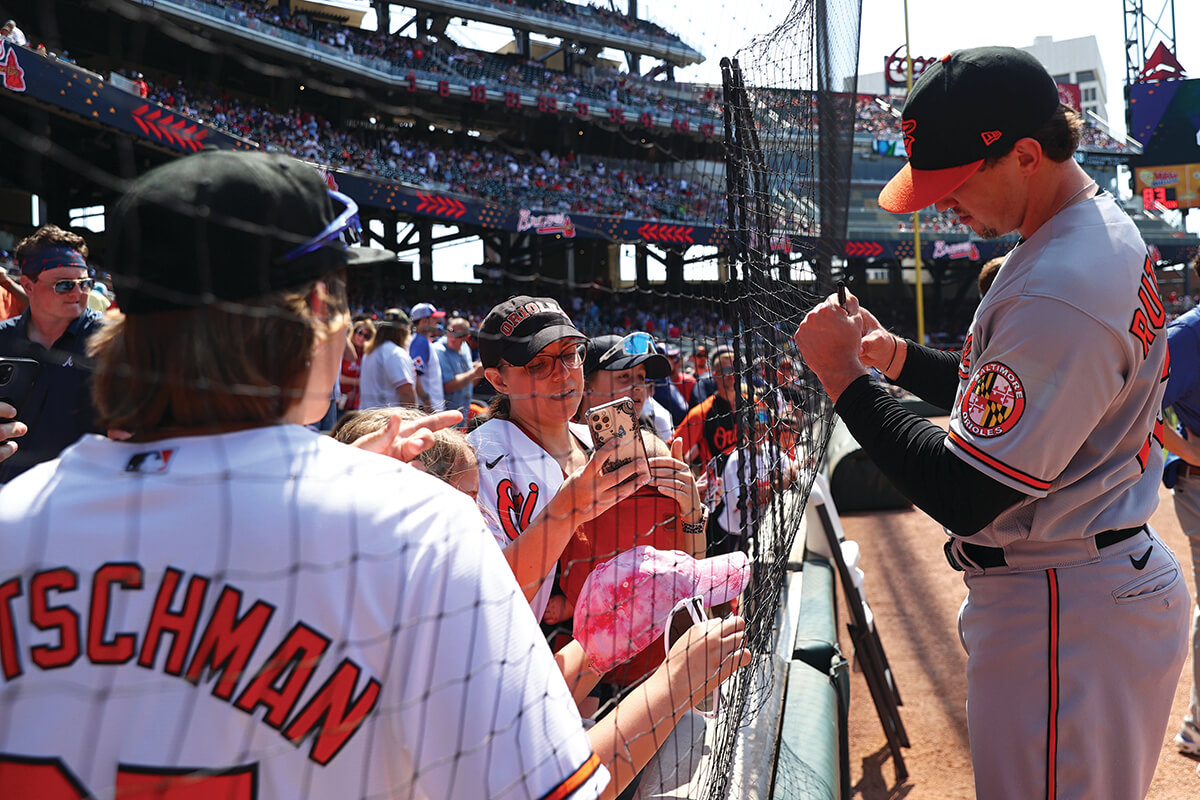 This is the full breadth of the Adley Rutschman Experience. Fans embrace him. He embraces them right back and acknowledges the expectations they might have, but none are more important than his own.
On a Saturday morning in February, at a bowling alley near the campus of the University of Maryland, you would have seen this in action. There, at another stop on the team's preseason tour, when he walked through the front door of the Bowlero as his name was announced, a female college student wearing his jersey loses her breath when he waves and points at her and her sister. From there, Rutschman visits each of the 40 lanes, poses for pictures with dozens of small groups, throws a few bowling balls, and shakes probably more than 100 hands. A grandma asks for a hug, and Rutschman obliges. A mom gives him her 1-year-old boy in a black Orioles T-shirt to hold for a picture. He hesitantly accepts. A gray-haired fan points toward an O's pennant on the wall, showing the years of the club's previous World Series championships, and he insists this team win one.
Rutschman smiles and replies: "We'll see what we can do."