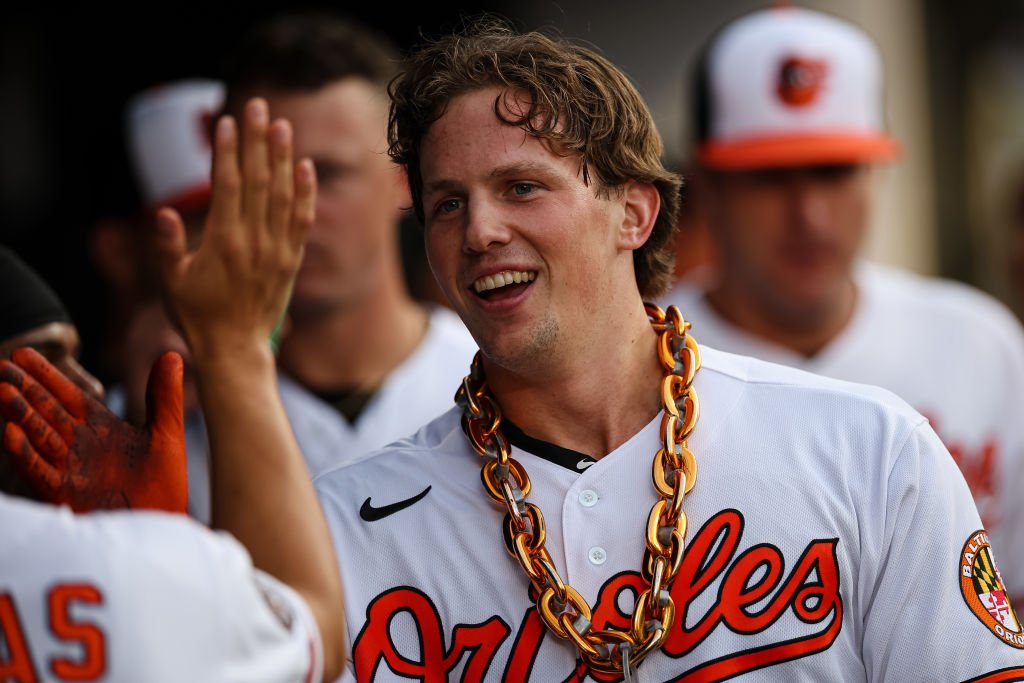 --Courtesy of MASN Orioles via Facebook
The day after Adley Rutschman hit his first home run at Camden Yards, Orioles third baseman Ramón Urías walked into the team's clubhouse wearing one of the 15,000 orange t-shirts the team gave away in June after the O's prized rookie catcher finally made his long-awaited big league debut.
As Urías walked toward his locker a few hours before another game that night against the Los Angeles Angels (had he not had a glove in hand and just come from practicing on the field), you could have mistaken him for any other fan of Rutschman, the O's 24-year-old budding superstar—because he is.
"He's great," Urías said of Rutschman, who might be the face of the Orioles rebuild, but still isn't totally recognizable around town. "He's got a bright future. He's going to be so good for the Orioles in the next [several] years. I'm glad to be here and be a teammate of his."
If you haven't been paying attention to what's been going on lately at Camden Yards, let us tell you the good, and arguably great, things. Even with a family feud playing out in public among the Angelos family that owns the team, the vibe in the clubhouse is lively, upbeat, and hopeful. And it's a shame any relocation rumors have to be renewed, because the product on Baltimore's iconic baseball field is again something worth seeing—and you might miss a win if you don't watch until the end.
Rutschman is the centerpiece—as a teammate wearing his giveaway shirt attests—but he's not the only the piece. The O's recently won 10 games in a row, their longest win streak since 1999. (That's the Albert Belle era!) You don't win any significant number of games in a row because of one great player, no matter how great he is. The team also just secured their second winning month in a row, after going nearly five years without one.
The product on Baltimore's iconic baseball field is again something worth seeing.
After beating the Tampa Bay Rays earlier this week, they have a 49-48 record, which is still only good enough for fourth place in the loaded American League East, but one that puts the team within reach of a potential playoff spot. There's a long way to October yet, but generally speaking, this sort of performance from an upstart team of mostly twenty-somethings bodes well for the future—and speaks well to the present.
Simply put: The much-ballyhooed rebuild, led by general manager Mike Elias and manager Brandon Hyde, is going great.
Rutschman, the top pick in the 2019 MLB Draft who made his major league debut on Preakness Day this year, says his favorite part about the majors so far is something that couldn't have been frequently said by any Orioles player the past few seasons.
"The wins with the team," he told us last week before the O's faced the Yankees to start the second half of the season. "That's the stuff that sticks with you, the things you can go back on and talk with guys about."
This concept might sound foreign. Orioles. Winning. Playoff hopes. Fun. It's only been a few years, but it seems like forever since Adam Jones was throwing pies in teammates' faces after games during TV interviews. The Buck Showalter era ended, and the data-friendly, Moneyball-inspired "Bird Brains" regime took over and started nearly from scratch—with a few leftover gems like Trey Mancini and diamonds in the rough like outfielder Cedric Mullins and pitcher John Means.
Rutschman is the centerpiece, but he's not the only the piece.
But let's not get ahead ourselves. As Hyde said recently, "Right now we're in last place in our division." (They're now in fourth after their win against the Rays.) But he also said, "Someday we'll be in first place."
This much is also true: As the second half of this season gets going—in year four of a tear-it-down-to-the-studs franchise overhaul and the first full season of no-limit crowds due to the pandemic—life has come back to Camden Yards.
Roughly 90,000 people attended this past weekend's three-game series against the Yankees. Granted, a good chunk were the usual travelers from New York seeking an affordable ticket, but far from all of them were. On Friday night, when outfielder Anthony Santander smacked a three-run homer to left field to pull the O's within one run in the seventh inning, we heard a playoff-type roar drowning out any Yankee faithful.
"Fired up, amazing," Santander said of the sound as the ball sailed into the night sky and inside the tall, yellow left field foul pole. "It was great to see the fans get into it."
As he returned to the dugout, Mullins and Mancini greeted Santander with celebrations. Second-baseman Rougned Odor met Santander on the top step and placed the team's popular talisman—a metallic orange O's chain—around his teammate's neck. The O's lost, 7-6, but they were competitive against the best team in baseball. Relievers Dillon Tate and Felix Bautista notched three strikeouts each in the top of the eighth and ninth innings to give the O's a chance to win in the bottom of the ninth.
"I feel like the majority of our losses are like this, so I'm just proud of our guys," Hyde said afterward. "We continue to fight and scrap and claw our way back into games that sometimes would get away from us in the past. The dugout stays into it."
On the way to his press conference, Hyde was interested in the attendance. "How many?" he asked an O's public relations staffer. "29," she said, as in thousand. "Wow," Hyde said, as if it sounded like more.
As the second half of this season gets going, life has come back to Camden Yards.
The O's already have almost as many wins in 2022 as they did all of last year, and more than 2018—one of the worst seasons in team history, when names like Manny Machado, Zack Britton, and Jones said goodbye. And the new names becoming more popular could be cornerstones for years to come: Rutschman. The award-winning centerfielder Mullins. The steady Means, a surprise 2019 All-Star. First baseman Ryan Mountcastle. Starting pitchers like Jordan Lyles, Tyler Wells, and Dean Kremer. And electric closer Jorge Lopez, who represented the O's in the All-Star Game last week.
"We had a good year in the COVID year in 2020, but nothing like this," Mountcastle says of the shortened-season two years ago when the O's went 25-35. "It's been a lot more fun and fans are showing great support. It's a little different. It's been a lot of fun."
Sometimes, the wins this year have been dramatic with a whiff of Orioles Magic. On back-to-back nights earlier this month, Rutschman hit his first homer in Baltimore in a 4-1 win over the Los Angeles Angels. The next evening (on Floppy Hat giveaway night), Rutschman came off the bench to pinch-hit and help dem O's rally to score three runs in the bottom of the ninth to win 5-4.
At other times, the wins have looked refreshingly routine, like when the O's have a lead and the bullpen closes out the opposition late in games, like this one last Saturday, a 6-3 win against the Yankees.
"Everyone's aware of them," Yankees manager Aaron Boone said of the O's in the visiting dugout the other day. "They're just a much more complete team, and with the overall pitching depth they have, they're capable of shutting you down."
They're also enjoying themselves.
In the home clubhouse, what was a largely empty space on Opening Day—sans the lockers, leather chairs, and couch that have been there for years—now has some fresh character. There's a custom black pool table; a Ping Pong table; daily Sudoku and crossword puzzles strewn across card tables; and a Venezuelan-flag adorned dominoes table near the lockers of Odor, veteran catcher Robinson Chirinos, and Santander.
Before one game, Means and Wells played an easygoing game of pool with reporters milling about. On another sweltering, high 90-degree day when the O's faced the Yankees, a few players wore "Hydrate or Die" t-shirts during batting practice compliments of Mountcastle, a brand ambassador for a water company. You could tell it was one of those organic gestures that good teammates just do. Mountcastle had just handed out the shirts and some guys didn't know the full story behind them.
But it wasn't always this fun. Forgive us for making a direct connection or heaping any undue pressure on a 24-year-old, but Rutschman has been the catalyst for the Orioles resurgence this season.
Since his call-up from the minors in May, the O's have a 33-24 record. Before, they were 16-24. Part of that could be the signal that having the face of the team's rebuild on the major league roster sends to everyone else—about how the future is now. The other part, we think, is because Rutschman is just that good. Perhaps people haven't yet realized just how good.
In 51 appearances, he has already hit five home runs, 18 doubles, and is batting .239—which might not sound terrific, but he's still a rookie getting used to major league pitching. He's already been plugged into the second spot in the batting order at times. It makes sense that his dad was a college catcher and is now a top youth coach back in his native Pacific Northwest.
I'm sure there's some advanced stat that tells more of the story in numbers. But from watching, we can tell that Rutschman makes a handful of plays per game that you don't regularly see offensively or defensively, no matter the age. Like throwing out two Yankee baserunners at second base in one game. Or, as a hitter, beating out a chopper to first base by a generous margin in the bottom of the ninth. Or turning what would be a single into an outfield corner into a game-changing double. And, probably most important but most difficult to see, being the steady signal-calling catcher for a pitching lineup that everyone connected with the team credits for its strength lately.
Even better, you probably won't hear Rutschman talk about those things though unless you pry. He's humble. When asked if he's been recognized around town yet, he told us, "Maybe at Starbucks." Asked about the catalyst for the O's successes this year, he said, "The character of the guys on the team. When you have guys with high character who come out every day and compete, you give yourself a chance day in and day out, which is a cool thing. It feels like you're in the fight when you do that."
This is true. The O's are back in the fight. And that's something no one has been able to say in a long time. The only question about the team right now (aside from the Angelos family's legal and personal quibbles and if Trey Mancini gets traded—we seriously hope not) is how many fights they will win moving forward, and when.
"Right now it's one foot ahead of the other and we'll see what happens," Hyde says. "I just want the guys to continue to play the way we've been playing the last couple of months. We've played loose. Our guys get along. There's a really good feel in the dugout and in the clubhouse and you just kind of want to keep it going."