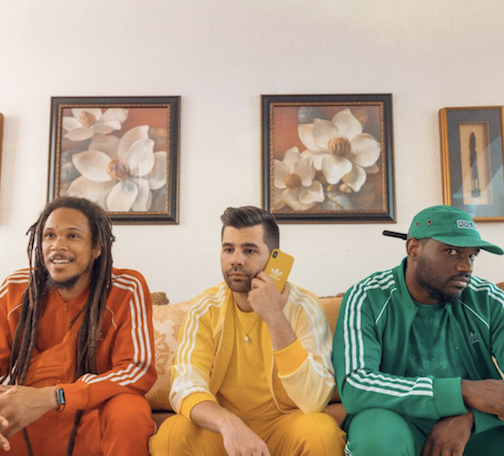 RDGLDGRN via Facebook
In the wake of the mass shooting that occurred at the Capital Gazette in Annapolis last month, many Marylanders are looking for ways to lend a hand as the community recovers. This weekend, locals can support survivors and families of the victims by purchasing tickets to The Nextival—an annual summer fundraiser featuring food trucks, craft vendors, kids' activities, and a jam-packed live music lineup spanning three days.
"A lot of people are looking at this as a healing event," says Billy Gallagher, aka DJ Billy Zero, an Anne Arundel County native who founded the festival in 2016. "We want everyone to come out and experience the love that these musicians and this community can create in one space."
Now in its third year, The Nextival will return to the Anne Arundel County Fairgrounds in Crownsville July 13-15. The event has always had a charitable focus—benefiting organizations such as The Ronald McDonald House Charities of Baltimore and MusiCares—but, in the wake of the tragedy in Annapolis, Gallagher is taking a hyper-local approach this year.
All proceeds from this summer's festival will be distributed evenly between The Capital Gazette Families Fund, the Annapolis Music Fund for Musicians (AMFM), and Juice Box Jams—a local nonprofit founded by Gallagher, which provides accessible music education and performances for children. In addition, all military personnel, veterans, first responders, and their families will receive free admission on Friday, July 13.
"Once the tragedy happened at the Gazette, it became evident that I not only had to focus on giving money to that fund, but also focus on supporting the first responders who got there in 60 seconds and saved even more lives," Gallagher says. "We're trying to change the way that charity is viewed and produced. Sometimes it's by raising money, and other times that charity is to the individual people just by letting them in the gates."
When organizing the inaugural event in 2016, Gallagher—a music industry veteran whose resume includes stints at WHFS, Sirius XM, and the National Academy of Recording Arts & Sciences—was inspired by the kid-friendly gatherings that he attended with his family while living in California for six years.
Hoping to bring the same kind of entertainment to his hometown, he launched The Nextival (his vision for showcasing the "next best bands") as a gathering for local families to enjoy, and also a way to give back to the community.
The musical lineup this year features more than 40 bands, including Annapolis' own pop-rockers Starbelly, indie funk group Higher Hands, swamp music collective Swampcandy, kids reggae band Guava Jelly, and garage folk artist Skribe. There will also be visiting bands like Elovaters from Boston and RDGLDGRN from Washington, D.C.
"Musicians help keep our communities together," Gallagher says. "I've been all around this country and visited a lot of the big music cities, but there's something slightly different about the Baltimore-Annapolis music scene. It just seems a little tighter, and the musicians are always willing to help."
Other highlights to look forward to this year include helicopter rides around Annapolis, a 68-foot obstacle course, an inflatable rock climbing wall, pony rides, mini-golf, and DIY Pinewood Derby car races. Plus, for the first time ever, the Anne Arundel County Fairgrounds is permitting camping on Friday and Saturday nights.
Of course, there will also be plenty of grub to go around with more than 25 food trucks including Baltimore favorites Quinn's Ice, Cream Cruiser, and GoGanics. Other mobile kitchens will serve everything from crab cakes and mac and cheese to sliders and D.C.'s signature jumbo pizza slices.
"There's a little bit of everything," Gallagher says. "You can listen to a band that you might not have listened to before or try new food. That's really what the event is all about."
Aside from providing the diverse entertainment, he is looking forward to bringing thousands of people together at a time when the community needs it most.
"I want people to realize that music can actually heal us," he says. "If you're doing right by the community and paying it forward, we can all leave with a sense of pride. When you remove capitalism from it and you replace it with your heart, things completely change."