Sign Painter Sean Danaher Makes the City His Canvas
The artist's work keeps up the tradition of old hand-painted building facades that were once so common in industrial cities like Baltimore.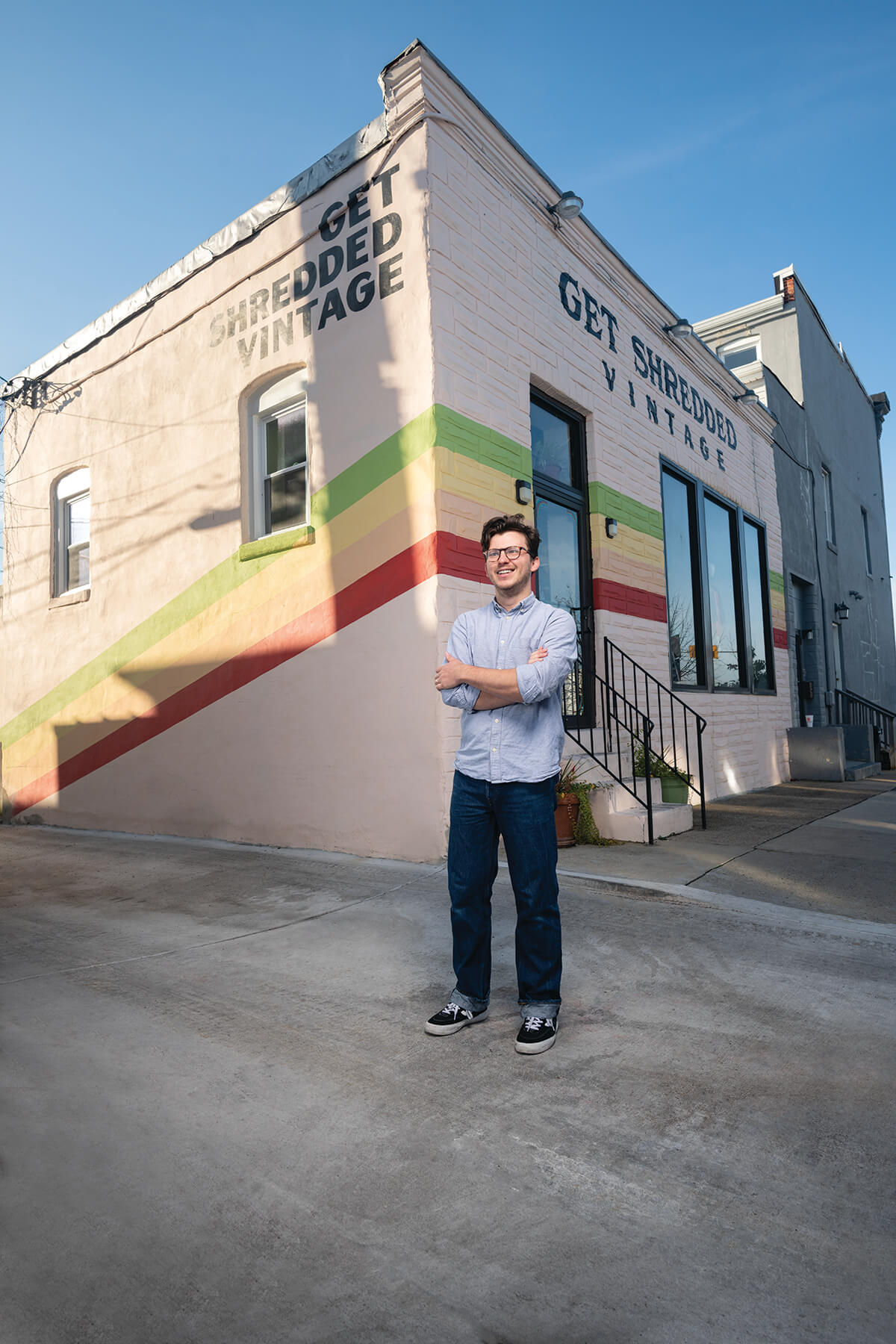 Deep in the bowels of a cavernous Hampden warehouse, Sean Danaher's winter studio feels like a walk-in closet turned industrial workspace. This November, the sounds of neighboring businesses mingle with the distinct smells of Danaher's trade—solvents and enamel paint—to create a somewhat overwhelming cacophony of the senses.
Yet, Danaher, who works outside in warmer months, is at peace. You don't become a sign painter for the practicality or comfort of it. You have to be a bit of a romantic, and Danaher is just that.
"It is old school," says the 30-year-old artist, whose rudimentary tools of the trade have changed little over the last century of industry. His long-bristled brushes are made from a combination of animal hair and synthetic fibers, his designs are transferred onto their final surfaces using traditional "paper pounce" patterns, and he employs a mahlstick to steady his hand while painting.
Some projects do begin on the computer, such as enlarging an existing logo, but Danaher is enthralled by the timeless aspects of his work, which he describes as "faithful," and which keep with the tradition of the old hand-painted signs on building facades that were once so common in industrial cities like Baltimore.
A former youth pastor and frequent skateboarder, Danaher decided at the end of his paternity leave in August of 2022 to devote himself to his sign-painting side business full time. He explains that after years of "lurking on Tumblr," and later Instagram, gathering inspiration and learning the traditions, he connected with the surprisingly vast community of American sign painters. The self-taught painter made his first sign for a client in 2015.
Business picked up in the pandemic—he now maintains two studio spaces: an unheated garage and the one in the Hampden warehouse. With more than 88 commissions under his belt, Danaher has created the signage for beloved Baltimore businesses like Sophomore Coffee, Bramble Baking Co., Good Neighbor, and clients who generally "share a similar artistic vision and approach their work as a craft," he says.
Hand-painted signs are more expensive than computer-generated ones, but it's the element of authenticity that small businesses value, with these signs often being the customer's first impression of the business.
Danaher is reverent of the unique place in the timeline of opening a storefront that his trade occupies: He typically arrives on site just before the fire marshal clears a shop to open. When he finishes, "there's almost an obligatory couple minutes with the owner, where we stand and look at the shop. It's really special; it has an emotional value," he says.
For a self-described Luddite such as Danaher, an occupation that both serves his community and could be practiced even if the power went out has been a personality match.
"Initially, my allegiance is to the business and its success, but then you realize that the neighborhood is also critical, and it's within the larger city," he says of his small contributions to the local landscape. "Making a new sign is my way of keeping things feeling vibrant."
Despite his eschewal of technology, Danaher credits the growing access to free design software for reviving the trade of hand-painted signs. A few years ago, he noticed corporations attempting to mimic hand-lettered signage with fonts like the cursive script Lobster, and it affirmed for him the importance of his trade—these computer-generated texts may resemble the real thing, but they miss the warmth of his brushes.
Not everyone is going to notice the lack of inconsistencies between repeated letters like a sign painter, but Danaher has found that enough people share his obsession with the imperfect hand.
"The character of the hand-painted sign translates in a more subconscious way," he says. "There's value in that."