Behind the Epic Cake Fail of '76
Forty years ago, rain and rats ruined a 35-ton cake and nearly wrecked Baltimore's bicentennial. Then, the tall ships came.
Wally Orlinsky was so brilliant and so colorful, bursting with such passion and imaginative proposals, that you couldn't help but want to be around the City Council president of the '70s. "You leave him vibrating," Ed Rovner, the state's first secretary of economic and community development, told The Washington Post when Orlinsky made a bid for governor in 1978. "He can generate more ideas than anybody I've ever met."
Rovner said there was no one he'd rather sit next to on a transcontinental flight. The only problem, he noted, was that only about one in 10 of Orlinsky's ideas were feasible.
His plan to celebrate America's bicentennial on July 4, 1976, by sending a 35-ton birthday cake into the Baltimore harbor on a barge was not feasible, for example. Not that it stopped Orlinsky. By the time a summer thunderstorm—who could've guessed?—washed 3,000 pounds of icing into the harbor before the big occasion, the doomed cake had already picked up the nickname "Wally's Folly" around town.
Orlinsky's pitch to the City Council had included selling 153,000 pieces of the cake to confectionary-loving patriots. That was supposed to pay for Baltimore's massive 200th birthday party, which included fireworks, entertainment, and, for some unfathomable reason, 12 hours of live television coverage from Fort McHenry hosted by Ed McMahon.
But the July Fourth bicentennial enthusiasm never fully materialized. Crowds at Fort McHenry failed to meet expectations—as did turnout for events across the country, which was reeling in every way possible in the 1970s. The Sun reported that 30,000 people—half the projected numbers at best—made their way to the Independence Day anniversary. Maybe it was that the headliners included José Feliciano, Lynn Anderson, Rod McKuen, and Zim Zemarel's Big Band. Not exactly big "gets." (The Sun's next-day story highlighted the smell of marijuana in the air during the all-night Saturday party at Fort McHenry, perhaps a sign of the times or merely an effort at stemming the boredom.)
"Sure, I remember the cake," DeFilippo says. "Everything went wrong in the '70s."

Orlinsky's cake, a Guinness Book of World Records effort created in the shape of the United States and decorated with 200 candles, fared worse. By midweek, the July weather and Baltimore's renowned rats nearly finished it off. Seventeen tons got tossed.
As a metaphor for the government ineptitude of the 1970s—Watergate, Vietnam, the oil crisis, Love Canal, school busing, deindustrialization, double-digit inflation, crime, radical politics—Wally's Folly wrote itself.
"Sure, I remember the cake," says Frank DeFilippo, press secretary for then Gov. Marvin Mandel. "Everything went wrong in the '70s."
True to the period—a dark time in Maryland as well as national politics—DeFilippo's boss faced federal corruption charges during the great bicentennial year and was eventually found guilty of mail fraud and racketeering.
Naturally, Orlinsky, too, would later do time for accepting a bribe.
There was one huge bright spot on the horizon, however, on July 4, 1976. Eight tall ships from around the world set sail from New York City that day for Baltimore. They'd arrive seven days later and dock at the Inner Harbor and Fells Point for the next week and change the course of the city forever.
In a broad sense, the country had continued to fracture in the decade following the assassinations of the Rev. Martin Luther King Jr. and Robert Kennedy, when the murders of hopeful young leaders landed like a rock against the nation's windshield. The United States would experience more than 2,500 domestic bombings in just 18 months in 1971 and 1972, including one at the U.S. Capitol. Much of the bombing was tied to the militant Weather Underground, and some to other groups like the Black Panthers, who were active in Baltimore, where one leader was convicted of killing a city police officer. By the mid-1970s, at least 150 planes had been hijacked in the U.S., many to Cuba.
By the bicentennial, the country was coming apart not just politically and culturally—the controversy-tackling All in the Family was the No. 1 television show from 1971-1976—but economically as well. Cities were going bankrupt. (The infamous New York Daily News headline, "FORD TO CITY: DROP DEAD," was published in October 1975 as the Big Apple sought a bailout.) Keep in mind this was also a period when it appeared as if the U.S. might just be losing the Cold War.
In Baltimore, unemployment during the 1970s jumped from 4.6 percent to 10.3 percent and the federal law enforcement agencies began to rate the city the most violent in the country. City residents may recall the deluge of local crises—the plant closings, the corruption, the population and commercial exodus (including our NBA team), and the rise of the drug trade. Also, spiraling homicide totals were unrivaled until this past year.
It's not as if you could change the date of the country's founding, however. President Lyndon Johnson had established a national bicentennial commission in 1966 and it was coming, hell or high water.
"It was on the calendar and it was going to fall when it fell—it just didn't feel quite right when it finally arrived," says journalist and political historian Jules Witcover, who witnessed the first of two assassination attempts on President Ford in September 1975 and wrote a book about former Maryland governor Spiro Agnew, who was forced to resign the vice presidency in 1973 over bribery charges. "It was just a strange year to be celebrating with the country in so much turmoil. That's the irony of it—the mood wasn't celebratory. A few years later, Jimmy Carter gives his 'malaise' speech and talks about the crisis of confidence in the country."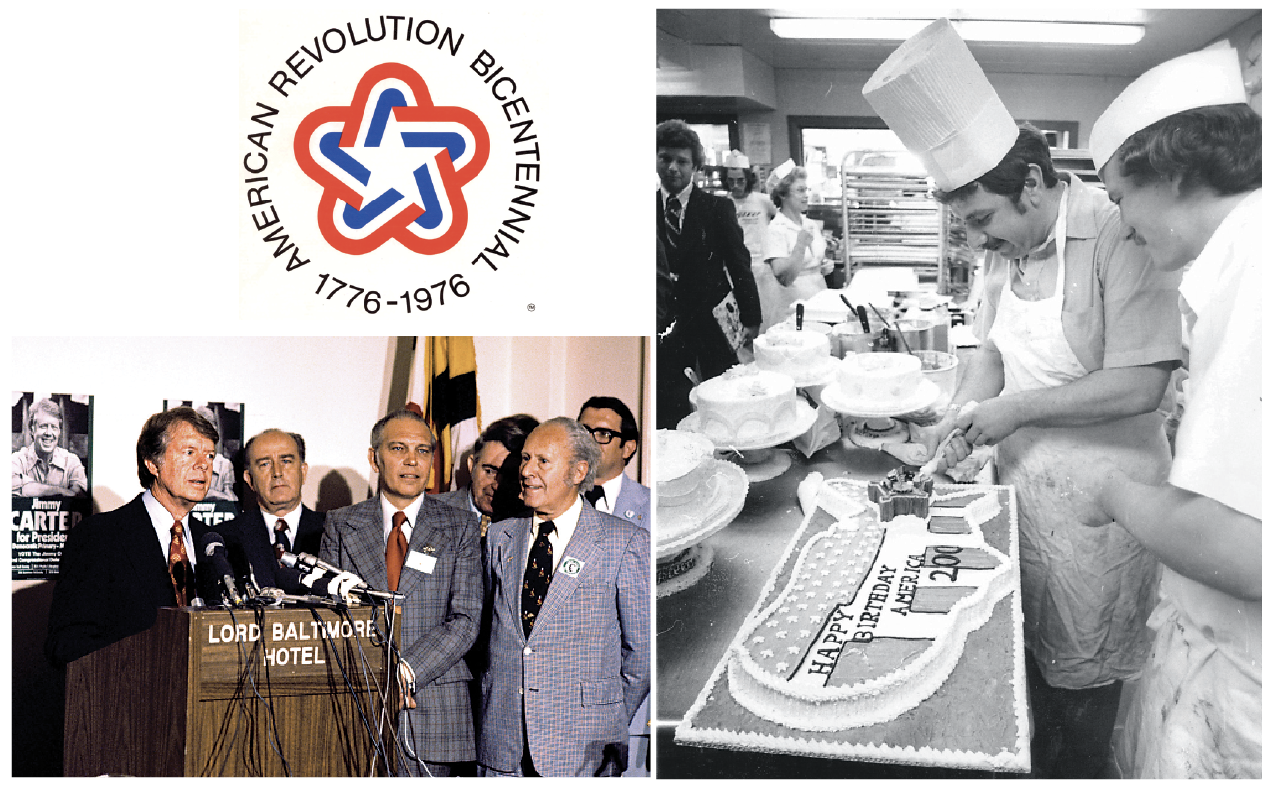 It's amazing how much we forget about that time. Only two days before an Orlinsky interview promoting the 12-hour televised bicentennialathon at Fort McHenry appeared in the Sunday Sun, a sniper in a West Baltimore row house had shot seven police officers, killing one. Three days before that, there'd been an assassination attempt of then-Mayor William Donald Schaefer inside temporary City Hall headquarters on Calvert Street. Schaefer's secretary told the deranged killer that the mayor, who was eating lunch behind a locked door, wasn't in, but Councilman Dominic Leone was shot and killed. Another councilman, witnessing the attack, suffered a heart attack, and a third city councilman and a Schaefer aide were wounded.
All this came on the heels of the murder of Del. James "Turk" Scott Jr. in 1973 in a Bolton Hill parking garage. There were also the tumultuous 1974 municipal strikes that included thousands of city employees—from teachers to sanitation workers to police officers. It's the '70s as depicted in films like Dog Day Afternoon, Taxi Driver, Network, and Rocky—even in a feel-good movie, the protagonist's key epiphany is that he can't possibly win. He can only try to go the distance.
"There's a fatalism that takes hold in the culture that's remarkable," says Jefferson Crowie, a Vanderbilt University social historian and author of Stayin' Alive: The 1970s and the Last Days of the Working Class. "Even in pop music, it's there in corny songs like 'Billy, Don't Be a Hero.'"
Despite the compelling evidence to the contrary, however, many Baltimoreans were starting to feel hopeful about the future. That mayor who narrowly avoided assassination? He was corny, too. And funny and angry and mad. But not fatalistic. Never. He believed he could get things done that would make a difference in people's lives, and he convinced the city it was on the verge of a rebirth.
"He was the original 'do-it-now' mayor," says Barry Rascover, a former longtime political reporter and editor at The Sun. "Schaeffer was a mayor, like a Richard Daly in Chicago, who wanted to build things and put his name on it. There was an exuberance in the way he promoted Baltimore to Baltimore, as well as nationally, where it was seen at the forefront of a comeback city movement."
In fact, while Orlinsky was attempting to pull off his over-the-top spectacle, Schaefer had organized his own team to lead a different project related to the bicentennial. Competing against cities like Boston, Philadelphia, and Norfolk, a city delegation traveled to Bermuda on behalf of Baltimore to pitch foreign captains and diplomats. In Operation Sail, as the project became known, Schaefer and his team sensed an opportunity for more than a one-off, made-for-TV event. It was the chance to bring to the city something larger, something emblematic of its actual contribution to American independence—Baltimore's clipper shipbuilding past—as well as a glorious homage to the sailing culture of the state.
"The main thing about the tall ships, I think, was that it felt organic to the city," Hillman says.

"The main thing about the tall ships, I think, was that it felt organic to the city," says Bob Hillman, who Schaefer appointed chairman of the city's Operation Sail committee. "The tall ships sailing out on the Hudson River on the bicentennial was a nationally televised event and people found out they were coming to Baltimore. The harbor and Fells Point were just packed. There were tens of thousands of people coming every day for a week. A couple hundred thousand on the weekend."
Programs sold out the first day.
"People arrived from all over—Virginia, New Jersey, Ohio, and Pennsylvania," he says. "We hadn't had that at the harbor ever before. We had no idea that people would come from so far away. I've heard that Jim Rouse, who had built Columbia, and just done a project in Boston, told the story that he was one of the people in those crowds. He became interested in developing a project at the Inner Harbor, as did city officials."
That, of course, became Harborplace.
The Maryland Science Center had been erected, but little else existed other than a promenade and an empty lot at Rash Field, which had hosted the well-attended City Fair since 1973. That annual event brought Baltimoreans to the Inner Harbor once a year, but it didn't attract tourists. By 1980, however, Harborplace, the Convention Center, and the Hyatt hotel had been built, and the National Aquarium would open a year later. Schaefer's comic photo-op in the aquarium's seal pool with a mermaid followed the bicentennial by five years, and Baltimore was suddenly a model for waterfront development.
Today, Baltimore's tourism industry employs more than 16,000 residents, and in 2014, the city attracted 24.5 million visitors.
The enormous reinvention of the Inner Harbor, while by no means a panacea, also sparked a revitalization in nearby neighborhoods, including Fells Point, Canton, Federal Hill, and Locust Point. It also laid the groundwork for the construction of Oriole Park at Camden Yards and M&T Bank Stadium. More recently, mixed-use neighborhoods such as Harbor East and Brewers Hill have sprouted, with locally owned restaurants, national and regional employers, hotels, and luxury condominiums rising on the skyline. The largest arrival, Under Armour, after taking over a Proctor & Gamble factory, now intends to build a brand new minicity out of whole cloth at Port Covington.
Essentially, the case can be made that tall ships did more than save Baltimore's bicentennial celebration—which was suffering from red, white, and blue fatigue long before Wally's Folly. They helped create the Inner Harbor and shifted the narrative around Baltimore as a dying industrial city. That was Schaefer's vision.
It shouldn't be forgotten, either, that Orlinsky—despite the cake, despite the 1982 conviction after taking a hauling company bribe—was in many ways a positive force for Baltimore. He forged some of the city's early biracial coalitions and opposed the urban highway—supported by Schaefer—that decimated West Baltimore and would've decimated the harbor neighborhoods, too, if it had not been stopped.
A few years after Orlinsky served four and a half months in jail, Schaefer put his old nemesis in charge of a state tree-planting program. With newfound humility, he garnered the nickname "Wally Appleseed." A few years after that, unable to land another political job, he was selling lemonade at Camden Yards.
On July 4, 1976, Roger Simon, a nationally syndicated columnist, penned a column that appeared in The Sun and has been reprinted every year since in one publication or another.
The title was "America's glorious failures," and in the award-winning piece, Simon chronicled his refusal to stand up for the playing of the national anthem during the height of the Vietnam War in 1969. He wrote that he'd learned a lot about America since then, mostly from everyday people he'd met like Miss Sheboygan and Miss Watertown, contestants who felt as though they'd let their towns down after not winning Wisconsin's state pageant.
Simon called them "true dreamers of the American Dream." They were individuals who cared about their community and country and had the guts to try and lose.
He would stand for them, he said, and "for all the other glorious failures who have made and sustained this country."
Include Wally Orlinsky on that list.