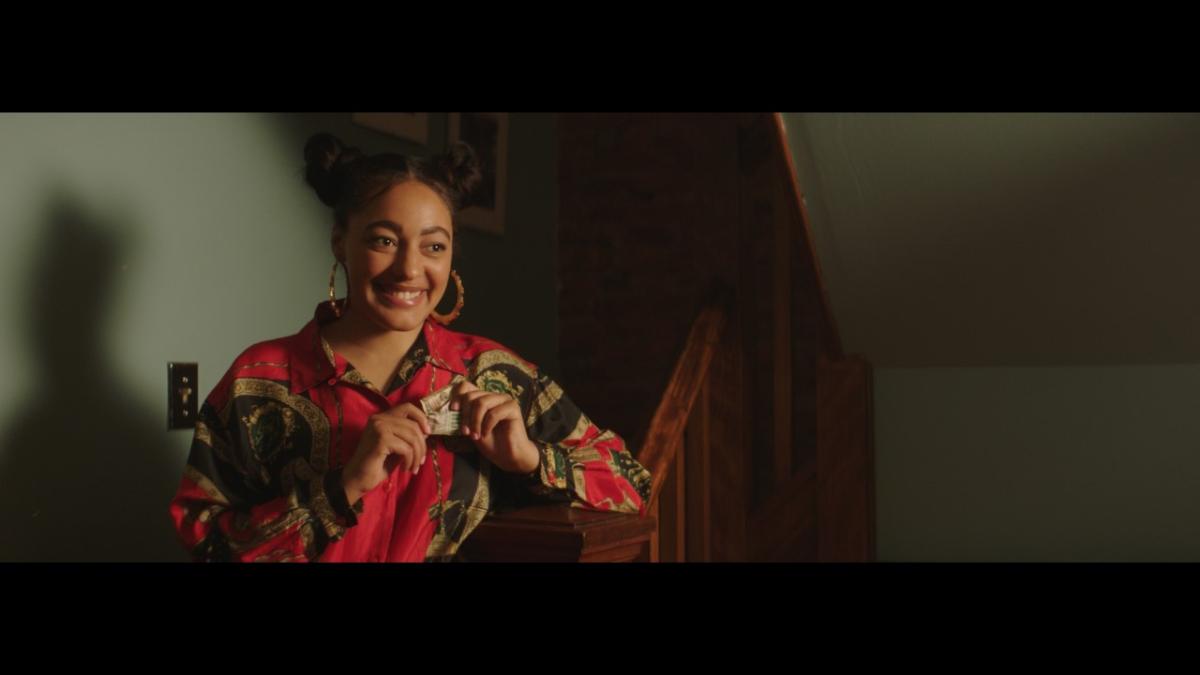 Actress, writer, and producer Imani Robinson plays Naeemah, a young Black woman who transfers to an HBCU in Baltimore. —Courtesy of Imani Robinson
The '90s saw their share of feel-good, family-loved, Black sitcoms (see: The Fresh Prince of Bel Air, A Different World, and Living Single). Quippy, wholesome, and relatable, they were what led Imani Robinson—who acted in The Wire as a kid and most recently played Nicole Suiter in We Own This City—to create her own TV pilot, filmed in Baltimore.
Debuting with a wrap party at Mt. Vernon's Hotel Revival on Dec. 3, 3 Blind Mice features Robinson as main character Naeemah, a Black woman adopted by white parents. Brought up in white environments, and curious about her past, Naeemah moves to Baltimore in hopes to start anew at a historically Black college. She sticks out like a sore thumb at first, but thankfully finds friends to help her navigate the journey. Joining Robinson on screen are fellow Wire alums Tristan "Mack" Wilds (Michael Lee) and Jermaine Crawford (Duquan "Dukie" Weems). Although tickets to the wrap party have sold out, those still hoping to attend are asked to leave a message here.
Ahead of the show's debut to the public (it has been submitted to a number of networks and film festivals in hopes of a wider release,) we spoke to the writer/actress and her mother, Noni Robinson, who is an executive producer on the project. 
Tell us a bit about yourselves and your careers thus far. 
Imani Robinson: I am an actor, script writer, and producer. I've been acting since I was nine. I've always been a shy child, but I felt most confident on stage because I had a script to memorize. I could become whoever I wanted to be. I continued my acting training at the Baltimore School for the Arts, as well as California Institute of the Arts, where I got my BFA in theater. I learned then that I was interested in script writing, as well. I had various internships in writers departments. After I graduated, I got hired on HBO's The Deuce to work in a writers room for three seasons and I worked as executive producer's assistant. I also had roles on HBO's The Wire, The Deuce, and We Own This City. 
Noni Robinson: I'm Imani's mom. In my career, I'm a health and wellness professional, as well as a WNBA and FIBA basketball agent. Now, because of Imani's project, I can add executive producer to my resume. I had Imani when I was in college. Her dad and I attended a Historically Black College (HBCU), so she spent a lot of time with us on campus, and she got to see my relationships with my friends. We moved to Baltimore in 1997. I enrolled Imani at the Waldorf School of Baltimore, and quickly saw how she was very much into the arts. A few years after she was there, she became interested in theater. And as her knowledge and interest increased, she expressed wanting to be on TV and auditioned for different shows. She's never stopped since. One day, she said "I want to create my own content. I want to shoot my own TV pilot." So I said "Let's go." 
What was the inspiration behind 3 Blind Mice?
IR: I wrote 3 Blind Mice in high school. It was originally called The Cocoa and Cream Show, because I went to predominantly white schools my entire life. I was always the only Black girl. I had my one best friend, who was of Caucasian descent, and we'd call ourselves Cocoa and Cream. I feel like my Black experience hasn't been shown on TV before, so it was very important for me to create a project where I could not only star in it myself, but create a character whose voice I could relate to.
I'm obsessed with '90s Black content like Living Single and A Different World. I wanted to bring those two worlds back to today's programming because I just felt like, in a sense, the charm of that '90s content isn't there anymore. In terms of creating a Black show, based on Black characters, I don't believe that you need sex, drugs, or violence in order to have an audience come and view it each week. That's what Living Single and A Different World taught me.
It was really important for me to bring a new lens and to show more diversity within the Black community. Not all characters speak the same or think the same. It was important for me to create rich characters. I also found it very important to show the beauty and charm of Baltimore. I know that Baltimore is usually shown in a negative light. I wanted to show how beautiful it is, and how the arts are really booming here. I wanted to show that it's a place to be.
3 Blind Mice pulls from your childhood in Baltimore. How much of it is based on your own experiences?
IR: A lot of it is, but some things are made up. When I went through the college process, my mom was very much encouraging me to attend a HBCU. I was against it at the time, which I really, really regret. I did go to a predominantly white institution. I was the only Black girl in my class. On 3 Blind Mice, I'm living vicariously through the protagonist, who I'm thankful I get to play. Being in The Wire and We Own This City, I know that Baltimore has gone through a lot of trauma. I wanted to bring a new project to the city that brought light, and joy, and culture, and I'm thankful that we executed it so beautifully. That was really important to me because I really do love Baltimore. It's where I'm from. I grew up here. 
What do you love most about the city? 
IR: I definitely love the food. I enjoy when I walk down the street, people actually saying  "Hello," and asking "How are you doing?" I enjoy Baltimore club music and culture. And I just enjoy that it feels like a community. It's home. It's always gonna have a place in my heart.
Your character, Naeemah, is adjusting to a major life change. How do you hope viewers will perceive her and her journey?
IR: I hope that it creates more conversation on what being Black really means. And the importance of not bringing prejudice within our own communities. Not everyone comes from the same place. Not everyone grew up the same. That's really important. I think the way that we tackle these subjects of identity, colorism, and judgment, is very subtle, but at the same time, very prominent.
Give us an example.
IR: When Naeemah arrives at the apartment where she's going to be staying with her two roommates, Brittanie and Muffin, she comes in and says "The neighborhood's kind of sketchy. I was kind of concerned about it, but your house looks really nice." Naeemah is very meek and coy. You kind of brush over it because of her delivery, but she does make comments that are actually quite rude. She doesn't really mean it. It's because of how she grew up. But the characters take offense to what she's saying. She's confused and they're confused. Muffin comes across as, perhaps, a stereotypically aggressive Black woman. But we go in depth of how she had to undergo adultification at a very early age. She's overwhelmed with the financial responsibility of her family. Naeemah thinks she's rude, but she's just having a bad day.
NR: When we go to high school, or when we show up on a college campus, we come with so much stuff. People don't know. We just assume everyone's life might be just like ours, right? I think in the Black community, people that might come from struggle, looked down upon the people and children who didn't, and then vice versa. Kids are just kids. They're born into what they're born into. And at the end of the day, we're all Black. When we go to the workplace, that's what people see us as.  
IR: We're all Black. Naeemah speaks "proper," for example. We didn't want to be too on the nose saying "Oh, you talk white." Instead of saying that, her friends might mimic how she speaks. I definitely didn't want this to be a stereotypical story.
As daughter and mother, have you learned anything new about each other since the start of this experience?
IR: I always knew my mom was amazing, and made me feel better all the time, but she's really good at management and making things happen. She's extremely organized. She was helping me with this project, which was a full-time job in itself, but she also had her other  full-time job. So the fact that she was able to juggle all these responsibilities was just very impressive. And I also learned, even more so, how much she has my back. We did have people donate, but the majority of it was self-funding, mostly from my mother. 
NR: You know, she knew way more about this type of work than I anticipated. She's a brilliant actor, but I didn't know what she knew in terms of the production side. She was really clear on the cinematography and how she wanted the film to look. She was clear about the lights and the cameras. I was thoroughly impressed. And all the things she liked were pretty costly, so she knew what she was doing. I guess I was also impressed by her drive. There were so many times where we felt like giving up, but I always encouraged her not to, and she would pick right back up and do it.
Do you anticipate working together in the future?
IR: I'm actually working on an animation with my mother right now. We definitely want to continue working collaboratively. 
What's next for you two, and 3 Blind Mice? 
IR: This is definitely my baby, and we're doing all that we can to ensure that it garners a larger audience. We have submitted to many, many film festivals. We want this to get picked up. So we're going through the pitching process. I'm just excited for many more seasons to come. And that's my main focus right now. 
NR:I am still on board with all things 3 Blind Mice. I think it's amazing that a mother and daughter could bring this to Baltimore. Imani has also recently written a movie script that is totally the opposite of 3 Blind Mice. It's great to see that she can wear different hats. I'm interested to see what she does with that, but I'm going to ride this wave and be there when she needs me. I'm glad that Baltimore has supported us and hope that they will be so happy to see it live, in person.