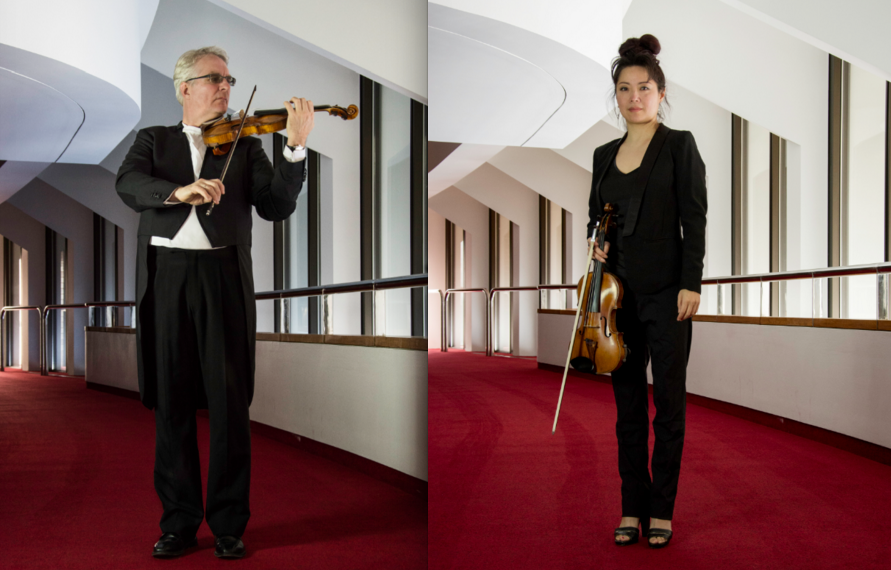 Courtesy of Parsons School of Design
For hundreds of years, orchestras have donned the same, sturdy wool pants, long tails, and stiff white ties, all while playing challenging pieces and holding sometimes giant instruments under the glare of hot stage lights. Not exactly the most comfortable of circumstances.
Enter Gabi Asfour, designer and teacher at The New School at Parsons School of Design. He was approached by the music director of the Baltimore Symphony Orchestra, Marin Alsop, in 2013 and when she proposed updating the orchestra's wardrobe, Asfour was all in.
"The new designs were created after a series of interviews with the Baltimore musicians," says Asfour. "It was a study of their needs in terms of function, breathability, movement, and minimalism."
With a full roster of musicians who all play different instruments, it was very important for the design team, which consisted of Asfour and his students at Parsons, to acknowledge the various challenges and necessities presented for each. Knowing how physically demanding playing in an orchestra can be, Alsop reached out to local athletic heavyweight Under Armour, which contributed some of it's innovative fabrics as part of the collaboration.
"The uniform changes were mainly in the underarm, torso, and in the movement of the elbows," says Asfour. "We replaced fabric that was not stretchy or breathable to stretchy, breathable, high tech fabric that was also perspiration and wrinkle friendly."
The team began its research by looking at international formal wear from more than 500 years ago.
"We also researched sportswear, specifically [for] fencing," he says. "Things like fencing shirts and jackets, which had an asymmetrical closure so that the swords wouldn't get tangled in the buttons, inspired us."
So far the musicians have been delighted with their new and improved looks.
"I just thought we needed revamping. I mean we look like we are out of a Dickens novel, and we've been wearing the same clothes for several hundred years now," says John Locke, who has been a percussionist for the BSO for nearly 25 years. "We've stayed in the same dress and presented ourselves in the same manner even though our art form is evolving."
Many of the orchestra members were open to change, especially if that meant enhancing functionality of their current tuxedos and long dresses.
"I want my uniform to be comfortable and stretchy," Locke says. "They have created these tight pants that are very narrow, almost like skinny jeans, but they are very flattering and look great. It's almost like wearing sweats."
After many fittings, tons of feedback, and even a digital imaging session, the designers are nearing the end of their journey. The team outfitted 12 members of the orchestra for a February centennial concert and plans on outfitting 12 more for a concert at Carnegie Hall in New York City on April 16. Following the League of American Orchestras convention in June, they hope to outfit even more, with the final goal of dressing the entire orchestra for the BSO centennial closing show and gala in September.
"I like that the outfits reflect the excitement of our new pieces and new work," explains Locke. "Marin is trying to differentiate us and set us apart from other orchestras, both musically and visually, and I think this is just another way that we are trying to distinguish ourselves as an ensemble."