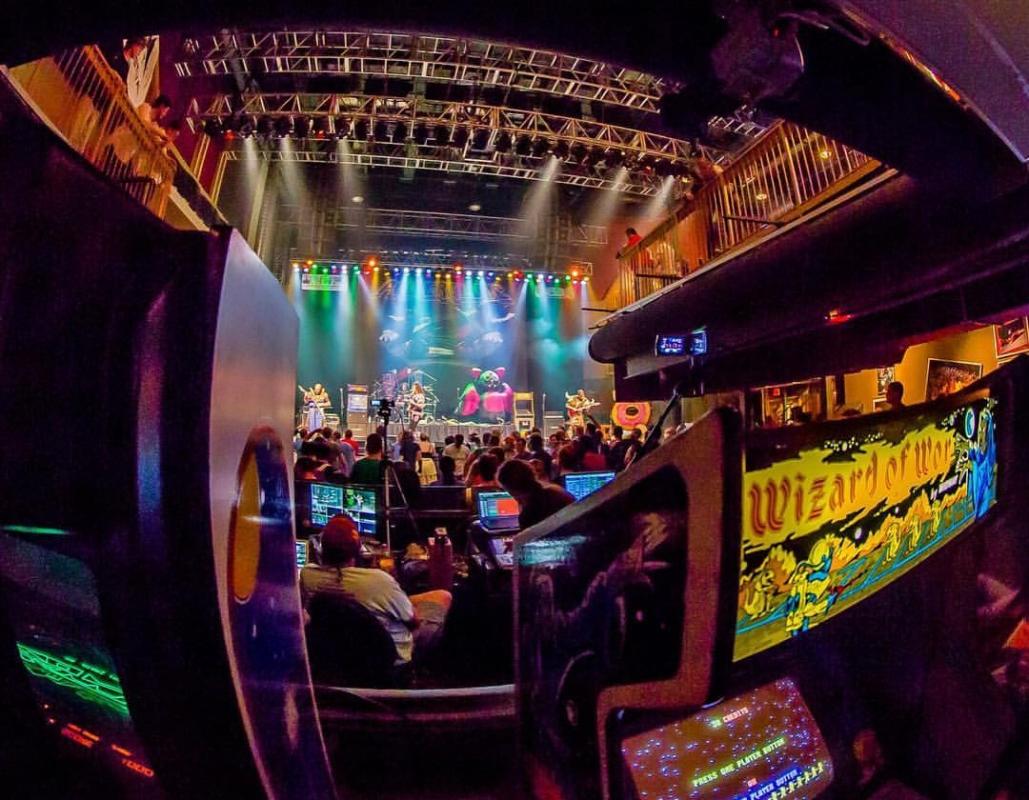 —Courtesy of Bit Gen Gamer Fest
After taking a three-year COVID hiatus, the Bit Gen Gamer Fest is coming back to the Ottobar for its 15th video game music festival on Saturday, July 30.
Lauded as the country's largest single-day video game music concert, the fest will feature 18 bands covering songs from well-known video games—as well as performing gaming-inspired originals—across various genres including rock, punk, prog rock, metal, and even funk, says Bit Gen organizer and founder John DeCampos. As bands take the Ottobar stage, attendees will be able to drink gamer-themed cocktails, enjoy on-site food by The Hotdog Hideout, and get their fix of free-to-play arcade and console games.
"That's part of our whole sales pitch," DeCampos says. "Have a Sonic the Hedgehog-themed cocktail while playing Contra on the Super Nintendo and listening to a band cover Contra."
DeCampos, also a local musician and illustrator, found inspiration for Bit Gen after his past band, Entertainment System, played in a Pennsylvania video game music festival called 8-Bit Armageddon. The opportunity to start his own event came in 2006, when his friend and Baltimore artist Dan Stuelpnagel invited him to use the space that Stuelpnagel rented at Load of Fun Studios on North Avenue.
Only four bands played the first show, but as the festival bounced around Baltimore venues like Sonar, Bourbon Street, and Rams Head Live throughout the years, the lineup grew.
"There's a good sense of nostalgia because these songs are drilled into your head a million times when you play the video game," DeCampos says. "So when you see a band perform them live, you're sort of transported back there. It feels like you're in a special club because it's very, very nerdy, but it's also very rocking and metal at the same time."
Eventually, Bit Gen became a part of MAGFest Inc.—a Maryland nonprofit that celebrates video game culture. The title acronym stands for "Music and Gaming," and the organization hosts several other festivals, like MAGWest, which is set for August in San Jose, California. Its flagship event, Super MAGFest, rocked National Harbor this past January. "They give us some monetary support for promotion and logistics," DeCampos explains. "but they also have a warehouse full of video game stuff."
Several bands are making first-time appearances at Saturday's show, including Metroid Metal, Super Thrash Bros., Shrednobi, and Quicksave. But they will also be met with Bit Gen veterans including Random Battles, Steel Samurai, and DeCampos' own band, Cowabunga Pizza Time.
"There's a really large contingent of video game related music in the DMV area, especially bands that are local to Baltimore," DeCampos says. "If I can, I try to have them every year."
Although Bit Gen is emerging from its pandemic pause, DeCampos still encourages attendees to follow COVID-safe practices. For those attending, the Ottobar requires proof of vaccination along with valid state ID, or a negative PCR test taken within 48 hours of the show, according to its website. Rapid tests aren't accepted. "Obviously, we're not telling you that if you don't have a mask on we're gonna kick you out," DeCampos says, "but we would love to not have this be a spreader event."
With gaming industry legends like Sid Meier—who got his start in Baltimore County and at Bethesda Game Studios in Rockville—Maryland is a state worthy of video game celebration. Overall, DeCampos hopes that the event helps more people to see that.
"I can't really speak to any magical reasons why, but there's been a long history of Baltimore being this hub for a lot of really cool, well-put-together nerd culture events," DeCampos says. "So if that's happening, maybe people in the surrounding areas start to click in with that interest a little bit more, and it just kind of keeps growing."
Remember to get your tickets in advance—pre-show sales are $38, while admission is $45 at the door.