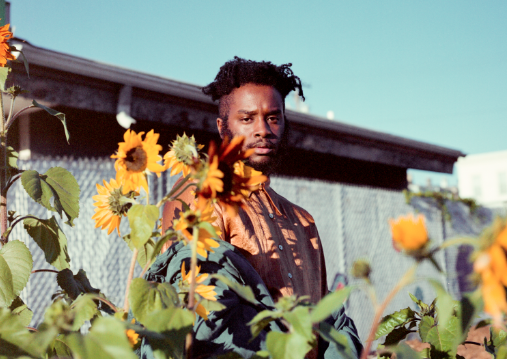 Micah E. Wood.
Visual Art
Voices: Joyce J. Scott, Oletha DeVane, Christopher Bedford
Don't miss your chance to hear from two of the guiding voices of the Baltimore art scene, jewelry maker and sculptor Joyce J. Scott (who was recently named the 2019 Smithsonian Visionary Artist) and multimedia artist Oletha DeVane. In this conversation moderated by BMA director Christopher Bedford, the pair will discuss their works, their inspirations, and the city they both call home. 7-8 p.m. April 10. Church of the Redeemer, 5603 N. Charles St.
TAPROOT
Two artists with varying backgrounds but shared experiences meet in this exhibition examining colonialism, consumption, and how they work their ways into the other parts of life. Working from their distinct perspectives "one of assimilation and one of frequent migration between continents," Catherine Khammouane and Samiha Alam will present sculptural pieces that express their view that "what is manmade is natural." Artist talk 5-7 p.m. April 6; on view through May 4. Waller Gallery, 2420 N. Calvert St.
Pile of Craft
Head to Space 2640 to peruse more than 50 vendors' wares at this 13th annual craft fest hosted by Charm City Craft Mafia. Past favorites such as Annie Howe Papercuts and Tiny Dog Press will be on hand, and several new vendors will be hawking everything from rosé jelly to 3d paper and watercolor plants for those whose thumbs aren't quite green. 10 a.m.-4 p.m. April 27. Space 2640, 2640 Saint Paul St.
Music

Abdu Ali Album Release Show
Abdu Ali has one of the most powerful voices in Baltimore music right now, and this launch of their debut album, FIYAH!!!, is going to be one heck of a party. Catch Ali's blend of punk, rap, and Baltimore Club from the Ottobar's intimate stage before this New York Times-lauded artist really blows up. Doors at 8 p.m., show at 9 p.m. April 26. Ottobar, 2549 N. Howard St.
Theater
Come From Away
When planes were unexpectedly forced to land following 9/11, some 7,000 people found themselves stranded in the small town of Gander in Newfoundland and Labrador, Canada. What began with tragedy grew into a week of friendship and humanity among travelers in unfamiliar territory and the town that took them in. This award-winning musical based on their true story is not to be missed. April 23-28. The Hippodrome Theatre, 12 N. Eutaw St.
Pink Milk
Single Carrot is leaving its Remington home behind soon, but first they have another story to tell. This Technicolor reimagining of codebreaker Alan Turing's life story from Chicago-based playwright Ariel Zetina explores Turing beyond his history-making work. Zetina is also working with Single Carrot to update the text and score for the first time since writing the piece in 2013. Gala opening April 27, runs through May 16. Single Carrot Theatre, 2600 N. Howard St.
Film

Making Cinema Matter: Masterclass with Sandi Tan
Singaporean filmmaker, zine publisher, and writer Sandi Tan returns to her cult roots for this workshop and screening of 2018's Shirkers, which premiered and earned the World Cinema Documentary Directing Award at Sundance in 2018. Tan and her cohorts made what could have been a cult hit in 1992, when they were just teens, but their film was stolen by an American collaborator. Shirkers follows Tan back to Singapore to revisit the film, the American who stole it, and what both of them did for her dreams. Free screening at 7 p.m. April 5, masterclass April 6, 10 a.m.-1 p.m. The SNF Parkway, 5 W. North Ave.
Literature

CityLit Festival
CityLit is known for bringing great authors and events to bibliophiles of all stripes at their annual fest, and this year is no different. During this day-long celebration of all things literature, visitors can attend more than a dozen session and check out the Literary Marketplace to pick up a few more additions to their nightstand stacks. Stick around for keynote speaker Dani Shapiro, whose memoir, Inheritance, delves into what happens when family secrets find their way to the surface. 9:30 a.m.-5:30 p.m. April 27. University of Baltimore William H. Thumel Sr. Business Center, 11 W. Mount Royal Ave.
Hilton Carter's Wild at Home Book Signing
Local plant expert Hilton Carter's Baltimore home is filled with more than 300 ferns, cacti, and other green friends. His lush designs on have earned him national attention, but he's sticking close to home for this celebration of his first book, Wild at Home. Grab some friends and head to Trohv on Earth Day for a book signing, Q&A, and cocktails with the Instagram plant guru himself. 7-9:30 p.m. April 22. Trohv, 921 W. 36th St.