Clinton B. Photography
Playwright Olympe de Gouge, assassin Charlotte Corday, former queen Marie Antoinette, and Caribbean spy Marianne Angelle walk into a bar . . . okay, maybe it wasn't a bar, but if you found yourself slightly interested in the punchline to that poorly executed (no pun intended) joke, then you will want to grab a ticket to Everyman's Theatre's The Revolutionists, which opens this week and runs through the first week of January. 
The play, which is set during the French Revolution, propels itself to modern times with a bold, brave, and hilarious take on feminism and standing up for one's beliefs. We talked to resident costume designer, David Burdick about the show and the inspiration behind the costumes.
This is a play full of strong female characters. How did you draw inspiration for their costumes?
Three of the four women in this play are real historical figures, so I started out doing research on those actual women. Of course, Marie Antoinette is very famous so there were a lot of portraits of her. The other two are a little less known. Charlotte Corday is a bit of a legend so there were a few portraits and romanticized versions of her out there, but Olympe de Gouges was difficult because she wasn't as celebrated in her day. So I started with the historical aspects, and then as we were talking we discussed the fact that the play and the language is very modern. It's definitely not a period piece, so we talked about mixing in modern with period items with both the set and the costumes. 
A lot of times one of the things that is really popular to do with shows like this is to have a very abstract set and then have the costumes be more period and what really sets you into that time, but we kind of flipped that on this one. We decided to have the set be more period and then have the clothes be more modern. A lot of the research I did was both looking at 18th century clothes and contemporary fashion designers and fashion layouts that were sort of inspired by the 18th century so that is sort of where the costumes wound up.
Who are some of the designers that you referenced and what type of modern trends were you able to incorporate?
Charlotte's dress is inspired by and based on Yohji Yamamoto, so it's very avant-garde Japanese. Her character is kind of punk, so I found a collection by Yohji Yamamoto which felt very 18th century inspired and kind of went with that. Marie's outfit was heavily inspired by John Galliano who did a big 18th-century collection, but also Vivienne Westwood and Jean Paul Gaultier. Olympe was sort of tough, and my first go-round at it there were a lot great sort of riding suits and things like that because her character is a little bit more tailored. But then I saw coverage of the Emmys, and saw Evan Rachel Wood wearing this fantastic wide legged tuxedo and it all came together. Her hair is actually also inspired by a red carpet look Evan Rachel Wood did a couple of years ago where it was kind of punk-y and purple.
How was the design process different for the fictional character?
Marianne Angelle was definitely the most difficult because she is fictional. But for her I looked at 18th century images of women in the Caribbean, and also looked at contemporary Caribbean fashion to see what Caribbean fashion designers were doing currently. We tried a lot of different things. And eventually I found a skirt, which is actually TopShop, that was really interesting and had this ruffled detail and I combined that piece with inspiration from this image we found and liked. So the final product is a lace effect over a silk that is the same color as her skin so it looks almost see through. For her hair we noticed that a lot of the portraits of women during this time that had their hair in these high wrapped turbans. So to avoid a literal translation of that we gave her dreadlocks that are piled up echoing the shop of the actual wrap.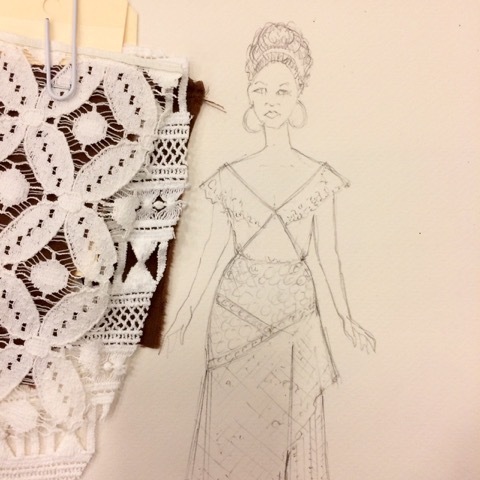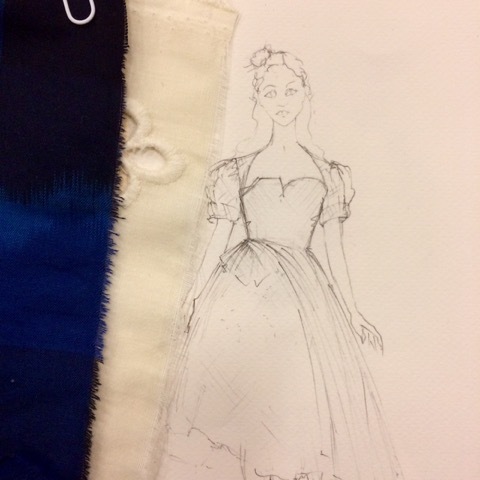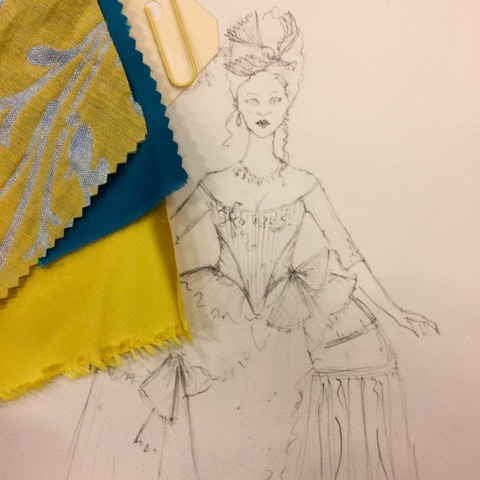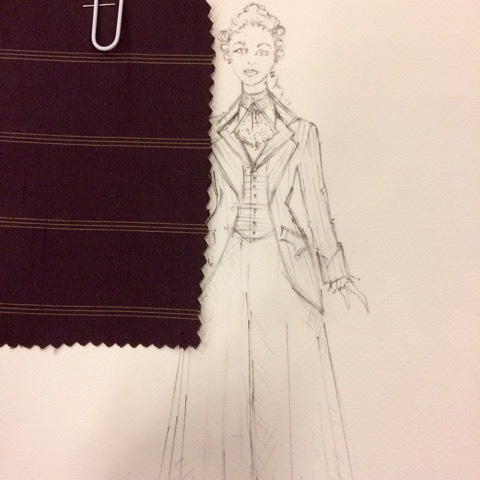 How long do you have to prepare for a show? What is the process like?
This whole process starts probably 6 months or so before the play is set to open.The director, set designer, sound designer, lighting designer, and costume designer all get together and have a meeting. That first meeting is usually just talking about the play itself, themes, and figuring out the direction that we want to go. 
Then we will have subsequent meetings after doing lots of research to get the directors initial thoughts on what I am putting together, and then from that research I start sketching and doing drawings that actually incorporate the pieces that we want to use to. Then we create samples, which we call mock-ups, in a cheap fabric just to get the fit and proportion right before going into the actual fabric and making the costume that will be in the show. 
What is your day-to-day like while the show is running?
So right now we are doing our technical rehearsals where we are perfecting the lighting and sound, but also it's the first time that we are seeing the costumes on stage, under lights, and moving. So we are figuring out what works and what doesn't and taking notes on what we need to fix or alter. 
For example, there is point in the show where there is a quick change for Marie and she is switching wigs so we decided to put a little magnet on her necklace because I wanted her to be able to get her necklace back on quickly for the last scene. So it's really just figuring those last minute things out. And with this show since it is only four women and they have four costumes it's a bit easier than doing something where people have multiple changes.
How long have you been at Everyman?
I've been at Everyman since 2009. My first shows were the The Mystery of Irma Vep and All My Sons. After All My Sons, they asked me to become a company member and the resident costume designer. And ever since depending on the season and my schedule I've been doing two shows, sometimes three shows, a season. This year however I am doing four out of the six shows, but they were all just really great projects that I couldn't pass them up. I am really excited about this show because it's so funny, so well-written, and has four really great female characters. Three of the four actresses are company members here and the characters in this show were such fantastic roles for each of them.
What would you say is your favorite look in The Revolutionists?
This is hard. I can't choose. I mean, Charlotte's look is great and so fun and I love how the suit for Olympe turned out, but the Marie thing is so over the top. Beth Hylton is just an actress that can handle anything you throw at her. It's definitely not an easy costume to wear. The wig is tall, the dress is wide, and she is wearing more than five-inch Betsey Johnson platforms that would be a challenge for anyone.
That sounds like a heavy burden to carry! 
It's actually not. It's really just a little bit of silk and a little bit of metal.