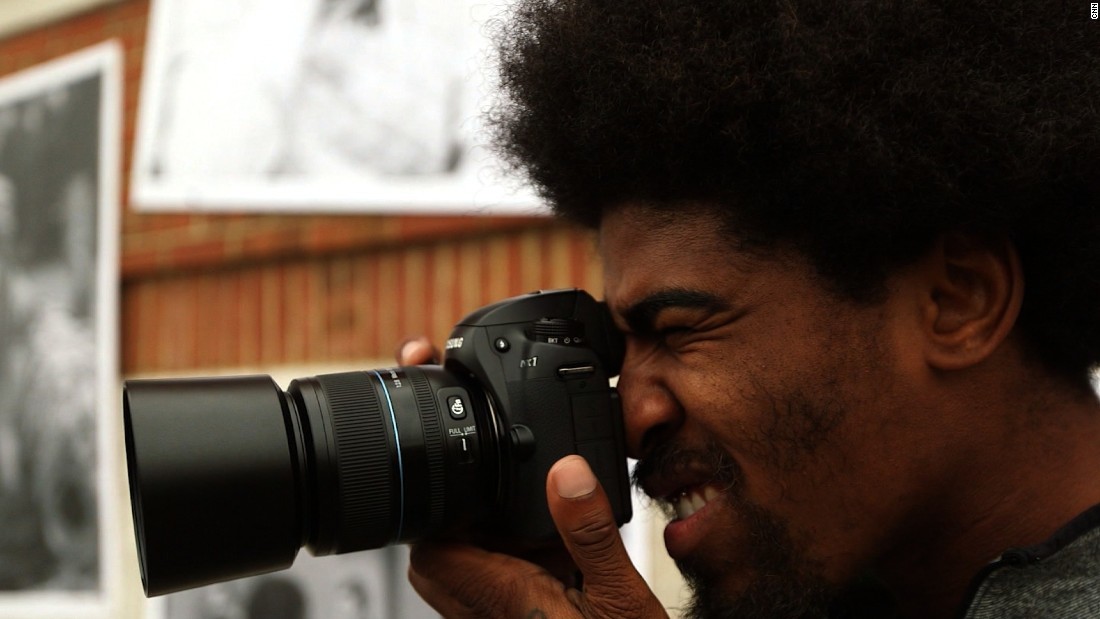 So these past two years since the Time magazine cover photo have been pretty crazy for you?
Yes! It feels crazy. Just when I think my 15 minutes of fame are over, I get another email or phone call. It's very surreal. When I meet people they think I'm this well seasoned, proper photographer. Nope! At the time of the Time cover, I had only been doing this for three years.
One of those companies that has approached you is Under Armour. How is it working with them?
I come in the office every single day—it's my 9-5. I'm the only black photographer at here. [Black people] have to get into these spaces. I want [Under Armour] to think, 'We hired Devin to go shoot Steph Curry. He's from the city and has only been doing this for three years. How many other hidden gems does Baltimore have?' If they can hire me and I can do some amazing work, I think it will push the envelope and make them open up their eyes and say, 'Hey maybe we can get more people like him.'
You're going to be featured in a new exhibit at the National Museum of African American History and Culture.
I was so shocked when I found out. Aaron Bryant is the reason I have 20 images permanently showcased in the Smithsonian. He's one of the curators at the National Museum of African American History and he's been a mentor to me. The exhibit opens on May 4 and I'm really excited. I'm the youngest photographer in the whole exhibit and I have work in there next to Gordon Parks—it's crazy! It's definitely a dream. 
Has all of this exposure made it easier to get work?
I still have to work twice as hard—even after the Time cover. I've been turned down so many times. Even after the announcement that my photos are in the Smithsonian, you would think Apple or somebody like that would reach out to me, but nope. When I reached out to Fuji, they said they didn't want to support my work because it was negative. They didn't want that to represent their brand. Another photographer at Magnum told me, 'You're young, you're black, you have no accolades and hold no degree in photography. You're going to have to work a lot harder than everybody else.'
Where you probably work the hardest is on a local level—especially with kids. Is teaching something you're interested in doing?
I want to show these kids that there are other ways they can do things to be successful. The more successful I am, the more they listen to me. I just want to teach; to create a bunch of mini-me's with a story to tell. I've just been so busy. It's just hard trying to work with everybody that you can and still pursue your own goals. I'm figuring it out slowly but surely. Any time I talk to kids, I leave inspired. The best reward is opening up doors and giving back.
You have a new book, A Beautiful Ghetto, coming out on June 13.
That book (laughs). It wasn't even supposed to be a book. I never had a plan, I never thought about a book. I didn't plan my life past 21. I hit 21 and was like, 'Wow I'm still alive? Shit, I need to do something with myself now.' So no, I didn't have a plan; I didn't plan anything, I thought I would be dead right now. The book, it came together so beautifully, it was completely organic. All the images are from around Baltimore.
How did you come up with the name and the concept?
In an interview a while back, someone asked me to describe Baltimore. I didn't know what to say, I always hated the city growing up and I wanted to leave. I thought I would be moving to Harlem. I started to elevate a little bit and evolve once I got deeper into my art. Then I started to see the things that are considered 'bad' in Baltimore as beautiful; but it's also the hood, it's the ghetto. It's a Beautiful Ghetto—it rolls off your tongue. So I started to hashtag it.
A lot of the images in the book are my friends hanging out, images from the street. After the Uprising that really inspired me to push the envelope because people were thinking so negatively about Baltimore. I thought I needed to change that perception. I needed to document everything that was happening in the city, so I shot the block parties and how everything came together after the Uprisings with #ABeautifulGhetto. I get asked all the time to go to Flint or other cities to photograph, but that's not my story. They need to find their own Devin Allen to tell their story like I told mine.
I was working with this great woman named Keeanga-Yamahtta Taylor, who wrote the book From #BlackLivesMatter to Black Liberation. She gave me the name of her publisher and said call him so I did. I told them about the book and sent him some photos and they loved it.
So is it just a book of photos?
Originally, I was going to write some poems to include but then I thought; I'm not a writer so I reached out to some dope writers. I got D. Watkins and Wes Moore, and Keeanga-Yamahtta Taylor to contribute. I know people think the book is about Freddie Gray, but it's not. It's about Baltimore and how I see it. It's broken down into three sections. A Beautiful Ghetto—which my mother wrote the intro for. She talks about how Baltimore was in the '70s up until the '90s when she had me and how much it's changed. After that, it goes into the photos of the uprisings. The last section is called 'Hope'—guys in the hood with their fists up, kids playing, a portrait of a kid with a police hat on. The book is so well rounded. It gives you a full understanding of Baltimore through photos. The plan is to release an extended version that has all of my photos.
The first book signing will be on June 17 at the Reginald F. Lewis museum since that was the first place I displayed my work. I actually donated my Time photo proofs to them.
What would you say is the key to your success?
Being humble and keeping the right people around me. Lord knows that's the hardest part—realizing who your friends are and who is really there for you. But luckily, the bad people weed themselves out. I have people like D. Watkins, Aaron Bryant, and Wes Moore; people in my corner that are keeping me grounded. 
What's next for you? Are you going to continue to ride the wave?
After this book, I feel like it's time for me to move on. I want this to be the last chapter for me with this. I'm leaving the door open for the next person to come in—it's time for me to move on. I don't want to oversaturate this. Next I'd love to get more into shooting sports. I work with some amazing photographers here at Under Armour, so I'm learning more all the time. Then, I want to take the fashion world on, I think I have a good eye so that will be my next venture.
Be sure to check out Allen on TNT's new show American Race which airs on May 11.