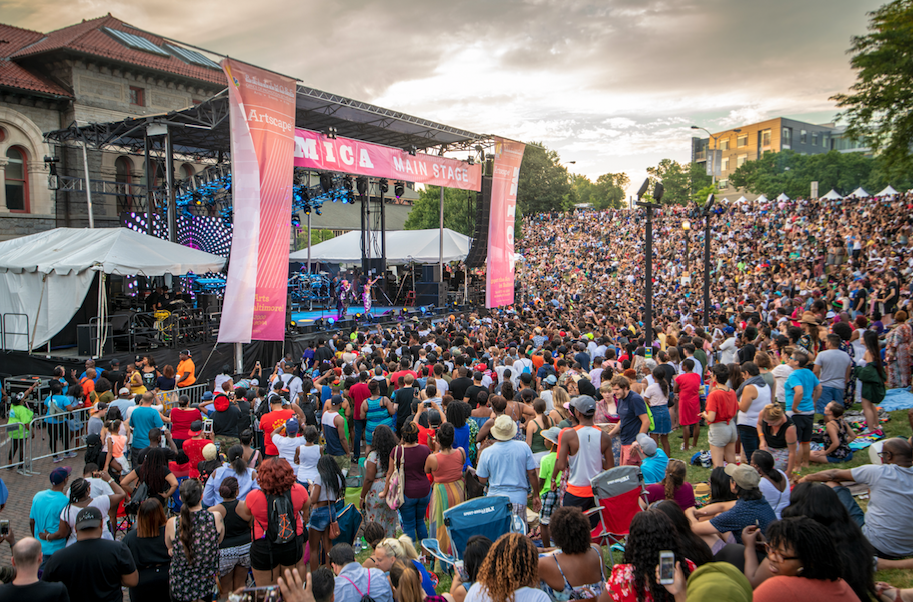 Baltimore Office of Promotion & the Arts
The hottest concerts of the summer are once again upon us, and that's not just because they always coincide with the season's warmest temperatures. With the mercury climbing to the high nineties, the 38th annual Artscape festival returns to Mt. Vernon, Bolton Hill, and Station North this weekend with three full days of free art. Every year, we wait on the edge of our seats for the musical lineup, and this year's headliners don't disappoint. Each one offers a throwback to different decades—from the local James Brown Dance Party featuring Fred Thomas of the Godfather of Soul's own 1970s band on Saturday night, to the 1980s British ska-punk of the English Beat on Sunday, to the groundbreaking 1990s R&B trio of SWV on Friday.
But for us, the main event really lies in the festival's trove of Baltimore talent, with dozens of homegrown acts playing on various stages throughout the weekend. From promising up-and-comers to local scene veterans, we've rounded up eight sets not to miss.
---
Astronaut Symphony
Afro House is one of the most inventive arts groups in the city these days, with their unlikely musical experiences breaking down any preconceived notions of what concerts can and should be. See for yourself with this futuristic fusion of beat box, opera, punk, and funk, led by AH co-founder, pianist, and composer Scott Patterson. Saturday, Lyric Opera House, 6 p.m.
Caleb Stine & Friends
There might be few better ways to spend a warm summer night than listening to the hearty folk sounds of the city's Americana spirit guide, Caleb Stine. With more than 10 records under his belt and more than two decades on the local scene, the poetic songwriter draws a loyal crowd and puts on a powerful show, full of heartfelt ballads, toe-tapping ditties, and rolling-thunder road songs driven by acoustic instruments. Saturday, Johns Hopkins University Stage, 8 p.m.
Eze Jackson
From his role as frontman of alternative hip-hop collective Soul Cannon, to emceeing the recurring Bmore Beat Club, to regular solo and collaborative sets across all pockets of the city, Eze Jackson has undoubtedly been one of the most steadfast and hardworking musicians on the Baltimore scene over the last decade. And every third weekend of July, he has hosted an Artscape after-party in Station North, which he's doing again this Saturday with a release party for his upcoming album, Fool. Tickets start at $8—a surefire steal for what will be a raw, red-blooded set. Saturday, Metro Gallery, 8 p.m.
Kotic Couture
With rapid-fire flows, honey-coated vocals, and a fierce stage presence as seen during the monthly Version queer dance party at The Crown, Kotic Couture has quickly become a rising star of the local rap scene. Escape the heat in the air-conditioned University of Baltimore Student Center for an infectious set as part of the Worlds In Collusion lineup by the High Zero Foundation. One verse in, and we promise: you'll be hooked. Saturday, University of Baltimore Student Center, Wright Theater, 8 p.m.
MovaKween
This sultry soul singer's songs are fit for the extreme heat and humidity expected to hit Baltimore this Sunday. Her earthy vocals flit and flutter, snaking around slow, smoldering melodies rooted in R&B, jazz, and soul. Just pay attention to her lyrics, which speak to the cosmos, creative freedom, and feminine energy and empowerment. Sunday, Johns Hopkins University Stage, 1:30 p.m.
Ratscape
Last summer, this DIY music festival returned to Station North after a three-year hiatus, and this weekend, it's back for another three days of local bands at The Ynot Lot and The Crown. Among dozens of acts, be sure to check on punk quartet Baklavaa and rapper Toyomansi on Friday, hip-hop artists Josh Stokes and DYYO on Saturday, and soul singer Randi, R&B singer Bobbi Rush, and indie bands Shinji and Romantic States on Sunday. Times & locations vary.
Rufus Roundtree & Da B'More Brass Factory
Push off the Sunday scaries with an afternoon powerhouse performance by Baltimore institution Rufus Roundtree & Da B'More Brass Factory on the Main Stage. This high-energy music collective is one of the most fun, feel-good shows in town, fusing funk, hip-hop, soul, and jazz into a Charm City-meets-New Orleans get-down that should incite a second line. Also catch trumpeter Clarence Ward III's skillful Sunday set on the Morgan State University stage at 6 p.m. Sunday, Main Stage, 1 p.m.
Super City
We regularly rave about the need to see this Baltimore indie-pop band live, and now is your chance, as the well-clad quintet finally takes to the festival's Main Stage on Saturday afternoon. Stand in awe of their choreographed moves, but also bring your own dancing shoes and prepare to bop, if not outright mosh, along. They're likely to bring both old favorites, like catchy slow-jam "Artificial Sin," and new hits, like "High," to this don't-miss show. Saturday, Main Stage, 4:30 p.m.