GameChanger: Kira Wisniewski
We catch up with the executive director of Art+Feminism.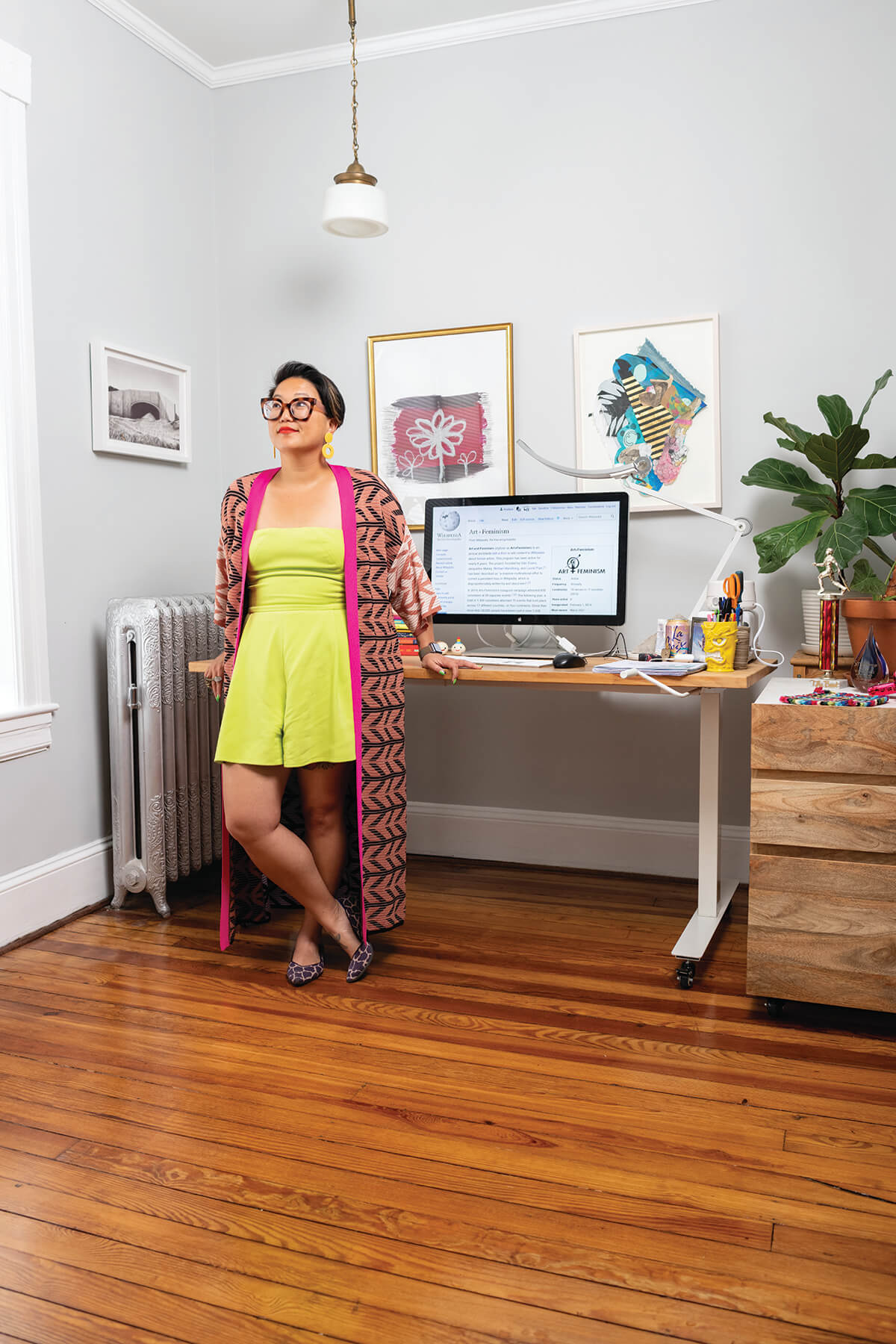 When Art+Feminism was founded in 2014, its goal was to address the fact that fewer than 10 percent of Wikipedia contributors identify as female, which reflects a long tradition of men being gatekeepers to the art world. They launched edit-a-thons to write into public record the art-centric stories and accomplishments of cisgender and trans women, as well as non-binary people and people of color.
Since then, more than 100,000 articles have been created or improved. The global nonprofit's extroverted director, Kira Wisniewski, formerly head of operations at the National Women's Studies Association, works to ensure that same ethos is sustainably reflected in the rest of their work. She also co-organizes CreativeMornings/Baltimore and sits on the board of the local Awesome Foundation.
With a goal of closing the online content gap, how many entries do you think need to be written to make Wikipedia an equitable space?
This work will never end…Locally, we've held events at the Enoch Pratt Free Library and The Walters Art Museum, and this year we've had events in over two dozen languages and we're working in three dozen countries. The reach is exciting and we're thrilled to be working with this network of information activists. Wikipedia is consistently amongst the ten most visited websites in the world. If there are absences in Wiki, it goes throughout the entire internet.
How can people get involved in this activism?
It can be as simple as coming to an edit-a-thon, and because of the pandemic, many of them are virtual. We have resources for people to host their own events because we lead a do-it-yourself and do-it-with-others campaign. We are providing the tools for people to organize their own events. We believe that people in their community know their communities best.
You also volunteer your time with several Baltimore-based nonprofits, including the CreativeMornings speaker series and the philanthropic Awesome Foundation. Can you tell us about your work with these organizations?
CreativeMornings/Baltimore is one of over 200 monthly chapters around the world. We follow the mantra that everyone is invited and everyone is creative. My friend Mario Brandhorst and I are co-organizers and interested in having speakers who might not traditionally have a larger platform…The Awesome Foundation is nothing on paper; it's mutual aid. It's a group of people who each put forth a hundred dollars a cycle and then we give it, no strings attached, to an applicant who's doing something awesome in Baltimore. We consider if a project could get more traditional funding versus a project that probably won't happen without this thousand dollars.
You have so much energy. Do you plan to start other organizations?
Nothing I do is a one-woman show. I'm a highly collaborative creature and couldn't do anything I do without the help and collaboration of others. A lot of [that] work isn't starting new things but joining things. As writer Sara Clugage said so well: "There's not a lot of glory in joining things, but really that's where a lot of the good work happens."