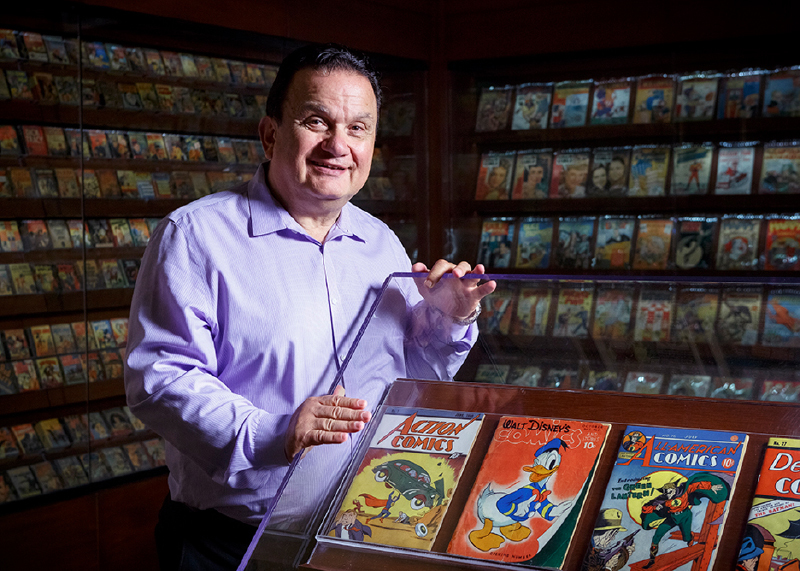 Diamond Comic Distributors
For the past 12 years, Geppi's Entertainment Museum (GEM) has housed more than 3,000 items of comic books, popular art, posters, and other memorabilia but its last day will be this Sunday.
Stephen A. Geppi, the CEO of Diamond Comic Distributors (and owner of Baltimore magazine), announced this morning that he will be donating this multi-million dollar collection to the Library of Congress.
"When I opened my first comic shop more than 40 years ago in the basement of a television repair shop," Geppi said, "I could never have imagined a major portion of my collection would be housed among the nation's treasures for all to see. I am thrilled . . . that this gift will help celebrate the comic and pop culture industry we all love for many, many years to come."
The extensive collection includes rare, mint-condition comics dating from 1938, as well as items from pop culture and history. Some standouts include pieces of Beatles memorabilia, and a collection of flicker rings popularizing comic books and political figures like Martin Luther King Jr., Richard Outcault's The Yellow Kid printing blocks, and the No. 2 Brownie camera model F from Eastman Kodak Company.
"The Library of Congress is home to the nation's largest collection of comic books, cartoon art, and related ephemera and we celebrate this generous donation to the American people that greatly enhances our existing holdings," said Librarian of Congress—and former Enoch Pratt Free Library CEO—Carla Hayden. "The appeal of comic books is universal, and we are thrilled that this new addition to the collections will make them even more accessible to people worldwide."
Other items of note include six rare storyboards from Walt Disney's 1928 animated film Plane Crazy, which was the first Mickey Mouse cartoon produced and the third to be released after sound was added in 1929.
With the acquisition of these items by the Library of Congress, GEM's last day open to the public will be Sunday, June 3, from 10 a.m. to 6 p.m. Admission will be free of charge.
"I've been blessed to make my living from something I love for decades, and further blessed to be able to share these treasures with others," Geppi said. "The idea of how many more people will get to see this material under the auspices of the Library of Congress invigorates my mind with a multitude of possibilities. I definitely have other plans for the future as well. Besides, it's not like I'm going to stop collecting."