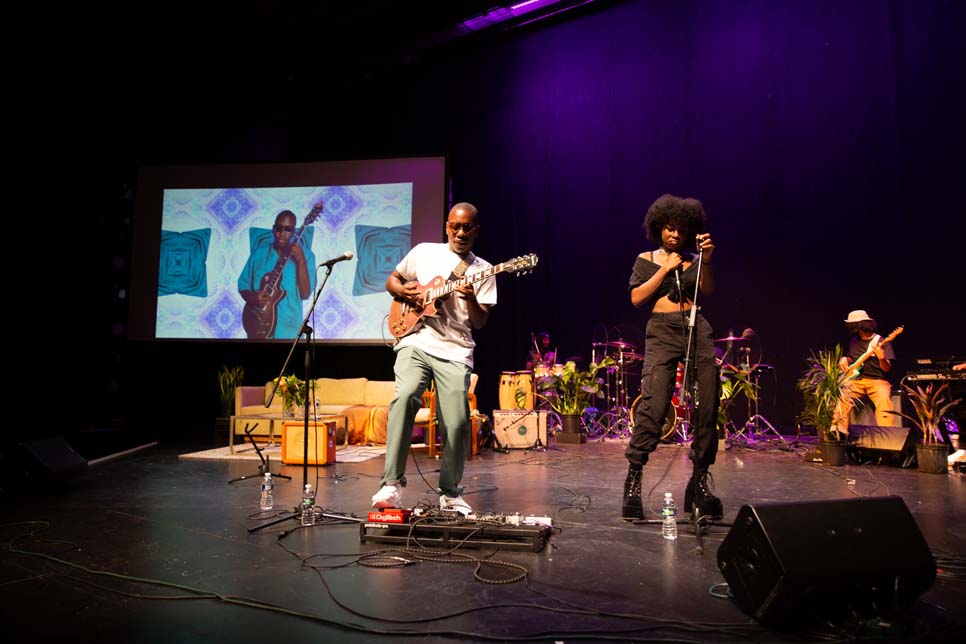 Founder John Tyler takes the stage at the 2021 festival. —Courtesy of Love Groove Music Festvial
John Tyler says he gets his courage from his mother, whose response to any uncertainty is typically: "Why not ask?" He remembers how it worked out in her favor seven years ago, when Stevie Wonder played a show at Royal Farms Arena. 
"It's funny," says the artist, wearing brown heart-shaped sunglasses, reminiscing about the time his mom, Angela, decided to take action at the last minute, "she found out he was here and said, 'I'm gonna [see if I can get us] tickets.'" 
With an hour of performance time remaining, she was able to score fifth-row seats to Tyler's first big concert. 
"Seeing Stevie live was incredible," remembers the 22-year-old, who was in ninth grade at the time. "The [crowd] was full of Latinos, Black people, white people. Everyone was at this concert singing this man's lyrics. Just the thought of one man writing songs that had this impact on the world was so inspiring to me." 
Tyler says the concert marked his first time truly witnessing a Black man "bringing unity" to folks of different backgrounds. As he got older and grew more familiar with the music scene in Baltimore—mainly through stoop concerts and basement shows—he saw where this concept was lacking. 
"I noticed everything was segregated," Tyler says. "You'd never see the people in the jazz scene with the rock kids, or the rock kids with the hip-hop kids, or hip-hop kids with indie kids." 
Inspired by musicians in Atlanta, who he says support one another's work across a range of genres, Tyler wanted something here in Baltimore to "be a bridge and bring all these communities together into one place."
In 2017, at 17 years old, he launched the Love Groove Music Festival with hopes to sever music cliques and elevate young talent. To date, the annual event—which grew in 2021 to host a showcase specifically for female artists—has amplified the work of more than 200 young local musicians such as MovaKween, Black Assets, Brandon Woody, and John Wells. 
But Tyler says that, as the music festival began to grow, organizers realized they could highlight other mediums, too. Once again last year, the fest expanded to offer education and networking opportunities through artist talks and workshops. 
This Saturday, August 20, at Baltimore Center Stage, that emphasis on learning through community will be a focal point yet again, as Love Groove returns with live performances and new showcases flaunting art and film. Not only will patrons hear music by artists like Samwyse and Ignant Exposure, they will also be able to browse an on-site art gallery and screen pieces by up-and coming filmmakers.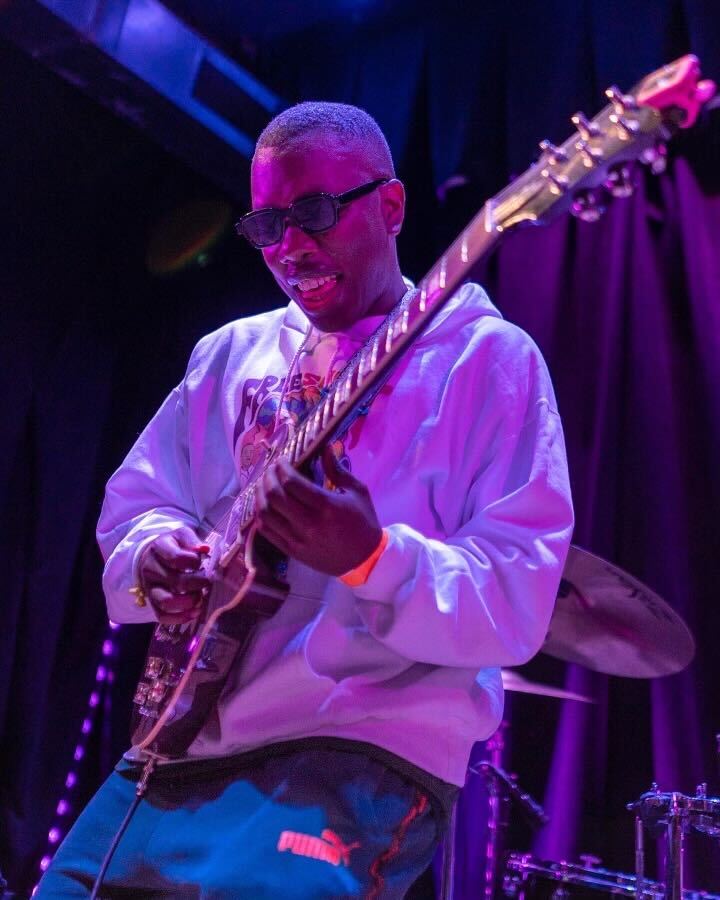 Citing galleries that drain visual artists of their resources, as well as film showcases that neglect to elevate Black voices, Tyler says that Love Groove has evolved into a hub for local artists of all backgrounds who are looking for a fair chance to showcase their work. 
"I remember watching this Bob Marley documentary, and how he was creating music," Tyler says. "There was a lot of fighting going on in Jamaica, but he was bringing everyone together—bringing peace. I kind of feel the same here. This is the one way that we connect with people from the other side of the community. We all relate to these sounds and these visuals."
Tyler—who will screen his own documentary Free Spirit, which accompanies the EP of the same title that he released this year—is glad that he can help provide a platform for young artists like Omega Williams.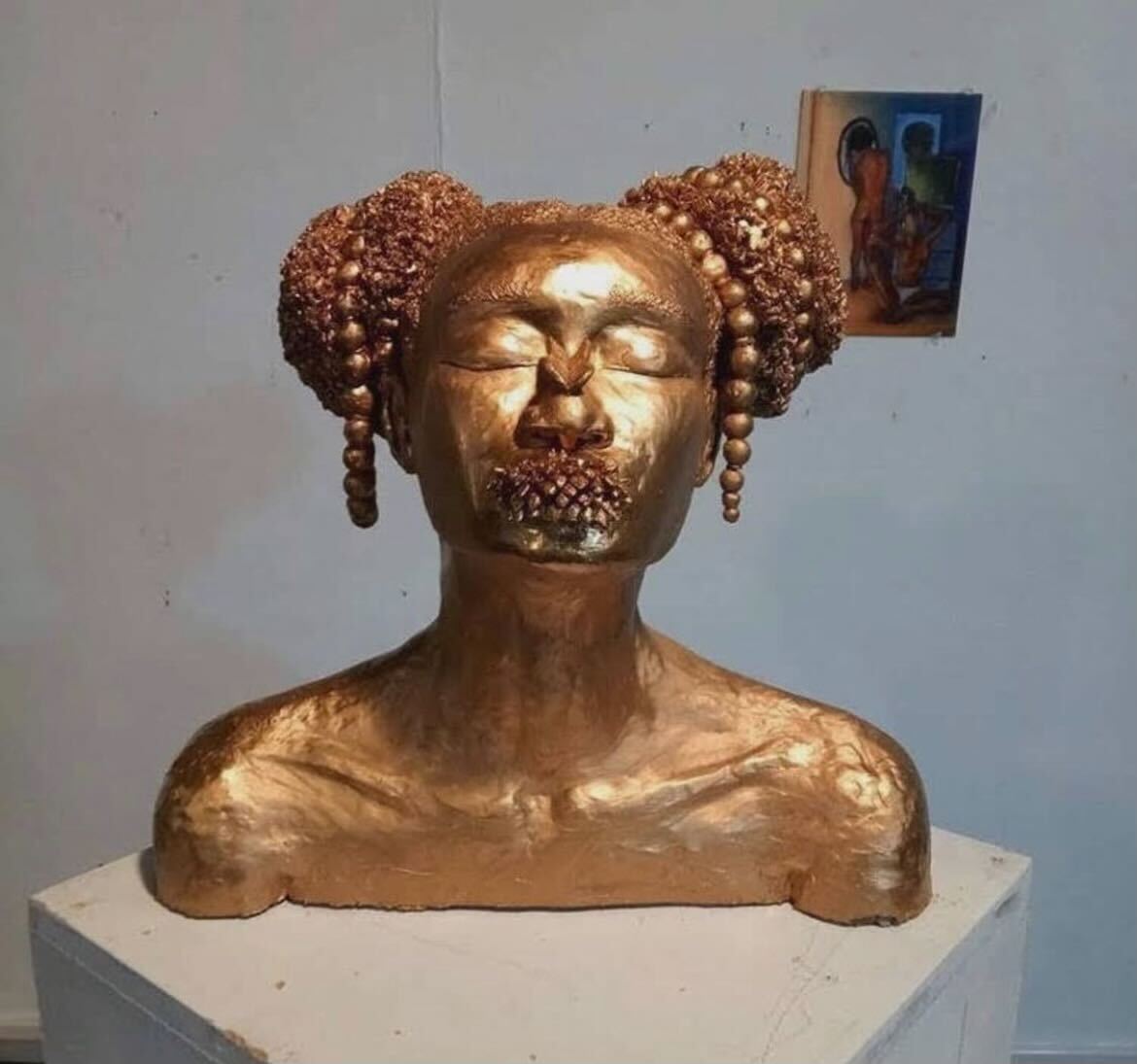 "It's scary to think about—I've never really done any other type of show before," says Williams, a CCBC student whose main mediums include painting and sculpting. Williams says that she looks forward to the chance to shine and make new friends at Love Groove—which is what Tyler intended. 
"John has made a really good point of saying, 'This is a festival for everyone,'" explains Adrienne Randall, Love Groove's co-director and event coordinator. "We're giving everyone the same promotion and same energy. I think that's really cool."
Like Tyler, Randall is amazed at how far the festival has come in the past six years. Asked to give a 17-year-old Tyler advice, she says: "I would tell him, keep doing exactly what you're doing and following your mom's advice to just ask," Randall says. "Your dreams will come true if you work hard enough—and I think that they are."