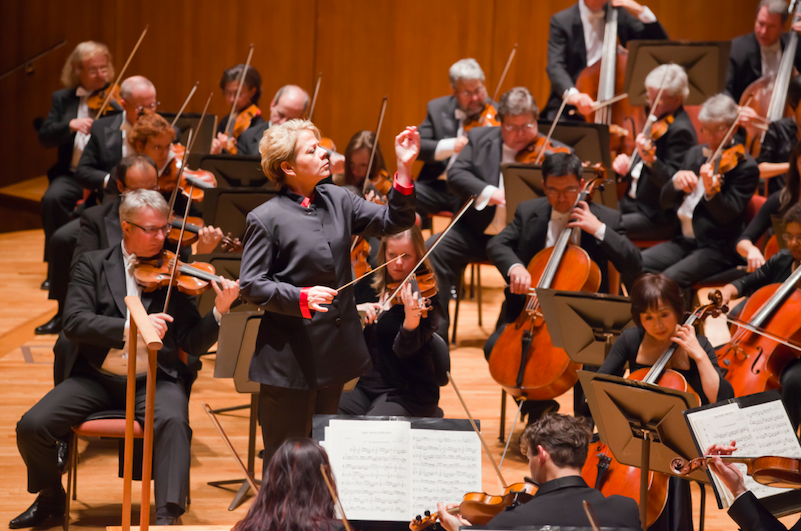 When she stepped onto the Joseph Meyerhoff stage for the first time in September 2007, Marin Alsop made history.
She was the first female conductor to ever lead a major North American orchestra, and over the 14 seasons that followed, the Baltimore Symphony Orchestra (BSO) maestra would become a vital figure for both local and international arts communities, known for championing inclusion, access, and outreach to music lovers at home, as well as opportunities for female conductors around the world.
Next summer, when her contract expires on August 21, 2021, Alsop will step down from her position as the BSO's music director, the organization announced today.
That said, the following month, she will carry on in a new capacity, as the new music director laureate, where she will lead the orchestra in three concert weeks each season through 2025-2026. She will also hold an annual masterclass for conducting students at the Peabody Institute, and continue to oversee OrchKids, the educational program she founded for underserved kids in Baltimore City. The BSO will create a committee to search for her replacement.
Currently conducting in London, Alsop, 63, was not available for comment.
The news does not come as a total surprise. Last November, Alsop hinted at her departure while expressing frustrations with the BSO. During a state task force meeting conducted to address the BSO's financial woes, she pointed to a lack of communication, poor support of programming, and missed opportunities within the organization.
"The Baltimore Symphony is the only major orchestra in the United States to have a woman as its leader, and we haven't capitalized on that once," said Alsop, according to The Sun. "I'm nearing the end of my tenure here."
These comments came on the heels of contentious contract disputes between BSO players and management, as well as a subsequent 14-week lockout of the musicians, that took place earlier that year. By September, both parties had reached a new one-year agreement. Concerts resumed, and more recently, the board adopted a new five-year strategic plan to address the orchestra's dire financial straits, created with the help of an outside consultant, Michael Kaiser, dubbed "The Turnaround King" for arts organizations. On Monday, the state task force also announced new recommendations for the orchestra to secure at least $15 million in public and private funding over the next six years in order to revive the organization's fiscal sustainability.
"The Baltimore Symphony Orchestra is one of the world's great orchestras and I have been proud to have served as its artistic leader," Alsop said in a press release.
A protégé of composer and conductor Leonard Bernstein, Alsop arrived at the BSO after several years of courting that also included a rather public opposition by the orchestra's musicians, already struggling with an unpopular CEO and millions of dollars in debt.
But with an ambitious vision, "she got our attention," said Jonathan Carney, the orchestra's concertmaster, in our 2007 profile of Alsop. "Ears pricked up. People liked what they were hearing. Right away, there was this big boost in morale: To hear these new ideas, these artists she wanted to bring in, her ideas in terms of her repertoire. It was energizing."
Over the next 13 years as the organization's 12th music director, Alsop led the BSO through the commission of more than 35 world premieres, the recording of 14 albums, and in 2018, the orchestra's first international tour in over a decade. She also created the symphony's popular "Off the Cuff" concert series and helped launch the New Music Festival in 2017. Even before her official tenure, in 2005, she notably became the first conductor to win a MacArthur Fellowship "Genius Grant," which she eventually used to help launch OrchKids three years later.
"Baltimore is not really a place of elitism…It's a city all about neighborhoods and communities. I think that's what I like about it so much," Alsop told us during the orchestra's centennial year in 2015. "We've been able to make the BSO a world-class orchestra. But also an orchestra of the people."
To that, Baltimore will agree.
"She's been a great face for the orchestra to the community," said Michael Lisicky, a BSO oboist, in that same story. "To them, she's just 'Marin.'"