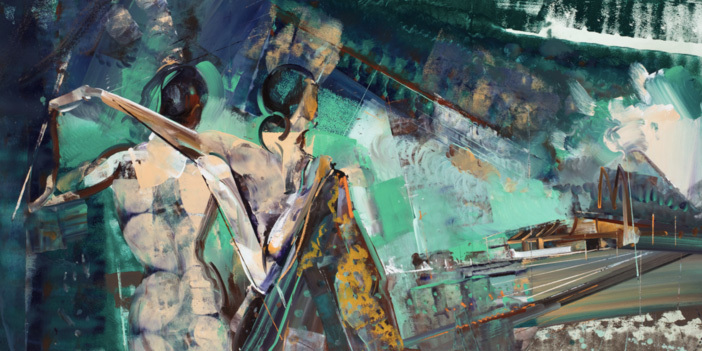 David Brewster
Growing up in Baltimore County in the 1970s, painter David Brewster was always fascinated by the nuances of urban and suburban life—studiously analyzing collapsed structures and casual human interactions. As an adult, he's still intrigued by these memories of his youth, but now he's more engrossed in how those factors affect the social construct of his environment.
"Having built over decades an intimate knowledge of such a distinctive place," Brewster said. "I now have a critical lens through which to observe universality in the ways in which humans occupy space all over the world."
That knowledge led to a series of his recent paintings on display at the Maryland Historical Society (MdHS), a notable more contemporary exhibit for the institution. Structure + Perspective: David Brewster Explores Maryland's Landscape debuted on October 12 and brings together his commissioned work with objects from the MdHS collection. 
"This is something very different for us," said Alexandra Deustch, chief curator for MdHS. "I came up with this idea of bringing David's paintings together with our collections to show how those objects can speak to contemporary topics. I wanted this to be provocative and inspire discussions about topics that are relevant today."
In the exhibit, Brewster's paintings are juxtaposed with objects from various decades in history that relate to themes of gender, race, urban decay, environment, suburbanization, and political tensions in order to provide a new perspective on how society views each topic. 
"Given the social exclusion and marginalization of minorities in Maryland and beyond," Brewster said. "It was paramount that the diverse figurative narratives I depicted be more than a treatment of difference, but convey a deep sense of human dignity."
One example of Deustch's vision of marrying old and new is contrasting a 1940s peep show of a nude beach with Brewster's Cellar Slave painting that depicts a scene of a dominatrix and her submissive beneath a highway overpass. Both are similarly risqué pieces from different time periods, but once paired together they share an underlying theme that would typically be overlooked.
"It really speaks to people's innate desire to voyeurs," Deutsch said. "It's the whole nature of looking at something that isn't meant to be seen."
More of the same can be found in the exhibit along with interactive features at each installation that encourage visitors to provide feedback answering the question, "What's your perspective?" Visitors can use the tablets that are set up at each station and listen to other people's responses and discussions about the piece of art.
Smartphone tours and special events are also available for visitors throughout the duration of the exhibit, which ends October 2018. Deustch encourages everyone to explore the installation in hopes that it creates dialogue about the societal pitfalls of today.
"I really love the pairing of the painting Two Women in a Landscape of Fear and Spectacle and an 18th-century sculpture of a traditional family," she said. "I just think it's really moving—sort of looking back at those stereotypes that have so long existed really makes you look at things from a different perspective."