Baltimore's Biggest Music Acts Team Up on Ottobar Benefit Album
We caught up with the organizers about idea behind 'No Stagediving.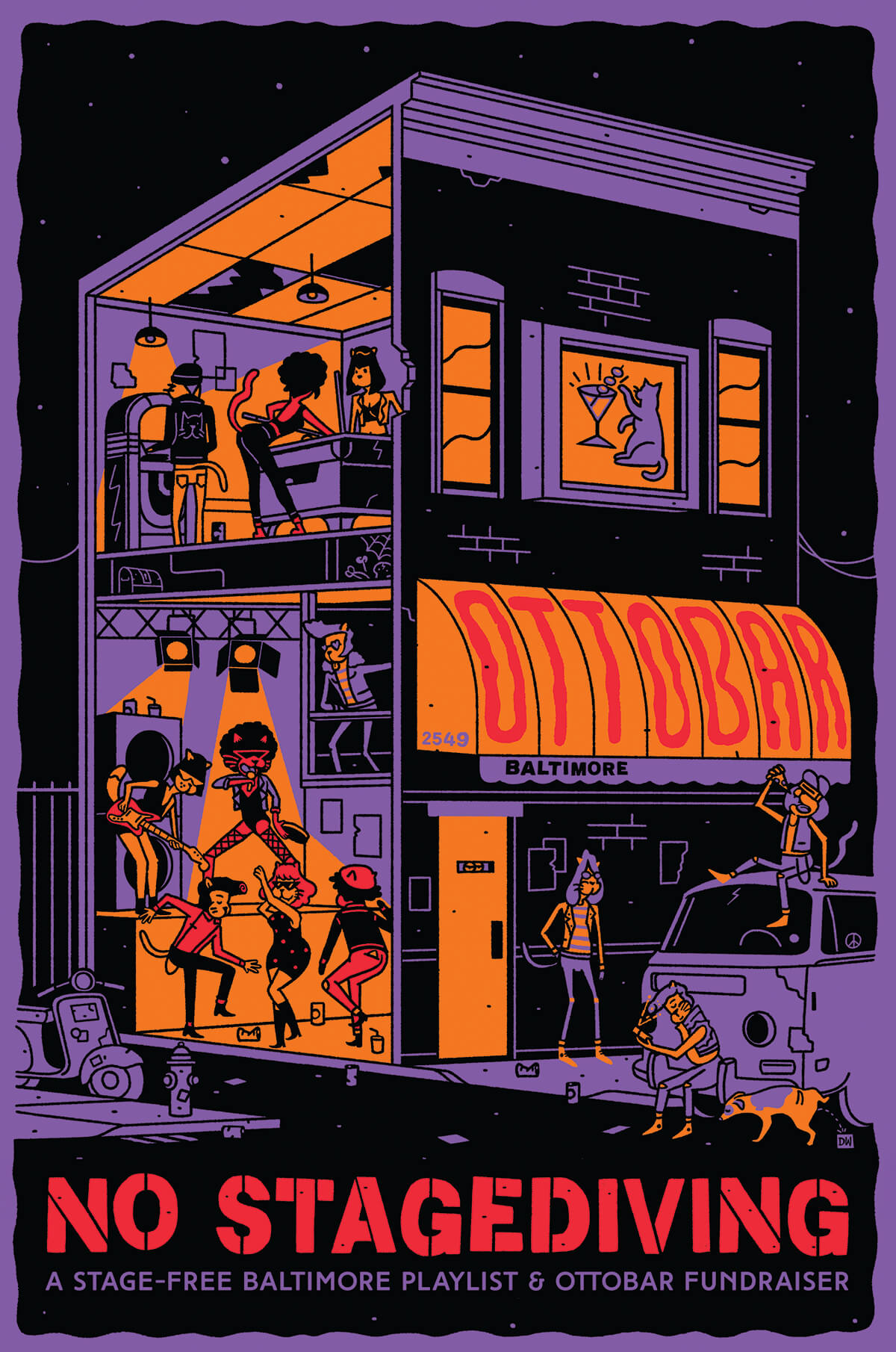 It has been a quiet year without the hum of live music reverberating across Baltimore. The city's iconic scene was largely halted with the arrival of COVID-19 this spring, with shows canceled and venues closed as cases mounted across the country. Many artists took to the internet to eke out some remote semblance of their livelihoods, while clubs found ways to pivot or launched fundraisers to avoid a complete shutter.
In an effort to keep the sounds of the city afloat, the Ottobar has released a compilation album of Baltimore artists who graced local stages over the last 20-plus years and will split 70 percent of the proceeds. They include Future Islands, Wye Oak, Butch Dawson, Abdu Ali, Lafayette Gilchrist, Mary Prankster, and Double Dagger, to name a few. Across more than 90 previously unreleased tracks, No Stagediving, named for the notorious sign over the venue's mosh pit, is an eclectic soundtrack to the city, serving as a reminder of what we are capable of during these dark times. We caught up with its organizers, Ottobar bookers Todd Lesser and Dana Murphy, about how it all came together.
How did this album come to be?
TL: Shortly after Ottobar set up its GoFundMe in August, longtime bartender Jerrod Sydnor asked what else we could do to help the venue and mentioned the possibility of pulling together a fundraising compilation of music. What I didn't know was that he had already started it. We decided to rework the idea a bit to help artists in town who have lost so much with no gigs or venues to play. We wanted to help sustain the Baltimore scene until the day comes that we can open our doors again. We cast a wide net, and then the hard part was that we had so many confirmations.
How did it feel to get that kind of reception?
DM: We're so grateful that so many artists wanted to be involved in this project and for all of their support. We have more than 90 artists on board who have each cultivated their own distinct sound and present a unique perspective. There's a little something for everyone.
TL: It's all over the place by design, because it's representative of the diversity of the music that has come out of Baltimore and been on our stages for years. There's jazz, there's metal, there's hip hop, there's punk rock. On top of that, they're all exclusive, unreleased tracks. Some were actually live Ottobar recordings. That really hits you in a soft spot when you realize we can't do that right now—be in that room seeing a show together.
After all these years on the local scene, has it been an emotional process pulling this all together?
TL: When everything shut down, it made you realize how fragile it all really is. Things can disappear in the blink of an eye. No one is really sure how many venues will have the opportunity to reopen whenever that day comes. After all of those 23 years that Ottobar has been around, at this point, we're at ground zero, we're starting over. There's a lot of history, a lot of memories. All we can do is reminisce and hope right now, and that's what this playlist is about—all the music that has happened in Baltimore, and all the music that hopefully will happen again one day when this is over.
How will it be released?
DM: We're using Bandcamp, which is such a great platform for streaming music. They've done a lot for independent artists with their Bandcamp Fridays [when fees are waived to increase musician revenue]. We also had a big conversation about being mindful that, while we want people to hear this, they aren't in great economic shape because of the pandemic, so we decided to do a pay-what-you-can model. We're hoping that people with the ability might be willing to chip in a little bit more.