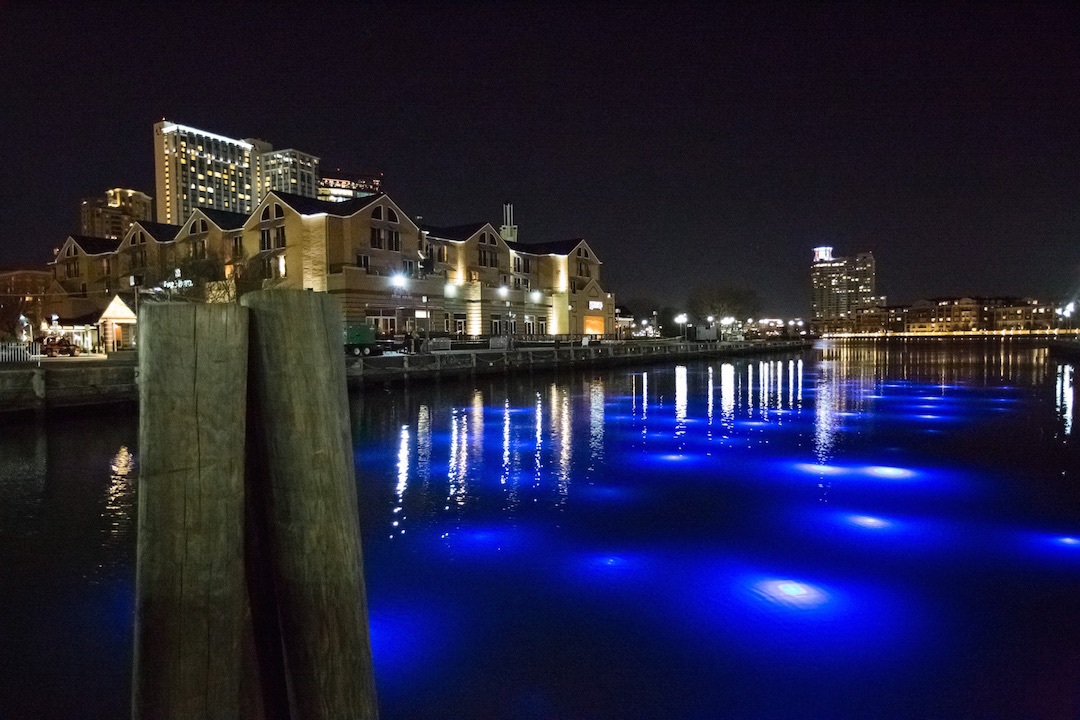 Bruce Willen
While most of the 21 sculptures that will line the Inner Harbor for the Light City Art Walk this weekend are flashy, multicolored installations, Baltimore's Post Typography team chose to be more minimalistic in their approach—so much so, that passersby might not even notice the piece if they're not paying attention.
Spearheaded by Post Typography cofounder Bruce Willen, artists at the Baltimore-based design agency veered slightly from their traditional medium of graphic design to create a light installation for the event, something the team had wanted to do since the festival started in Baltimore three years ago.
Two hundred light bulbs will be completely submerged in the harbor at various depths for their piece, "Some Thing in the Water," which measures roughly 33,000 square feet.
"Once the lights are four to five feet down, you don't even see them anymore," Willen points out, also noting that the water quality varies from day to day, which will alter the piece along with it.
They used the murky water to their advantage.
Diffused blue lights, strung together with about six miles of wire, will glow from beneath the surface, giving the work an organic feel, as if it were a mysterious underwater creature—perhaps a giant luminescent jellyfish, Willen suggests, that appears to be breathing. The lights are programmed to blink, dim, and brighten so that at times they appear more energetic and frenzied, and at times there are quieter, more contemplative periods, like a symphony's movements.
On that note, the piece will be set to an ambient soundtrack, created by Willen, who is also one half of the instrumental duo Peals.
Post Typography collaborated with PI.KL Studio architects for the project, and Figure 53 provided technical assistance, both of which are based in Baltimore.
Find "Some Thing in the Water," stop No. 35 on the tour map, near the Pier 5 Hotel Baltimore, across from the National Aquarium. Listen to an audio tour of their piece by dialing 410-934-7821 and entering art installation code 14.
"A lot of the other pieces are more about the lights themselves," Willen says. "We wanted to activate a space in the harbor—to actually activate the water itself as a medium. We wanted to take the harbor—the reason Baltimore exists—and use that as the canvas for the viewers' imaginations."