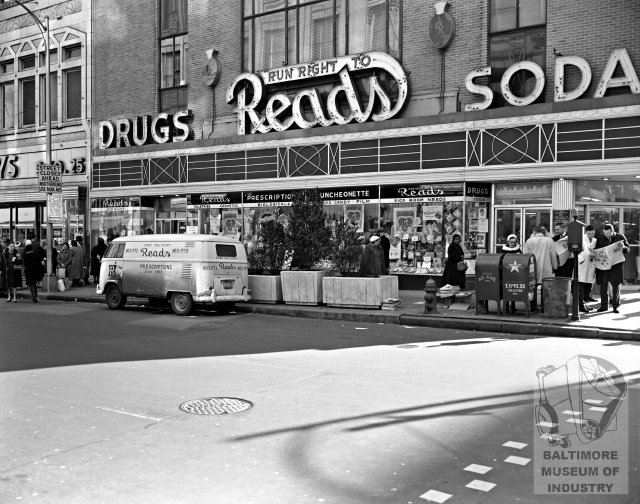 Courtesy of the Baltimore Museum of Industry
For 54 years, audiences have packed into Spotlighters' intimate theatre-in-the-round productions to experience everything from Shakespeare's soliloquies to modern musical numbers.
Now, as The Audrey Herman Spotlighters Theatre nears the end of its lease at its longtime home in Mt. Vernon, its staff hopes to relocate to the historic Read's Drug Store building on Howard Street—the site which saw one of the country's first lunch counter sit-ins in 1955 and ultimately sparked the desegregation of multiple establishments across Baltimore during the Civil Rights era.
"Not only did Read's not want any blacks at their lunch counter, but it was a whites-only drugstore, so the only way a black woman could even go in there was if she was a white lady's maid," says Fuzz Roark, Spotlighters executive managing and artistic director. "It was such a heroic event that was important in turning the tide across the Southeast."
The former Read's building is one of 16 vacant Westside properties that are being remodeled by the Baltimore Development Corporation (BDC). Spotlighters is currently working on a proposal that will be submitted to the BDC in mid-January, and, if all goes well, construction could begin as early as 2017.
Roark says that Spotlighters has exhausted every spare inch of space at its current 6,800-square-foot home on St. Paul Street, and that the expansion will provide a more comfortable audience environment as well as help to further the theatre's education and community outreach programs.
Renovations of the 20,000-square-foot Read's building will eventually yield a 22-by-24-ft. arena-style main stage accommodating an audience of 120 (Spotlighters' current theatre only seats 65), a traditional proscenium-style stage to be used for rehearsals and community events, more accessible dressing rooms and backstage space for actors, and plenty of much-needed office and classroom areas for Spotlighters' Young Actors Academy.
In addition, Roark says that commemorating the historical significance of the Read's sit-in will be a top-priority during the remodel. Specifically, plans call for a mezzanine level café off of the lobby, which will showcase a replica of the lunch counter and museum-like photo exhibitions revealing detailed information about each of the Morgan State University students who participated.
Although the Read's building provides much more room to breathe, Roark is confident that Spotlighters will maintain its reputation of connecting the actors with the audience on an intimate level.
"I'm sad that we're going to have to leave our little theatre with nine-foot ceilings. It's the stage where [founder] Audrey Herman herself directed and appeared for 40 years," Roark says. "But we're going to take her history and her legacy with us. She was all about audiences and actors sharing each moment. For her, theatre wasn't just something you went and sat and looked at, it provoked you and had an effect on your life."