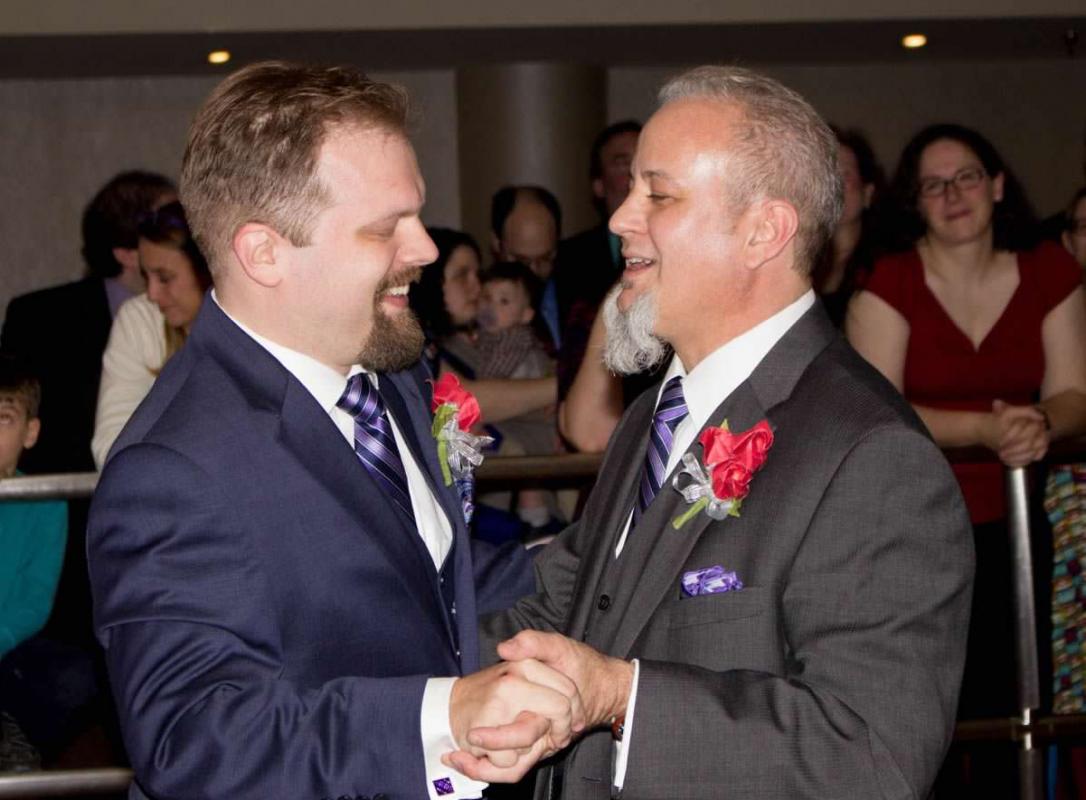 Hampden residents Dan Ewald and Jon Kmetz are among the Baltimore residents sharing their life stories for the oral history project. —Courtesy of Dan Ewald
Though only a handful of loved ones were in attendance as Hampden residents Dan Ewald and Jon Kmetz tied the knot in 2013, their nuptials were no small affair. In fact, as the two exchanged vows in Druid Hill Park almost eight years ago, they were joined by a crowd of onlookers—and more than 15 other ecstatic couples. 
The occasion marked the kickoff of Pride week, and Baltimore City's first-ever mass wedding ceremony—which came just over six months after Maryland legalized same-sex marriage. Officiated by then-mayor Stephanie Rawlings-Blake, "It made quite a bit of a splash," says Kmetz.
This month, he and Ewald will have the chance to tell the story of their special day and preserve it for future generations as part of StoryCorps first-ever virtual mobile tour. 
Through May 29, the 15-year-old oral history project—whose mission is to honor and preserve the voices of everyday Americans—will partner with WYPR to host two rounds of virtual interview sessions with Baltimore residents. (Although reservations are currently full, those interested can access a waitlist here.) Once on file, the recordings—which typically feature meaningful conversations between two friends or family members—will live at the Library of Congress' American Folklife Center in Washington, D.C. Excerpts of the sessions may also air during WYPR's Friday Morning Edition program.
"Telling your story is always important, and we just happen to be living through a pretty remarkable time right now," says Danielle Andersen, associate director of the StoryCorps Mobile Tour. "Baltimore is one of those cities that is just tremendously dynamic. What people are working on and advocating for in the community is always changing. It's a city that we love to return to as often as we can."
Andersen says that the nonprofit—whose Airstream trailer-turned-recording studio last made a stop in Baltimore in 2016—was forced to make a series of changes to its mobile tour model for obvious reasons in the wake of the pandemic. Now, StoryCorps hopes to reach a wider range of subjects with its new, remote platform—which allows participants to step into a "virtual recording booth" using their mobile devices.
"During a typical in-person stop, we would park the mobile booth in one spot and ask people to come to us," she says. "What the [virtual tour] allows us to do is really expand that out. It brings us into people's homes, which is tremendously exciting." 
WYPR president and general manager LaFontaine Oliver adds that the virtual model also increases access for those with transportation restraints, who might not have been able to travel to the Airstream's parked location. He hopes that the various perspectives will offer listeners a chance to better understand their fellow community members. 
"It's often said that listening is an act of love," Oliver says. "I think the more that we are able to listen to each other, the more we're able to see the things that unite us, and hopefully, minimize some of the things that divide us."
As for Ewald and Kmetz, who said "I do" a second time with family in 2016, the couple hopes that their story will inspire local listeners to step up as forces of change.
"I'm really hoping that [the story] will encourage younger LGBTQ folks to keep moving forward," Kmetz says. "Sometimes, it does feel like an uphill battle. But I think the one message that I want to get across to people is that the fight is worth it."