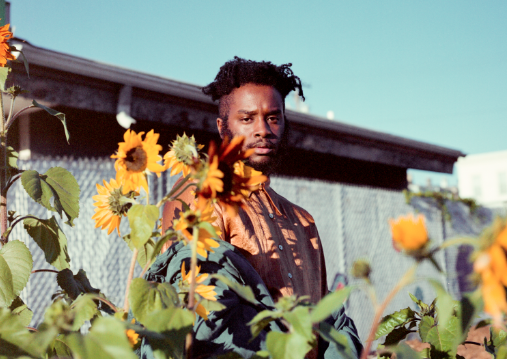 Micah E. Wood.
In the latest iteration of The Big Baltimore Playlist, we found five local songs ranging from futuristic rap and high-flying post-punk to shimmering, nostalgic New Wave. Check back each month for new top songs of the moment, and follow our Spotify playlist as we continue to build a soundtrack for our city. 
---
"DaWon" by Abdu Ali
From his Bmore Club roots to his punk-infused noise-rap, Abdu Ali continues to experiment and evolve, with this new single off his upcoming FIYA!!! mixtape being nothing short of rebirth. Expanding on his energetic work that came before, the young artist brings fiery (and at times NSFW) verses that traverse a transcendent discovery of self through a swirling dystopian soundscape. He proudly rejects sympathy for the struggles he's overcome, let alone the city from which he was born, with his Baltimore roots imbuing every inch of this frenetic, futuristic sound. If you missed last week's explosive performance last week with a full band at the Kennedy Center in Washington, D.C., be sure to check it out to see what Abdu is all about.
"Riddles" by Ed Schrader's Music Beat
So we know we included Ed Schrader and Delvin Rice in January's BBP, but watch the music video for the title track off the band's boisterous new record, and you'll quickly see why we have to give the post-punk duo a little back-to-back love. This song is an exuberant feat, but its infectious film incites some serious FOMO, as, simply put, making it had to be so much fun. With twinkling piano and an urgent, anthemic chorus, hometown heroes like Dan Deacon (who co-wrote and produced the album), Manny Williams (aka DDm of Bond St. District), and Lexie Mountain (of Scroll Downers) play dress-up, dance, and sing along. Keep your eye on the Music Beat—with recent features in Rolling Stone, Pitchfork, and Spin, these local dudes are on the cusp of something big.
"Sheet Stains" by Lauren Ruth Ward
We just caught wind of this Ellicott City native, whose earthy, boot-stomping rock rolls like old wheels down a dusty back road. Fittingly, she's recently relocated to California, where the sunny Golden State has infused her forthright, vintage-tinged folk sound. With brash lyrics and hearty, husky vocals, Ward is as much an East Coast songstress as she is a West one, with maybe even a hint of Southern belle. Think Janis meets Dolly meets Florence. And this single, off her February Well, Hell will have your toes tapping along. Her fearless sense of style with force you to follow her wherever she goes next (The Los Angeles Times and Nylon are already groupies). In fact, on April 28, you can catch her back in Baltimore at the Ottobar .
"Half A Heart" by Mark Renner
This song, or better yet, this album, is one of the great comeback stories of the past decade. In the '80s, there was a little-known Baltimore County musician by the name of Mark Renner who was said to have made music with the moody likes of Ultravox and Cocteau Twins—and who himself was as talented as any one of those British indie big-weights. Culled from Renner's 1986 All Walks of This Life, this jangly track, recorded in Scotland with the guidance of Big Country's Stuart Adamson and re-released this spring, is being brought back to life for the sole purpose of appreciating this masterful musician whose songs never made it out of the shadows. (Though, as a painter and printmaker, he is well regarded for his prolific art.) With driving drums, shimmering guitar, and buoyant synth, Renner's soft, distant baritone will leave you haunted, and hungry to hear more.
"Winning" by Peso Da Mafia
Last summer, Baltimore got a viral dance moment, but it wasn't from Future Islands' sultry Sam Herring moves. Instead, it was from the young guns of Peso Da Mafia and their shimmy-shaking breakout, with "Money Man" now reaching more than 3 million views on YouTube. A month ago, they released this highly anticipated follow-up, featuring that same confident, come-up attitude and an infectious slow-burn beat, equipped with an even catchier Mike Jones tribute at the chorus. You know the one. With shout-outs in XXL and Complex magazines, and a spot on this year's lineup at SXSW, the group is one of the next big rap acts to come out of the Baltimore scene.