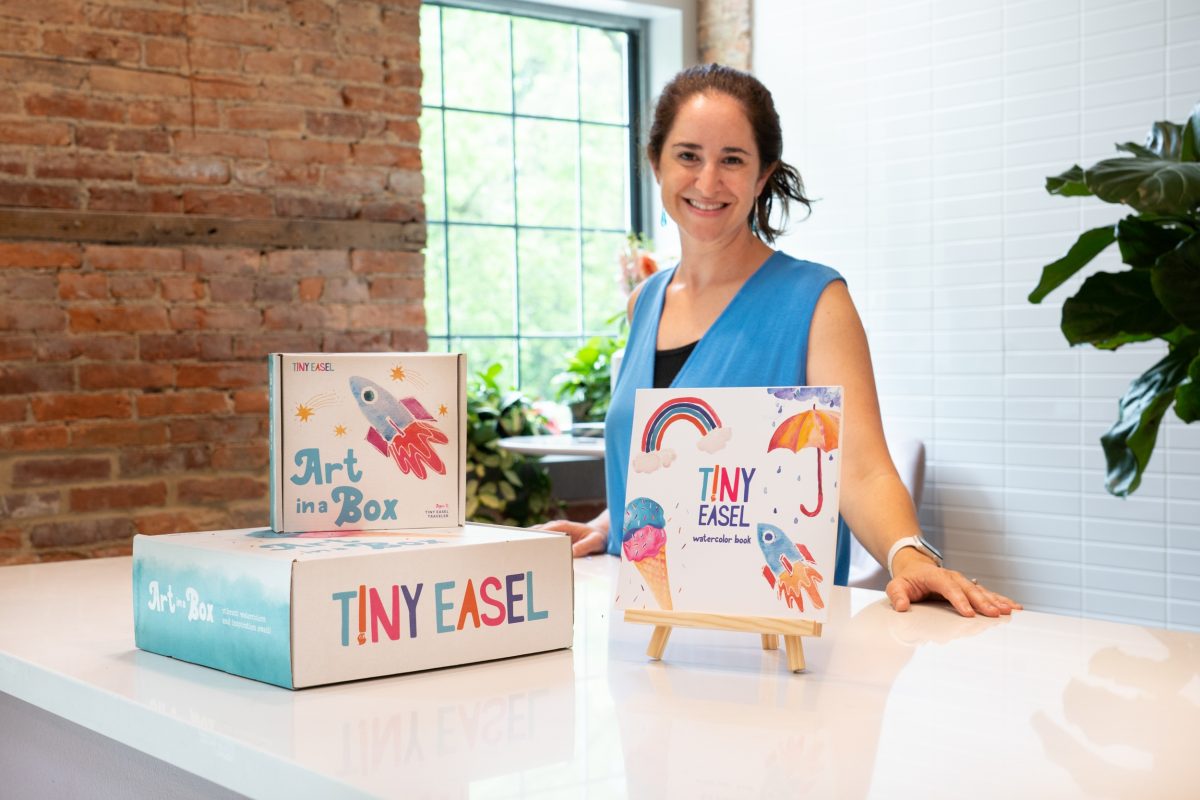 Photography by Steve Davis
Working mom Jennifer Nolley loved to paint when she was growing up, and she wanted art and creativity to be part of her children's lives, as well. But the logistics of it all—finding the right supplies, getting prepared, cleaning up—were both challenging and stress-inducing. They took a lot of the fun out of it.
Unhappy with products already on the market, Nolley came up with a solution. She started Tiny Easel, a company that provides art in a box for budding artists—and the busy parents who want to encourage them. The goal, she says, is to make art fun and approachable for children, without being stressful for anyone else.
"I wanted activities that would hold their interest," Nolley says. "Things that they could enjoy and that I could enjoy without hovering or worrying about the mess."
Nolley, 37, launched the company this month, both online and with a pop-up shop at Whitehall Mill in Hampden. Its motto is: "For little hands with big ideas."
Tiny Easel sells art activity kits that contain everything families need to make watercolor paintings, drawings, and sketches. (Think 36-color palettes, brushes, sponges, spill-proof cups, coloring pages, activity guides, and, of course, a tiny easel.) All they need to add is water.
Nolley said she chose watercolors over acrylics because they're easy to work with and clean up. She added watercolor crayons and pencils to give a variety of mediums.
"Watercolors are amazing for kids," she said. "They're washable and non-toxic. Acrylics can dry out, but watercolors last forever."
Watercolor painting also reminds her of her childhood: "One of the things I remember as a child is doing watercolors with my mom when we would go on vacation," she says. "She would bring a little set of watercolors and we would paint together."
That led to other arts-related interests.
"I have always been taking art classes at MICA on the weekends," she says. "I went to film school. Everything I've done has been art-based. I wanted to be a film production designer for years, working on sets. I did en plein air classes. I think everything in my life just keeps coming back to that moment with my mom doing watercolors."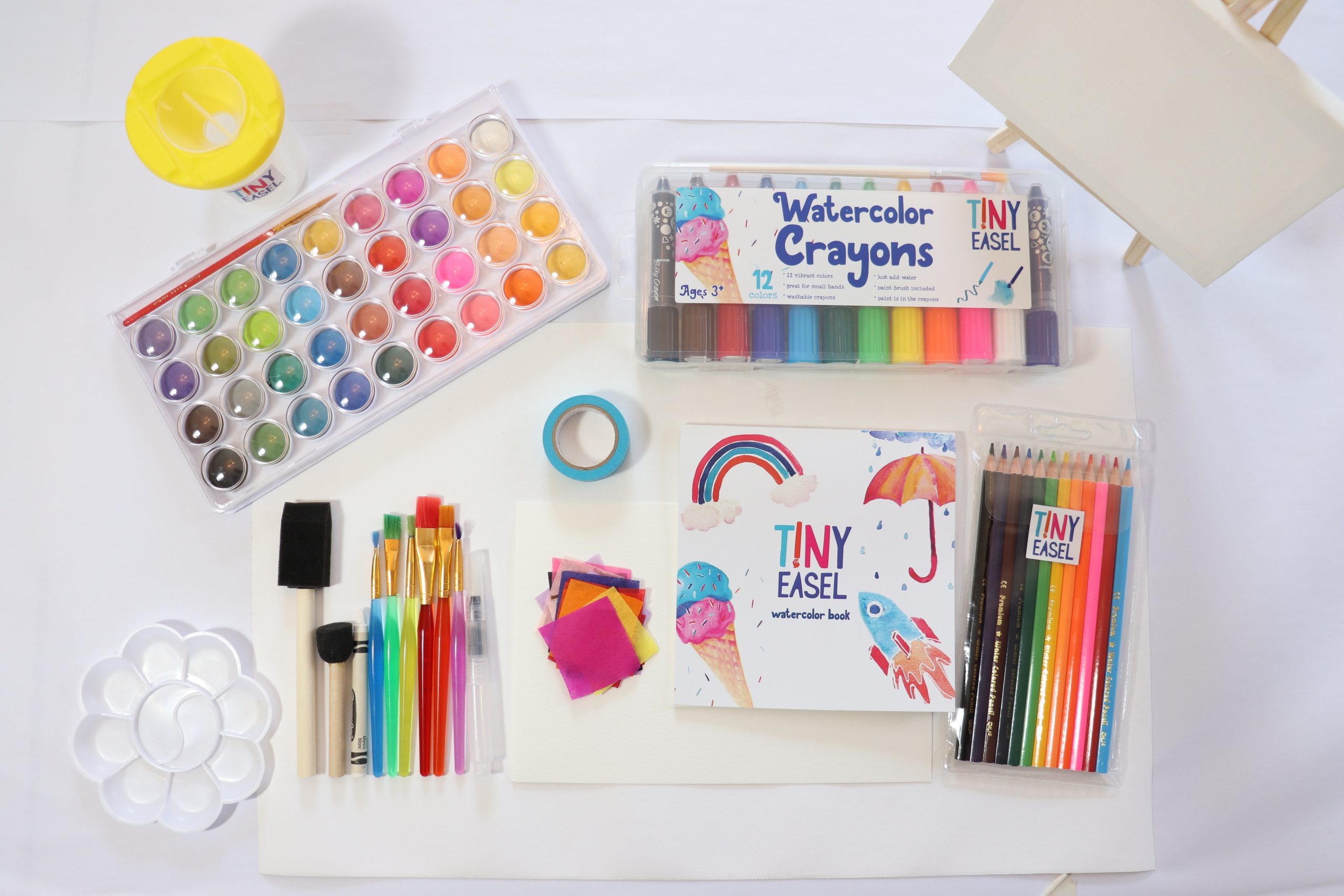 This is the first retail venture for Nolley, a Baltimore native who graduated from Friends School and got a masters degree in interior architecture from the Corcoran School of the Arts and Design in Washington, D.C.
She started Tiny Easel in addition to her full time job as Developer and Designer for Terra Nova Ventures, a real estate company that was started by her father, David Tufaro, and specializes in the adaptive reuse of historic buildings, including Whitehall Mill and Mill No. 1 in the Jones Falls Valley.
She's married to Dawson Nolley, a real estate agent with Cummings & Co. Realtors. They live in Ruxton and are raising three children: Elizabeth, 7, Kathryn, 4 and George, 1. She volunteers at Riderwood Elementary School in its Smart Art program, which introduces kindergarteners and first graders to art.
Nolley said she's had the idea for Tiny Easel for some time, but really started working on it while on maternity leave with her third child last summer. She spent more time developing it while the family was in quarantine during the pandemic. "Being stuck inside with the kids was helpful," she says, "because it gave us time to try out more things."
Many of the line drawings in the coloring books grew out of trips she and her children took to the National Aquarium, the Maryland Zoo, and Cylburn Arboretum.
"I've been going around Lake Roland a lot during the quarantine, so a lot is also inspired by nature," she says, flipping through the watercolor book. "This drawing is inspired by my daughter, who always wants more sprinkles on her ice cream. This is inspired by Hilton Carter. He's a big plant guy. This is a still life. This is a drawing that I created to teach my kids than when you overlap colors, you can get new colors. Jumping in puddles is a big thing for my kids."
Even the rocket ship on the box, she said, is "inspired by the Maryland Science Center and elements of outer space."
The target audience for Tiny Easel is children aged 3 to 10, although there's nothing to prevent older children and adults from buying the boxes, too. The instructions are general enough that users can go in any number of directions. And while Nolley doesn't promise that Tiny Easel will turn every kid into the next Picasso, she says the idea is simply to introduce kids to painting and let them take it from there.
"My hope is that kids just enjoy painting at an early age and take that into whatever aspect of life they want to," she says. "Maybe it's becoming an architect or an interior designer or a graphic designer. Maybe it's not even specific to design. My hope is that they develop some creative skills from what they've learned at an early age, and have fun with it."
Earlier this month, the Nolleys celebrated Tiny Easel's debut by turning a merchant space at Whitehall Mill into a pop-up shop for the day.
Andrea Griffin, a real estate agent, bought six Tiny Easel Painter Boxes as gifts for clients and friends. Rachel Tranter bought a box to use herself. Lauren Prendeville said she bought two travel kits for her daughter, Madison, because they were going on a car trip.
Prendeville said she likes Tiny Easel because the paints are watercolor, and that's different from the usual acrylic or tempera paints.
"It's something that parents don't even think of," Prendeville said. "We buy chunky Crayola paint because we think that's all kids can handle. This actually teaches them watercolor, which is a more sophisticated form of art."
Nolley plans to eventually sell each item in the kit separately, so it's easy to get refills. She said most of the sales will be online, but she'd like to do more pop-up events to spread the word.
In many ways, Nolley said, Tiny Easel represents everything she loves in life and is good at—kids, painting, drawing, design, sparking creativity. If it's a success, she said, she'd like to devote full time to it. "That would be my dream."