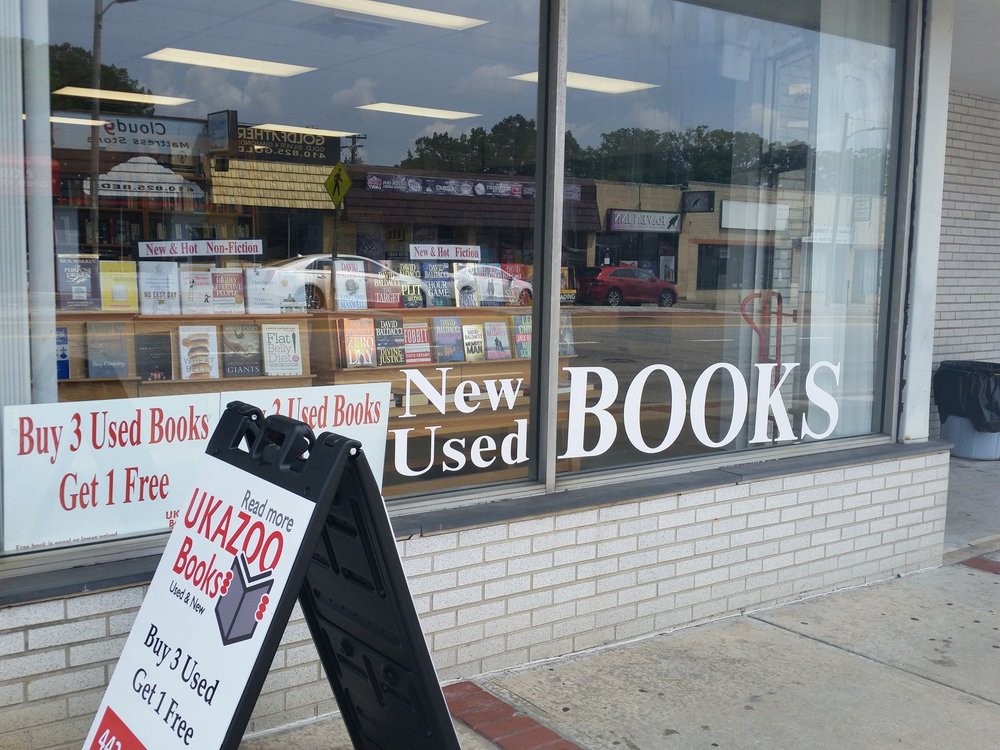 —Ukazoo Books via Yelp
Ukazoo Books, an independent new-and-used bookstore that has operated in Towson since 2007, will close by the end of this year. Owner Edward Whitfill announced in a Facebook post earlier this month that closing the store is "the only course of action" possible in the wake of the pandemic. 
"Before COVID, we weren't going to get rich owning this, but I could pay myself and my employees a decent wage," Whitfill tells us. "We built a bookstore that we thought was good for our community."
But during the pandemic and after lockdowns, Ukazoo's sales numbers never improved, he says.  "It's not coming back, there are too many factors."
As Whitfill seeks to sell off the store's existing inventory, Ukazoo is having a progressive sale. As of now, new books are 10 percent off, used books are 30 percent off, and non-book items are 25 percent off. Those percentages will "bump up," Whitfill says, as the sale continues. 
Nancy Hafford, executive director of the Towson Chamber of Commerce, says Ukazoo has been "a wonderful bookstore in our community."
"It wasn't just about people selling books," she adds. "It was about people giving and recommending books. That's what was great about that bookstore."
That feeling of exchange and sharing within the community is part of what Whitfill says he will miss most. A couple of the books he's read most recently were selections recommended by customers, and they were "brilliant," he says. He hopes people remember Ukazoo for that atmosphere of discovery.
"We had so many customers referring books to other customers," he says. "That's the kind of thing that only happens in an independent bookstore."
Ukazoo moved to its current location on Loch Raven Boulevard near Joppa Road in 2017. Before that, the store was in Dulaney Plaza, where it opened in June 2007. Whitfill took over full ownership two years ago, and was a partner for several years before that.
In 2014, Whitfill was honored by the Romance Writers of America as "Bookseller of the Year." The year after, the award went to Powell's Books in Portland, Oregon, which claims to be the largest independent bookseller in the country. Powell's, Whitfill says, is his favorite bookstore, so he was honored to be "sitting side-by-side" with them.
Another favorite memory for Whitfill is Ukazoo serving as a location for book signing events for some graduating students from the George Washington Carver Center for Arts and Technology. For a few years, he says, some graduating students would publish books and use the store to celebrate.
"That was just amazing to see these kids who, they're literally kids, and they're writing a book," he says. "They had amazing support behind them."
Baltimore County Councilman David Marks, who represents the Towson and Loch Raven areas, also laments the loss: "I always liked that building," he says. "That's a blow for that corner."
As the store closing sale ramps up, Whitfill says he'll also sell off bookshelves and other display features. His goal is to finish up without any debt. He also hopes the area can develop into a more walkable district, like downtown Towson.
"It takes real effort to support a local business, and we need them," Whitfill says. "In a world full of Applebee's, we need a Pastore's Deli. But I understand that it takes a bit more of an effort, because we don't deliver to your door, and right now Amazon rules the world. But we want a world where we can walk through. This is not a walking neighborhood yet, but I think it can be."