Clavel's Carlos Raba Gets His Remington Gym Off the Ground
Raba and his Brazilian Jiu-jitsu practitioners are back in bloom at Guardian Baltimore.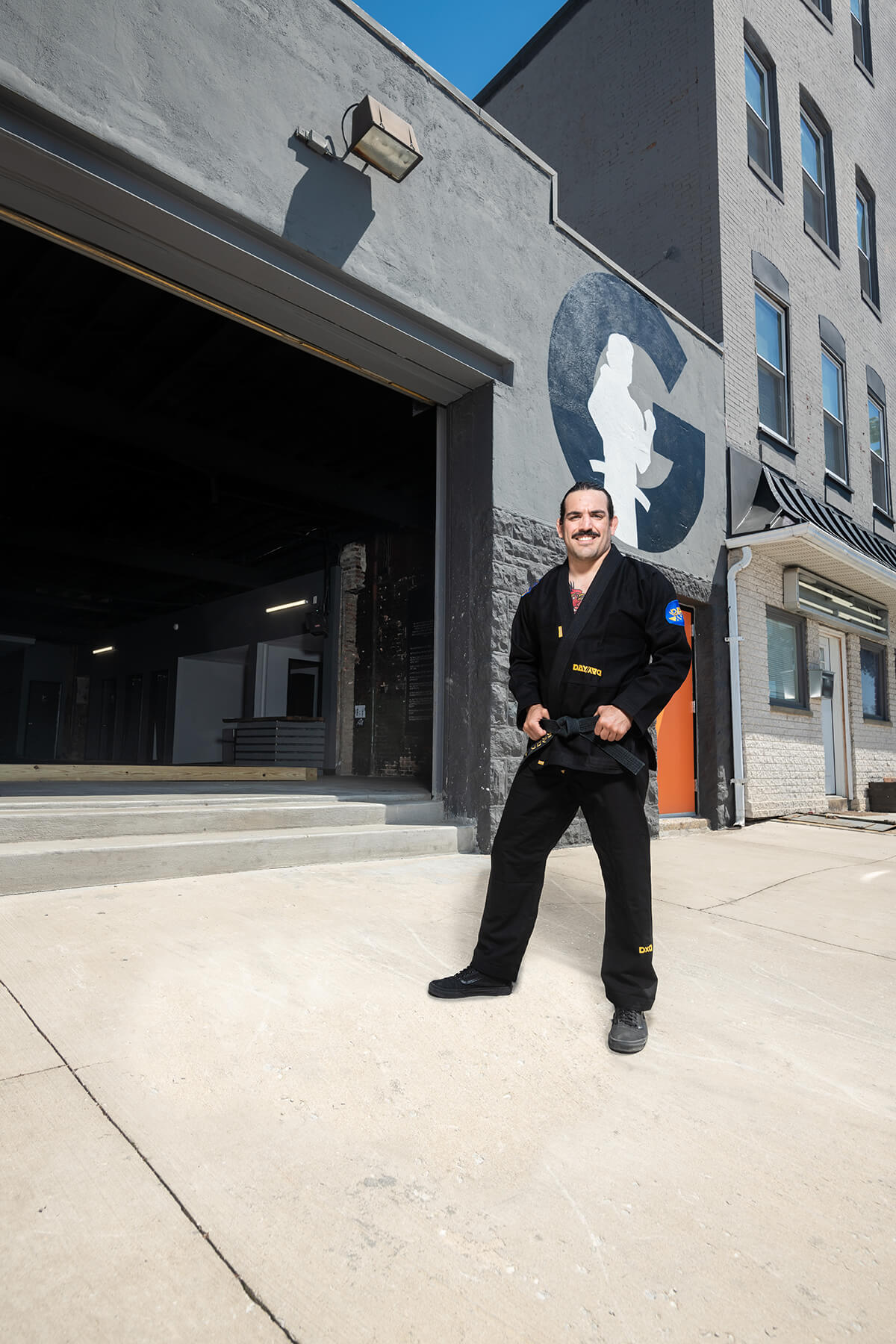 When Carlos Raba was forced to close Guardian Baltimore on March 13, 2020, the Clavel co-owner-chef was devastated.
Just a few weeks before the pandemic shut down the city, the new community gym nonprofit, which offers free Brazilian Jiu-jitsu classes to kids, had finally gotten off the ground after years of planning.
"I felt defeated," says Raba. "I ended up with this beautiful space and started to see the kids and their excitement. When it shut down, the only thing I had was empty walls with no energy. I cried."
Fast forward to this spring, Raba and his pint-sized practitioners are back in bloom. (He also trains adults who, along with donations, help sustain the gym.) It's been a particularly emotional year for him, as after 23 years of living in America, he also became a U.S. citizen in March, exactly one year to the date after having to reinvent his restaurant next door due to COVID-19.
When Raba first discovered the martial art, it was nothing short of life-changing. "Playing sports kept me out of trouble in high school," says the former wrestler and football player. "But after high school, I was missing something. I had so much energy, and when I was grumpy or angry, I'd drink with friends, because we had nothing to do. Until one said, 'Have you heard about Brazilian Jiu-jitsu?'"
Raba, who now holds a black belt in his practice, has continued to train ever since. Three years ago, he came up with the idea for Guardian, based on a sister dojo in Oakland, California, started by a friend from Bethesda. "What we have in Baltimore is kids with nothing to do but hang out on street corners," he says. "I wanted to give them a passion that has helped me."
"I HAVE A KID FROM GILMAN ROLLING WITH A KID FROM EAST BALTIMORE."
Raba, who was raised in Sinaloa, Mexico, before coming to the U.S. at the age of 16, grew up with his own share of struggles. His mother, an accomplished journalist, fled Mexico with the help of Amnesty International in 2000 after Raba's father was murdered during a home invasion. Raba and his older brother were offered political asylum, too, although life in America, where they soon found themselves in a Detroit shelter and, later, homeless in Washington, D.C., wasn't exactly easy either. Thanks to a chance meeting, they were taken in by a young lawyer who worked at an immigration law center in Georgetown, and they stayed with her for several years.
"Without even knowing us, she put us in her car and took us to her home in Takoma Park," he recalls.
The lesson of giving back—something Raba had also seen as a child in Mexico—is one he's never forgotten.
"My grandfather was a doctor who gave free consultations to lower-income families," he says. "My grandmother was a nurse who adopted kids. It's natural for me to want to help."
At Guardian, kids ages 4 to 17 can train for free, and Raba gives a free "gi," or uniform, to every student who enrolls.
"The program is for anyone," he stresses, being particularly proud of the gym's diversity. "I have a kid from Gilman rolling with a kid from East Baltimore. Both have struggles, but very different struggles. Both can learn from each other about life."
In the coming months, Raba hopes to offer not only a safe haven for his current roster of 20-some kids to train and do homework, but a space that will expand their world in other ways. He's thinking about forming a poetry or photography club, or running a barista class with his friend Kris Fulton, the owner of nearby Sophomore Coffee. He's also considering offering an incentive to keep kids coming to the mat.
"If you come and you're consistent, you're going to get a burrito a week," says Raba, whose taqueria is mere steps away from Guardian. "The burrito might be the thing that gets you in the door, but I'm hoping they'll get hooked on Jiu-jitsu."