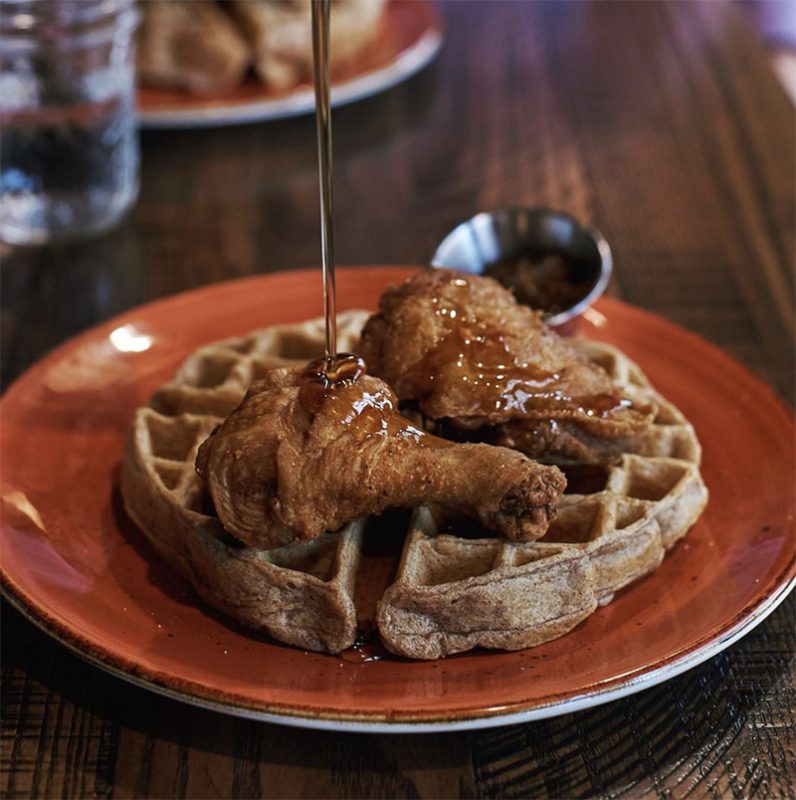 Jamie Sumague
Five things to eat, drink, see, hear, and do with your holiday weekend.
 EAT
Ida B's Table, 235 Holliday St. 9 p.m. $91.79. 410-844-0444.
Although Ida B's Table opened its doors four months ago, it has quickly become one of the most exciting establishments in the city. If you haven't experienced this modern soul food yet, make it a New Year's resolution and find yourself there for a special Sunday feast. Ring in 2018 with a four-course dinner by chef David Thomas plus live music by local soul singer Ama Chandra to boot. Each plate on the menu is inspired by African-American history and traditions, including the re-envisioned "chicken" and waffles, black bass with black-eyed peas, and grilled rack of lamb with spoon-bread masala. Just be sure to leave some room for Ida B's fantastic desserts, like scratch-made sweet potato cheesecake with a champagne toast.
 DRINK
Suspended Brewing Company, 912 Washington Blvd. 8 p.m. $60.
After three years in the making, Suspended Brewing Company is finally pouring out the first brews from its brand-new brewery in Pigtown. On Sunday evening, grab an inaugural pour (or few) of their creative and sustainable microbrews before singing "Auld Lang Syne." Cocktails will also be on tap, non-alcoholic drinks will be flowing from Vigilante Coffee and Wild Kombucha, and hangover-repellent chow will be slung by the bun masters of Ekiben. Partake in a midnight beer toast when the clock strikes 12 and fill up a crowler to take home.
 SEE
The Hippodrome Theater, 12 N Eutaw St. 7-9:30 p.m. Prices vary.
This New Year's Eve, say goodbye to another crazy year with some much-needed, unfiltered humor from this irreverant British comedian. We were as surprised as anyone when John Oliver became one of America's most beloved nighttime talk show hosts after cutting his comedic chops as one of Jon Stewart's foreign correspondents on The Daily Show. But his brainy, sometimes cantankerous brand of comedic news has become a household favorite thanks to his half-hour HBO show, Last Week Tonight. With two back-to-back shows at the Hippodrome this New Year's Eve, allow this beloved Brit's charming wit and candid commentary send 2017 off with a bellyaching bang.
 HEAR
The 8×10, 10 E. Cross St. 8 p.m. $15. 410-625-2000.
In early October, heartbroken fans and fellow musicians mourned the loss of Tom Petty, one of the greatest singer-songwriters and guitarists of all time. Known as a mainstay of rock-and-roll since the 1970s, Petty, with the help of his band, The Heartbreakers, has become a legendary icon with his masterful guitar skills, signature harmonica riffs, and insightful lyrics, evident in hit songs like "Free Fallin'," "Mary Jane's Last Dance," and "I Won't Back Down." On Saturday, pay homage with a tribute concert featuring local musicians such as Jack Denning, Warren Boes, Keith Tuttle, Eric Dixon, and Steve Blake. A portion of the proceeds will go to the Grammy Foundation's MusiCares Charity, who named Tom Petty their Person of the Year.
 DO
Reginald F. Lewis Museum, 830 E. Pratt St. 12-4 p.m. $5. 443-263-1800. 
The New Year is just around the corner, but we're not quite finished with the holiday season. After all, we're only midway through Kwanzaa. This holiday is not limited to a religion but is rather an all-encompassing celebration of African-American culture, tradition, and heritage. On Saturday, learn about the seven-day holiday at Baltimore's biggest Kwanzaa event featuring African-American dance, storytelling, workshops, and art at the Reginald F. Lewis Museum. Catch performances by the Sankofa Dance Theatre, listen to lectures by food nutritionist Tambra Raye Stevenson and genealogy expert Dr. Donna Hollie, and participate in a gallery walk with quilter Joan Gaither through her new exhibit, Freedom: Emancipation Quilted & Stitched. And don't miss out on the traditional African marketplace where artisans will be showcasing unique crafts and handmade gifts.