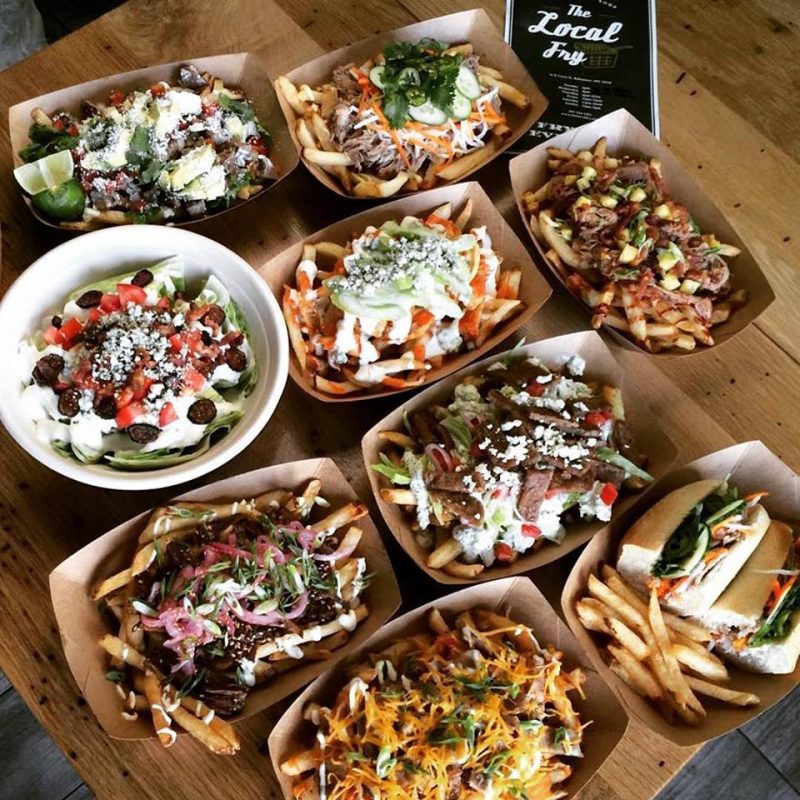 Facebook.
Five things to eat, drink, see, hear, and do with your Charm City weekend.
EAT
Mar. 20: The Local Fry turns 1!
The Local Fry, 21 E. Cross St. 12-6 p.m. 410-244-1283. thelocalfry.com.
One year ago, the Local Fry had us at "gourmet fries." We'll eat a French fry any way you put it, but slathered in poutine? Studded with BBQ? Covered in bacon, ranch, and cheese? Turned into an undone cheesesteak or lamb-laden gyro? Take those things, add late-night hours, and a policy that spells BYOB—well, you've got us as customers for life. This Sunday, celebrate their first birthday with new dishes, sugary sweets from B Doughnut, and complimentary punch from next-door neighbor Bookmakers Cocktail Club.
DRINK
Mar. 19: Can Launch
Oliver Brewing Company, 4216 Shannon Dr. 12 p.m. Free. 410-483-3302. oliverbrewingco.com.
We got all excited when Oliver Brewing finally opened its brewhouse digs in Clifton Park last fall. But now we're even more excited as the brewery is launching a line of cans—by far our favorite way to drink beer, especially on a warm spring baseball night. This Saturday, spend your sunny afternoon sipping cold ones at Oliver's new spot, listen to live music by local Americana musician Jerry Wade, enjoy eats from Roasthouse Pub, and then take some of their beautiful cans (seriously, they're really pretty) to-go.
SEE
Mar. 19: Annapolis Oyster Roast & Sock Burning
Annapolis Maritime Museum, 723 2nd St., Annapolis. 12-4 p.m. $25-65. eventbrite.com.
Typically we tell you to stick around Baltimore for the weekend, what with all of its delicious eats, potent drinks, awesome music, and enticing events. But this Saturday, we're sending you to Annapolis for a bizarre (but amazing) tradition. Now in its sixth year, the capital's maritime museum will celebrate all things oysters, with a roast, fresh shucks, and cocktails to accompany them (bloody Marys and Dark-and-Stormys, to be exact). Hear the funky, folksy music of the Eastport Oyster Boys and partake in the annual sock burning. What's a sock burning, you might ask? Just free up your feet, throw those restrictive foot mittens on the fire, and with that, boat season will officially be open—and spring has officially sprung.
HEAR
Mar. 18: Miss Tess & The Talk-Balks with The Bumper Jacksons
Metro Gallery, 700 N. Charles St. 8 p.m. $15. themetrogallery.net.
For one Friday night, you can catch two of Baltimore's most beloved bands. With Miss Tess's rockabilly blues and the Bumper Jacksons' big Nola party music, the pairing is so perfect that it makes us wonder why we've never thought of it before. Both are a mix of genres—blues, country, rock-and-roll, jazz—and are full of old-school soul and foot-stompin' sound. Whether you catch them alone or at this two-for-one show, they're both don't-miss acts and some of Maryland's most fun, feel-good talent.
DO
Mar. 19: Night Hike at Druid Hill Park
Druid Hill Park, Rawlings Conservatory, 3100 Swann Dr. 8-10 p.m. $10. druidhillpark.org.
Amidst the cement and skyscrapers of Baltimore City, it's easy to forget that a nexus of nature surrounds us, just outside our door. From the Appalachian Mountains to the Chesapeake Bay, the Land of Pleasant Living is filled with outdoor wonders, and even our little city is home to a few. Druid Hill Park is home to great walking paths, peaceful woods, and that big reflective lake, perfect for a summer evening jog. This Saturday, experience it in a new light—at dark—with an evening hike along the Jones Falls Trail. On this six-mile loop, you'll pass the zoo, climb some hills, and maybe even see some wildlife, like deer, rabbits, and birds.