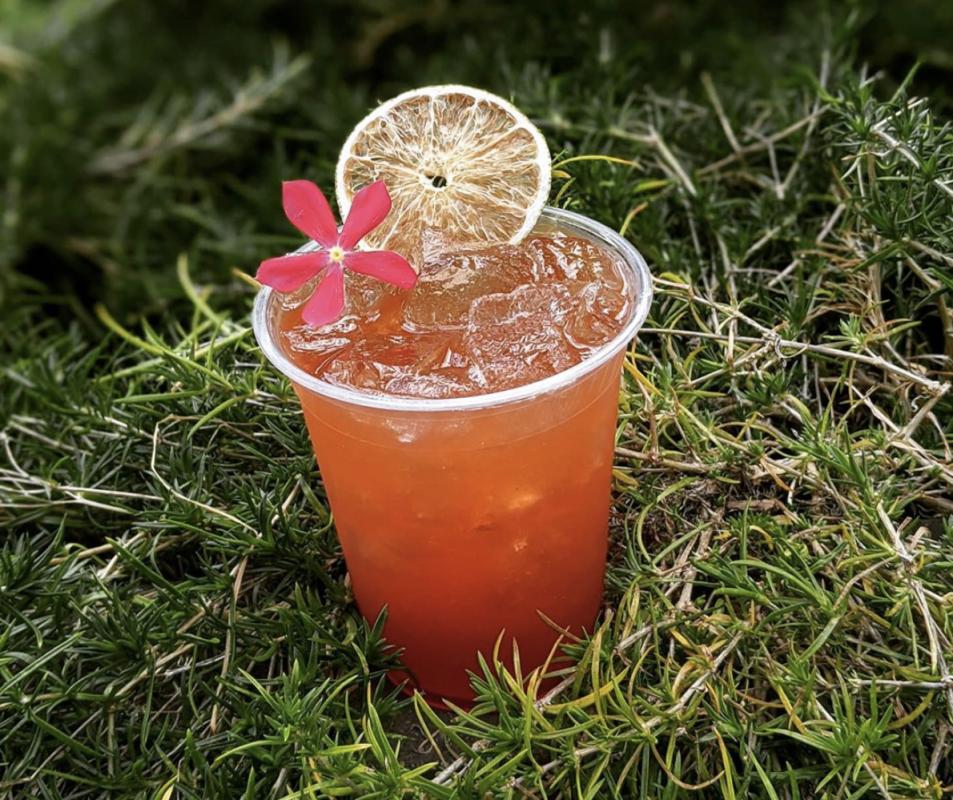 Enjoy a cocktail on R. House's patio this weekend. —R. Bar
---
EAT
Locations vary around Fells Point. 10 a.m.-5 p.m. Free.
Now more than ever, Baltimore's small-business community needs support from its neighbors and visitors. Spend Saturday afternoon strolling through the cobblestone streets of historic Fells Point (mask on, of course) and browsing sidewalk sales from fan-favorite local shops. When you're all shopped out, dine al fresco at one of 29 neighborhood restaurants, including waterfront eateries like The Point in Fells, Thames Street Oyster House, and Kooper's Tavern. Snag a table inside the cluster of outdoor dining "parklets" and toast to the end of this whirlwind summer.

DRINK
R. House, 301 W. 29th St. 3-6 p.m. Free.
After going dark for months due to the pandemic, R. House has returned to its former glory as not only a popular food hall, but also a social hub for the North Baltimore community. Take a break from the quarantine routine (work, Netflix, repeat) and enjoy a socially distanced happy hour on R. House's outdoor patio, featuring deals on everything from tallboys and local cans to the punch of the day. Pair your drink of choice with eats from food stalls like Amano Taco, Molina Pizza, and Stem Farm + Kitchen, and savor the flavors you missed this summer.
SEE
The Impact Hub, 10 E. North Ave. Free.
Despite unprecedented challenges, the Impact Hub continues to bring creatives, professionals, and entrepreneurs together to celebrate the city's creative spirit and drive positive change. This Friday, the North Avenue staple will unveil a much-anticipated window exhibition with the theme Pandemic & Protests, featuring print work by more than 15 local artists. While the Baltimore-centric pieces will be on display through October, stop by the sidewalk opening on Friday to hear live music by local jazz star Brandon Woody's group, Upendo, and take home a print to commemorate this unforgettable period in the city's history.
HEAR
Peabody Heights Brewery, 401 E. 30th St. 6-9:30 p.m. Free.
Kick off Labor Day Weekend with a hoppy beer and the sweet sound of steel pan drums. Head to Peabody Heights Brewery on Friday to hear a live performance by Trinidad & Tobago Baltimore Steel Orchestra in the Abell brewery's beer garden. In between the group's steel pan sets, DJ Redlocks will spin some reggae and soca tunes to keep the celebratory mood alive all night long.
DO
The Book Thing, 3001 Vineyard Lane. 9 a.m.-5 p.m. Free.
There's no doubt about it: This school year will look and feel different than any other. With the first day of classes right around the corner, this weekend is the perfect time to stock up on reading materials and educational books. Luckily, The Book Thing—a local nonprofit that puts free books in the hands of visitors—is hosting an outdoor giveaway with tons of kids' books and homeschooling texts for parents. Pro tip: This event is first come, first serve, so get there early to beat the crowds.