 Food & Drink
Best Restaurants in Baltimore
As the dining scene sizzles, our picks for the top tables in town.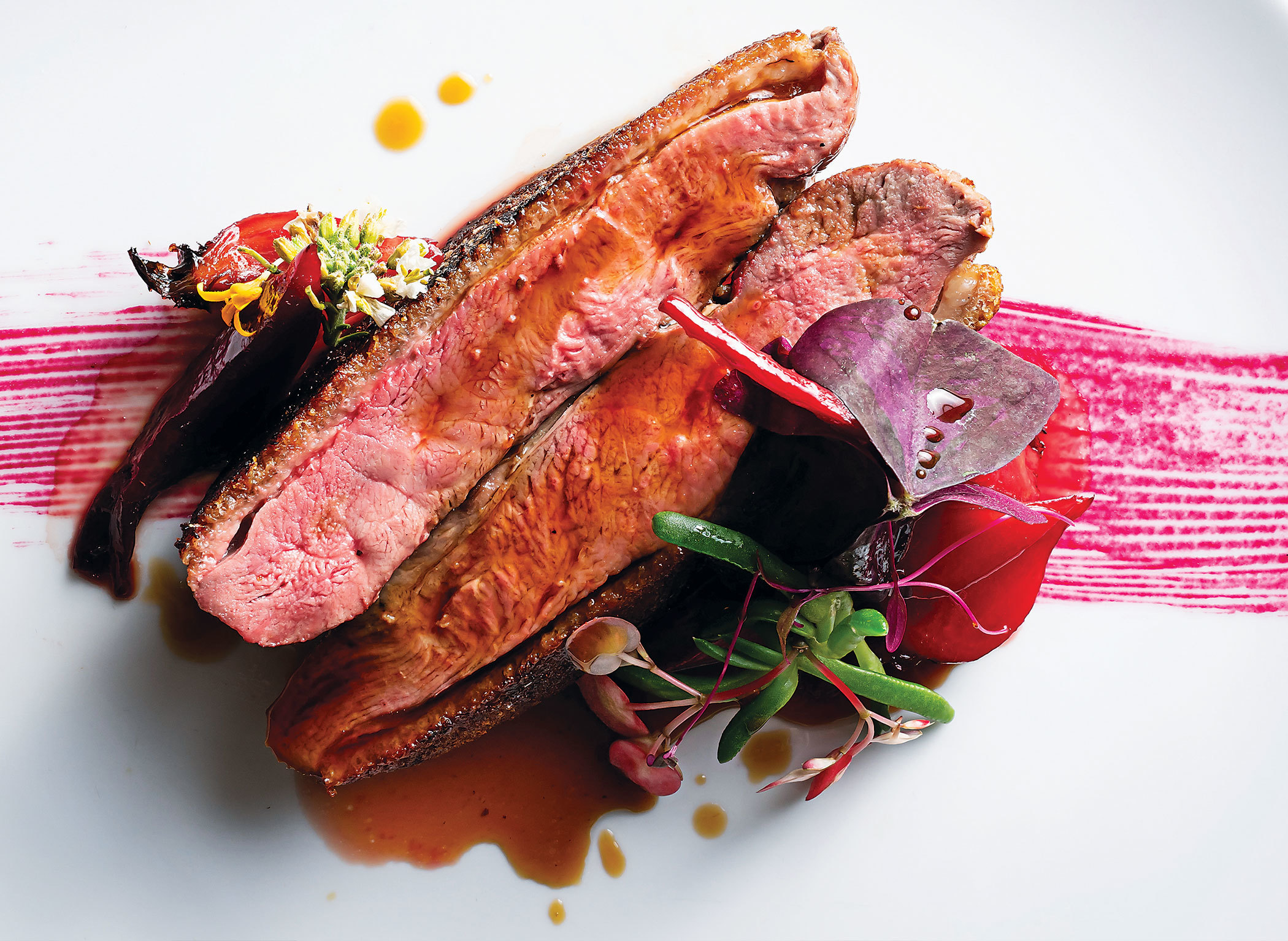 AAfter what can be described as the salad days of Baltimore's culinary expansion in the past several years, the upscale dining scene's bubble has finally burst. Last year sounded the death knell for far too many greats—Fork & Wrench, Jack's Bistro, Modern Cook Shop, Parts & Labor (sniff, sniff), Salt Tavern, Wit & Wisdom—so let us pause for a moment of silence to honor those we've lost.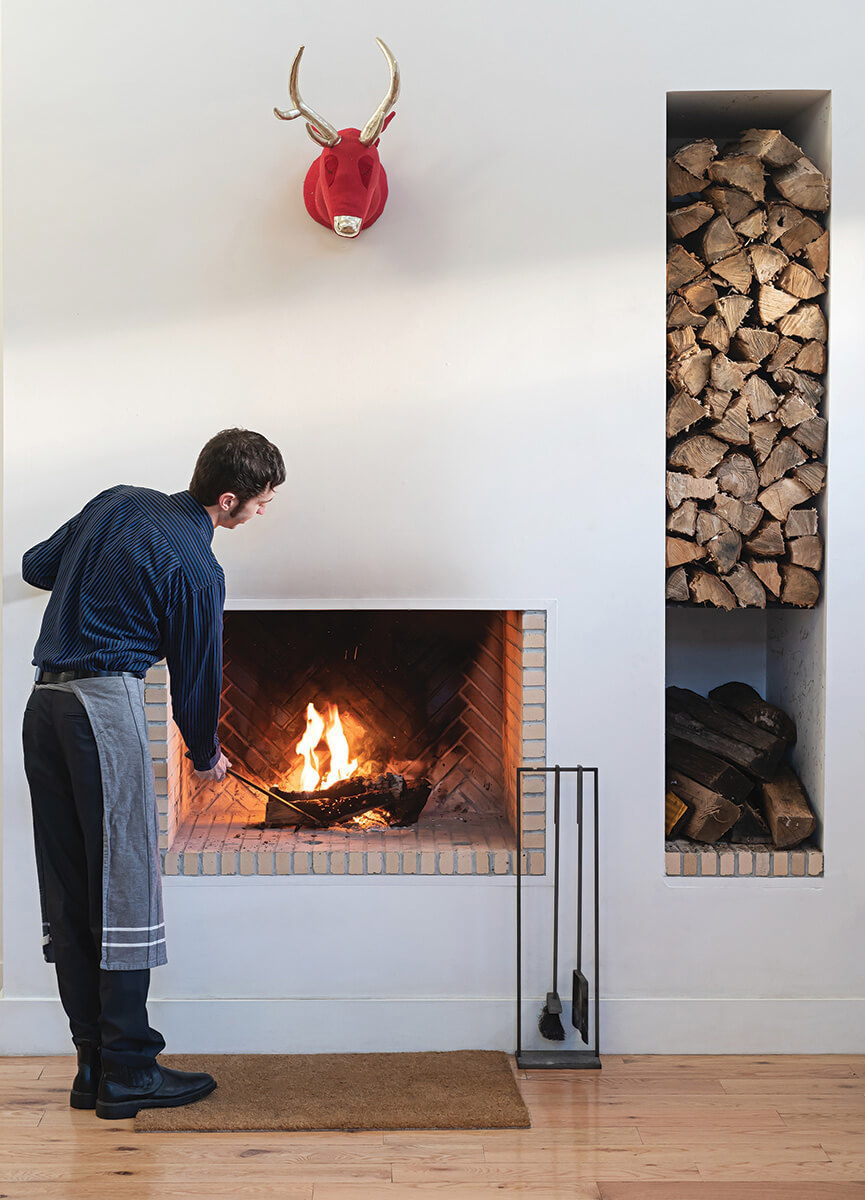 But just as restaurants continue to close, those that remain are at the top of their game. Whether these establishments have stood the test of time and trends (happy 50-plus to Restaurante Tio Pepe and The Prime Rib!) or survived fire and flood (Peter's Inn and La Cuchara, respectively), we're dubbing 2019 the year of "survival of the restaurant fittest."
In the fly-by-night, blink-and-you-missed-it gastronomic world these days, we also salute those Charm City restaurants that have weathered the ups and downs, like our cover model, Cinghiale, a Harbor East institution that continues to delight night after night, despite being in the midst of a massive construction zone, as well as some stiff new competition, or the newly rebranded Gertrude's Chesapeake Kitchen, where executive chef Doug Wetzel, a triathlete who almost died of severe heatstroke while competing in 2015, represents the ultimate comeback story.
But mere endurance isn't enough. The restaurants that persist have one thing in common at the core. They connect us, trigger a memory, leave us with a sense of longing, remind us of our childhoods—or our travels—offer us something new or daring that teaches us or deepens us in some way. (After some mushrooms at Foraged, you'll never take a walk in the woods in quite the same way again.) These are the restaurants that have fed us well, for sure. But they've done more than that: They've moved us in some inexpressible way and, if we've looked up between bites to really look—and listen—they've told us a story.
The restaurants on this list—hailing from still-trendy Hampden to family-friendly Columbia to the up-and-coming Downtown district and historic Annapolis—have done just that. To prove our point, we take you behind the scenes at four special spots: two old-timers that have enjoyed recent reincarnations and two promising newcomers that have quickly made their marks while feeling like they've been here all along. In this issue, we honor the 50 spots that are not only surviving but thriving, making Baltimore a delicious place to eat—and live.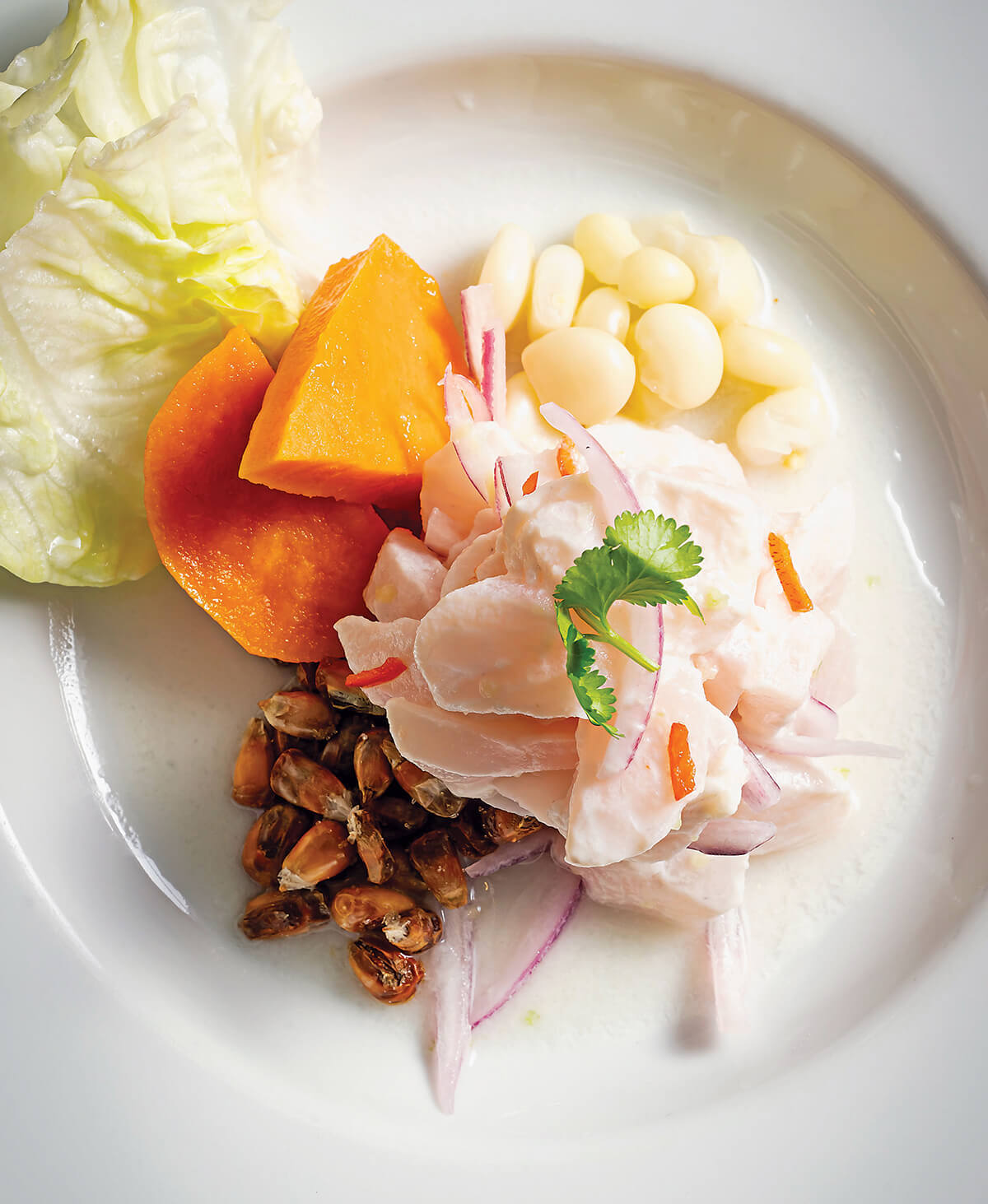 1157 Bar + Kitchen
Locust Point

/

1157 Haubert St.

Loyalists were crestfallen when Jason Ambrose shuttered Salt Tavern, his Butchers Hill brainchild, last summer. Luckily, the chef's small-but-mighty mainstay in Locust Point is still going strong. It's a favorite of neighborhood locals and Under Armour employees, but gastronauts also flock from far and wide to get their hands on the sophisticated snacks paired with a well-curated drinks list. Worldly flavors shine through in shareable plates ranging from curried Brussels sprouts and beer-steamed mussels to wild boar ravioli and the signature sweet-and-spicy Korean fried chicken wings. If you're going the solo route, there are sizeable sandwiches (we savored every bite of the short rib panini with aged cheddar) and rotating entrees like a flavorful seared strip steak with truffle butter. It's an intimate hideaway with only 30 seats, but the flavors are bold enough to rival any fine-dining den.
Alma Cocina Latina
Canton

/

2400 Boston St.

Since opening in 2015, this Latin oasis has transformed the fast-casual wasteland of Canton Can Company into a culinary destination. As bossa nova drifts from the stereo, the bar staff shakes tequila and citrus with vim and vigor, and lush greenery casts an alluring spell, Alma (which means to "feed one's soul") lives up to its promise. Follow our lead with a round of house-made tepaches for the table and then split a smattering of artful small plates, stuffed arepas, and entrees with unusual ingredients such as pomegranate syrup, tamarind mayo, and cilantro dust, all made with panache by Venezuelan chef Enrique Limardo. The crispy polenta cake with grilled fennel and confit beets on a recent trip was especially unique.
Ambassador Dining Room
Tuscany-Canterbury

/

3811 Canterbury Rd.

Certain restaurants just seem lived in—you can feel the joy of past celebrations and promise of a memorable evening to come. Old-world Indian gem Ambassador Dining Room, open since 1997 in a North Baltimore apartment building, fits that bill. The famed indoor/outdoor seating is still as charming as ever, with grand corner fireplaces and a gorgeous garden view. Ambassador's Northern Indian standards like chicken tikka masala and grilled lamb chops are so divine that they tend to be our default order. But on one outing, we decided to go off script with a dish of Chicken Madras, which was bathed in a fierce and herbal curry sauce of green chiles subdued by creamy coconut milk and served with a side of saag, broccoli sabzi, and basmati rice. On top of that, we even skipped the naan for papadum wafers. Lesson learned: There's no such thing as a bad bite here.
Ananda
Fulton

/

7421 Maple Lawn Blvd., Fulton.

Trekking to this pillar of Indian fare, brought to you by the aforementioned Ambassador team, is like taking a micro-vacation. Your travels will be rewarded by a cheerful greeting, exotic flavors, and luxurious digs. In warm weather, breezes drift across the pretty porch; in winter, cozy fireplaces enhance the feeling of comfort and coziness. And then there's the food. Not feeling adventurous? Enjoy the pulled Berkshire pork, a cumin and cardamom-spiked riff on pit barbeque, or relax into the tangy familiarity of their chicken tikka masala. Ready to dig deeper? Go for the Goa Fish, pan-fried and served whole and crispy, finished with roasted garlic and tamarind. Classic cocktails are expertly prepared, and there's a wine list that is tailored to the food—a rare occurrence in global cuisine.
Azumi
Harbor East

/

725 Aliceanna St.

The staff's 2018 trip to Tokyo and Kyoto has livened up the already robust menu at this Japanese jewel that can best be described as the Far East meets Harbor East. With chef Andy Gaynor at the helm, Azumi is making an even bigger splash these days with the addition of a robatayaki grill, where items such as Pacific prawns and Maine scallops get the barbecue treatment. As for sushi, so many spots pimp their rolls with unnecessary ingredients, but a simple nigiri dinner—an exquisite assortment of fluke, Japanese snapper, and bluefin tuna—lets the fish, most of which gets sourced from Japan's famed Tsukiji seafood market, speak for itself.
Bar Vasquez
Harbor East

/

1425 Aliceanna St.

Situated between the ever-growing restaurant scenes in Harbor East and Fells Point, Tony Foreman and Cindy Wolf's Argentine steakhouse can get lost in the shuffle. Overlook it at your own peril. Executive chef Mario Cano Catalán churns out dishes that burst with South American flair, like poached and seared octopus and a tender Wagyu steak served with as good a chimichurri as one can hope to find north of the equator. With a bar, a lounge, and a large dining room that, despite its density, never gets overwhelmingly loud, the food is as pleasurable as the atmosphere. Service is stellar—on a recent trip, our server overheard our plan to split a few dishes, which miraculously emerged from the kitchen on two plates, at no extra charge.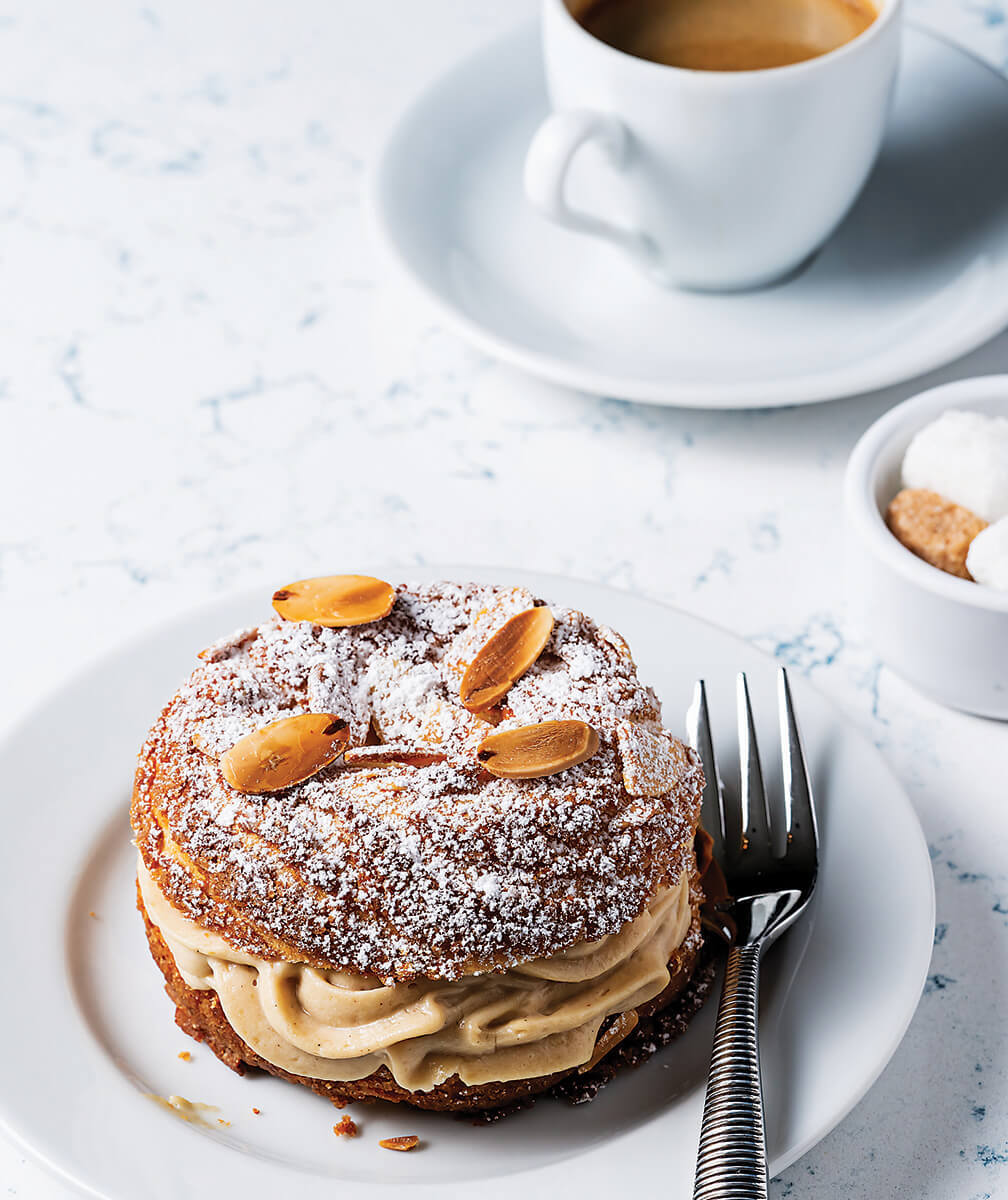 Chez Hugo Bistro
DOWNTOWN

/

206 E. Redwood St.

By Lauren Cohen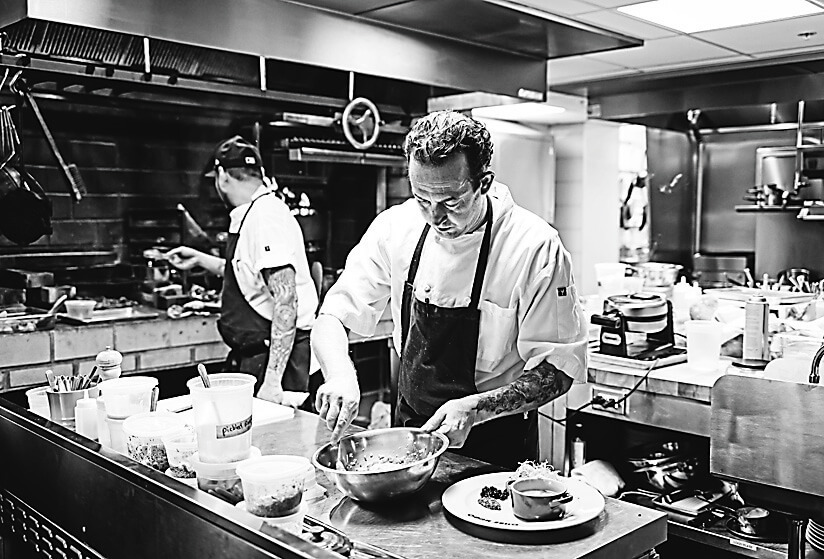 In the basement prep kitchen at Chez Hugo, chef Steve Monnier is running plastic bags of brown-butter roasted pumpkin through a vacuum sealer. It's late afternoon on a Thursday, which means that he's preparing to serve a multi-course tasting menu alongside the restaurant's regular roster of French bistro fare. His plan is to create a pumpkin syrup to use with habanada pepper ice cream for one of the dessert courses. "The pastry is very important," he says in a thick accent that reveals his upbringing in Reims, a city in the Champagne region of France. "It's the last thing people will remember."
Tasting menus are somewhat of a specialty for Monnier, who previously owned the prix-fixe-focused Arômes in Hampden. At Hugo, a polished sequel inside the historic downtown Merchant's Club, he's focused on more familiar fare, while still employing French techniques. It's evident, though, that the experimental menus—which he offers only on Wednesday and Thursday nights—are what keep him ignited.
At 6 p.m., maître d' Marquette Shaw calls down to the prep space to alert the team that the first table has arrived. Three cooks, led by chef de cuisine Jeff Schultz, take their positions in the open kitchen, whose pièce de résistance is a flickering hearth where most of the grilling and smoking is done. Hanging above it is a string of drying celeriac strands that will later be used in a bacon-infused "tagliatelle" topped with white truffles.

Monnier takes his post and begins assembling a carrot tartare with black radish and Champagne vinegar that he carefully wraps in sorrel leaves. In the meantime, the rest of the team begins cooking proteins for the bistro's signature boeuf bourguignon and cassoulet toulousain. Though Monnier didn't have time to print the tasting menu for service coordinator Ashley Hanrahan on this night, she's accustomed to his style. "I've worked a lot of dinners with him," she says. "But there will always be a surprise. He'll use a different sauce or something that I would never see coming.'"
As he places a quenelle of sunchoke hummus with roasted pumpkin seeds atop a pair of French porcelain plates, a special visitor steals the chef's attention. It's his five-year-old son, the restaurant's namesake, Hugo.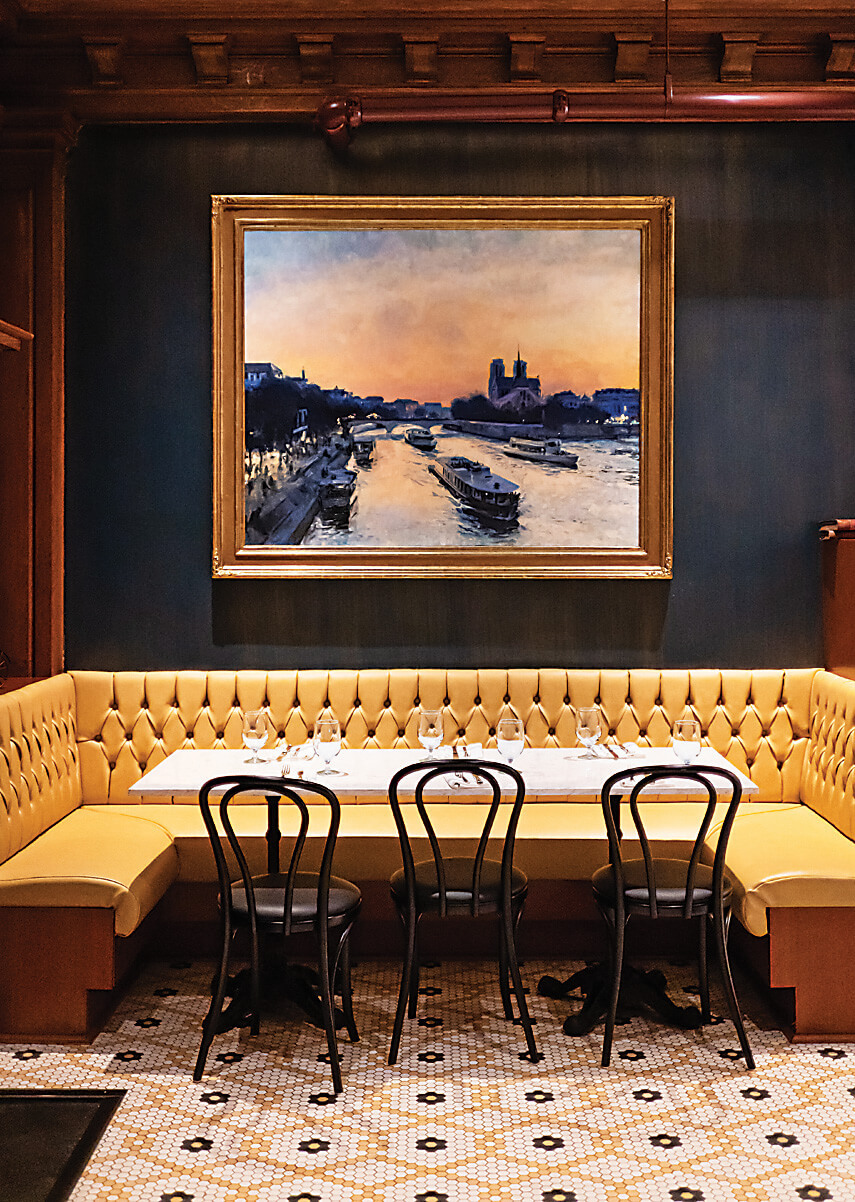 "It's time to get to work man," jokes general manager Christopher Scott, as he crouches down to give Hugo a hug. The wide-eyed boy high-fives all of the chefs across the line before suiting up in a blue-and-white apron that Monnier has to tie around his waist twice. He hangs around the kitchen briefly before retreating to the dining room, where he waits patiently for his order: a medium-rare burger with American cheese.
Hugo's presence brings out the true essence of this restaurant. Though it has only been open for a year, the staff has come to rely on one another like family. Lined up above the range are a collection of magnets that the chefs have all brought back as souvenirs for one another, from places as far as California and Peru.
Several hours later, the chefs assemble a foie gras-filled "Snickers" bar as the final dish of the tasting menu. Though Monnier and his team will do it all again the following evening, it never gets mundane. "At the end of the day, it's a bistro," he says. "We're very casual. We just try to do better every day and not take ourselves too seriously."
Bygone
Harbor East

/

400 International Dr.

"Have you been to Bygone?" asks the top-hatted elevator operator as you ascend to this swanky rooftop restaurant inside the Four Seasons Hotel. Whether you're a first- timer or a veteran, as you step out onto the tile floor and walk past an arrangement of fresh flowers—and feathers—you'll gasp at a view that has never made Baltimore look grander. And while the panorama is the draw, the menu, rooted in early 20th-century classic cuisine, has plenty to sate, from delicate fish dishes (branzino with fregola and clams) to substantial steaks (with a side of cheesy dauphinoise potatoes) and dishes such as lobster Newburg, crab Louie, and a Baked Alaska you haven't dined on for at least a half century. If you're looking to celebrate a big birthday, this is the place to do it. (Wallet warning: check your credit card balance before you go.) Pro tip: Ask for Table 61; it's the best seat in the house.
Charleston
Harbor East

/

1000 Lancaster St.

From the pleated curtains cocooning diners in the lap of luxury to the silk textiles on the walls to the rose-gold cocktail pick spearing olives in a martini, this posh dining room sets the stage for exquisitely prepared French fare under the aegis of James Beard-nominated chef Cindy Wolf. Whatever is on the oft-changing menu—be it Scottish salmon with shallots and red-wine reduction, beef tenderloin with fried green tomatoes, or wild Burgundy snails with puff pastry tart—all ingredients are impeccably sourced, and Wolf honors them with her flawless execution. The stellar wine list offers some of the best bottles of Burgundy, Bordeaux, and other great grape-growing regions. Even the best restaurants can have an off night, but this landmark is "on" all the time, so whether you're celebrating a special occasion or not, eating here is always special.
Cinghiale
Harbor East

/

822 Lancaster St.

Named for Italy's native wild boar, Foreman Wolf's tribute to la cucina Italiana operates on a winning combination of quality ingredients, excellent service, and inviting ambience. Bring an appetite, because you'll be tempted by a cornucopia of cured meats, house-made pastas of every shape and stripe, and alluring mains. Indulge in oxtail tossed with tagliatelle, duck breast finished with cherry reduction, or calamari flecked with caramelized garlic and chili. Wine is as important to Italian culture as food, and here Cinghiale also excels, with a list that's a treasure trove to even the most diehard devotee of Bacchus. Consider mixing dessert and coffee in the form of their affogato, a heavenly marriage of espresso, hazelnut gelato, and mascarpone cream that's a favorite of co-owner Tony Foreman.
Citron
Pikesville

/

2605 Quarry Lake Dr.

A stylish bar, intimate dining rooms, seasonal al fresco service, and a waterfront view? Nope, not a hot new harbor concept, but Citron, nestled on the rim of Quarry Lake. Think New American cuisine built on a French foundation and dusted with Asian notes, and you'll understand the menu. At the bar, you'll find some of the cleanest sushi flavors in the area, along with pub staples like crab cakes. The full dinner menu offers Chilean sea bass seared to perfection and accented by scallion-chili sauce, while luscious veal cheeks cosseted in miso cream are flanked by morsels of Maine lobster. Desserts are decadently high quality. Oh, and Howard Stern had brunch here a few months back, though what he ate is still a secret.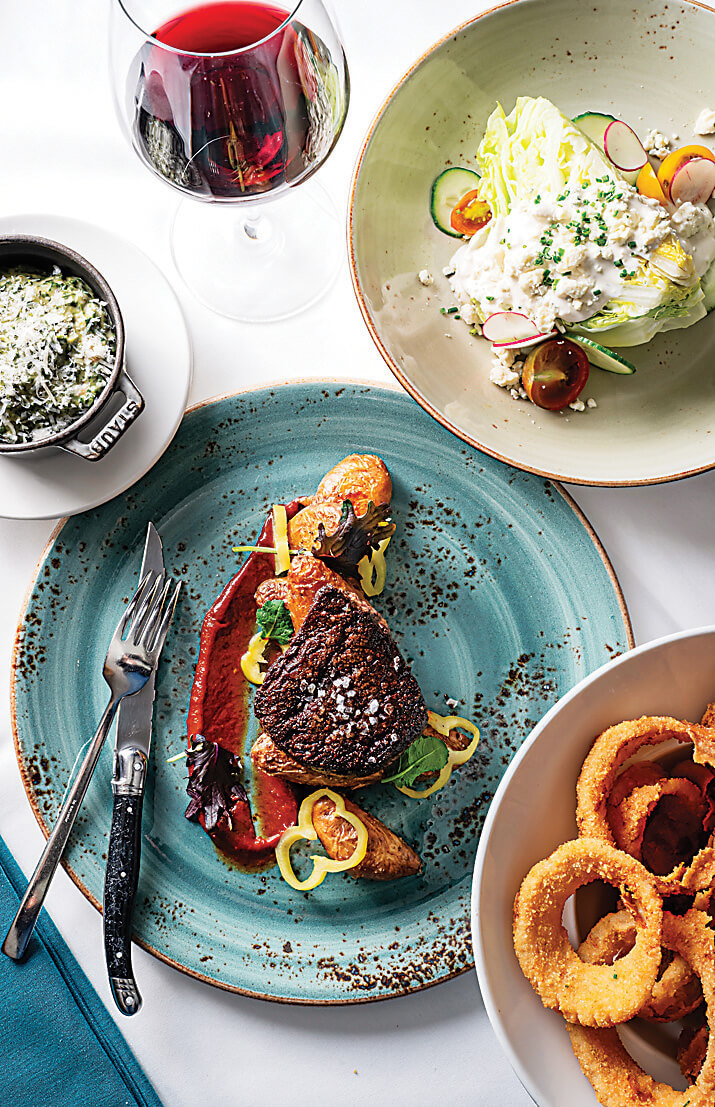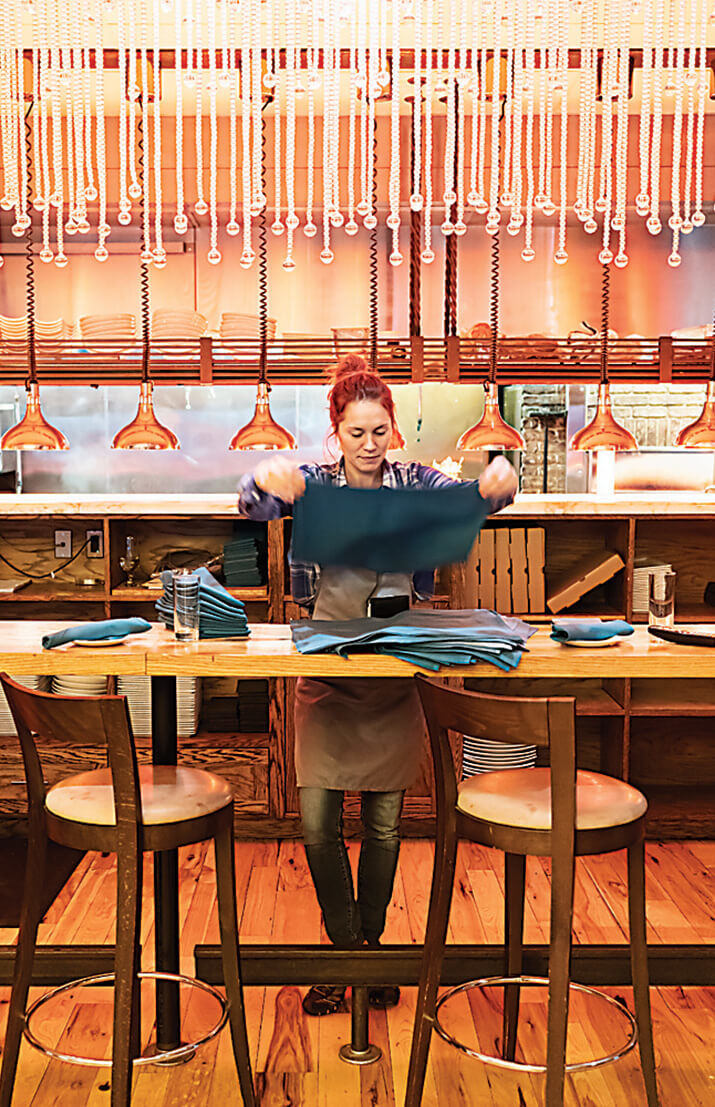 Cunningham's
Towson

/

1 Olympic Pl.

The pitch-perfect balance of modern and rustic never ceases to amaze us at this lively Towson spot. The dining room dazzles with dangling crystal, dim lighting, and plush seating, while the menu offers countryside cuisine sourced directly from the restaurant's Cockeysville farm. Scroll through the iPad list of worldly wines before choosing from wood-fired pizzas, pristine pastas, and farm-to-fork meats like a plump pork chop with sweet apple butter. On a winter's visit, a spot-on recommendation from our server was the royal sea bass in a tomato stew with chorizo and littleneck clams. Hunks of crusty sourdough from the restaurant's in-house bakery came in handy for lapping up the sweet sauce. If you happen to save room for dessert, a shareable sundae with caramel popcorn is an enticing sendoff.
Clavel
Remington

/

225 W. 23rd St.

For any first-timers out there, Clavel comes with a caveat: From the street, it looks like a hole-in-the-wall, but once inside, you'll understand the hype. With its authentic Sinaloan fare (tostadas, tacos, tortas), the best margaritas in the city, and a newly expanded menu and adjacent dining room that includes a dedicated mezcal tasting bar, you'll feel the magic right away. When co-owners Lane Harlan and Carlos Raba opened in a section of the city not known to many almost four years ago, they took a risk. Now, with a line out the door that begins at 5 p.m. (and a recent James Beard nom to boot), Clavel is proof that if you build a terrific taqueria, they will come.
Dylan's Oyster Cellar
Hampden

/

3601 Chestnut Ave.

It's been two years since owner Dylan Salmon's Chesapeake-inspired pop-up in Mt. Vernon transformed into this Hampden hangout lauded by the likes of Garden & Gun and Eater—and it still lives up to the hype. Dylan's remains a go-to for local beers, nautical-themed cocktails, and oysters sourced from the region and beyond. (There's even a cheat sheet for bivalve beginners.) But the allure spans well beyond the bar. The menu is full of well-prepared nods to seafood shack standards, including anchovy toast, coddies, a fried catfish sandwich, and the beautifully butterflied rainbow trout swimming in brown butter. A team of passionate shuckers and servers solidify Dylan's reputation as being one of the most approachable spots in town.
The Food Market
Hampden

/

1017 W. 36th St.

Farmhouse wooden floors and metal fixtures are all the rage these days, and usually foretell wood-fired pizzas and pasture-raised burgers. That juicy burger can be had, but there is much more on offer at Chad Gauss' old faithful: mostly comfort food with adventurous twists. Lamb Two Ways arrives as a half rack of ribs plus succulently braised shoulder paired with spaetzle and roasted veggies. The shrimp dinner strikes a Cajun chord, borrowing spice from a generous serving of andouille sausage and couched in grits. We also appreciate smaller plates such as Beets by Chad—roasted beets tossed with pear, orange, feta, and mint named for the animated chef-owner. Desserts are satisfying, the beer list is deep, and the cocktails are inventive.
Gnochetto
Highlandtown

/

3734 Fleet St.

This Highlandtown haven may have changed its name from Gnocco to Gnocchetto last summer (it was getting confused with a New York City restaurant with the same moniker), but it's far from having an identity crisis. Chef Brian Lavin and general manager Sam White continue to showcase creative Mediterranean dishes inspired by their college travels throughout Spain, Italy, and Southern France. Stellar antipasti like expertly grilled Spanish octopus with crispy potatoes and burrata with serrano ham and a sweet date purée—paired with a plate of house-made pasta—makes for a filling meal here. The lamb ragù, with plump ricotta cavatelli and wilted Swiss chard, is particularly soul satisfying. And enjoying it with one of White's barrel-aged negronis truly feels like an edible ode to Europe.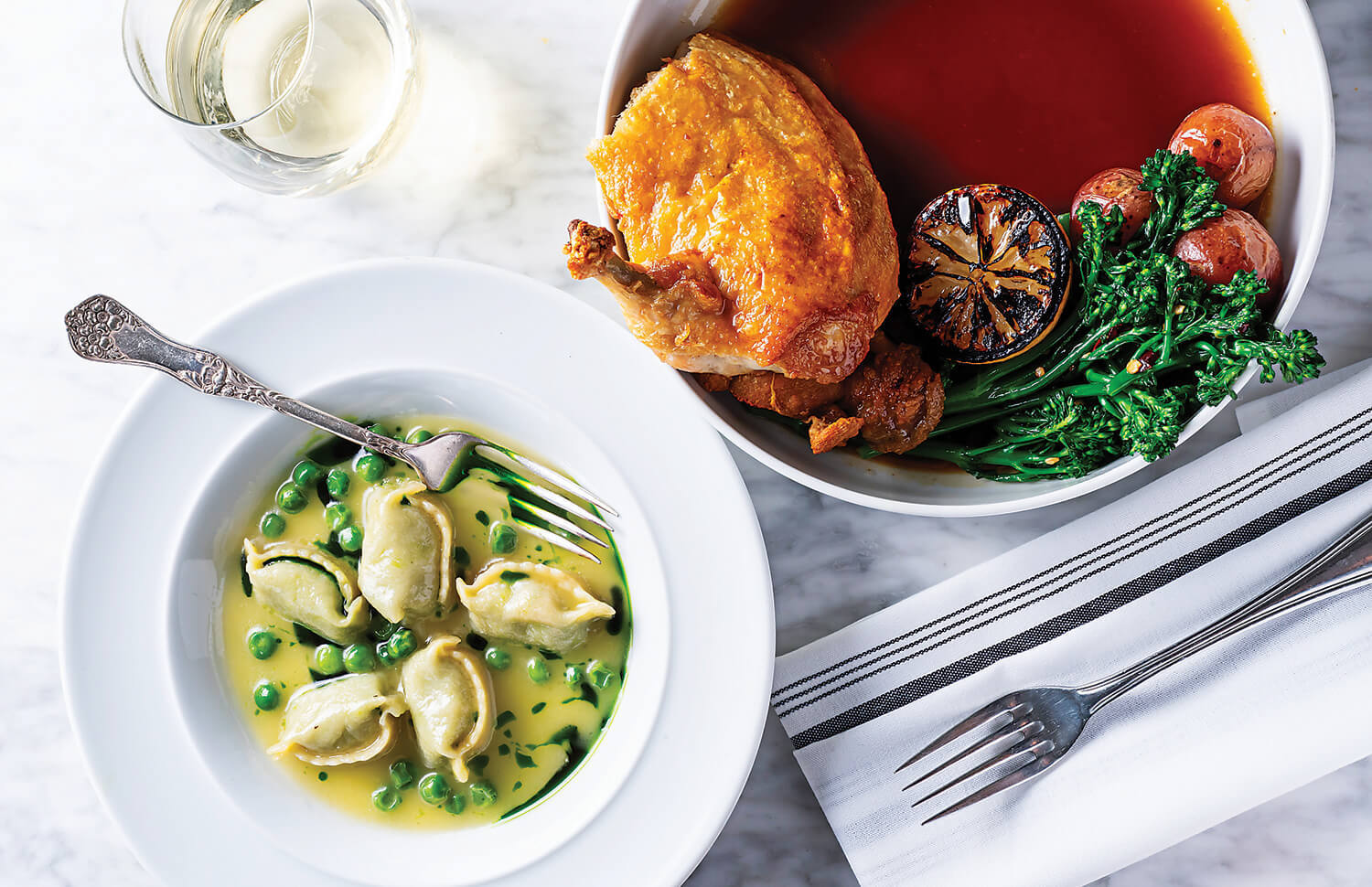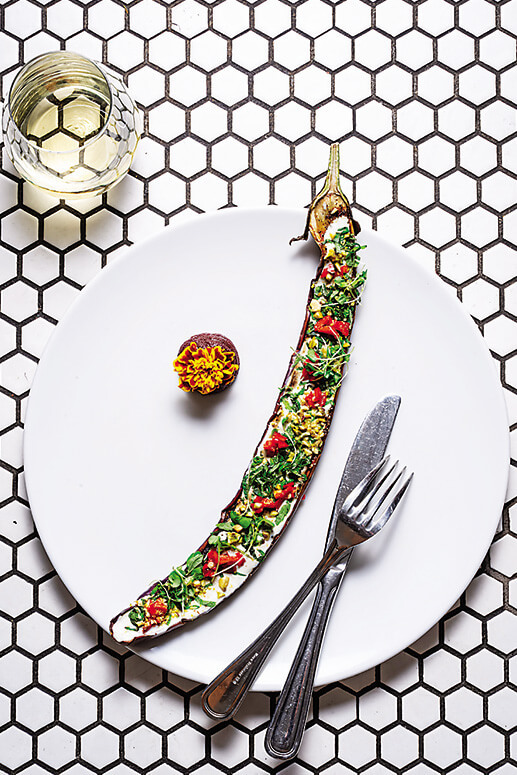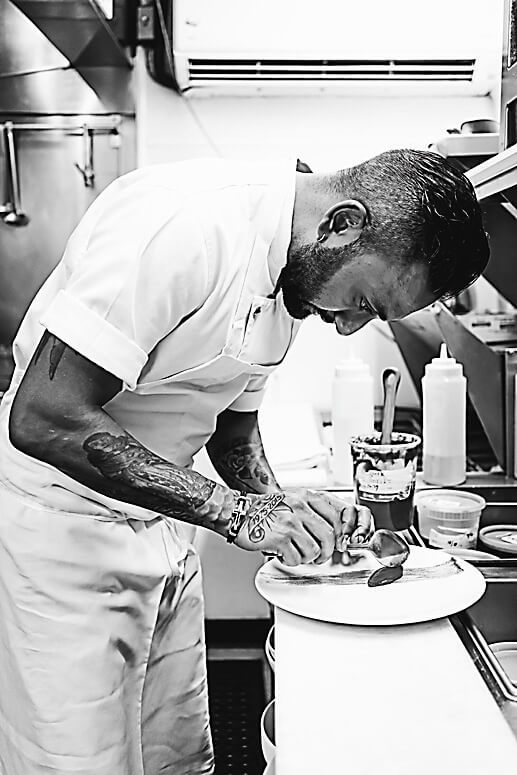 Duck Duck Goose
FELLS POINT

/

814 S. Broadway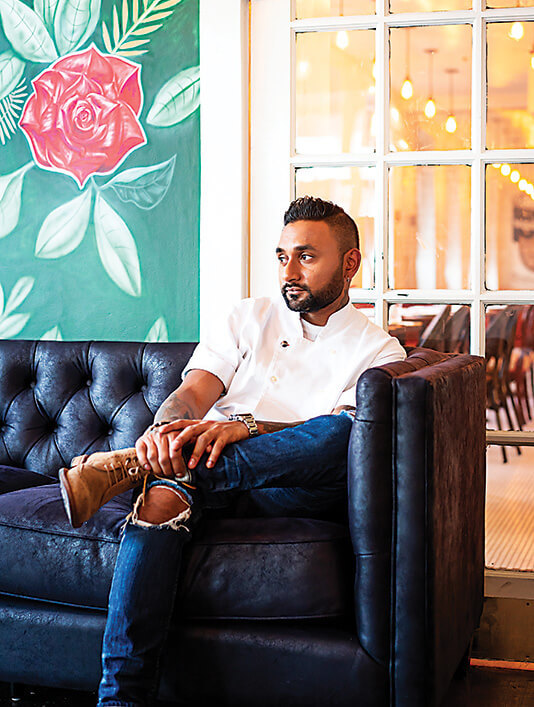 The arrival of this sophisticated yet unstuffy French restaurant last year was among the tastiest developments in the city's food scene. Chef Ashish Alfred opened the second location of his brasserie (the first is in Bethesda) with the hope of bringing upscale cuisine to a neighborhood not generally known for it—and he has succeeded spectacularly. Dishes like tournedos—a center-cut filet with foie gras, potatoes, and broccoli purée in a red-wine reduction—halibut wrapped in a puff pastry, and, of course, honey-roasted duck are as delicious as they are beautiful. An in-depth cocktail program, specials like half-priced bottles of rosé on Thursdays, and bottomless mimosas during brunch ensure that the restaurant is approachable for people who may not be used to seeing dishes like bone marrow with beef ragù and blueberry jam in a zip code most associated with beer pitchers and chicken wings.
Gunther & Co.
Brewers Hill

/

3650 Toone St.

Whether you're grabbing lunch, dinner, drinks, or brunch, this Canton staple is the kind of place where every element serves a purpose. On a recent Saturday afternoon, a pizza with pulled pork and Monterey Jack would have been delicious on its own, but executive chef Jerry Trice's kitchen adds sliced apples, kale, and spicy chutney, which upgrades the dish from merely good to great. Classics like a grilled bone-in pork chop mac-and-cheese are treated with the same reverence as inspired Asian-influenced dishes such as duck confit and the legendary Thai seafood hot pot. At Gunther, everything is done for a reason, and we're all the better for it.
The Helmand
Mt. Vernon

/

806 N. Charles St.

What does it take to become an institution? Going on 30 years of serving outstanding food seems like a good start. Offering essentially the same menu that whole time while remaining relevant seals the deal. Despite its tenure, The Helmand flies under the radar. But low-key assuredness is its thing. Afghan cuisine may be unfamiliar to many, but the dishes served here are instantly comforting—savory stews of lamb or spinach-stuffed eggplant, simmered in sun-dried tomatoes and even rhubarb, accentuated with a note of turnip and baby grapes. Pasta is also present, as homemade noodles in vegetable soup, or filled with leeks as ravioli-like dumplings served with a tart yogurt sauce. The dining room has been subtly refreshed and the service has similarly been shored up to be prompt yet unintrusive.
Hersh's
Riverside

/

1843-45 Light St.

Tucked away quite literally on the edge of the city, Hersh's offers an inviting atmosphere and lovingly prepared fare. The Neapolitan pizzas are fantastic, but you'd be making a mistake to ignore the rest of the menu. From apps like wood-fired octopus featuring orange zest and shaved fennel to house-made fettuccine livened up with pecorino cheese, pistachios, and lemon, Hersh's kitchen works hard to serve you great food. The dessert list is short but delectable, and of course, it's all made in-house. The welcoming bar slings creative cocktails and offers a range of craft beer on tap. Wine enthusiasts may quibble that the food deserves a deeper list than the dozen or so bottles on offer, but what's there is good quality.
Ida B's Table
Downtown

/

235 Holliday St.

Ida B's Table immediately emanates warmth. Whether it's the copper accents or the upbeat soundtrack of rhythm and blues, you'll want to stay a while. (The new reading room with books by authors of color encourages lingering, as well.) Of course, the best reason to stay is the elevated soul food conceived by chef Dave Thomas—a recent winner on the Food Network competition show Chopped—which feels nostalgic (a nod to his grandmother, who descended from slaves) and innovative all at once. Here, you'll find dishes like a kale and black-eyed pea chili and Creole shrimp penne, which brings on the Louisiana heat. Also save room for dessert, whether it's the decadent Mississippi Mud pot de creme or a simple scoop of honey graham from community-minded creamery Taharka Brothers. Groundbreaking journalist Ida B. Wells, the restaurant's namesake, would be proud that the place not only provides nourishment, but also a new perspective.
La Cuchara
Woodberry

/

3600 Clipper Mill Rd.

At 8,500 square feet, La Cuchara is one of Baltimore's biggest restaurants, which is a good thing, because there's a lot to love at this Basque-based boîte, from the pintxos (top-your-own pan con tomate is a given) to the banana rum cake. We love that no two visits here are alike. Co-owner chef Ben Lefenfeld—he's the one artfully carving the Ibérico ham—tweaks the menu daily to bring you the highlights of each season. (Proof that this place is always looking for new inspiration—we spied a collection of cookbooks in the open kitchen). Without being overly formal or fussy, La Cuchara hits all the high points we've come to expect from fine dining—a great wine and cider list (a Wine Enthusiast nod, no less) and innovative cocktail program, always stellar service (Ben's younger brother, Jake, is the host with the most), and dishes that taste great, thanks to the pedigree of their sourcing. 
La Scala
Little Italy

/

1012 Eastern Ave.

When it comes to Italian food, the new guard often strives to walk in the footsteps of the truly traditional—house-made pasta, sauces with both substance and nuance, top-notch ingredients, no cut corners. La Scala has been doing it for decades. The offerings are textbook Little Italy, but the execution is utterly expert. Melt-in-your-mouth prosciutto is shaved so thin that the menu can be read through it. Gnocchi gently curled from hand-rolling have an impeccable cloud-like texture and are dressed in pesto that is revelatory in its powerful perfume of fresh basil. Marsala sauce is complex, yet clean, with the sweet wine balancing the earthy wild mushrooms. Service and ambience are a bit cliché, but what's missing in innovation is made up for in skill, warmth, and pure fun. Isn't that what eating out is all about?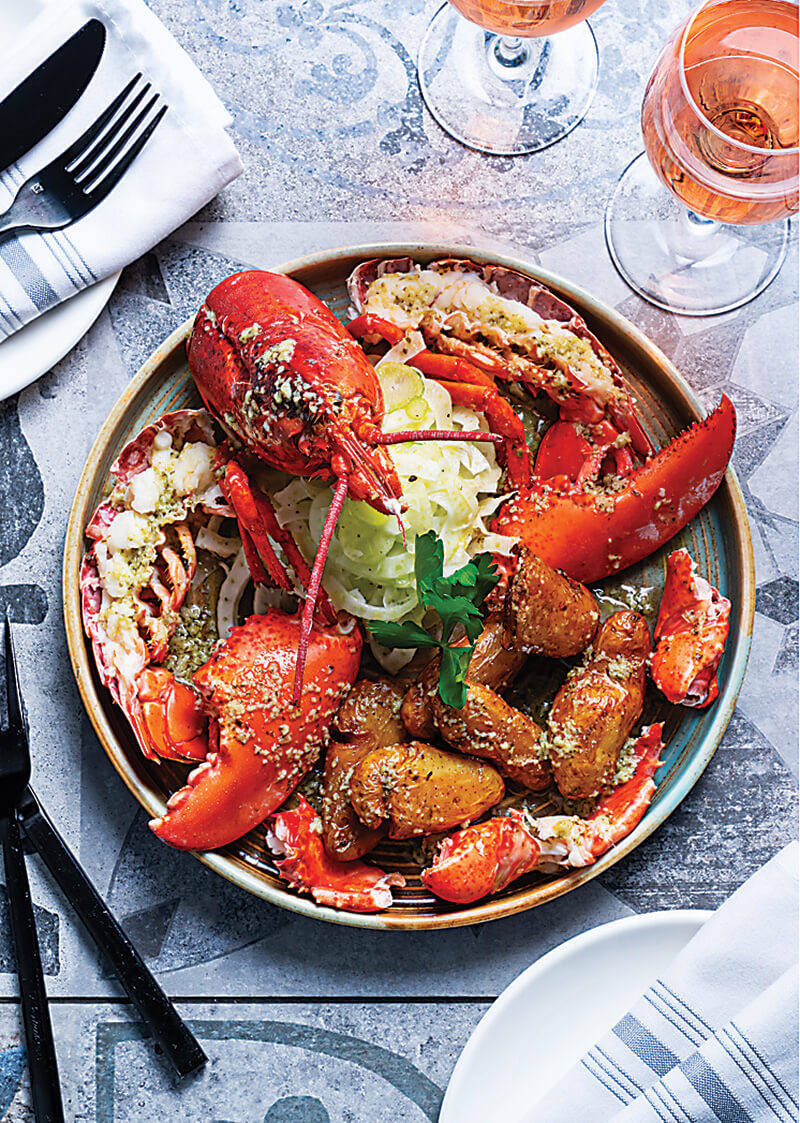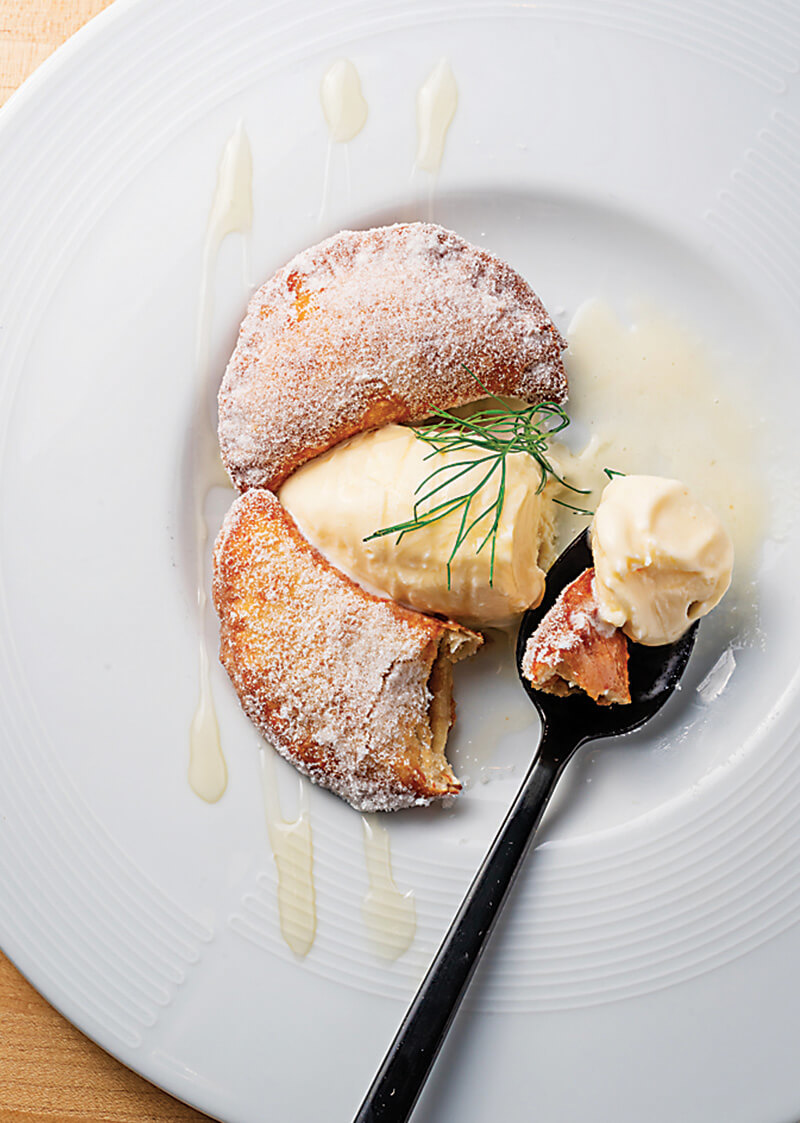 Flamant
ANNAPOLIS

/

17 Annapolis St.

As Belgian chef Frederik De Pue shakes up the culinary no-man's-land of West Annapolis, there's a new stunner in the state capital. Pick any nook in this charming bungalow and prepare to pique your senses with unique riffs on classic European cuisine. This space is all about intimacy, whether you're watching the chef sous vide your buttery duck breast a l'orange from the open kitchen or simply sucking down broiled bone marrow with bourbon flambé and salt-cured capers while basking in the glow of the fireplace. The crock of bouillabaisse meant for two—a mountain of just-caught fish swimming in a fragrant broth—honors the town's claim to fame as a seafood city. At meal's end, keep those warm and fuzzy feelings coming by roasting your own s'mores on the front-patio fire pit. 
Les Folies Brasserie
Annapolis

/

2552 Riva Rd.

Blink and you might miss this tiny white building amongst credit unions and car dealerships in Annapolis. But step through the archway and suddenly you're in a Parisian bistro with its burgundy banquettes and marigold walls. Since opening it in 1999, chef-owner Alain Matrat has been greeting customers with a "bon soir"—even before the impeccable service begins. Though the state capital is king when it comes to crab and crushes, Matrat's establishment is the rare white tablecloth favorite. It's easy to see why, especially when you stick with Gallic standards, including the escargots bathing in garlic butter and salad Niçoise where every bite of tuna, olives, and egg has its place. There are several entrees to choose from—don't overlook the simple but well-executed Les Moules Mariniere et Frites—but a recent highlight was Escalope de Veau a la Crème, thin slices of veal and chanterelles drizzled in a cream sauce supported by a pillow of puréed potatoes and snow peas. Parfait!
Linwoods
Owings Mills

/

25 Crossroads Dr.

When you're both the owner and the chef of a restaurant, you care about everything that happens, not only in your kitchen but in your dining room, too. Nowhere is this more apparent than at Linwoods, which has set the gold standard for fine dining in the county for more than 30 years. Indeed, chef-owner Linwood Dame takes tremendous pride of place. Smiling hostesses never fail to make us feel as though they've been waiting for us to arrive all day, servers in their crisp white shirts handle our orders with military precision, and the New American fare itself, down to the house-made chocolate mint that accompanies each check, is never less than perfection. Gifts from the kitchen on one journey included a knock-out plate of house-made goat cheese ravioli with roasted corn purée, confit pearl onions, tomatoes, and brown butter and the restaurant's signature simple yet sublime sea bass with chilled lemon crab salad, horseradish potatoes, and haricots verts. Linwoods puts the fine in fine dining.
Lobo
Fells Point

/

1900 Aliceanna St.

Lobo is the kind of corner restaurant and bar everyone needs in their neighborhood. A welcoming staff? Check. (If you're not greeted by name by the lovely servers, you're treated as if you're a future regular.) Great craft beer and top-notch cocktails? Check. (Hot spiced rum rates.) A wide selection of shellfish, meats, and cheeses that make a perfect snack or small meal? Check. Seemingly simple sandwiches packed with meat on fresh bread? Check. (The Stack, with turkey, pork loin, gouda, and bacon on sourdough is an obsession.) Creative specials like a Thai-inspired bowl with mussels, shrimp, rice, and veggies? They've got that, too—and it was even brought to us by co-owner Jamie Hubbard, who wanted us to know that we got the best piece of pork belly in the place. We dug in.
Loch Bar
Harbor East

/

240 International Dr.

It's hard not to get swept away by one of the many mouth-watering offerings at this Harbor East seafood spot—rockfish fried in Natty Boh, shrimp and grits, or a lobster roll. But the tagline—"Raw Bar & Elixirs"—tells you all you need to know. Though the stylish interior is perfectly pleasant, in the warmer climes, there's no better place to sit outside: Feel super fancy as you enjoy a shellfish tower, decadently large shrimp, an extravagant platter of Russian caviar and blinis, or Sweet Jesus oysters, while sipping on craft cocktails or one of 500-plus whiskeys—including rare bottles of Japanese Hibiki. Hon, who? Welcome to Baltimore, dahling!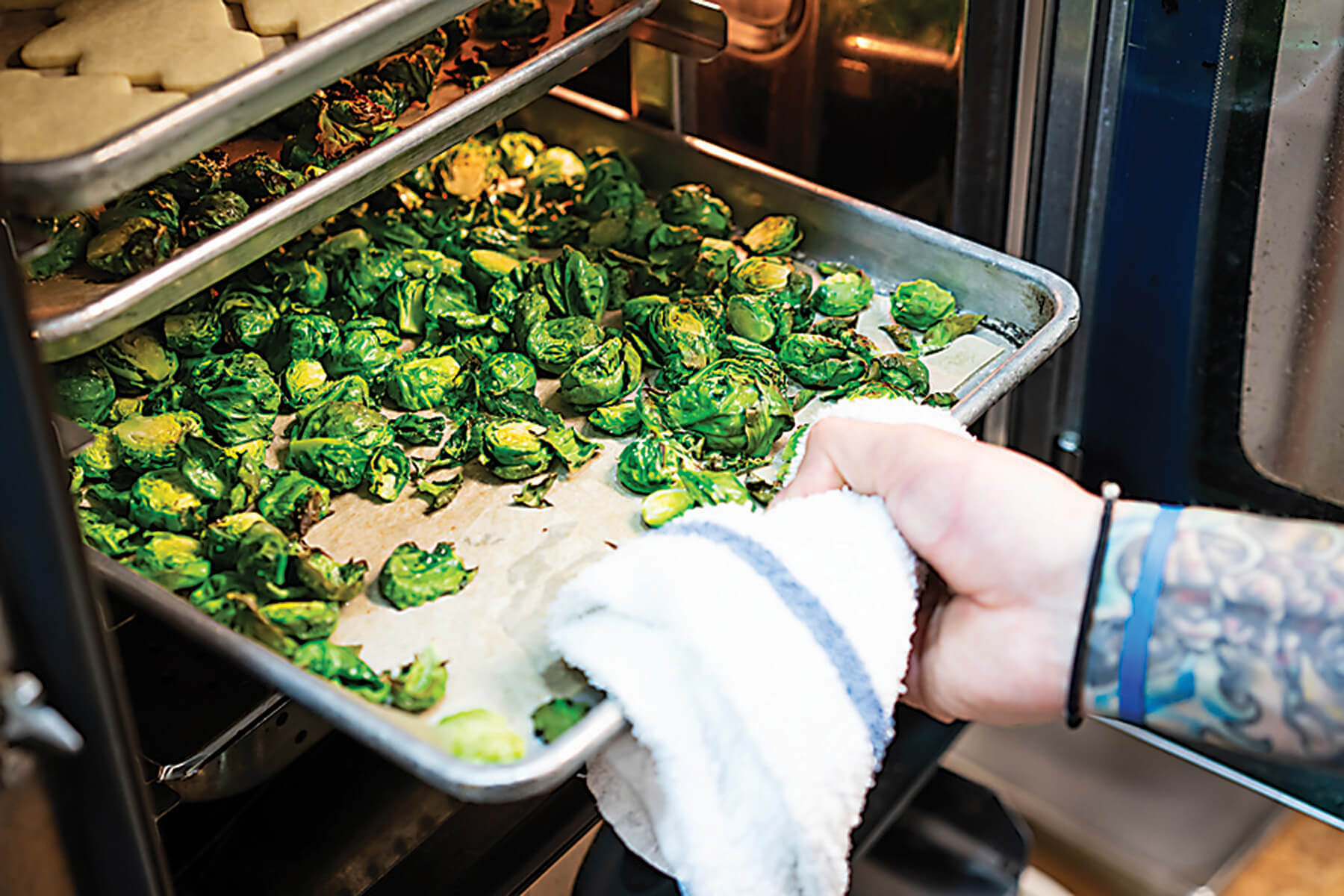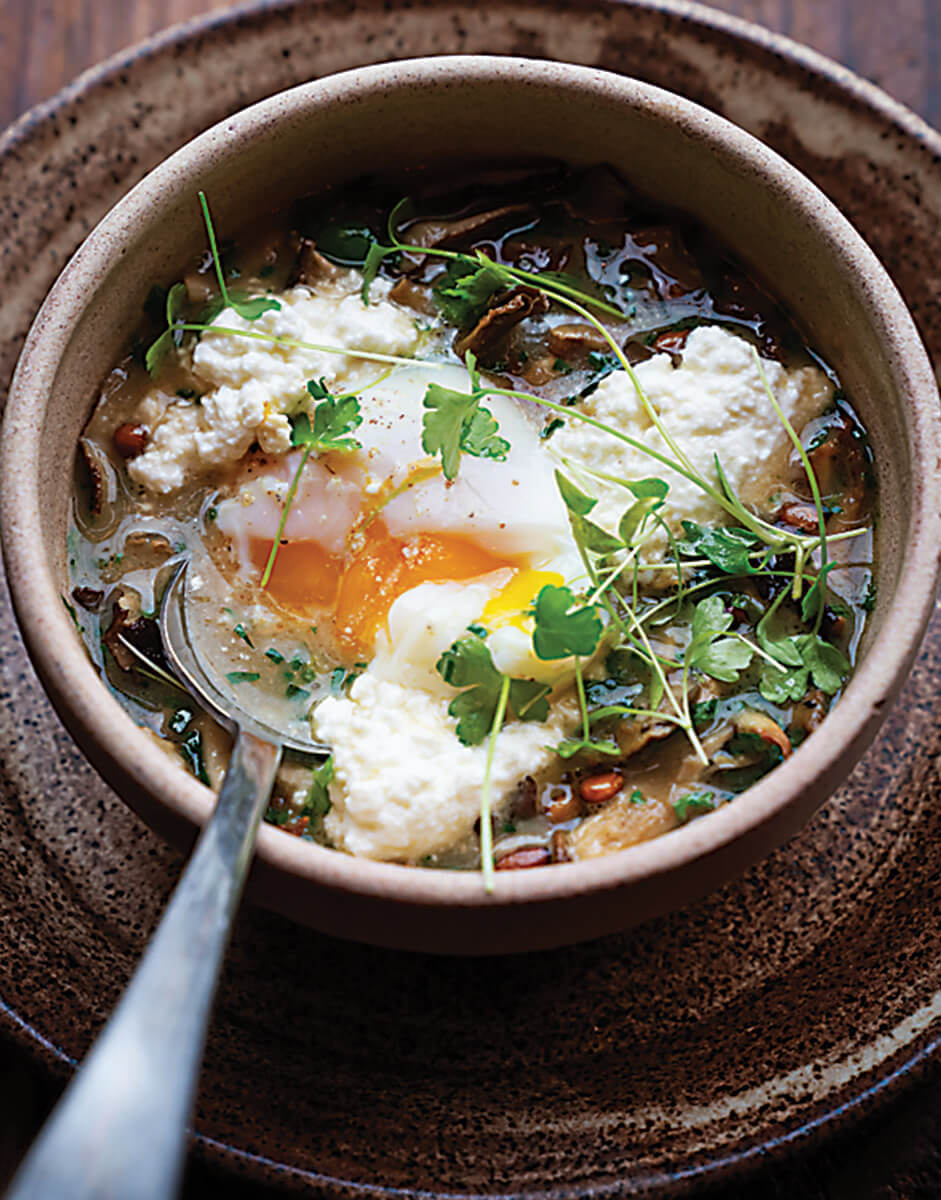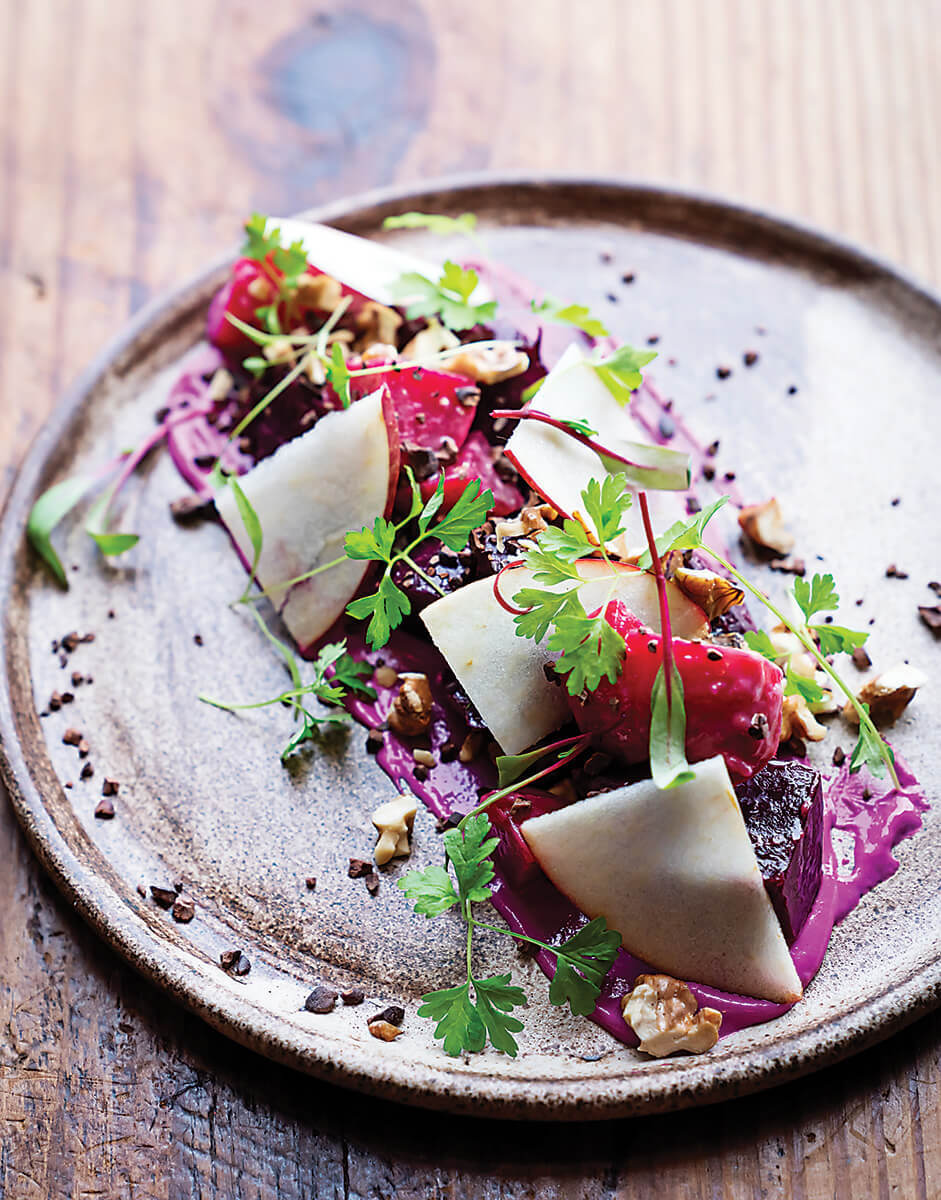 Foraged
HAMPDEN

/

3520 Chestnut Ave.

By JANE MARION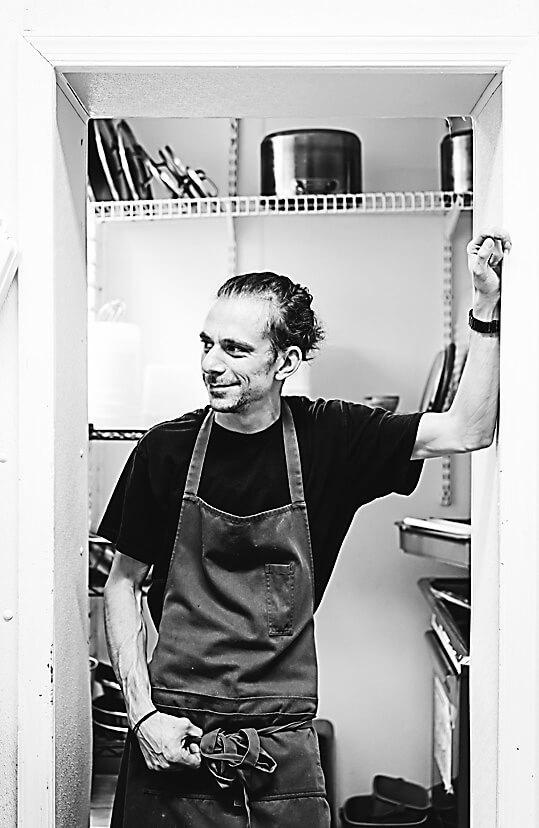 It's a Thursday afternoon at Foraged, and chef-owner Chris Amendola is trimming turnips and readying radishes that will later get glazed and tossed into the vegetarian risotto. With his slight build and man bun, Amendola looks younger than his 34 years, though he's fit a lot into them, working in kitchens alongside famed chefs including James Beard Award-winner Dan Barber of Blue Hill Farm and Sean Brock of Husk. "Sean Brock was one of the calmest chefs I've ever known," says Amendola, "but Dan Barber would talk down to you and make you feel like a worthless piece of shit." In his own kitchen, Amendola exudes the sense of calm and confidence that comes with being your own boss. By 4 p.m., he's received his meat—beef, pork, chicken—from Rettland Farm; green garlic, beets, broccoli rabe, and potatoes from Third Way, Karma, and Moon Valley farms; and oysters from Sapidus Farms.
After a string of burn-out jobs, the avid mushroom forager briefly considered another line of work before deciding to open Foraged—his first restaurant—in December 2017. "I'd like to think I could make it outside restaurants," says Amendola. "But I don't think I could." He assembled a team of familiar faces—Nico Bustos as his house manager and Chris Lewis, his sous chef, both of whom he worked with at Fleet Street Kitchen. "The baby" is Stephen Stone, a game designer by day, whom Amendola hired as a line cook after Stone messaged him on Instagram. "His entire feed was food," recalls the chef.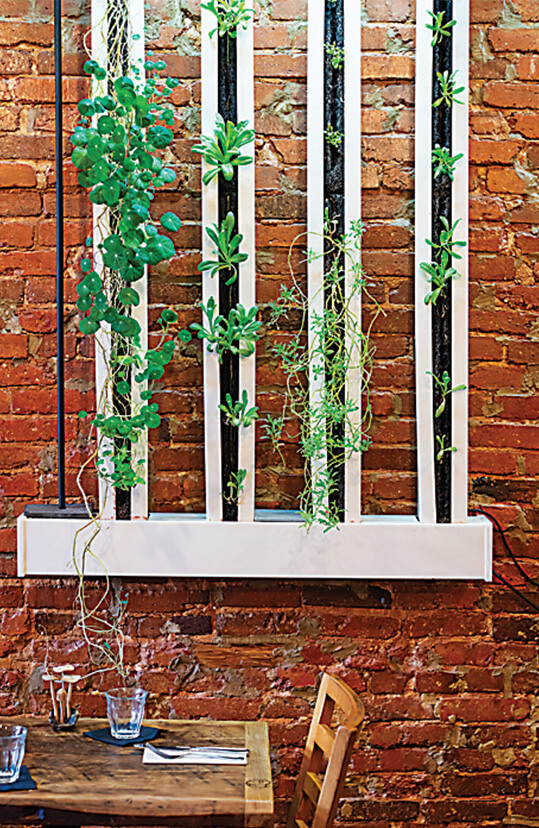 After family meal, Stone, who works the fryer and cold station, runs watermelon radishes through the mandolin for a beet salad. Meanwhile, Lewis oversees the preparations of the proteins and Amendola works other elements of the hot dishes, including his mushroom stew, which mainly features ingredients he has foraged himself. By 7 p.m., most of the patrons, including chef Jerry Pellegrino and his party of four, have arrived—all at the same time. Now it's Nico's chance to sell the seasonal menu, which reads like a field guide to the Maryland woods. "I can count on one hand how many times something has gone back to the kitchen," he says, as customers are ever-appreciative. One diner stops by the kitchen to gush: "Your meat game is off the hook." Another expresses her amazement that "even in the bathroom there's basil growing." In a rare down moment, Amendola peers out into the dining room. "I'm looking at the expressions on their faces as dishes arrive," he says. "I like to see their initial reactions." But it's really their final feedback that speaks the loudest. Says the chef, "I like watching the plates come back completely clean."
Lupa*
Columbia

/

10215 Wincopin Cir.

Howard County foodies bemoaned news that renowned restaurateurs Cindy Wolf and Tony Foreman were shuttering their Columbia outpost of Petit Louis. But the mourning period didn't last long. This latest concept, Lupa, which bills itself as "a casual Roman trattoria," fills the high-quality dining void left by their French bistro. The menu is broken into antipasti, primi, secondi, and casual offerings, and there's much to like from each. Buffalo milk mozzarella, served with butternut squash and grilled bread, is an excellent starter. The squid-ink spaghetti with shrimp and calamari is as good a version as we've had in a while, and the chicken wrapped in prosciutto is downright delicious. A funghi pizza came chocked with mushrooms and featured a tasty Roman-style crust. We took most of it home because at Lupa, it's vital that you save room for house-made gelati.
Magdalena
Mt. Vernon

/

205 E. Biddle St.

Eating out should be an escape from the humdrum of our own kitchens, which is why a trip to Magdalena never disappoints. A visit to this fine-dining establishment, set inside the Ivy Hotel, feels luxurious from the minute we hand our keys over to the valet to our last sip of espresso. Chef Mark Levy dazzles with dishes full of bravura, creativity, and aesthetic appeal. To wit, this winter, a chestnut "scrapple" with onion marmalade and deviled eggs was a great breakfast-for- dinner upscale option, and the peppered venison tenderloin with pumpkin, date purée, and huckleberry jus was well-balanced and highlighted the best flavors of the fall season, while a tray of gorgeous shellfish—Thai mussels in green curry, Gulf shrimp, local oysters, and ceviche—also paid homage to our seas. Service is so good it's practically telepathic, and grape guru Robert Parker has blessed the wine list.
Minnow
Riverside

/

2 E. Wells St.

One of the buzziest restaurants in Baltimore is the rustic boîte brought to you by La Cuchara's Lefenfeld brothers. This modern seafood house lures a loyal following of post-work diners, county commuters, and brunch-time imbibers, for appealing—and affordable—riffs on aquatic classics. As the name implies, fish dishes are the star of the show. On a recent visit, Exhibit A was a gorgeous whole rainbow trout swimming in a pool of jalapeño-garlic cream with sweet corn and smoky caramelized onions. Exhibit B was the soft-shell crabs atop charred herb aioli, which treated our state treasure with proper reverence.
Ouzo Bay
Harbor East

/

1000 Lancaster St.

Open since 2012, this upscale Greek go-to is the granddaddy of the Atlas Restaurant Group's now 11 properties. With strong emphasis on seafood, the modern Aegean restaurant is no worse for the wear. In fact, Ouzo—with a newly planned patio and spiffed-up dining room—has only aged like a fine Santorini wine. Sterling standards are mostly on the seafood side of the menu: sweet and supple karavides shrimp, Norwegian langoustines, a whole bronzino flown in from Greece. That said, the lamb shank with orzo, Yia Yia's old country moussaka, and fried zucchini with tzatziki speaks to us, too. Truly, it's all Greek to us.
⇓ Article continues below ⇓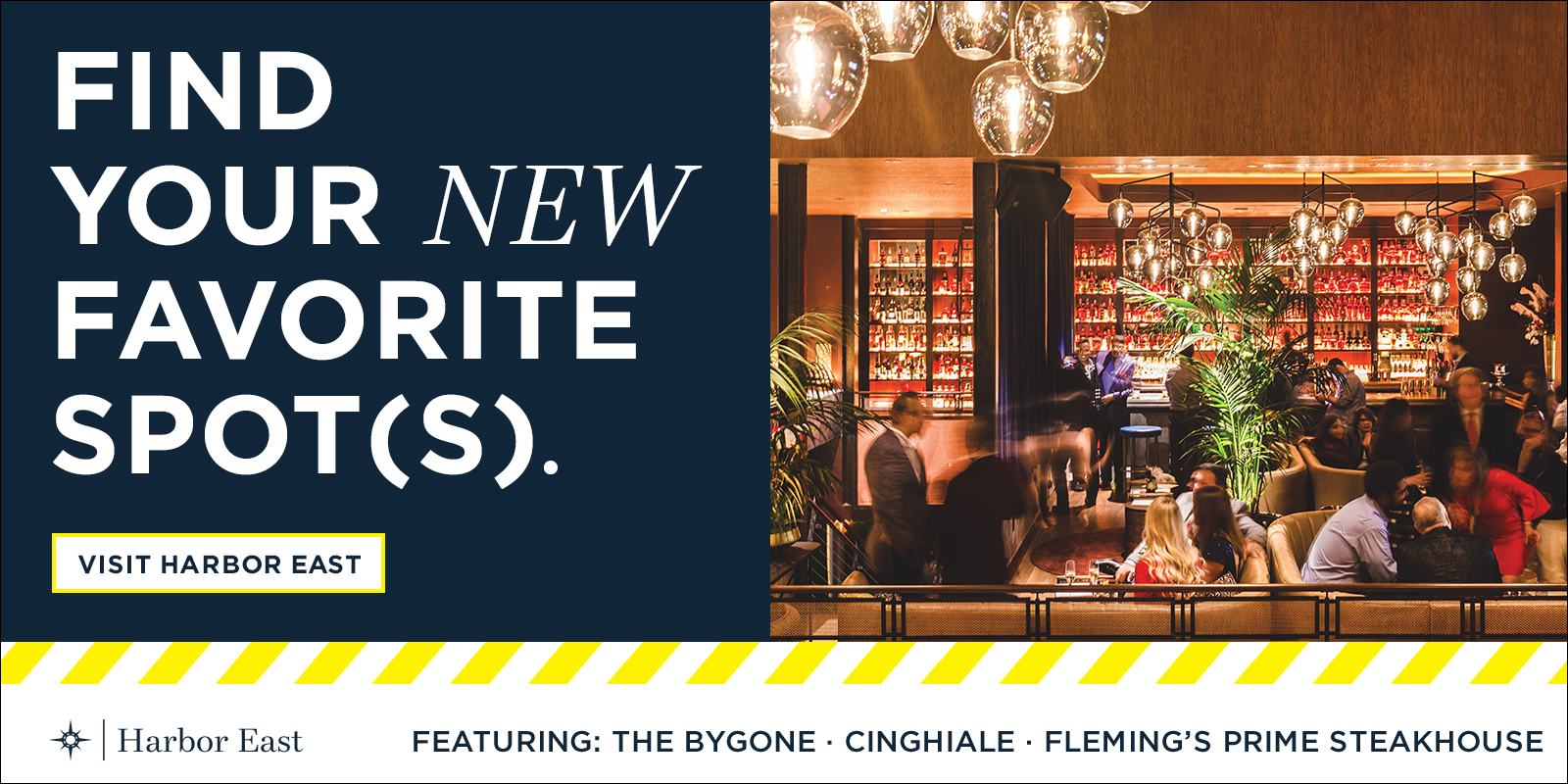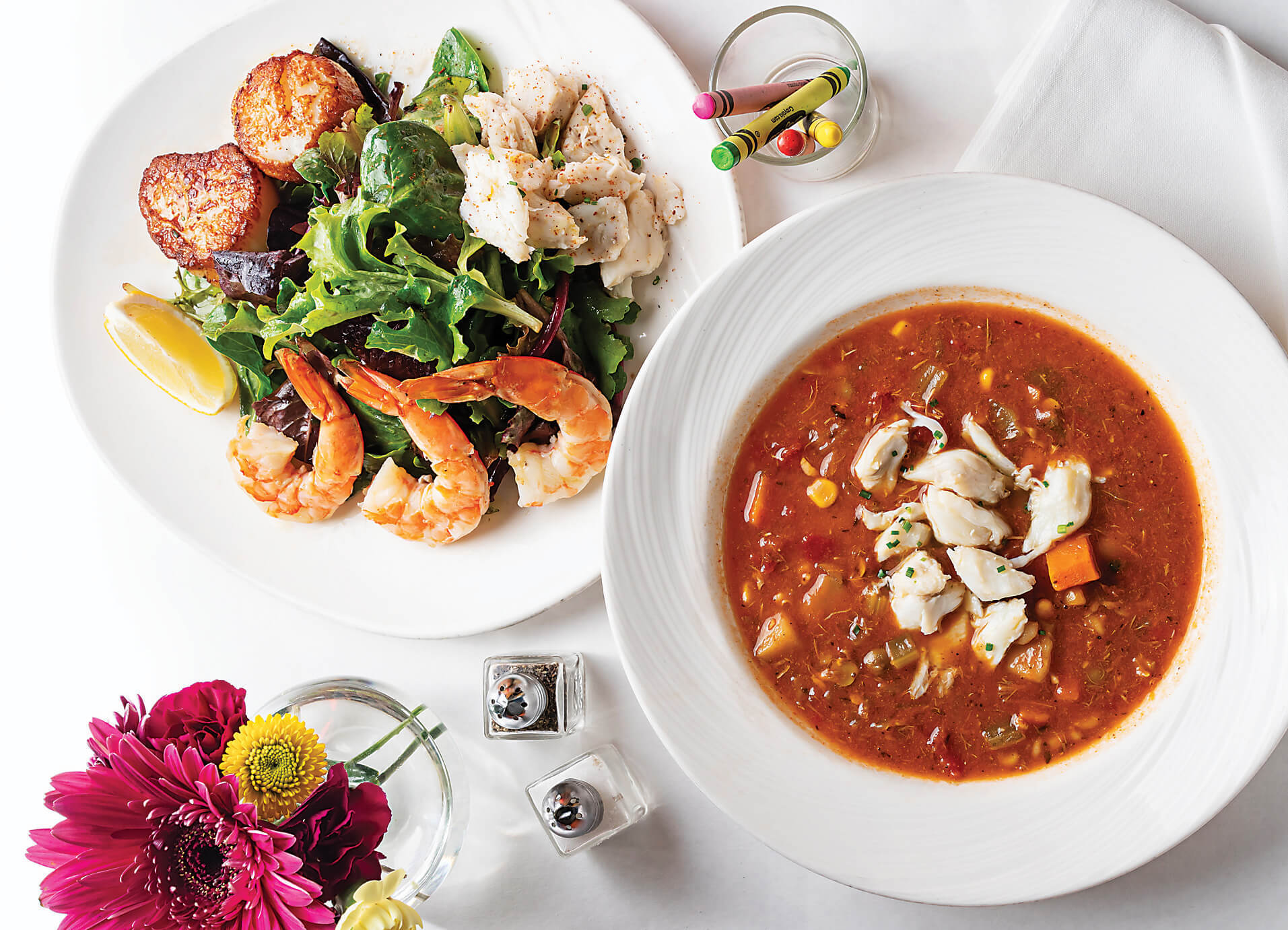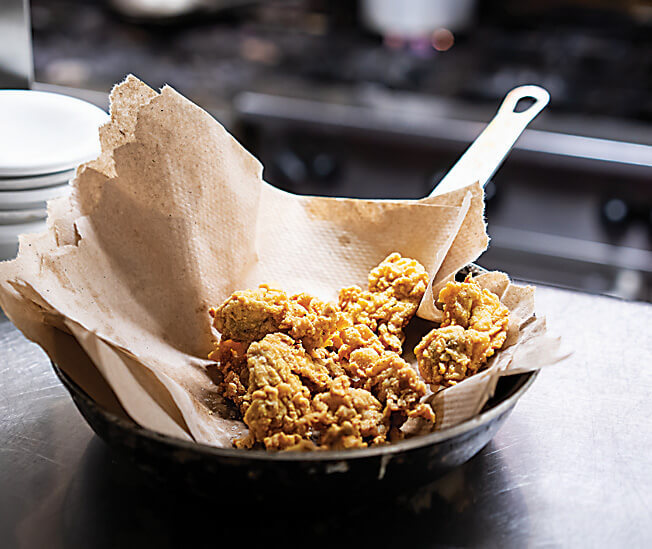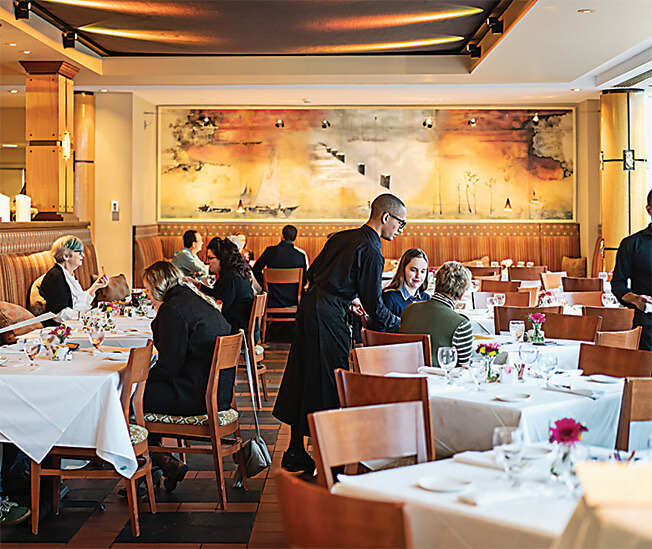 Gertrude's Chesapeake Kitchen
CHARLES VILLAGE

/

10 Art Museum Dr.

By JESS MAYHUGH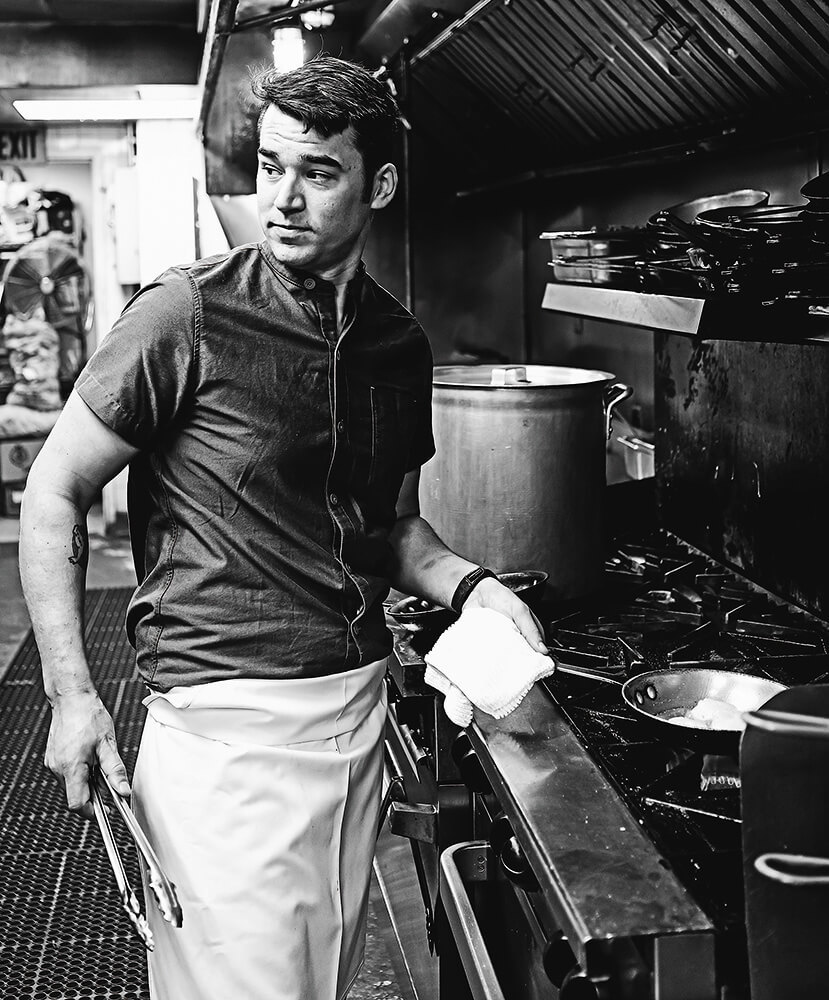 Clad in a simple black apron, John Shields glides through the dining room of his restaurant, Gertrude's Chesapeake Kitchen, and patrons start to buzz: "There's John!" "Is he cooking tonight?" With his bright eyes and silver hair, he moves beyond the bar to a dimly lit enclave and introduces Olga, who is lighting votives. "She does this to make it smell like a church," he cracks, before swinging open the right door to the kitchen.
"Now we have to get through Kelly. He's like a wall," Shields says of his expediter, who is prepping cups of tartar and cocktail sauces. Racks to the left of the glowing ovens are piled floor-to-ceiling with trays of pan-fried chicken and domes of jumbo-lump crab.
Just past the expo station is Eddie Knott wrapping asparagus stalks in prosciutto. "We've got a party on the terrace tonight. Eddie is a master caterer and has been here for years," Shields explains. Behind him, Yolanda Johnson, a former Army cook, turns out tons of soup and, apparently, the latest celebrity gossip. Shields calls her "the soup queen of the Pa-taps-a-co" in his best Bawlmerese. There's Maria Cruz, or "Mama" (Olga's mom), the kitchen's matriarch, who has a shrine to the Pope and Lady of Guadalupe at her dishwashing station. At the cooktops are Minas Lentis, at the restaurant for 10 years, and Chico Lizama, helping sauté tonight. Frying pans hiss, oven timers beep, and the distinct smell of Old Bay wafts through the air. "This is close quarters back here," says Shields. "The whole thing becomes a real dance."
Noticeably absent from the spectacle is executive chef Doug Wetzel who, since 2007, has been posted between pastry and expo so he can see the lay of the land. But he hasn't been here in weeks. "I guess you could call it a sabbatical," he explains later. "I need time to rewire the way I think."
Nearly four years ago, on May 30, 2015, Wetzel was in tip-top shape competing in the Rock Hall International Triathlon on the Eastern Shore. Right after the 1500-meter swim and 24.5-mile bike ride, the 32-year-old collapsed from heatstroke. At death's door, he was flown to Shock Trauma in Baltimore, where a team of nearly 200 brought him back from multiple organ failure. By the next day, he was undergoing a liver transplant and began the arduous process of recovery. Miraculously, before Thanksgiving, he was back to work full-time. "What you do is minimize the entire event," Wetzel says. "You don't want to deal with it, so you think, 'I'm healing. No big deal, I dodged a bullet.'" Still in a wheelchair, he came to work to do orders one Monday in October. "Work blocked all the bad stuff. I even randomly started a doughnut business that winter. It all makes sense to me now—you keep piling on to distract yourself from what you're really going through."
Wetzel worked 300-cover lunches during the Matisse-Diebenkorn exhibit at the adjacent Baltimore Museum of Art in 2016. He even spearheaded the restaurant's recent menu transformation from Gertrude's to Gertrude's Chesapeake Kitchen. But now, after a dizzying few years, the chef admits that he never let himself process his own trauma and is suffering from anxiety and depression. "This has been a weird but natural evolution of me trying to fill my time differently," he says, tearfully. "I realize now that work was a coping mechanism. I became a huge workaholic." As Shields sees it: "He was so appreciative to be alive that he started to do everything. He was always like that, but this was like whoa." While Wetzel knew it was time to take a break in late 2018—and that his close relationship with Shields would allow him to do just that—he knew his absence from the kitchen would be temporary. He plans to come back gradually, on a part-time basis, and achieve a healthy work-life balance that feels right for him and his wife, Kacey. "There is this core family at Gertrude's," Wetzel says. "The kitchen feels like home for me, and it's a place where I feel safe."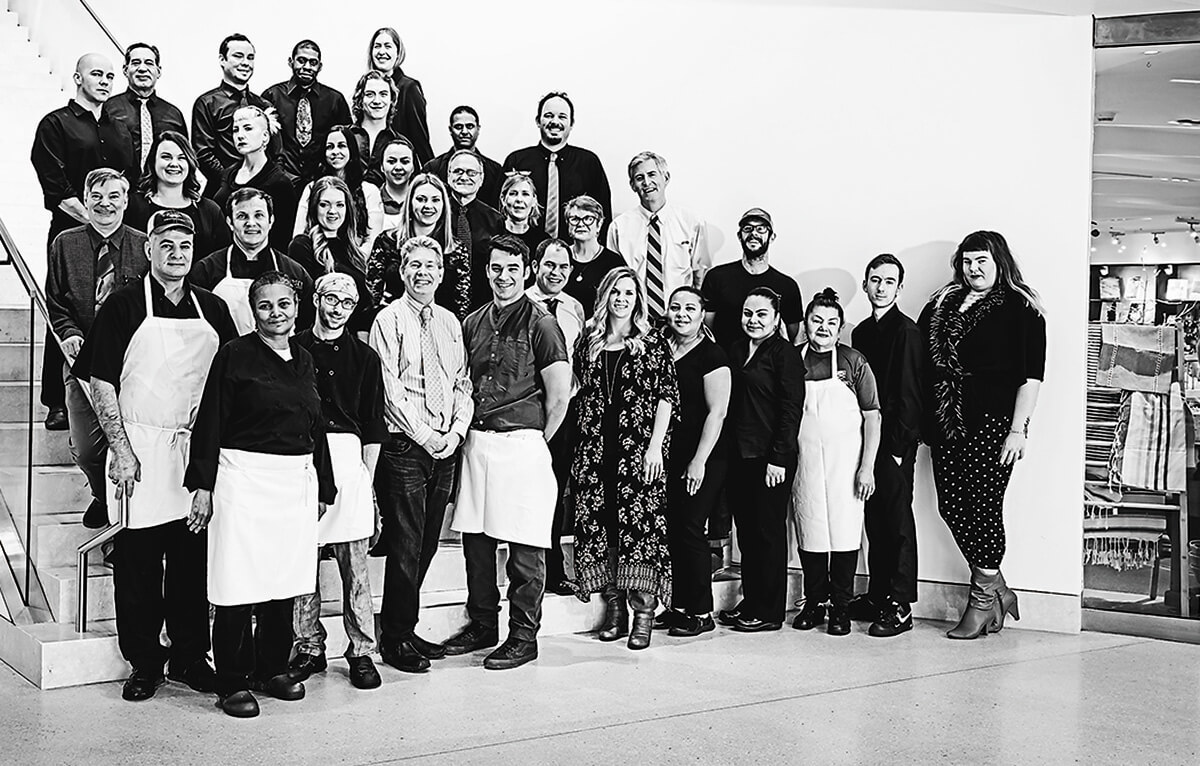 Plus, Wetzel is energized by the new menu he developed: creative small plates, a fashionable cocktail menu, and fresh takes on sustainable seafood. "When we first opened, the BMA was this foreboding building on a hill," Shields says. "But now you see art students studying on the steps, more exciting exhibits. It's really alive now, and we want to mirror that." Adding to the signature crab cakes and fried chicken are dishes like crabby "poutine," mini shepherd's pie croquettes, and Baltimore catties—a play on a traditional coddie using blue catfish. "We looked at the menu and focused on what people really like, embracing this idea that we're not stuck," Wetzel says. "I thought outside the box to come up with dishes I'd want to eat. It didn't have to feel like old Gertrude's."
Though there is certainly nothing wrong with that. This grand dame—with its blue-haired regulars and sculpture garden parties—has clearly been doing something right. You can see it back in the cramped but congenial kitchen, where decades-old staff laugh at Yolanda's jokes, worship the ground that Mama walks on, and listen when Lizama says that an order is lagging. This is the where Shields took a chance 20 years ago and it's where, right between pastry and expo, a perch will be waiting for Wetzel when he is ready to come back. "If everyone is happy and in harmony in the kitchen, it's going to show in the food," Wetzel says. "We're not perfect, no one is. But I'm a firm believer that happy chefs make better food."
Petit Louis Bistro
Roland Park

/

4800 Roland Ave.

There's something about Petit Louis that makes it feel like it's always been here. Maybe it's the old zinc bar, or the lovingly worn red velvet banquettes, which you must have lounged about in another lifetime. It might be the seasoned waitstaff who appear like old friends. Whether it's your first visit or your 50th, time slows down in this veteran Foreman Wolf bistro that's abuzz every night of the week. Before long, you've drifted off to old-world Paris over magnifique martinis and flawless French classics. There's no shame in being a creature of comfort here—from the signature onion soup, to the simple perfection of the frisée aux lardons salad and the divine coq au vin. Whatever you order, stay awhile. You'll quickly understand why the restaurant has, too.
Preserve
Annapolis

/

164 Main St.

With an emphasis on local sourcing and seasonal preservation, chef Jeremy Hoffman melds the Chesapeake's harvest with his Pennsylvania Dutch heritage into a thoughtful hybrid of regional cuisine. Nearby growers are given shout-outs on the rotating menu of farm finds (among them, turnip "linguini" and Eastern Shore mushroom salad with sour cream), while the walls are lined with jars of pickled vegetables and fermented sauces that find their way into almost every dish. We tend to favor local seafood in this harborside city, but in the name of tradition, we placed our trust in Hoffman's German-influenced dishes, such as the restorative chicken pot pie and the surprise standout of slow-braised pork with house-made sauerkraut.
The Prime Rib
Mt. Vernon

/

1101 N. Calvert St.

New steakhouses may come and go in Baltimore, but in our minds and hearts, there will only ever be one, and that's The Prime Rib. At this 54-year-old stalwart, there's no room for trendiness—no barrel-aged mezcal Manhattans or miso-glazed skirt steaks. Instead, you'll find old-world charm by the gravy boatload: first-rate martinis, Flintstone-sized slabs of superior meat (go with the titular prime rib steak, which is the signature cut but served bone-in and seared), sumptuous side dishes (potato skins forever), and a world-class piano player providing the evening's soundtrack (don't forget to tip). The beauty of this place is that it remains unchanged, living on as a time-warp to when service was supreme and dining out was an unforgettable experience. 
Rec Pier Chop House
Fells Point

/

1715 Thames St.

Even if you're not staying at the swanky Sagamore Pendry hotel, you'll want to take some time at the Rec Pier Chop House. Lounge under the stars in the courtyard with a craft cocktail, then sashay into the stunning space (the former Homicide: Life on the Street police precinct transformed into an exercise in elegance). The Italian chophouse fare is similarly transformative. Start with a Caesar salad, dramatically prepared at your table, share an order of pasta (spaghetti and meatballs stuffed with fontina, ricotta, beef, pork, and veal), then split a steak (say a seared boneless ribeye served with a nutty gorgonzola sauce), though the fire-roasted lemon chicken is the sleeper hit of the menu.
Restaurante Tio Pepe
Midtown-Belvedere

/

10 E. Franklin St.

Some things, like fine wine and our ability to gauge how much of it we can drink without getting too tipsy, improve with age. Tio Pepe is not one of those things. Don't get us wrong, even if this Spanish institution is exactly the same as it ever was, it still occupies an important space in our city's culinary milieu. And little has changed since it opened in 1968. The menu, filled with classics such as the suckling pig, paella, and curious combinations like sole with bananas, offers a variety of flavors. Portions remain large, and tables are still catered to by teams of servers. And, oh, that sangria. Order a pitcher and take whatever you can't drink home, although this is the one place where we can't seem to resist that extra glass, no matter how old we—or this gem of a restaurant—get.
Royal Taj Restaurant
Columbia

/

8335 Benson Dr.

The move to a larger location a few years ago was key in exposing Royal Taj's singularly spectacular Indian food to a wider audience. But the space is not the only notable aspect of the dining experience here—upon arrival, the doors are flung open to reveal an unexpectedly Rococo-themed dining room, with recessed nooks and a glitzy bar. As for the food, the menu contains familiar preparations crafted with incomparable skill and care. House-made cheese pakoras are fried with a gossamer shell, while kabobs are marinated to tender succulence, then elevated with a coating of garlic and herbs. A mound of smoky biryani disintegrates into fluffy yet toothsome rice grains seasoned to the core, sweet coconut milk underpins warm spices in a Malabar curry sauce, and even ubiquitous vindaloo is properly spiked with tart acidity to complement the heat. As the capable waitstaff swarms to serve your dishes, it's a transporting introduction to the subcontinent.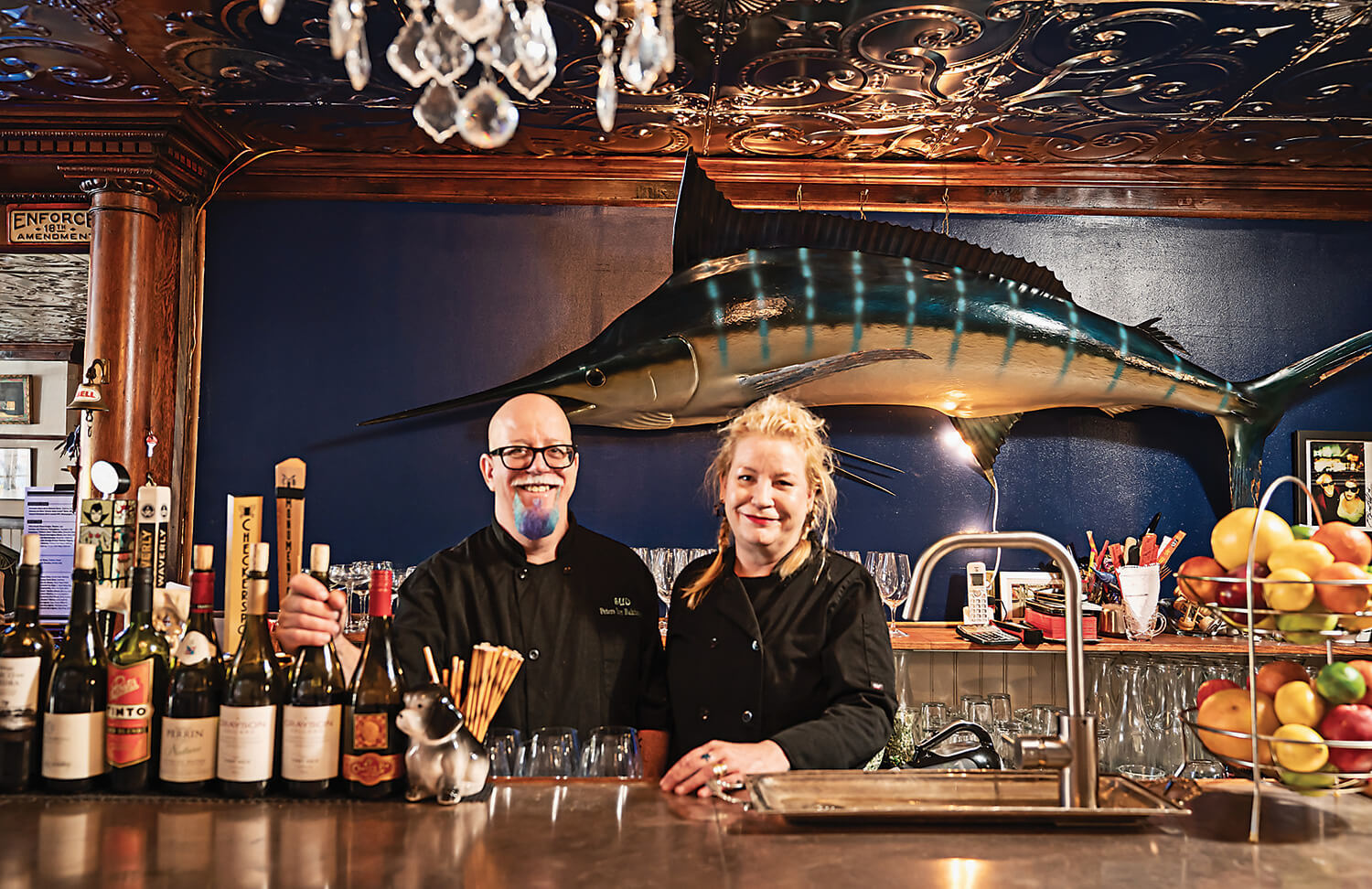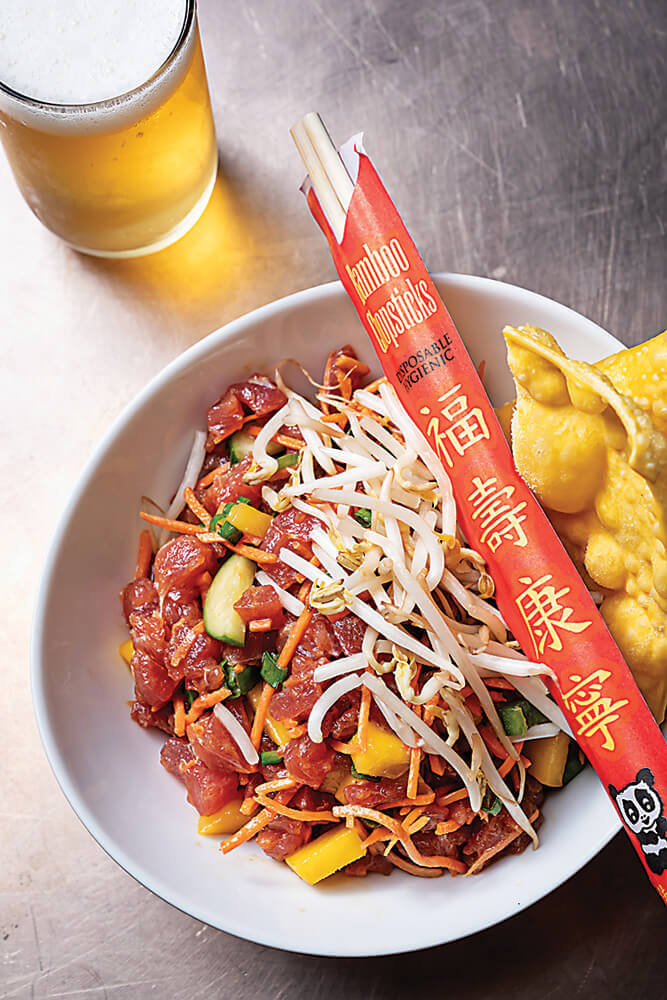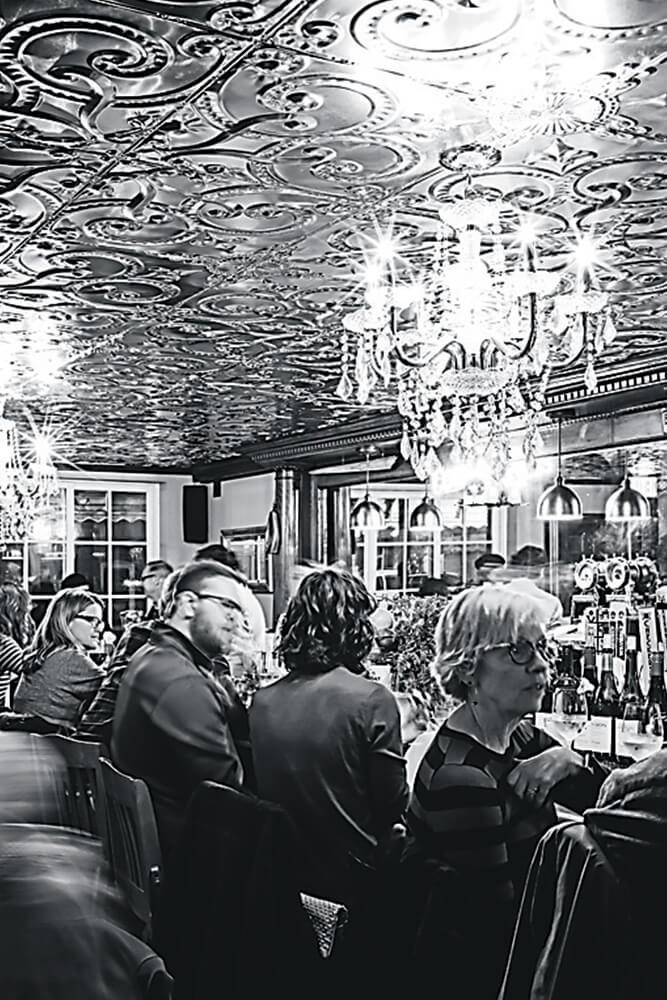 Peter's Inn
FELLS POINT

/

504 S. Ann St.

By Lydia Woolever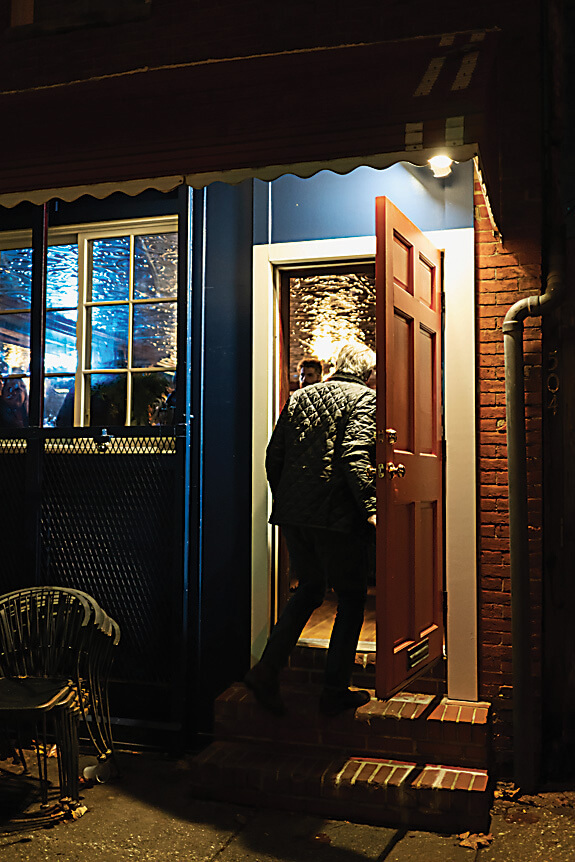 One of the first things you notice upon entering Peter's Inn is that the marlin still stands. One wintry night toward the end of 2017, not long after owners Karin and Bud Tiffany headed upstairs to bed, their first-floor rowhome restaurant nearly met its demise when a cast-aside cigarette engulfed the Fells Point institution in flames. The building's façade was badly burned, and the interior was ravaged with smoke and water damage, leaving much of the iconic bric-a-brac stashed away for a costly cleaning. For longtime regulars, the newly bare walls are jarring at first—notwithstanding the old faithful stuffed fish, which now hangs above the bar—but it doesn't take long to realize that the décor wasn't what made Peter's Peter's anyway.
"I'll tell you what I see," says Karin before heading back to her tiny kitchen one early December evening. "I see old people, young people, black people, white people, Hons, Roland Park ladies, Orthodox Jews, artists. Peter's is a great equalizer."
Karin wouldn't wish the fire on her worst enemy, not with all the insurance and renovation headaches that followed them well into 2018, but she has found a sense of renewal in its wake. "First of all, you get to start over," she says. "That's nice at 53. It's also really tiring and scary." Now, after a 10-month hiatus, you'd never know they closed. A gap like that can be the death of a restaurant, but much as the funds flooded in to help the Tiffanys rebuild, so did the customers, both loyal habitués and wide-eyed newcomers, once their former biker bar was resurrected.
On this night, lone drinkers tie one on at the bar, lovestruck couples lean over candlelit two-tops, and large parties cram into the back tables beneath the old oil paintings of Karin's great-grandparents. They're not here for grain bowls or zucchini noodles, which seem to be everywhere these days, except maybe here. Instead, they've gathered for the begrudgingly dependable charm—the tattooed waitstaff, the famous garlic bread, that perfectly seared petit filet. (Not to mention Bud's own pot de creme desserts.) Sure, the tin ceiling is new, as are the glitzy chandeliers, but nudie artwork still hangs on the bathroom walls, and the neon "Cocktails" sign still tips its martini, now fittingly above the liquor bottles—a sort of last beacon of Old Baltimore.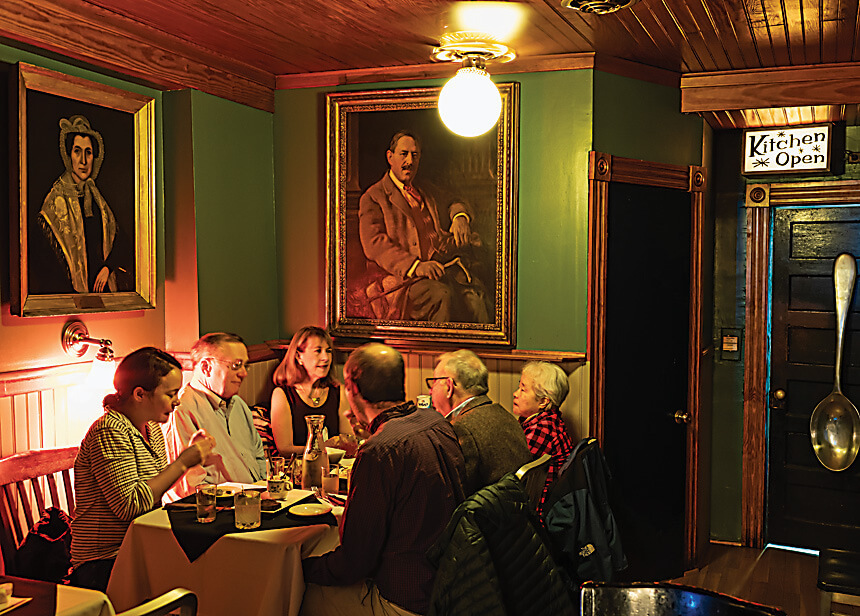 A night at Peter's unfolds like a scene in a film by John Waters (who unsurprisingly frequents the restaurant)—a beautiful chaos that gets louder and lewder as the hours wane on. You come to be a part of it. That the food happens to taste good, if not extraordinary, is just a bonus. 
"We're the most charming sociopaths you'll ever meet," says Karin with a wicked smile, holding court at the end of the bar after the dinner rush as the old marlin watches overhead. "We're humbled," says Bud, looking around the full house. "It still feels like the same Peter's, just a little tidied up."
Rye Street Tavern
Port Covington

/

13 Rye St.

As the barn-like building with a red tin roof and a wide front lawn littered with Adirondack chairs comes into view along quiet waters, you might wonder where you are. The middle of Nantucket, perhaps? Guess again. You're in Port Covington and at the "It" restaurant of 2018. And make no mistake—Rye Street Tavern and Michelin-starred, James Beard Award-winning chef Andrew Carmellini take Chesapeake cuisine seriously. Consider the rockfish shrimp and grits, a seafood bake straight out of the wood-fire oven, or the fried chicken we hear is owner Kevin Plank's favorite. Wash it all down with a Sagamore Spirit rye cocktail distilled on site and you qualify as a Marylander, no matter where you hail from.
Sotto Sopra
Mt. Vernon

/

405 N. Charles St.

It has been decades since this decadent Italian restaurant began serving its first plates of house-made pasta, seafood, and steaks, yet it's always managed to reinvent itself. Case in point: its monthly Sunday opera nights. During November's three-hour, five-course extravaganza (the singers, accompanied by a pianist, bellowed out songs in the snug dining room between courses), the rich carrot soup was the ideal starter for a cold night. After an aria or two came the real star: an outstanding plate of pumpkin risotto with gorgonzola and brown butter gremolata topped with seared scallops. By the time the tasty goat cheese cheesecake with fresh pear purée and raspberry sorbet arrived, we couldn't decide which had brought us closer to tears of joy—the moving music or the fantastic fare.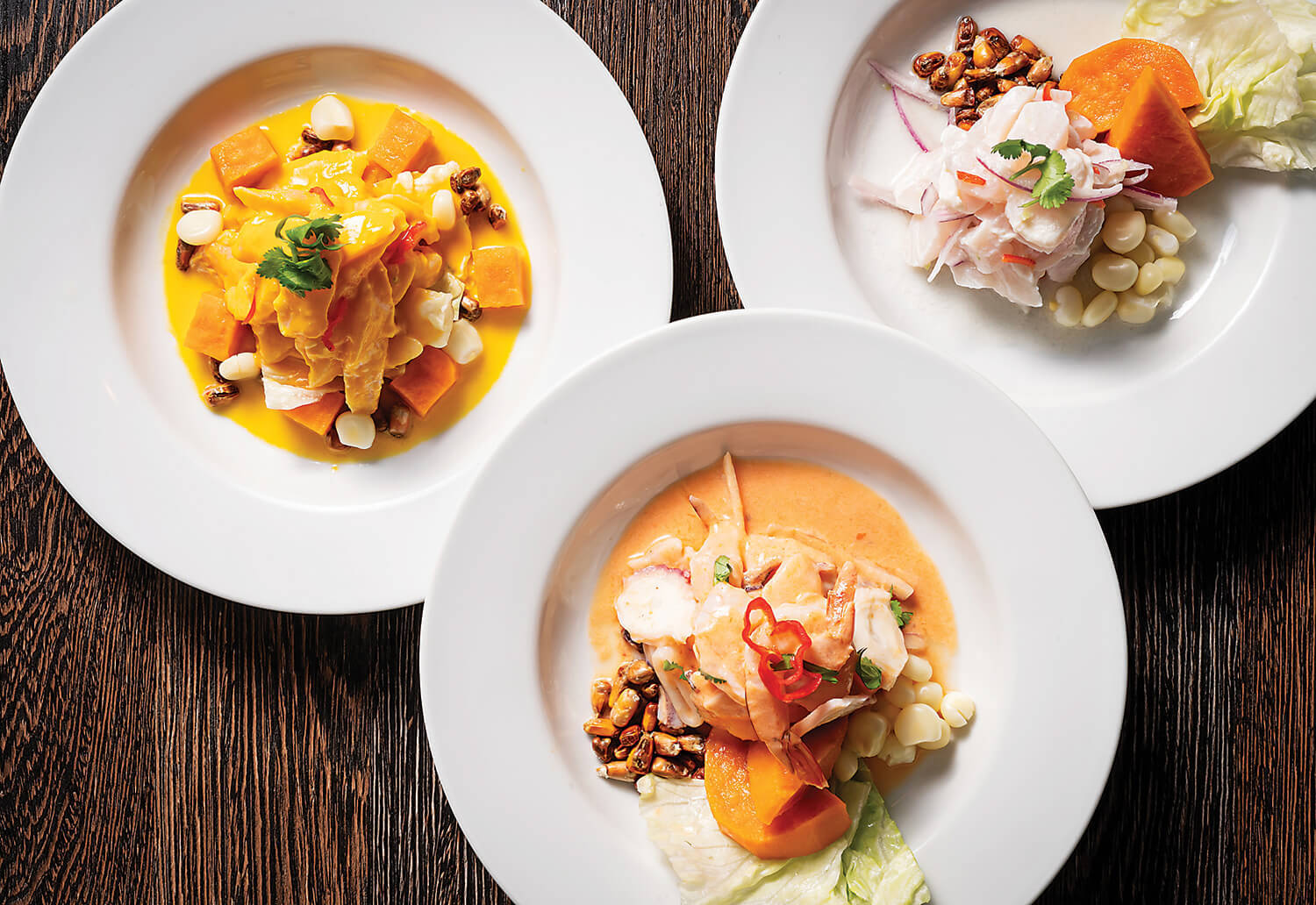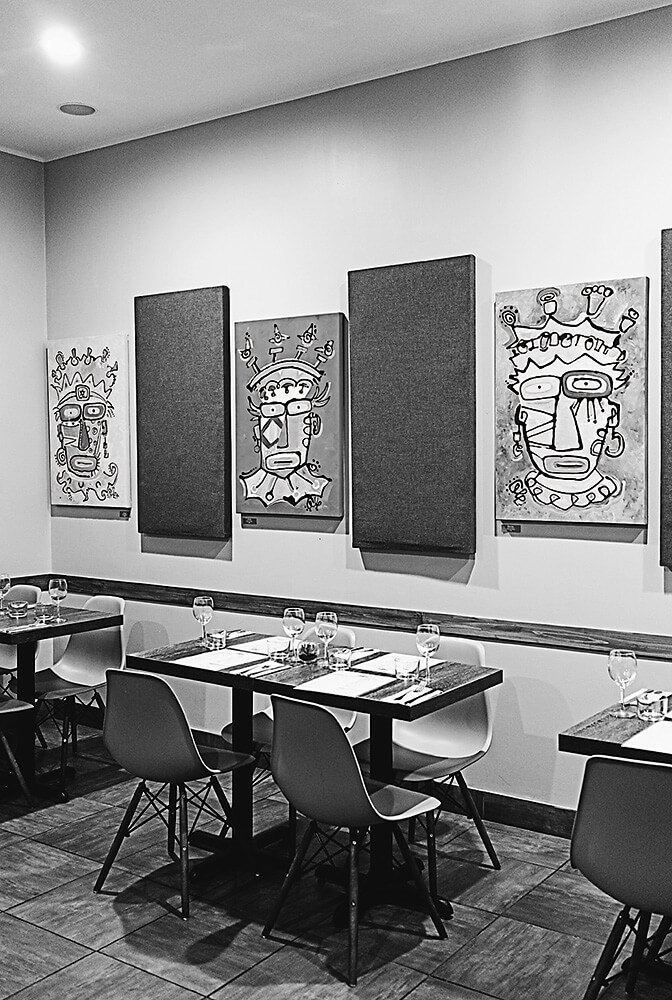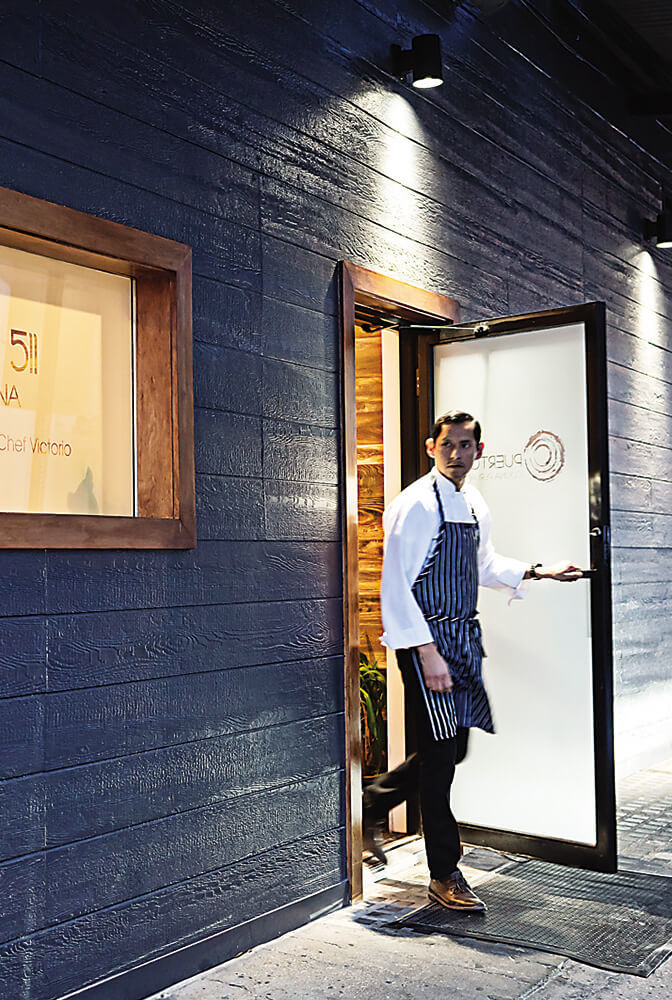 Puerto 511
DOWNTOWN

/

102 W. Clay St.

Situated on an otherwise run-down street in Baltimore's Bromo Arts District, the unassuming Puerto 511 would be easy to overlook.But don't. Owned by Peruvian-born chef Jose Victorio Alarcon and his wife, Connie, we can say with certainty—having just made it down the mountains of Machu Picchu ourselves—that this BYOB stunner offers thrillingly authentic dishes you won't find anywhere else in town. Look for traditional techniques mixed with local ingredients such as grilled skewers of veal heart marinated in aji panca sauce and served with Peruvian corn and rocoto pepper sauce or a citrusy ceviche, including octopus, squid, white fish, sweet potato, and aji limo chile bathing in smoked tiger milk, as well as Asian fusion dishes (wok-fried rice with seafood and plantains, for instance) integral to Peruvian cuisine. Make this part of your regular restaurant rotation, but if it's your first time, take the weekend-only (that's Fridays and Saturdays) $59 per person prix-fixe tasting tour.
Sushi Sono
Columbia

/

10215 Wincopin Cir.

There are precious few authentic sushi restaurants around the region, and Sushi Sono is one of them. The standard bill of fish by the piece, cooked dishes like tempura and teriyaki, and, of course, over-the-top elaborate rolls are all on offer, but this restaurant's true greatness lies elsewhere. On a given night, one could find Hawaiian kampachi, Alaskan salmon, or madai snapper flown in from Japan on special at the sushi bar, served as perfectly sliced slabs dotted with grated wasabi. Hidden in plain view within the menu under "Teshoku," or traditional preset dinners, are also "off-menu" items such as fried oysters, Japanese sable fish cooked just to translucence with miso marinade, and yellowtail collar lined with lusciously rich meat. Add to all of that politely efficient service, a lakefront view, and even a $500 bottle of sake, and it makes for true destination dining.
Tagliata
Harbor East

/

1012 Fleet St.

Tagliata is warm and inviting, with woven chairs, linen banquettes, and lighting that flatters. But it's the call of the live, nightly piano music that really works its magic from the street. The spell continues as you settle into your seat and consider a bottle of wine from the deep list of offerings. Move on to one of several excellent crudos or a bowl of any of executive chef-partner Julian Marucci's handmade pastas. (We could write a love song about the squid-ink campanelle with Peekytoe crab, sea urchin cream sauce, and chili basil.) Maybe you're more in the mood for a dry-aged strip steak with grilled lemon and head of roasted garlic; or the classic chicken Parm. Whatever you order, the spell cannot be broken.
Thames Street Oyster House
Fells Point

/

1728 Thames St.

Every time we return to this seafood mecca, we make a point to tell ourselves: Don't let the exquisite raw bar or best-in-show (at least in these parts) lobster roll distract from chef Eric Houseknecht's immense talent. So, on a recent excursion, we ordered with an eye toward the kitchen, and we weren't disappointed. The roasted lamb neck appetizer, served atop chickpeas and hunks of garlic, was a substantial and savory way to start the meal. The North Atlantic monkfish paired with potato gnocchi, butternut squash, Brussels sprouts, and bacon in lobster sauce is brilliant in its combination of flavors. With one exception, the pasta is made in-house—only the cavatappi in the lobster mac comes from elsewhere. The restaurant sells too much of it to keep up. That's a sign that after seven-plus years, Thames Street remains atop the city's seafood chain.
Vin 909
Annapolis

/

909 Bay Ridge Ave.

Eating at this hidden treasure feels like attending a dinner party. That's not really a surprise, as the restaurant is housed inside a former private home in Eastport. Part of the draw is its wine list—with many exceptional glasses for less than $10 and bottles for south of $30—which is among the most approachable we've encountered. Pizza is the kitchen's focus, and here, too, both quality and value coexist. We couldn't stop eating slices of the fabulous Envious Pig, topped with broccoli garlic purée, mozzarella, Parmesan, ricotta, Berkshire pig speck, leeks, jalapeño, and vinaigrette. Declicious as it was, we still needed a to-go box. For those who don't like to share, an entree of crab-stuffed squash was among the most innovative ways we've consumed the shellfish. Don't arrive late to this dinner party. Vin 909 doesn't take reservations, and there's usually a wait, which is always worth it.
Vito Ristorante
Cockeysville

/

10249 York Rd.

If you're craving Italian-inflected comfort food north of the city, head straight to Vito's. Italian-American classics like veal marsala and seafood linguine are prepared with care and in generous portions. Don't ignore the daily specials or the pizza; the original margherita is the best brick-oven pie we've found in the county. We were pleasantly surprised by a wine list that featured Italian points of interest (wine guru Robert Parker holds court here), as well as American mainstays, all of which were reasonably priced. Desserts, a mix of imported delicacies and house-made treats, are delicious and worth sticking around for, too.
Woodberry Kitchen
Woodberry

/

2010 Clipper Park Rd.

When an eatery is as seasonal and local as Woodberry Kitchen, the experience can be hit or miss. Thankfully, our last sojourn was a home run. Though it debuted more than a decade ago with its pre-trendy, farm-to-table concept, the restaurant, co-owned by James Beard Award-winner Spike Gjerde, has not lost its allure. (In fact, bigwigs like former First Lady Michelle Obama and her daughters eat here.) The night we went, the bar and restaurant were abuzz, and our server, Greg, adeptly walked us through the winter menu. Ironically, the Dead On Arrival cocktail woke us right up thanks to the combination of rye whiskey, Fernet, pumpkin, maple, and pear bitters. Ricotta dumplings bobbing in hog-head broth soothed our proverbial soul, while roasted oysters with hot sauce invigorated our taste buds. The star of the show was the crispy trout filleted to crispy-skin perfection atop a swirl of sunchoke cream. While you're never quite sure what's on the menu, perhaps the biggest thrill is in the reveal.
*[Editor's Note: After our issue went to press, we were saddened to hear that Lupa, which appears on this list, was closing. "Maybe one day we can find a house for this shewolf," wrote co-owner Tony Foreman on Instagram. "But, for now, ciao!"]